WTW: Suspiciously Big Sprint Improvements, Salazar Case Shows Justice Isn't Blind, & An American Runs 2:13 at 4,900 Feet
The Week That Was in Running, September 13 – 19, 2021
By Robert Johnson
September 21, 2021
Below we don't say anything about last week's NCAA XC action as while the action is starting to heat up, a lot of teams are still holding out key players. If you are a fan of NCAA XC, our season overview will be out later this week.
Article continues below player
Past editions of the Week That Was can be found here. Got a tip, question or comment? Please call us at 844-LETSRUN (538-7786), email us, or post in our forum.
****
Bromell, Omanyala, and Niyonsaba Impress As the 2021 World Athletics Continental Tour Concludes
While the Diamond League season ended week before last, the World Athletics Continental Tour wrapped up last week with some significant results. Sprint-wise, there was a reworking of the all-time top 10 list in the men's 100 as Trayon Bromell and Ferdinand Omanyala ran super fast at the Kip Keino Classic in Nairobi on Saturday.
Kip Keino Classic Men's 100 Results
Wind: +1.2
1 Trayvon Bromell USA 9.76 WL PB
2 Ferdinand Omanyala KEN 9.77 AR PB »
3 Justin Gatlin USA 10.03
4 Mouhamadou Fall FRA  10.04 PB
5 Kyree King USA 10.11
6 Mike Rodgers USA 10.20
7 Amaury Golitin FRA 10.27
8 Jerry Jakpa NGR  10.36
All-Time Men's 100 Top 10
1 9.58 +0.9 WR Usain Bolt JAM
2 9.69 +2.0 AR Tyson Gay USA
2 9.69 -0.1 Yohan Blake JAM
4 9.72 +0.2 Asafa Powell JAM
5 9.74 +0.9 Justin Gatlin USA
6 9.76 +0.6 Christian Coleman USA
6 9.76A +1.2 Trayvon Bromell USA
8 9.77A +1.2 AR Ferdinand Omanyala KEN
9 9.78 +0.9 Nesta Carter JAM
10 9.79 +0.1 Maurice Greene USA
Nairobi is at nearly 6,000 feet of altitude and there was a nice 1.2 m/s tailwind for Saturday's race. According to Jonas Mureika, both of those are worth 0.05 of a second, so add 0.10 to Bromell and Omanyala's times to figure out what they would have run at sea level with no wind.
Regardless, Omanyala's 2021 season was incredible. He lowered his personal best by 0.55 at age 25 this year.
Given that Omanyala was banned for 14 months in 2017 for an anti-doping rules violation, many are wondering if his season was too incredible.
Please raise your hand if you predicted at the beginning of the year that the world's second- and third-fastest sprinters of 2021 would come from Kenya and Italy.
In addition to the return of Christian Coleman, one of the biggest storylines we'll be following in 2022 is: "Will Ferdinand Omanyala and Olympic champ Marcel Jacobs, who improved by .23 this year, be able to come close to replicating their 2021 form?"
###
Distance-wise, the big result internationally last week came from DSD athlete Francine Niyonsaba, who broke Genzebe Dibaba's 2000m world record of 5:23.75 set in 2017. Niyonsaba ran 5:21.56 in Zagreb. (World Athletics recognized Dibaba's mark as the official world record, even though it was set indoors. The fastest outdoor 2000m prior to Niyonsaba was Sonia O'Sullivan's 5:25.36 from 1994.)
2000m is an odd distance, but according to the World Athletics scoring tables it's equivalent to a 3:55.6 1500.
Later in the week, Niyonsaba showed she is beatable as she was third in a 15k in Valencia in 50:37 where the winning time was 47:24 by Kenya's Joyce Chepkemoi Tele.
If the intersex/transgender debate in women's athletics interests you, I've written a separate column on the matter here:
LRC RIP Norm Macdonald: How Macdonald's Simple-Truth Logic Could Help Solve the Transgender/Intersex Crisis Facing Women's Sports Macdonald once famously said, "I feel that one of the basic requirements of being a sprinter is having legs." If we apply that same logic to the transgender/intersex debate, then we'd have an easy solution. "I feel that a basic requirement of being eligible to compete in elite women's sport is to never have had functioning testes."
****
Erika Kemp Stays Hot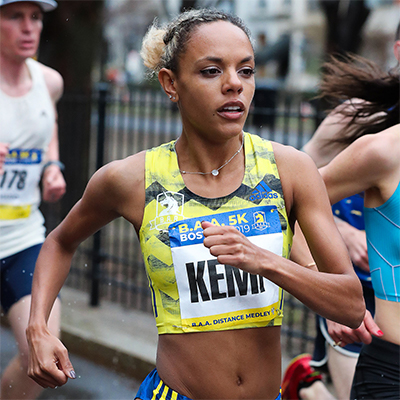 American Erika Kemp's hot road racing continued last week. Twelve days after she dominated the US 20k championships in New Haven, the 25-year-old BAA runner, who ran collegiately for NC State, picked up $10,000 by running a course record of 32:18 at the Cow Harbor 10k. She's really thriving as a pro. Collegiately, her best results at NCAAs were a 5th in the indoor 5000 in 2016 and a 17th place finish in XC later that year.
Since she's a BAA athlete, is there any chance she can be added to the 2021 Boston Marathon field?
Considering, she's never even run a half marathon — the 20k was her longest race ever — don't expect that to happen but be eagerly anticipating her marathon debut.
****
Salazar's Ban Is Upheld
Off the track, the big news last week was that CAS upheld Alberto Salazar's four-year ban from the sport for multiple anti-doping rules violations. While the ban was upheld, CAS did note that USADA's actions seemed to be "out of proportion and excessive when compared to the severity and consequences of the ADRVs (anti-doping rules violations) that have been established."
In all walks of life, if the powers that be come after you, it's difficult not to go down on some sort of technicality. Theoretically, justice should be blind. But the more I think about the verdict in the Salazar case, the more I'm fine with it.
Who should be held to the highest standard? Those at the top of society with the most resources. So many times, we as a society do the opposite — we hold the common man to the highest standards while we let the most powerful get away with stuff the common man could never get away with.
****
Justice Isn't Blind In Kenya
Speaking of justice, it clearly isn't blind in Kenya. Did you know in Kenya you can often avoid a jail sentence simply by paying a fine?
Last week, after two Olympic officials, Hassan Wario and Stephen Soi, were convicted of misusing $500,000 worth of funds meant to go to the 2016 Olympians, the men were offered the following punishments:
-Six years in prison or a $33,000 fine for Wario
-Twelve years in prison or a $950,000 fine for Soi
Wario paid the fine and is now free. Soi has not come up with the cash for his much larger fine.
*Shamed ex-Kenyan sports minister escapes jail over Rio scandal
*Ex-Kenya sports minister guilty in Olympic corruption case
****
RIP To Hammer World Record Holder Yuriy Sedykh
Last week, two-time Olympic hammer champ Yuriy Sedykh (Soviet Union), who has held the hammer throw world record since 1984, died at age 66 due to a heart attack.
While Sedykh is best known for his world record and Olympic gold, he also accomplished an even rarer feat. He was married to two different Olympic gold medallists.
His first wife, Lyudmila Kondratyeva, won Olympic gold for the Soviet Union in the 100 in 1980. His second wife, Natalya Lisovskaya, won Olympic gold for the Soviet Union in the shot put in 1988 and is still the world record holder.
MB: Has anyone in history besides Yuriy Sedykh ever been married to two different Olympic gold medalists?
(Update: Someone on the messageboard has found an athlete who married 3 Olympic gold medallists)
His sudden death, reminded me of an article I read a few years ago talking about how a study of bodybuilders showed that "taking steroids for two or more years may have permanent effects on the heart, based on a recent study of 140 male weight lifters."
For the record, Sedykh always denied taking steroids but Inside the Games reported last week that "former Moscow anti-doping laboratory director Grigory Rodchenkov wrote in his book The Rodchenkov Affair: How I Brought Down Russia's Secret Doping Empire last year that Sedykh was 'a huge steroid abuser' who was protected by officials in the Soviet Union."
MB: Let's hope he knew was on drugs and it was worth it. Hammer WR holder Yuri Sedykh dead of a heart attack at 66
****
An American Runs 2:13 In A Marathon That Ended at 4,926 Feet of Altitude
Last week at the Huntsville Marathon in Utah, American Jason Lynch picked up $5,200 by running 2:13:05, the fastest marathon ever in Utah, breaking Aaron Fletcher's previous record of 2:14:45.
Considering the marathon ended at 4,925 feet of altitude, we imagine many of you are thinking, "Wow, that's impressive" as a marathon run at nearly 5,000 feet of altitude would normally slow someone down by 7-8 seconds per mile even if they are used to altitude.
However, Huntsville isn't your normal race. Take a look at this course elevation profile.

LetsRun.com stat guru John Kellogg thinks the massive elevation drop — 3,812 feet — would aid a runner by at 11:40, but that's offset by the race being held at altitude (which he thinks might hurt by roughly 12 seconds per mile). His best bet is that overall runners are aided by 6:15, but said it might only be 5 minutes and he's not considering how hard it would be to tolerate the downhill pounding.
For the record, before this weekend, Lynch's flat pb was 2:17:31.
Lynch's splits this weekend were 63:22 on the massively downhill first half and then 69:42.
Can you imagine if Eliud Kipchoge ran that course? The first half is probably something in the neighborhood of 4:30 faster than a flat course at sea level. How cool would it be to see him split a world record in the first half and then keep racing?
****
Tweet of the Week
Everyone: "Running is the purest sport."
Nike: pic.twitter.com/t1KKY4NKPR

— Uli Fluhme (@ulif) September 19, 2021
To see our favorite reads from other weeks, go here.
***
Quotes Of The Day And Last Week's Home Pages
To see the quotes of the day from last week or last week's home page or any home page, go to our archive page.
Got a tip, question or comment? Please call us at 844-LETSRUN (538-7786), email us or post in our forum.
zzzzzzzzzzzzzzzzzzzzzzzzzzzz
test it ou