Guye Adola (2:05:45) Hangs on to Win 2021 Berlin Marathon After 60:48 First Half; Kenenisa Bekele 3rd as Gotytom Gebreslase Wins In Her Debut
By Jonathan Gault
September 26, 2021
In an age of super shoes, pacing lights, and world record after world record, Sunday's Berlin Marathon offered a reminder that the marathon distance still requires respect. It is still possible to blow up in a marathon, something the men's leaders in Berlin found out the hard way after four of them hit halfway in 60:48 — the fastest first half split ever in a marathon.
It was fair to wonder, with the world record at 2:01:39 and 2:03's becoming commonplace, whether the 26.2-mile distance had lost some of its bite. It is supposed to be hard, after all. Today in Berlin, the marathon fought back.
Of those four record-chasers, only two would make it to the finish line, and only one would run his second half in under 65:00 — and that turned out to be enough to win the race on a day when the entire elite field learned a lesson about pacing. In the end, Ethiopia's Guye Adola was the last man standing, running painful splits of 60:48/64:57 to win his first World Marathon Major in 2:05:45, the slowest winning time in Berlin since 2009. 
Adola was second in Berlin in 2017, putting a scare into Eliud Kipchoge and running 2:03:46 for second, the fastest debut in history. Since then, he had finished just two marathons — running 2:32 in one of them — but delivered on his potential by winning Berlin. 
Kenenisa Bekele, who was targeting Kipchoge's world record of 2:01:39, finished third in 2:06:47 in his first marathon in two years.
On the women's side, Gotytom Gebreslase made it an Ethiopian sweep, clocking 2:20:09 to defeat pre-race favorite Hiwot Gebrekidan (2nd in 2:21:23) and win her marathon debut.
The Race
When Bekele just missed the world record in Berlin two years ago, he came through halfway in 61:05, negative-splitting his second half (60:36) and just missing the WR. The plan this time was similar, with the pacers assigned 61:00 for the first half with the hope Bekele could pick up the pace from there. Conditions in Berlin were warmer than ideal (temperature in the 60s, humidity in the 70s) but the pace goal did not change.
The early pace was even quicker than expected. Running behind a trio of rabbits, the lead group of six hit 5k in 14:22 and 10k in 28:47 (2:01:27 marathon pace). The pace would remain hot, and as the leaders approached halfway, Bekele began to drop back. Was he hurting? Or was this merely a ploy, Bekele playing rope-a-dope just as he had at the Great North Run in 2013 and Berlin in 2016 and 2019?
At halfway, the splits revealed that Bekele appeared to be running smartly. While the front four — Adola, fellow Ethiopian Tesfaye Lencho, and Kenyans Philemon Kacheran and Abraham Kipyatich — all came through ahead of world record pace in 60:48, Bekele passed in 61:00, hitting the pre-race goal split on the nose. Just after 25k, he caught the leaders and his run at a third Berlin title was back on.
Article continues below player.
Unfortunately, the world record was quickly slipping away. The leaders had covered 20-25k in 15:04 (Bekele split 14:58) after running their first 20k in 14:22, 14:25, 14:25, and 14:25. Yet that 15:04 would prove to be the fastest 5k split of the second half as the wheels began to fall off for everyone with the temperature ticking up into the 70s.
By 30k (15:07 split), Kipyatich had been dropped. He and Lencho would eventually drop out, while Kacheran would wind up sixth in 2:09:29 after a brutal 68:41 second half. 
By 35k, Bekele himself was hurting as Adola opened up a three-second gap on him despite running his slowest 5k of the race to that point (15:21). Bekele was no longer a factor, but suddenly Adola had another problem in the form of Bethwel Yegon. A 28-year-old Kenyan, Yegon had run his 2:08:18 pb by finishing 14th at the Xiamen Marathon & Tuscany Camp Global Elite Race in Italy in April. In Berlin, he hit halfway in 62:14, 1:26 behind Adola and the rest of the leaders, but he was now moving faster than anyone and caught Adola at 37.7k, briefly moving to the lead.
But Yegon was not immune to the effects of the fast early pace, and even though Adola was barely puttering along by 40k (Adola covered 35k-40k in 15:59, unbelievably slow for someone about to win a World Marathon Major), he had one move left in him, upping the tempo slightly. That was enough to sink Yegon, as Adola split his last 2.195k in 6:37 (4:51 mile pace, 15:04 5k pace) and Yegon had no answer, Adola pulling away to win by 29 seconds in 2:05:45. Yegon still earned a hard-earned pb of 2:06:14 in second.
The women's race also saw an aggressive start, with four women passing halfway in 69:19. That group would quickly dwindle to two, however, as the Ethiopians Gotytom Gebreslase and Hiwot Gebrekidan — the 2021 world leader thanks to her 2:19:35 in Milan — had opened a 31-second gap by 25k. The two would remain together through 30k before Gebrekidan fell off, leaving Gebreslase all alone in her debut marathon by 35k. Though she would crater from 35k to 40k — she ran that 5k in 17:40 — no one else was running any faster and Gebreslase would come home in 2:20:09 to win comfortably by 74 seconds.
Men's top 10

Women's top 10

Quick Take: Even with super shoes, you're going to blow up if you go out in 60:48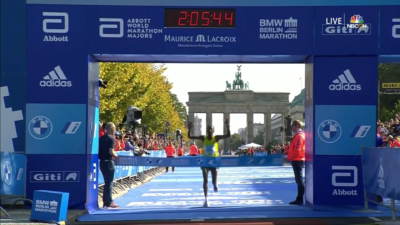 The super shoe revolution may have redefined what we consider a fast marathon, but it's worth reiterating that the marathon world record is still really fast. Only one man has run within a minute of Kipchoge's 2:01:39, and when even that man (Bekele) thinks you're going out too fast, it may be a sign that you should back off.
The previous fastest first half in a marathon was 61:00 in London in 2019, but because that race featured the strongest field of the year, some of the leaders were able to hang on and run super fast times — 2:02:37 for Kipchoge, 2:02:55 for Mosinet Geremew, and 2:03:16 for Mule Wasihun.
But compared to London 2019, the pace today was 12 seconds faster — the pacemakers deserve some blame for that — the weather was hotter, and the field was not nearly as strong. Adola ran 2:03 in 2017 and 2:04 in 2019, but the other members of the lead group were not nearly as accomplished. Tesfaye Lencho's pb is 2:06:18, Philemon Kacheran's is 2:06:05, and Abraham Kipyatich was making his debut. Of course they were going to blow up after going out in 60:48.
Quick Take: Adola deserves tremendous respect for hanging on
Adola may have barely run under 2:10 pace for the second half, but his effort today was incredibly gutsy — you will not find a harder way to run 2:05. Adola didn't just have to survive after going out in 60:48. He also had to deal with Yegon coming from behind and catching him late in the race. Usually when you're slowing down a ton and an athlete passes you, as Yegon did to Adola, that is game over. But Adola hung in, bided his time, and used what little juice he had left over the final mile to pull away from Yegon.
It was also good to see Adola back at the front of a major after some lean years following his debut in Berlin four years ago. When you almost beat Eliud Kipchoge in your debut, great things are expected of you, but Adola was awful in his next marathon, running 2:32 in London in 2018. Though he did run a solid 2:04:42 for third in Valencia in 2019, Adola had largely faded from view over the last few years. His win today shows that he remains a force to be reckoned with.
Quick Take: Bekele disappoints
Bekele was able to return to the podium and finish third in his first marathon in two years, but today's result has to be viewed as a disappointment. Bekele is not still running marathons at the age of 39 just to collect podium appearances. He is here to run fast and win races, and he accomplished neither.
With the warm conditions, perhaps the world record was never a realistic goal today. And Bekele deserves credit for both trying to break it and for not quitting, holding on for third after getting dropped. He has nothing to be ashamed of, and for him to get out there and finish on the podium at 39 after his struggles over the last two years is a minor victory. But this is not the outcome he wanted. The question now is whether he can rebound and do anything in New York, which he is scheduled to run six weeks from today.
"Great to be back racing, the marathon distance is always a challenge and I struggled midway," Bekele said in a statement released by his NN Running Team. "I kept fighting to come back and I gave it all today. Unfortunately it wasn't enough, but I will be back stronger."
Quick Take: An impressive debut for Gotytom Gebreslase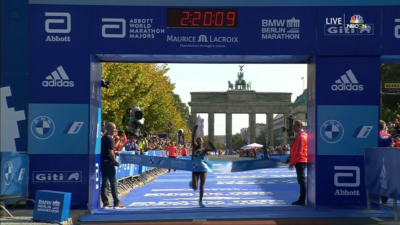 Gebreslase, who has run 14:57 and 31:14 on the track and clocked 67:52 at a half marathon in Lens, France, in July, looked terrific for much of today's race. As late as 35k, she was still on pace to break Paula Radcliffe's debut record of 2:18:56 from 2002 London, but the pace and hot weather caught up to her and she wound up just missing sub-2:20. This was not the strongest field — there were no household names among her opponents — but this was an impressive debut performance for Gebreslase, who at 26 should have several years of quality marathoning in front of her.
Quick Take: The top American women's finisher in Berlin? Shalane Flanagan
With all three US majors taking place this fall, not many Americans made the trek to Berlin this year. But one very famous one did: Shalane Flanagan, who will be running six marathons in seven weeks this fall (including all five majors). Her odyssey began in impressive fashion as the 40-year-old Flanagan, who officially retired from pro running in 2019, finished as the top American in either race, taking 17th in 2:38:32.
Discussion: The End of Bekele?