2021 Brussels DL Recap: DSD Athletes Francine Niyonsaba & Christine Mboma Earn Big Wins & Sifan Hassan Scares the Mile World Record
By LetsRun.com
September 3, 2021
The Diamond League's regular season wrapped up on Friday with the Memorial Van Damme meet in Brussels, the final action before next week's Diamond League final in Zurich.
The biggest storyline, from a big-picture perspective, was the fact that two of the five women's running events were won by DSD athletes — Burundi's Francine Niyonsaba in the 5,000 meters (14:25.34, prevailing thanks to a late kick in the final meters) and Namibia's Christine Mboma in the 200 (21.84). Both Niyonsaba and Mboma are banned from competing in events from 400 through the mile as they are biologically what most people would consider to be intersex, but they have moved to other events and are now finding major success.
Article continues below player
Elsewhere, Sifan Hassan gave the mile world record a scare by running 4:14.74, Stewart McSweyn led an Aussie 1-2 by winning the men's 1500 in 3:33.20, Ferguson Rotich ran a quick 1:43.81 in the men's 800 and and Natoya Goule went wire-to-wire in winning the women's 800 in 1:58.09. Full recap and analysis of every event below, starting with the distance races. *Full results
Talk about the action on our world-famous fan forum / messageboard:
Women's 5000: Francine Niyonsaba's victory tour keeps on going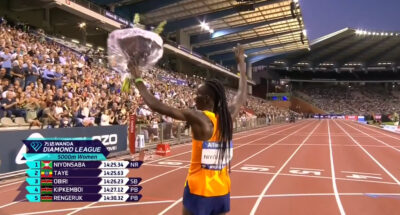 Francine Niyonsaba made it a perfect three for three in post-Olympic races as she won a four-way kick over the final 100m to get the win in 14:25.34.
Niyonsaba, the former 800m star who is banned from running the women's 800 and 1500m races because of the DSD regulations, has moved up to the longer distances this year and the results have been phenomenal. At the Olympics she was 5th in the 10,000m after she was disqualified in the 5000m. After the Olympics, she won the two-mile at Pre and the 3,000 in a very quick 8:19 in Lausanne.
Tonight was a real test as she faced the Olympic silver medallist Hellen Obiri at Obiri's preferred distance. After a quick opening 2km (5:43), the pace slowed drastically the next 2 kilometers (11:41) and came down to a kick. Ten women, including American Alicia Monson, were together with a kilometer to go and at the bell, eight were still together. Soon it was a four-woman race as Obiri took the lead at the bell and pushed the pace and only Ejgayehu Taye (14:14 5k PB), Margaret Kipkemboi (4th at Kenyan trials), and Niyonsaba could stay with her. Coming off the final turn Obiri still led, and Niyonsaba looked to be struggling as she was in 4th and had let a gap open up. Taye went by Obiri down the homestretch but Niyonsaba refused to give up and found another gear and got the win.
5000 Metres – Women – Diamond Discipline
Pts
1 NIYONSABA Francine BDI 14:25.34 8.00
2 TAYE Ejgayehu ETH 14:25.63 7.00
3 OBIRI Hellen KEN 14:26.23 6.00
4 KIPKEMBOI Margaret Chelimo KEN 14:27.12 5.00
5 RENGERUK Lilian Kasait KEN 14:30.32 4.00
6 CHERONO Eva KEN 14:30.77 3.00
7 MCCOLGAN Eilish GBR 14:31.26 2.00
8 KLOSTERHALFEN Konstanze GER 14:35.88 1.00
9 MONSON Alicia USA 14:42.56
10 GRØVDAL Karoline Bjerkeli NOR 14:43.26
11 CHEBET Beatrice KEN 14:47.31
12 MINSEWO Abersh ETH 14:50.88
13 MULATE Bosena ETH 14:55.18
14 CHEROTICH Daisy KEN 14:56.46
15 SCOTT Dominique RSA 15:01.66
FINN Michelle IRL DNF
VAN BUSKIRK Kate CAN DNF
Quick Take: Niyonsaba might be the best women's distance runner not named Sifan Hassan right now
Niyonsaba's winning time today wasn't super fast but it was a PB and she showed she can beat almost anyone right now not named Sifan Hassan. We think Letsenebet Gidey would still beat her at 5,000m but there aren't many women who could beat her in a 3000 or 5000.
QT: Another PB for Alicia Monson
Monson's first year as a pro continues to be a good one. Coach Dathan Ritzenehin told LetsRun.com earlier in the year he thought Monson was in 14:40 shape and she nearly proved it tonight. After her 14:48 PR at Pre, she lowered her PR to 14:42 and was in contention until the final km.
Monson's time would have stood as the American record as recently as five years ago. As it stands, she is now 4th on the all-time US list, behind Shelby Houlihan (14:23.92), Karissa Schweizer (14:26.34), and Shannon Rowbury (14:38.92). Which means Monson is now faster than Molly Huddle (14:42.64) and Shalane Flanagan (14:44.80). Not bad company.
Women's mile: Hassan dazzles again with 4:14 meet record
Today's women's mile was all about Sifan Hassan, as the pacing lights were set to go after her world record of 4:12.33 and she was the only one to go with them.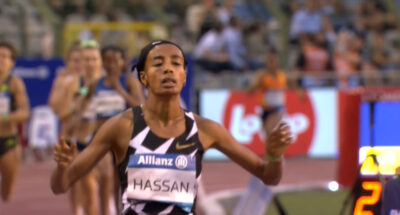 When Hassan set the world record two years ago in Monaco, she ran a massive negative split, coming through 800 in 2:08.5 but running her last 800 in 2:01.9. Tonight, with the pacing lights, Hassan was more aggressive as she was right with the pacers at 400 (62.03). By 800 (2:04.97, 2:05-high for Hassan), Hassan was clear of the field and the only question was whether she could break the WR again.
With the pacemakers gone, however, Hassan couldn't quite hold on, hitting 1200 in 3:09.21, needing a 61.6 last lap for the record. She couldn't quite manage that, running a 63, but she still delighted the crowd by delivering a meet-record 4:14.74 — the fifth-fastest outdoor mile in history (sixth-fastest overall).
Behind Hassan, Ethiopia's Axumawit Embaye, who hadn't run faster than 4:08 in three 1500's this year, finished a surprising second in 4:21.08. Australian Linden Hall continued her fine 2021 campaign with her third national record of the year, running 4:21.38 for third, while Americans Elise Cranny (4:21.90) and Josette Norris (4:22.71) ran pbs to finish fifth and sixth, respectively.
One Mile – Women – Diamond Discipline
Pts
1 HASSAN Sifan NED 4:14.74 8.00
2 EMBAYE Axumawit ETH 4:21.08 7.00
3 HALL Linden AUS 4:21.38 6.00
4 PÉREZ Marta ESP 4:21.58 5.00
5 CRANNY Elise USA 4:21.90 4.00
6 NORRIS Josette USA 4:22.71 3.00
7 GUERRERO Esther ESP 4:22.81 2.00
8 NANYONDO Winnie UGA 4:23.09 1.00
9 MÄKI Kristiina CZE 4:23.38
10 JEBITOK Edinah KEN 4:25.11
11 MEKONEN Mebriht ETH 4:28.39
12 VANDERELST Elise BEL 4:32.44
LEMIESZ Aneta POL DNF
NALYANYA Eglay Nafuna KEN DNF
Quick Take: There is a large gap in the women's 1500/mile right now
The Olympic 1500 final showed just how wide the margin is between the best of the best in the women's 1500 at the moment and the rest of the world as the three medalists were almost two seconds clear of everyone else. Now to be fair, Laura Muir (silver in Tokyo) was awful in her first meet after the Olympics at Pre (12th), but it's possible she wasn't totally recovered.
Tonight, Hassan, who had two weeks since her 5k WR attempt at Pre, looked much better-rested and summoned a vintage performance to dominate the field. This may have been the fifth-fastest outdoor mile in history, but it was only the third-fastest of Hassan's career. She has earned the title Queen of the Mile.
Fastest women's outdoor miles
4:12.33 Sifan Hassan, Monaco 2019
4:12.56 Svetlana Masterkova, Zurich 1996
4:14.30 Genzebe Dibaba, Rovereto 2016
4:14.71 Sifan Hassan, London 2018
4:14.74 Sifan Hassan, Brussels 2021
Quick Take: Hassan will stick with the short stuff for the rest of 2021
Hassan was supposed to go after the 10,000m WR tonight but switched to the mile as she felt tired after Tokyo and Pre.
"After Tokyo I was so tired so I just wanted to run the short distance," Hassan told meet organizers. "My goal was to run fast here tonight and that is what I did. It is a beautiful time.
"No, I was not thinking about the world record, although I knew I was on world record pace in the beginning. But in the middle, it slowed down a bit. It does not matter. Like I said, I am happy with the time and meeting record,
"I am not running any long distances anymore this year. In Zurich I will run the 1500m."
Quick Take: Solid showings from the Americans
Though Elise Cranny and Josette Norris finished well back of Hassan, in 5th and 6th, they were in the thick of the battle for second and acquitted themselves well, as three of the four women in front of them were in the Olympic final, as was 8th placer Winnie Nanyondo.
The outdoor mile isn't run much on the women's side, but for what it's worth, Cranny and Norris are now 8th and 9th on the all-time US outdoor list. (#9 and #10 when you include indoor times)
That shows some impressive depth from the United States. Remember, neither Cranny nor Norris even ran the 1500 at the Olympic Trials yet they're running with a bunch of Olympic finalists. Cranny, of course, was the US champion at 5,000 meters. But considering how well Norris has run in the 1500/mile since the Trials, (3rd, 3rd, 6th in Diamond Leagues, plus a 3:59 1500 pb), we wonder if she'll opt to focus on the 1500 instead in 2022
Men's 1500: McSweyn wins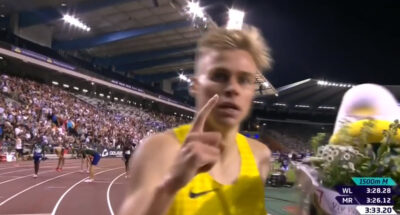 The battle between the Spanish and Australian record holders in the 1500 had a twist. While Aussie Stewart McSweyn is known for always pushing the pace and Spain's Mohamed Katir is known for coming off of it, in this one, Katir took the lead from McSweyn at the bell and led into the final turn. However, McSweyn passed him near the end of the turn and held on for the win in 3:33.20 after a 57.5 last lap, as his compatrior Ollie Hoare ended up second in 3:33.79. Katir faded from 2nd to 7th (3:34.50 over the final 100) as he could only manage a 58.7 final 400.
1500 Metres – Men – Diamond Discipline
Pts
1 MCSWEYN Stewart AUS 3:33.20 8.00
2 HOARE Oliver AUS 3:33.79 7.00
3 ROZMYS Michał POL 3:33.96 6.00
4 KIPSANG Abel KEN 3:34.08 5.00
5 SIMOTWO Charles Cheboi KEN 3:34.37 4.00
6 DENISSEL Simon FRA 3:34.43 3.00
7 KATIR Mohamed ESP 3:34.50 2.00
8 GRETHEN Charles LUX 3:34.59 1.00
9 MECHAAL Adel ESP 3:35.37
10 TEFERA Samuel ETH 3:36.20
11 DEBJANI Ismael BEL 3:43.08
12 VERMEULEN Jochem BEL 3:53.36
KIPRUGUT Boaz KEN DNF
SOWINSKI Erik USA DNF
Quick Take: McSweyn gets a deserved win
McSweyn races a lot on the circuit in a variety of distances (and even rabbits at times), but when he runs you know what you're going to get: a great effort. More times than not, he doesn't get the win but tonight he did and in part it may be due to the time of the year. His last lap was far from super impressive but it was still better than everyone else's as many are suffering from post-Olympic fatigue (Olympic champ Jakob Ingebrigtsen was supposed to run but scratched a few days ago).
It makes sense that September is a good month for McSweyn as two of his three career DL 1500/mile wins have come in September. In a month, when others may be a little past their peak, McSweyn is always game and giving it 100%. Last year, he won and ran a then of PR 3:30.51 in Doha in September.
"I think I ran a pretty good race. Unfortunately the pace dropped a little during the race and that changed my tactics. I was kind of sitting there and waiting for the last 150 meters to attack. I had a great finish and that gives me a lot of confidence. To take the win here in Brussels is special to me as it is one of my favorite races," said McSweyn.
Women's 800: Goule goes wire-to-wire
The early pace was quick (56.99 at 400 for the pacer, 57.5 for the first racer Goule), but things slowed down at the bell and by 600 the entire field was bunched within 0.6 of a second. At that point (1:28.2), Goule still led with Kenya's Mary Moraa on her outside. Moraa would fade to last, however, and entering the final turn, one clear threat to Goule emerged in the form of Olympic silver medalist Keely Hodgkinson of Great Britain. Hodgkinson could never quite get there, however, and Goule held on to win in 1:58.09 to Hodgkinson's 1:58.16.
American Kate Grace, who had run 1:57 in each of her last four 800's coming in, was off her game and could only manage 5th in 1:59.22.
Results
1 GOULE Natoya JAM 1:58.09 8.00
2 HODGKINSON Keely GBR 1:58.16 7.00
3 REEKIE Jemma GBR 1:58.77 6.00
4 ALEMU Habitam ETH 1:59.01 5.00
5 GRACE Kate USA 1:59.22 4.00
6 LINDH Lovisa SWE 1:59.49 3.00
7 NAKAAYI Halimah UGA 1:59.55 2.00
8 MORAA Mary KEN 1:59.79 1.00
YARIGO Noélie BEN DNF
Quick Take: Hodgkinson cost herself this race with her positioning
She may be the Olympic silver medalist, but Hodgkinson is still only 19 years old and perhaps hasn't learned some of the finer arts of 800m racing that could have helped her earn the win tonight. Over the final turn, she ran extra distance compared to Goule, running on the outside of lane 1 and into lane 2. Sometimes, that is unavoidable in a tight 800, but it didn't help her tonight in a race decided by just .07.
What was avoidable: Hodgkinson drifted all the way out to lane 3 on the home straight before drifting back in to finish in lane 2. At no point in the home straight did Hodgkinson have anyone in front of her. When that is the case, just run forward in a straight line. Any extra distance to the right or left is going to cost you on the clock.
Men's 800: Rotich dominates
Olympic silver medalist Ferguson Rotich of Kenya easily handled the field in this non-Diamond League event, which took place before the TV window. He ran 1:43.81 to win comfortably by 1.43 seconds over Eliott Crestan of Belgium, who ran 1:45.24 for second. Rotich has now broken 1:44 four times this year — no one else has done it more than twice — and finished in the top three in his last five meets, though this was just his third victory in 13 starts.
"I´m very happy with the race. It wasn´t easy to maintain the form after the Olympics but to be able to participate in the Diamond League kept me motivated. Today I just wanted to win and to run 1:43, which I did," said Rotich. *Results here
Sprints
Men's 100: Fred Kerley wins in 9.94
Olympic silver medallist Fred Kerley came on late to edge US champ Trayon Bromell in the men's 100, 9.94 to 9.97. 400 Olympian Michael Norman was third in 9.98. Kerley is now the first man to win a Diamond League race at 100, 200, and 400 meters.
Kenyan record holder Ferdinand Omurwa was 4th in 10.02 — his first loss since Tokyo. Even though he took a step back in form from the 9.86 he ran two weeks ago, he still made history as the first Kenyan in a Diamond League 100.
100 Metres – Men – Diamond Discipline Wind: +0.1 m/s
Pts
1 KERLEY Fred USA 9.94 8.00
2 BROMELL Trayvon USA 9.97 7.00
3 NORMAN Michael USA 9.98 6.00
4 OMURWA Ferdinand KEN 10.02 5.00
5 BROWNING Rohan AUS 10.14 4.00
6 SIMBINE Akani RSA 10.18 3.00
7 FALL Mouhamadou FRA 10.19 2.00
8 CISSÉ Arthur CIV 10.34 1.00
Women's 200: Christine Mboma comes on strong to win in 21.84
Olympic silver medalist and world U20 champion Christine Mboma's fine 2021 season continued on Friday as she won her first Diamond League meet in 21.84. Mboma, as usual, got a poor start but her final 100 was flying and she sprinted past Jamaica's Shericka Jackson and world champion Dina Asher-Smith of Great Britain to earn the victory. American Sha'Carri Richardson got out well and was competitive early but faded late and finished a well-beaten fourth in 22.45.
Mboma, still only 18 years old, has now broken 22 seconds four times in 2021, with a best of 21.81. No other U20 athlete in history has run faster than 22.11. And Mboma may extend that dominance as she doesn't turn 20 until May 2023.
Gem… Mboma beat a strong field in tonight's #DiamondLeague women's 200m in Brussels:
1. Christine Mboma 21.84 Namibia
2. Shericka Jackson 21.95 Jamaica
3. Dina Asher-Smith 22.04 UK
4. Sha'Carri Richardson 22.45 USA
5. Beatrice Masilingi 22.50 Namibia pic.twitter.com/U338hCFIoS

— New Era Newspaper (@NewEraNewspaper) September 3, 2021
Men's 400: Michael Cherry runs a pb, breaks MJ's meet record
American Michael Cherry, the Olympic 4th placer in Tokyo, started the TV window with a bang by blitzing a personal best of 44.03 to win the men's 400 and break Michael Johnson's meet record of 44.06, which dated to 1998. Cherry has enjoyed a breakout 2021 campaign, PRing four times (including at the Olympic Trials and Olympics) and dropping his pb from 44.66 to 44.03.
400 Metres – Men – Diamond Discipline
Pts
1 CHERRY Michael USA 44.03 8.00
2 JAMES Kirani GRN 44.51 7.00
3 MAKWALA Isaac BOT 44.83 6.00
4 BONEVACIA Liemarvin NED 45.00 5.00
5 LENDORE Deon TTO 45.06 4.00
6 DOOM Alexander BEL 45.84 3.00
7 TAYLOR Christopher JAM 45.88 2.00
8 SACOOR Jonathan BEL 46.66 1.00
What a run for Miachel Cherry @MVDbrussels. 44.03 PB for the win. He's run 44 for his last 12 races. Talk about consistency but that streak could end with a 43 in Zurich next week. @MCJR__ https://t.co/oePh0nf2ar pic.twitter.com/hsM2ps2ySF

— LetsRun.com (@letsrundotcom) September 3, 2021
Women's 100 hurdles: Visser wins a tight one
Olympic bronze medalist Megan Tapper of Jamaica got out best in this one, but this one would come down to two hard closers, Nadine Visser of the Netherlands in lane 7 and Nigerian Tobi Amusan, the 2017 NCAA champion, in lane 5. The two crossed nearly simultaneously, with Visser being awarded the win by just eight thousandths of a second as both women were credited with a time of 12.69.
100 Metres Hurdles – Women – Diamond Discipline Wind: +0.7 m/s
Pts
1 VISSER Nadine NED 12.69 8.00
2 AMUSAN Tobi NGR 12.69 7.00
3 TAPPER Megan JAM 12.77 6.00
4 SEMBER Cindy GBR 12.79 5.00
5 CUNNINGHAM Gabriele USA 12.89 4.00
6 ZAGRÉ Anne BEL 12.96 3.00
7 VIDTS Noor BEL 13.55 2.00
WILLIAMS Danielle JAM DQ
Men's 400 hurdles: dos Santos wins a close one
There was no Karsten Warholm and no Rai Benjamin in this one but the positive aspect to that is it gave the Olympic third and fourth placers a little attention, which they deserve as Brazil's Alison dos Santos (46.72 in Brazil) and the British Virgin Islands' Kyron McMaster (47.08) are quite good and third and eighth fastest men in history. In this one, dos Santos came on late to win 48.23 as McMaster was second in 48.31 and Yasmani Coppelo third in 48.45.
400 Metres Hurdles – Men – Diamond Discipline
Pts
1 DOS SANTOS Alison BRA 48.23 8.00
2 MCMASTER Kyron IVB 48.31 7.00
3 COPELLO Yasmani TUR 48.45 6.00
4 HYDE Jaheel JAM 48.91 5.00
5 MÄGI Rasmus EST 49.13 4.00
6 ANGELA Ramsey NED 49.53 3.00
7 MCALISTER Chris GBR 50.09 2.00
8 PREIS Constantin GER 50.12 1.00
Women's 400: Laus wins for Belgium
The women's 400 was a non-DL event and was billed as a battle of the Netherlands vs Belgium: four Dutch runners against four Belgians. It was a tight finish, but ultimately Belgium got the victory as Camille Laus edged the Netherlands' Eveline Saalberg, 52.34 to 52.38. Laus is the partner of Kevin Borlee, proving that every Belgian 400 runner has to be related to the Borlees in some way. *Results
Field Events
Men's pole vault: Mondo keeps winning
Last week, Olympic champ Mondo Duplantis was beaten in his first meet after Tokyo, finishing just fourth in Lausanne. But since then, it has been business as usual for Duplantis, as he cleared 6.01m to win in Paris and 6.05m today — the #2 jump in the world this year — to win in Brussels.
How dominant has Duplantis been in 2021? Outside of Duplantis, no one else has cleared six meters this year. Duplantis has done it seven times.
Pole Vault – Men – Diamond Discipline
Pts
1 DUPLANTIS Armand SWE 6.05 8.00
2 NILSEN Christopher USA 5.85 7.00
3 LIGHTFOOT KC USA 5.85 6.00
4 BROEDERS Ben BEL 5.75 5.00
4 MORGUNOV Timur ANA 5.75 5.00
6 KOPPELAAR Rutger NED 5.65 3.00
7 LISEK Piotr POL 5.65 2.00
8 VLOON Menno NED 5.65 1.00
9 LITA BAEHRE Bo Kanda GER 5.65
10 OBIENA Ernest John PHI 5.65
11 LAVILLENIE Valentin FRA 5.50
12 COPPELL Harry GBR 5.50
Men's long jump: American Steffin McCarter earns first DL win
With none of the Tokyo medalists in the men's LJ field, the win was up for grabs in Brussels, and it went to Steffin McCarter, the third placer at the US Olympic Trials who did not even make the final at the Olympics. McCarter saved his best for last, jumping 7.99 meters in the all-important sixth round to take the win over 2017 Worlds bronze medalist Ruswahl Samaai of South Africa.
Statistically, this was the worst Diamond League men's long jump ever — for the first time in the 12-year history of the DL, no one jumped 8.00m in the entire competition.
Long Jump – Men – Diamond Discipline
Pts Wind
1 MCCARTER Steffin USA 7.99 8.00 +0.6
2 SAMAAI Ruswahl RSA 7.95 7.00 +0.6
3 RANDAZZO Filippo ITA 7.89 6.00 +0.7
4 GFÖHLER Benjamin SUI 7.77 5.00 +0.8
5 PRIMAK Artyom ANA 7.71 4.00 +0.5
6 KONATE Erwan FRA 7.68 3.00 +0.7
7 CÁCERES Eusebio ESP 7.55 2.00 +0.8
8 HEINLE Fabian GER 7.42 1.00 +0.3
9 HAUTTEKEETE Jente BEL 7.18 +0.4
Women's high jump: Mahuchikh takes it
There have been four DL women's high jumps since the Olympics and four different winners. And tonight was the toughest yet: it took 1.98m to win in Eugene, Lausanne, and Paris, but three women cleared 2.00m in Brussels. Though Mahuchikh needed two attempts at 2.00 and the two women who beat her in Tokyo, Mariya Lasitskene and Nicola McDermott, only needed one tonight, Mahuchikh was the only one to clear 2.02m, which earned her the victory.
High Jump – Women – Diamond Discipline
Pts
1 MAHUCHIKH Yaroslava UKR 2.02 8.00
2 LASITSKENE Mariya ANA 2.00 7.00
3 MCDERMOTT Nicola AUS 2.00 6.00
4 GERASHCHENKO Iryna UKR 1.92 5.00
5 DEMIDIK Karyna BLR 1.92 4.00
6 PATTERSON Eleanor AUS 1.92 3.00
6 THIAM Nafissatou BEL 1.92 3.00
8 LEVCHENKO Yuliya UKR 1.88 1.00
9 TROST Alessia ITA 1.80
Talk about the action on our world-famous fan forum / messageboard:
Watch our post-Brussels instant reaction video show.