Kenya's Reign is Over: Soufiane El Bakkali Wins Olympic Men's Steeplechase in Tokyo
By LetsRun.com
August 2, 2021
TOKYO — On October 16, 1968, Amos Kipruto of Kenya won the men's steeplechase at the Olympics in Mexico City. In the 52 years, nine months, and seven days since that day in Mexico City, two other countries — Sweden in 1976 and Poland in 1980 — had claimed Olympic gold medals. But both came in years in which Kenya boycotted. No one had beaten Kenya in this event at the Olympics since before man walked on the moon.
Until tonight.
Morocco's Soufiane El Bakkali was the streakbuster, using a remarkable 2:32.4 final kilometer (57.8 last lap) to pull away from 2019 World Championship silver medalist Lamecha Girma over the final 150 meters to win in 8:08.90. Girma took second in 8:10.38 — Ethiopia's first Olympic medal in this event in 41 years — while Benjamin Kigen salvaged some Kenyan pride by taking the bronze in 8:11.45.
The Race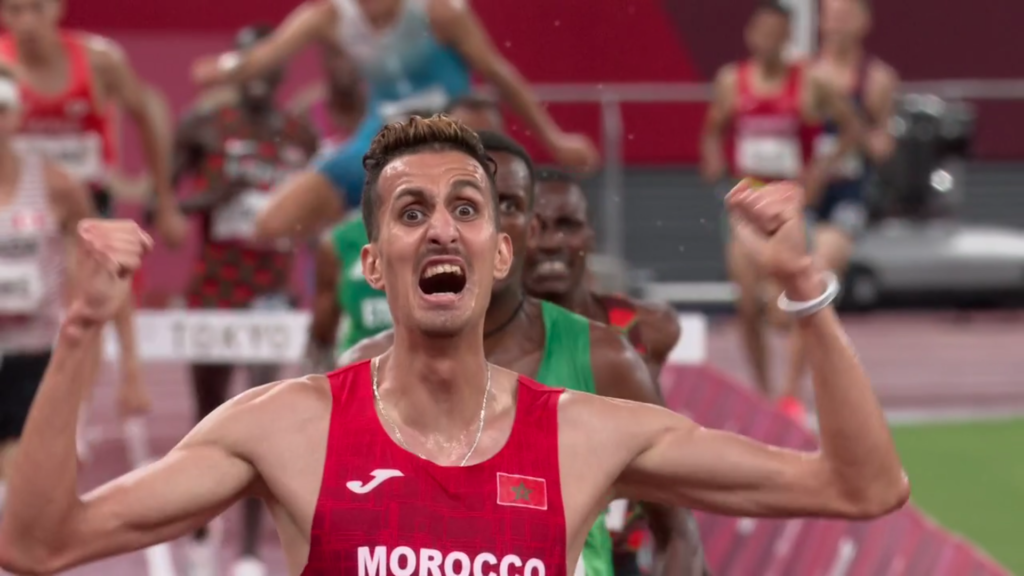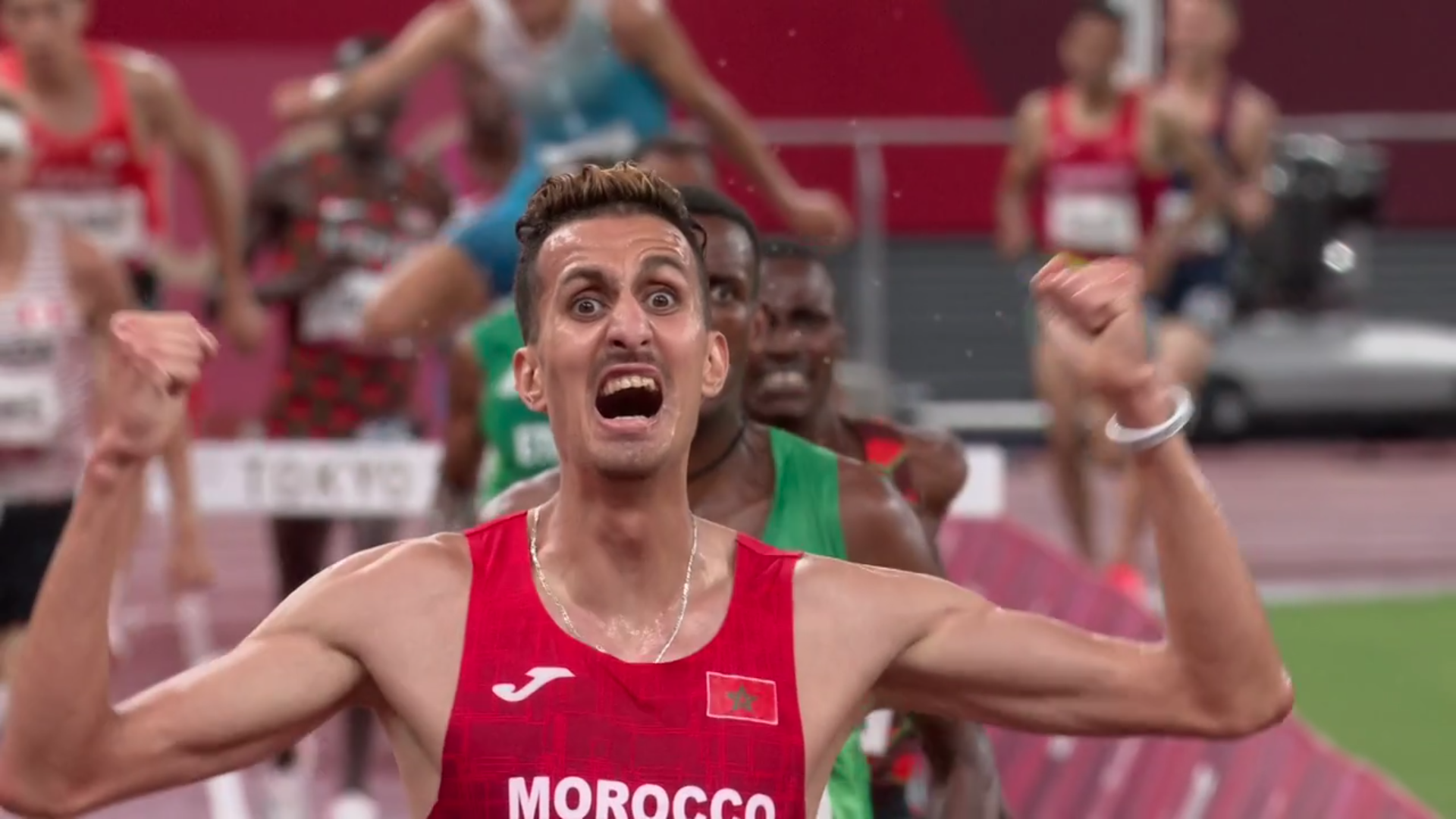 The early pace was slow, with 19-year-old Japanese record holder Ryuji Miura leading through one kilometer in 2:50.1. Girma would take over the lead with a mile to go and would pick up the pace marginally, passing 2k in 5:35.7. At that point, the lead pack was down to six and consisted of two Ethiopians (Girma and 2019 Diamond League champ Getnet Wale), two Kenyans (Kigen and Abraham Kibiwott), and two Moroccans (El Bakkali and Mohamed Tindouft).
Tindouft was dropped with two laps to go, and Girma, finally realizing he needed to run the kick out of 3:31 man El Bakkali, really started to surge entering the penultimate water jump, stringing out the pack. By the bell, Girma led Wale by two meters, with El Bakkali close behind. Kigen had been gapped, putting hopes of one more Kenyan gold on life support.
El Bakkali, after lurking in the pack throughout the race, passed Wale into second on the back straight and fought Girma for the lead but could not quite get there. But the pressure paid off as he broke Girma entering the final water jump, opening up a gap that would not close. Girma had no response on the final straight as El Bakkali streaked home for gold.
Article continues below player.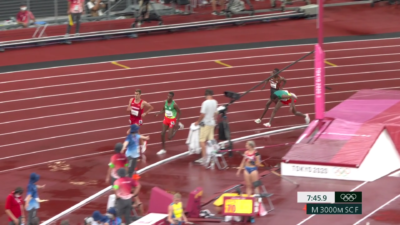 The battle for bronze behind them was close with 200 to go, but as they prepared to enter the last water jump, Kigen clipped Wale from behind and Wale stumbled, nearly fell to the track, and almost came to a stop. That gave Kigen the window he needed, and though his kick was not as strong as usual, it was enough to hold on for bronze.
Benard Keter, the sole American finalist, ran near the front for the first half of the race but could not hang on once the pace picked up and faded to 11th in 8:22.12.
Post-race analysis and quotes appear below the results.
Quick Take: Before tonight, a Kenyan-born man had won the last 23 men's steeplechase global titles 
As mentioned above, at the last nine Olympics (starting at the 1984 Games in LA), a Kenyan had won the steeplechase gold. Additionally, at every World Championships since 1987, when Italy's Francesco Panetta won the steeplechase gold, a Kenyan-born man had won the steeplechase gold (so we are including Qatar's Saif Saaeed Shaheen in 2003 and 2005). Altogether, it had been 23 straight global titles for Kenyan-born men.
Kenyans are very proud of the streak. In the mixed zone, when we asked Kigen about Kenya winning every Olympic gold since 1984, the Kenyan press liaison corrected us, telling us it was 1968 instead, since Kenya didn't compete at the '76 or '80 Games.
We asked Kigen whether, given Kenya's gold medal streak, he was happy with the bronze. He didn't view it as a failure for Kenya to win gold, but rather a success for Benjamin Kigen, the individual, to win bronze.
"I thank God for this event. It was my privilege. I have been working hard," said Kigen. "Athletics is an individual event…. I am happy."
Quick Take: Hicham El Guerrouj was inspired by El Bakkali's win
برافو سفيان هنيأ لك 👏👏 و للمغرب 🥇🇲🇦 pic.twitter.com/8s4XJ1FtJu

— Hicham El Guerrouj هشام الگروج (@elguerrouj32600) August 2, 2021
We tried to ask El Bakkali if he was in the best shape of his life and how fast did he think he could run later in the year as he's lightly raced. Prior to the Olympics, he'd only run one 1500 (3:31) and one steeple (8:08). He gave a lengthy answer but sadly there was a problem with the translation so we'll have to wait and see what happens on the DL circuit.
Earlier El Bakkali did say this about the race. "I am so used to seeing Kenyans win, it's a big accomplishment for me. I have been aiming for this for years and this was my opportunity to show that Morocco is capable of winning this prize in front of the Kenyans," said the 25-year-old. "I have been thinking about being more confident, working on my self-confidence and also trusting that I can win. I have tried so many times to compare myself with the Kenyans and Ethiopians to see whether I could reach this gold, and I did." 
The 20-year-old Girma was also satisfied with his silver. "It's my first time at an Olympic Games and I'm really happy about the result," said Girma.
Quick Take: Canada's Matt Hughes finishes 6th at a global final (again)
In his second Olympics (Hughes was 10th in 2016), the 31-year-old Hughes, the 2010 and 2011 NCAA champ for Louisville, equaled his career-best global finish by finishing 6th. Hughes was also 6th at Worlds in 2017 and 2013.
Considering that Hughes was only 11th at the Gateshead DL on May 23 and only ran 8:45 on May 27, finishing 6th was quite an accomplishment. "I'm content with that — happy too," said Hughes. "I can't be disappointed with that. All in all, it was good."

Hughes said he expected the pace to be fast from the gun as he thought that Wale, who is set to run the 5000 here, might set a quick pace for Girma, but that didn't happen.
Quick Take: A banner Olympic steeplechase for Japan ends with a 7th place finish for Ryuji Miura 
The home Olympics were a good one for the Japanese as this year marked the first time since 1964 (also in Tokyo) that Japan qualified 3 in the men's steeple (h/t Brett Larner). In the first round, 19-year-old phenom Ryuji Miura lowered his national record by 6+ seconds from 8:15.99 to 8:09.92. Tonight he wasn't afraid to lead things early and he finished 7th in 8:16.90.
Miura, a second-year at Juntendo University, said his ultimate goals are to break 8:00 and medal in the steeple but he's got a lot to accomplish before then. We should have asked him about his long distance ambitions as well as last year he also broke Suguru Osako's U20 half marathon national record by running 61:41 for 13.1.
Quick Take: Benard Keter can come away from the Olympics with his head held high
Keter was 11th tonight — coincidentally, the same place that his brother, Tareq Mubarak Taher (born Dennis Kipkurui Sang) finished at the 2008 Olympics in Beijing. Keter's trip to Tokyo was a success as he ran a personal best in the prelims and made it to his first Olympic final. Tonight, he was hoping to hang near the front of the pack as long as possible, but was ultimately outclassed.
"I knew it was gonna take another personal best if I was gonna be at the podium," Keter said.
He was right: Keter's pb is 8:17.31 and it took 8:11.45 to medal.
Talk about today's action on our world-famous messageboard/fan forum.
Like this article? Become a LetsRun.com Supporters Club member and get all the insights from Tokyo and the world of professional distance running. We are having daily video shows/podcasts from Tokyo, plus get exclusive LetsRun.com content throughout the year, big savings on running shoes (if you buy one shoe that will more than pay for a month of your membership), and a free LetsRun.com or 1:59:40 shirt if you join for a year. Join here.
Not yet ready to join? Follow us on twitter, instagram, subscribe to our free weekly podcast, or get our free newsletter.