2021 Istvan Gyulai Recap: Elliot Giles Over Clayton Murphy in Battle of UK/US 800 Champs, Akani Simbine Runs African 100m Record of 9.84, Elaine Thompson Is Back, & More
By LetsRun.com
July 6, 2021
Another busy week of track & field kicked off on Tuesday with the Istvan Gyulai Memorial meet in Székesfehérvár, Hungary, a World Athletics Continental Tour Gold meeting. Featuring stellar fields, the meet saw a pair of world-leading marks (Pedro Pablo Pichardo's 17.92 meters in the triple jump, Maksim Nedasekau's 2.37 meters in the high jump) and a number of fast sprint times, led by Elaine Thompson-Herah's 10.71 and Akani Simbine's African record of 9.84 in the 100 meters.
Jamaica's Shericka Jackson (21.96) took down Shaunae Miller-Uibo to win the women's 200, while Andre De Grasse (19.97) beat Americans Kenny Bednarek and Erriyon Knighton to win the men's 200. In the 800, Brits went 1-2 as Elliot Giles and Jamie Webb defeated US champ Clayton Murphy, while the marquee 400 matchup fizzled as Steven Gardiner won it in 44.47 with Michael Norman only third and Wayde van Niekerk a DNS.
Article continues below player
Full recap and analysis below. A full meet video replay is available for people from select countries including Romania.
Men's 800: Giles prevails in battle of US & UK champs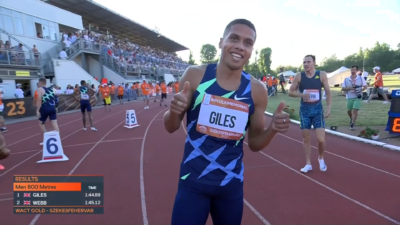 British champ Elliot Giles used a powerful 25.5 final 200 to come from behind and get the win in men's 800 in 1:44.89 as he pulled away from the US champ Clayton Murphy over the final 100. Murphy ended up third as Jamie Webb, the 5th placer at the British champs, got by Murphy just before the line in 1:45.12 to Murphy's 1:45.20.
The Race
Only one runner went with the pacemaker and that was Cornellius Tuwei of Kenya. Tuwei, 28, was just 10th at the Kenyan Trials but since then had picked up wins in Bydgoszcz (1:45.76) and Heusden (1:43.76). He hit 400 in 51 low with Giles way back in 52.9 and Murphy just over 53 seconds.
At 600 (1:18.00), Tuwei still led by more than a second but his lead started to evaporate on the turn. Coming off the turn, it was clear that Giles or Murphy would be your winner and Murphy was perfectly poised to strike on Giles' shoulder. But Murphy's big kick was lacking and Giles pulled away to win.
Quick Take: Can we officially say there is no Olympic men's 800 favorite right now? But let's wait until Friday.

At the Olympic Trials, Clayton Murphy was amazing. He ran 1:43.17 off of a 51.67 first lap as he ran his second 400 in 51.50. Tonight, off of a slower first lap (53.1ish), he closed in just over 52 seconds. He simply wasn't nearly as good as he was in Eugene.
Giles looked good tonight but on Sunday he lost to Ferguson Rotich (and Marco Arop) in Stockholm but Rotich was only 5th tonight. The real wild card for the Olympics is 1:41 man Nijel Amos. Amos has yet to race an 800 in Europe but he finally debuted in South Africa on June 26 and he won by nearly six seconds in 1:45.26.
We know one thing. We'll have a much better picture of the 800 come Friday when Monaco is held. Amos is in the field as is Murphy, Giles, Rotich, Hoppel, Arop, Dobek, etc. Almost everyone save for Kenyan champ Michael Saruni.
MB:So much for Clayton Murphy being the Olympic favorite. Murphy just got SPANKED in Hungary
Men's 400: Gardiner wins as high-profile race underwhelms
The men's 400 was the last event on the schedule, and for good reason: on paper it promised fireworks, with reigning Olympic champ/world record holder Wayde van Niekerk, reigning world champ Steven Gardiner, and US champ Michael Norman. It was a surprise, then, that the race was won in just 44.47 seconds, even more so that Gardiner had to come from behind on the final straight to win it as NCAA runner-up Bryce Deadmon, who was just 7th at the US Olympic Trials, held the lead late and would wind up second in 44.58. Norman and Michael Cherry, who went 1-2 at the Trials, were just third and fourth in 44.65 and 44.69, respectively, while van Niekerk was a pre-race scratch for reasons that remain unclear.
MB: Michael Norman SPANKED in Hungary, just third in 44.65, van Niekerk a DNS. Proof Hayward track is short?
Quick Take: Instead of answers, we only have more questions
With Gardiner, Norman, and van Niekerk all entered, this race was supposed to help establish the pecking order in the men's 400 ahead of the Olympics. Instead, things are even cloudier than before. Gardiner did manage a season's best of 44.47 and remains undefeated in 2021 aside from his stumble/DNF in Fort Worth on May 18. But 44.47 is still almost a second off of his 43.48 pb.
Norman, likewise has yet to break 44 seconds this year, and though he came close with a season's best of 44.07 at the Olympic Trials, he looked flat today. Was it the result of jet lag, as Tim Hutchings suggested on the broadcast, or a more serious issue?
As for van Niekerk, we don't know why he DNS'd, but given his injury issues, it's not a great sign. He has looked good recently, running under 45 seconds in both of his races in June, but withdrawing from a race three weeks out from the Olympics could be a bad sign.
Women's 100: Thompson-Herah sends a message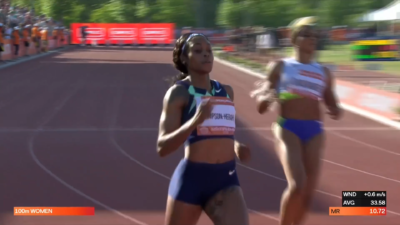 Reigning Olympic 100/200 champion Elaine Thompson Herah was only third at the Jamaican Olympic trials on June 25, but she turned the tables on Jamaican champ Shelly-Ann Fraser-Pryce today, ripping a 10.71 — her fastest time in four years and just .01 off her personal best. The race was fast all around as Fraser-Pryce ran 10.82 for second and the top four all broke 10.90 — just the sixth time in history that has happened.
There's a reason her Twitter handle is @FastElaine!

10.71 FTW at @GyulaiMemorial in Szekesfehervar for the Jamaican.

Watch #ContinentalTourGold live: https://t.co/3MAMsRnYBS pic.twitter.com/6kM1a48lHF

— Continental Tour Gold (@ContiTourGold) July 6, 2021
Men's 100: Simbine impresses with a personal best
South Africa's Akani Simbine, who has finished 5th, 5th, and 4th in the last three global championships, showed he may be ready to step onto the podium for the first time by ripping an African record of 9.84 to win here. Prior to today, six men had broken 9.90 this year — all of them Americans. Simbine moved past all of them except for US champion Trayvon Bromell and is now tied for #12 on the world all-time list.
* @AkaniSimbine has entered the chat*

👀

9.84 + an African record for the South African 🇿🇦 in Szekesfehervar #ContinentalTourGold pic.twitter.com/NmyEeL807U

— Continental Tour Gold (@ContiTourGold) July 6, 2021
Men's 200: De Grasse beats Bednarek and Knighton
US runner-up Kenny Bednarek had the lead off the turn but Canada's Andre De Grasse, the 2016 and 2019 silver medallist in the 200, slowly moved by him on the finishing straight and won narrowly in 19.97 to Bednarek's 19.99. US teen phenom Erriyon Knighton was solid in his European debut as he was third in 20.03.
B heat
Former Texas Tech star Divine Oduduru had the lead coming off the turn but he was run down by Akani Simbine (doubling back from a pb in the 100) who won in 20.25 as Oduduru ended up third in 20.38 with Alonso Edward, the 2009 world silver medallist who is now 31, sneaking in for second in 20.29.
Oduduru, the 2019 NCAA 100 and 200 champ, was in great form early this year as he ran 19.88 at the end of April but has only competed once since April before tonight (a 10.39 100 in Jacksonville on May 31). This was clearly better than that but a long way from what he'll need to be competitive in Tokyo.
Men's 3000: Muktar Edris wins in a personal best
Two-time defending 5,000m world champion Muktar Edris of Ethiopia won't be at the Olympics this year, but he is still in good shape as he won the 3,000 meters today in a personal best of 7:30.98.
The pace was very hot early (2:27 at 1k, 4:00 at 1600), with only 19-year-old Tadese Worku willing to follow. Once the pacemaker dropped out at 1600, Worku was on his own and slowed down, allowing Edris to catch up and pass him with two laps to go. Edris proceeded to open up a gap of seven meters by the bell, and on the last lap he was all alone, closing in 58 seconds to clock a pb of 7:30.98, well ahead of runner-up Worku (7:34.75).
Women's 200: Jackson takes down Miller-Uibo
Shericka Jackson, previously a 200/400 specialist, has pulled a Fred Kerley this year and switched to the 100/200 with great success. She has run 10.77 and 21.82 and was the runner-up in both events at the Jamaican champs, and today got a big win by running 21.96 to take down Olympic 400 champion Shaunae Miller-Uibo of the Bahamas, who was second in 22.15.
Speaking on the broadcast feed, Jenny Meadows reported that Miller-Uibo, who previously said she would run only the 200 at the Olympics, will now be attempting the 200/400 double in Tokyo. That would require a stretch of five races in three days (she would then get a one-day break before the 400 final) but the 400 is significantly easier now that Salwa Eid Naser and 2021 world leader Christine Mboma won't be in Tokyo.
Based off today's result, Miller-Uibo should seriously consider bagging the 200 completely. The problem with attempting the 200/400 double is the 200 – her weaker event – is first.
LRC What Track and Field Doubles Are Doable At The 2021 Olympics?
Women's 400: McPherson goes sub-50 again
As of two weeks ago, Jamaica's Stephenie Ann McPherson hadn't broken 50 seconds in the 400 since August 2013, when she ran 49.99 to take bronze at the World Championships in Moscow. But the 32-year-old McPherson is rediscovering her form at the perfect time as she ran a pb of 49.61 to win the Jamaican champs on June 27 and ran 49.99 today to dominate a field that included US Olympic Trials third placer Wadeline Jonathas, who was a distant second in 50.70.
Women's 100 hurdles: Camacho-Quinn stays hot
Puerto Rico's Jasmine Camacho-Quinn has been on fire in 2021, with her only blemish a DQ at the American Track League meet in Jacksonville on May 31. Otherwise she is a perfect 11-for-11 (including heats this year). Make that 12-for-12 after her win tonight as she ran 12.34, her third time under 12.40 this year. No one else has run under 12.40 even once in 2021.
Men's 110 Hurdles: Holloway wins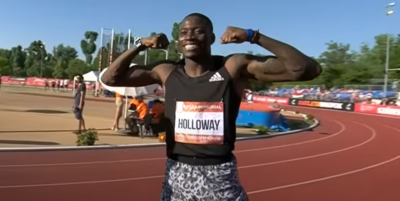 In his first race since the Olympic Trials, American Grant Holloway got off to a great start and never relinquished the lead as he remained undefeated on the year and won the 110 hurdles in 13.08. The man closing the fastest of all, however, was Spain's Orlando Ortega, the 2016 Olympic silver medallist, who ran a seasonal best of 13.15 (previous best of 13.30). Russia's Sergey Shubenkov, the 2017 and 2019 world silver medallist, also ran a seasonal best for third (13.19, previous pb of 13.24)
Women's 400 hurdles: Femke Bol gets her third win in six days
The Netherlands' Femke Bol earned Diamond League wins in Oslo and Stockholm on July 1 and 4 and prevailed yet again today by running 52.81, the second-fastest time of her life, behind only her 52.37 pb from Stockholm. Just as in Stockholm, Bol found herself in a battle to the finish line with American Shamier Little, and just as in Stockholm, Bol came out on top as Little finished just behind in 52.85.
Men's 400 hurdles: Copello wins
Turkey's Yasmani Copello, the 2016 Olympic bronze medallist and 2017 WC silver medallist who is now 34, got the win in 48.34 — his second straight sub-48.50 this year — as American Amere Lattin was second out of lane 1 in 49.06.
It's hard to believe, but when Copello won silver at worlds in 2017, his time was just 48.49. In 2017, only one guy broke 48 on the year. This year, five people have gone sub-48, including two under 47.
Field events
Men's triple jump: Pichardo prevails in terrific duel
Heading into today's meet, no one had jumped farther than 17.69 meters this year; in Hungary, that mark was eclipsed three times as Portugal's Pedro Pablo Pichardo won the best competition of the year so far. Pichardo got things started by going 17.82 in round two, only for world indoor record holder Hugues Fabrice Zango of Burkina Faso to answer back with a 17.82 of his own, an outdoor personal best. Pichardo then came right back with a 17.92 to get his second world leader of the day and win the competition.
Men's high jump: Nedasekau ties world lead
Euro indoor champion Maksim Nedasekau of Belarus won a terrific high jump competition that saw six men clear 2.30 meters or better. 2019 World Championship medalists Ilya Ivanyuk and Mikhail Akimenko both cleared 2.33, but it was Nedasekau who prevailed, clearing a best of 2.37 to tie Ivanyuk's world lead.
Men's shot put: Walsh goes over 22 meters
2017 world champion Tomas Walsh registered his two longest throws of the season on back-to-back attempts, going 22.22 meters in round two and 22.09 in round three. That moved him up to #4 on the 2021 world list, behind only Americans Ryan Crouser (23.37), Joe Kovacs (22.72), and Darrell Hill (22.34) — though Hill won't be at the Olympics.
Women's javelin: Jasiunaite takes it
Euro bronze medalist Liveta Jasiunaite of Lithuania was only in third place entering the final round but threw 62.73m in round six — the second-best throw of her life — to earn the win.
Women's long jump: Bekh-Romanchuk wins
Maryna Bekh-Romanchuk of Ukraine fouled all three of her attempts at the Oslo Diamond League last week and was third in the Stockholm Diamond League on Sunday. Today she finally got a victory, as all five of her legal jumps would have been enough to win the competition. Her best was 6.79m from round three.
Men's discus: Stahl FTW
Daniel Stahl, the reigning world champ from Sweden, got his third win in six days as he threw 67.71 to win by exactly one meter over 2017 world champ Andrius Gudzius of Lithuania.
Talk about the meet on the world famous letsrun.com messageboard/fan forum: