2021 British Grand Prix Recap: Mohamed Katir (7:27) Wins Big Again, Trayvon Bromell (9.98) Back in Form in Final Diamond League Before Olympics
By LetsRun.com
July 13, 2021
In the last Diamond League before track & field begins at the Olympics in Tokyo on July 30, Trayvon Bromell, Elaine Thompson-Herah, and Mohamed Katir were among the athletes to earn victories at the Muller British Grand Prix in Gateshead on Tuesday night. A pair of Americans who won't be in Tokyo — Kate Grace in the mile and Isaiah Harris in the 800 — also earned victories, but it was the strong runs from Bromell, Thompson-Herah, and Katir that stood out on a night with far better conditions than the opening DL meet of the season, also held in Gateshead in May.
Bromell was a dominant winner in the men's 100 in 9.98, finishing well clear of the field despite easing up at the finish line, while Thompson-Herah took the win in the 200 in 22.43. Katir was the performer of the night as he outkicked Stewart McSweyn to win the men's 3,000 in 7:27.64, a meet and Spanish record.
Full recap and analysis of the meet below starting with the distances.
Men's 3000: Katir remains on a roll, holds off McSweyn
Moroccan-born Spaniard Mohamed Katir continued his breakout season with his third Spanish record of the year and broke a Haile Gebrselassie meet record in the process, kicking past Stewart McSweyn in the final 250 meters to win the final race of the day in 7:27.64. Katir now owns the national records in the 5,000 (12:50.79), 1,500 (3:28.79), and 3,000, and remains in ridiculously good form entering his first global championships, the Tokyo Olympics, where he will run only the 5k.
McSweyn ran 7:28.94 for second but was blasted over the final 120 meters, unable to hang with Katir. McSweyn finished less than a second off of his Australian-record personal best 7:28.02, but he made the race happen for Katir, pressing the pacemakers after 1200 meters and leading the race from 1600 until 2750. The Aussie holds five national records and qualified for Tokyo in three events (1500, 5k, 10k) but believes his best medal chance is in the 1500.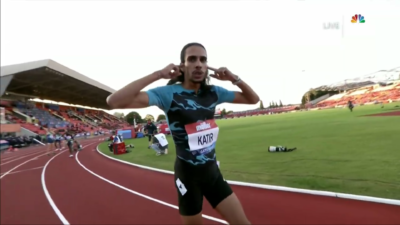 The race
The pacemakers, Adam Clarke and Vincent Kibet, were instructed to run 60-second laps, but they fell off that pace after 800, with a third lap of 61.80. At that point McSweyn moved up past Clarke and pressed Kibet, gapping the field slightly. Katir recognized the move and passed Michael Kibet into second place. When the final pacemaker dropped off after going through 1600 around 4:03, McSweyn began to turn the screw, making each lap faster than the previous one. By 2k (5:03.74), it was a two-man race.
The next lap was a 58.83 and the following lap, up to 200 to go, was 55.82, but McSweyn could not shake Katir, who stuck to his shoulder, tucked behind, the whole way. On the back straight, Katir made his move, drifting past McSweyn but saving a gear. McSweyn responded and held on, but Katir broke him coming off the final turn and pulled away for the win.
Great Britain's Andrew Butchart kicked hard to win the race for third, running a personal-best 7:35.18 to beat Kenya's Jacob Krop (7:35.34). NCAA 10,000-meter champion Patrick Dever ran a 31.7-second personal best of 7:37.29 in sixth place, one of ten men behind Katir and Butchart to get a PR. Yemaneberhan Crippa ran an Italian national record of 7:37.90 in for eighth.
Quick Take: Katir has come out of nowhere to become a serious Olympic medal contender
Two months ago, very few people outside of Spain had heard the name Mohamed Katir. But after running 3:28, 7:28, and 12:50, any serious distance fan knows the 23-year-old Katir and also knows that he is a genuine medal contender in Tokyo.
His progression is unbelievable: before this year, he had pbs of just 3:36, 7:44, and 13:50 but is now ranked #2, #2, and #4 in the world this year at those distances.
It seems crazy that a total unknown before the year could end up winning an Olympic medal, but it's not unprecedented. No one outside of the US knew the name Paul Chelimo before 2016, but he wound up as the silver medalist in the 5000 in Rio (granted he was not running nearly as fast on the circuit as Katir).
MB: Katir stays HOT – 7:27.64 Spanish national record for 3000.
Women's mile: Kate Grace's European revenge tour rolls on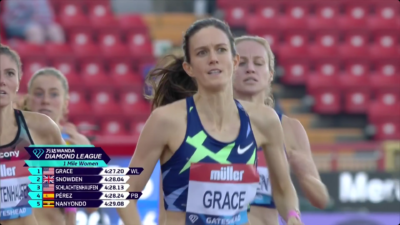 Despite two rabbits on hand to set the pace, no one was interested in following it early, as rabbit Chanelle Price hit 800 in 2:17.1 with Helen Schlachtenhaufen behind her as the first racer in 2:18.1. It was hardly Price's fault; the first lap had gone out faster (66.8), but with no one willing to follow, Price was forced to slow down lest she totally gap the field.
Price picked it up with a 67.5 penultimate lap before stepping off, but most of the field remained closely bunched as Italy's Federica del Buono took the lead from Schlachtenhaufen. That played perfectly into the hands of Grace, who was only 7th with 300 to go but has been in imperious form with three straight 800-meter personal bests since heading over to Europe. Grace followed Uganda's Winnie Nanyondo as Nanyondo made her move on the back straight, taking the lead with 200 to go as Grace settled onto her shoulder. Coming off the final turn, it looked to be a close race between those two, Schlachtenhaufen, and Spain's Marta Perez, but Grace removed all drama by unleashing a furious move midway down the home straight, winning handily in the end in 4:27.20 thanks to a 61.5 final 409 meters (30.1 final 209).
.@fastk8 blew away the competition as she finishes with a 4:27.0 for a new world lead! 🤯@USATF x #GatesheadDL

📺 NBCSN
💻 https://t.co/cuSGiJVnrx
📱 @peacockTV pic.twitter.com/lgWNwpUPVD

— #TokyoOlympics (@NBCOlympics) July 13, 2021
Quick Take: If you let it come down to a kick, don't be surprised when the 800 specialist wins it
Kate Grace has been running so well this month that she would have been favored to win any kind of race (remember, she ran 4:20.70 at this meet back in 2018). But it was shocking to see no one go with the pace early even though the opening 400 of 66.8 was within the capabilities of many women in this field. The slow pace played into Grace's hands, as she has a gear no one else in this race could match and showed it over the final 100 meters.
Quick Take: It has been a fast (and profitable) European trip for Kate Grace
Grace ran a poor race in the Olympic Trials final to finish 7th and miss the team, but she has made the most of her fitness, flying over to Europe immediately after the Trials and racing four times in 13 days. The sum of her achievements during that span:
-Two Diamond League wins (Oslo 800, Gateshead mile)
-Three personal bests (1:57.60 800 in Oslo, 1:57.36 800 in Stockholm, 1:57.20 800 in Monaco)
-$27,000 in prize money ($10,000 for first x2, $3,500 for third x2)
Not a bad trip, all in all. Unfortunately for Grace, her European opportunities have just dried up as there won't be another Diamond League until after the Olympics (the Pre Classic on August 20-21 is next on the schedule). And should Grace keep her season going and race the DL meets after the Olympics, she may find prize money harder to come by. One of the reasons she has been able to rack up top DL finishes is that many of the top American stars opted to stay in the US to train rather than race in Europe (Elle Purrier and the entire US Olympic 800 squad hasn't raced since the Trials). More of those athletes should be racing once the DL season resumes post-Tokyo.
MB: Kate Grace DESTROYS Gateshead field in final 100, wins mile in 4:27.20.
Men's 800: Harris holds on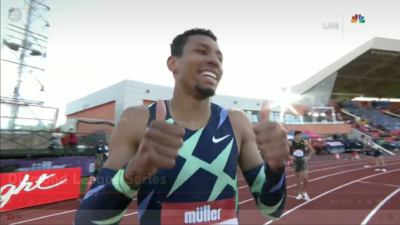 American Isaiah Harris, the 4th placer at the US Trials, won't be racing in Tokyo but he gave himself a nice consolation prize as he took the lead just before 600 and went on to win the men's 800 in 1:44.76 ahead of Wycliffe Kinyamal of Kenya (1:44.96) as Australian Peter Bol was third (1:45.22).
Americans Bryce Hoppel and Clayton Murphy ran aggressively early and were in first and second just before 600 when Harris charged by them but they ended up not being non-factors over the final 200 as they ended up 5th and 6th in 1:45.45 and 1:45.72, respectively. Another person that the pundits might expect to contend for a medal in Tokyo, Bosnian Amel Tuka, was even farther back as he was just 9th in 1:46.25.
"I was happy with that. I kinda wanted to PR but to get a win is just as good. It was a really good field and I'm happy with how I competed. I wanted to get out a little bit harder, but I feel like I positioned myself well. I moved up and made confident and strong moves and I executed a good race plan," siad Harris, who moved up from the back of the pack to midpack at 300 and then from midpack to the lead at 600.
Quik Thought: Let's hope this series of races from Clayton Murphy doesn't result in all coaches never racing people again
Just three weeks ago, Clayton Murphy looked like the Olympic gold medal favorite after running to the US title in 1:43.17. Over the last week, he's raced three times in Europe and gotten spanked three times, finishing third, seventh, and sixth and never running faster than 1:44.41.
What does it mean for Tokyo? Well on the positive side, Murphy has been perfectly poised to do well in all three of his European races, but his big close just hasn't been there over the last 150. Considering he missed some time before the Olympic Trials, the fact that he's healthy enough to race three times in a week is a good sign.
And Murphy doesn't really care where he finishes in these races. He's training through them. On Saturday, he did a workout in Monaco one day after running 1:44.
MB: WTF Murphy and Hoppel?! – Isaiah Harris gets revenge and the win in Gateshead
Quick Take: Harris joins an exclusive club
Harris' win today shows that the US has impressive 800m depth right now. The US fourth-placer is good enough to win a Diamond League, and the US is sending three 1:43 guys to the Olympics — and that doesn't include the reigning world champion. On the flip side, one could also point out that two of the three US 800m Olympians were just fifth and sixth today in a DL without most of the top African talent.
While Harris will not be in Tokyo, he has now achieved something that neither Murphy nor Hoppel have ever done: win a Diamond League. The five American men to win a DL 800 are Khadevis Robinson, Duane Solomon, Boris Berian, Brazier, and Harris.
Men's Emsley Carr Mile (non-DL event): Elliot Giles wins it in a pb
Two of Great Britain's three-man Olympic 1500 squad were in action in this non-Diamond League event, but neither British trials runner-up Jake Wightman or trials third-placer Jake Heyward was the winner here. Instead, it was British 800 champ Elliot Giles who continued his fine 2021 campaign by winning in a personal best of 3:52.49, edging Heyward in a photo finish by .01.
Wightman, the 3:29 man who was fifth at the 2019 Worlds, will not head to Tokyo in the best of spirits; he held the lead with 200 meters to go, but wound up only fourth, beaten by three of his fellow Brits. As strong as GB is in the middle distances right now, the Olympics will be much, much tougher.
"From my point of view that race was shocking," Wightman said. "My body just didn't feel very good and with a lap to go I thought I'd be in trouble. It's not the outcome I wanted at all and I should've won that and run quick but it's just a big block of altitude that just hit me."
Giles, meanwhile, was in a great mood.
"It was great and really comfy actually," Giles said. "It felt much better than I thought it would and I didn't have to go too deep. I thought it would have been a lot harder and quicker but maybe I was just having a really good day.
"I didn't realize Jake [Heyward] was closing on me so much and then I saw he was coming up behind me so that was a really rookie error on my behalf, but luckily I managed to push through and grab that win."
Quick Take: 11 Brits broke 4:00, including 5 first-timers
All told, 11 different Brits broke 4:00 in this one, including five who had never gone sub-4 before tonight. The highest placer of those three was third placer Archie Davis, who ran 3:54.27. The 22-year-old Davis, who was surprisingly 4th at the British Trials, had a 4:00.70 pb coming in although he had a 3:38.46 1500 pb. Still, his run tonight was a big PB in terms of equivalents as it converts to a 3:36.88 in the 1500.
The 10th through 13th placers all ran 3:58 and all broke 4:00 for the first time.
James McMurray (4:09.10 pb prior) ran 3:58.18 for 10th. James Young (4:00.40) ran 3:58.71 for 11th, while George Mills (4:09.68 pb prior), the 5th placer at the Euro U23s earlier this summer, ran 3:58.73 for 12th.

The biggest pb came from Tiarnan Crorken, 22. His actual mile pb before tonight was 4:16.91 (1:47/3:39) and he ran 3:58.89.
Sprints
Men's 100: Bromell rebounds with dominant victory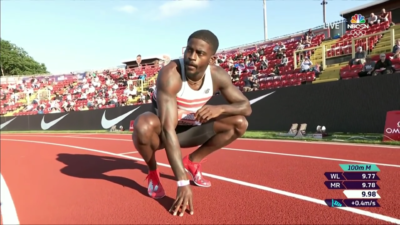 On Friday in Monaco, Trayvon Bromell suffered his first 100m defeat since 2019 as he stumbled early in the race and could only manage 5th place in 10.01. The top three men from that race were not in Gateshead today, but there was still a strong field including Olympic bronze medalist Andre De Grasse and US Olympic Trials third placer Fred Kerley. None of them were any match for Bromell, whose race today reaffirmed that he is the man to beat in Tokyo. Despite a poor reaction to the gun, Bromell recovered quickly and was in the lead by 30 meters. From there, he was able to reach a different level to the rest of the field; Bromell ran 9.98 easing up, with the rest of the field crossing in a blanket finish led by Brit CJ Ujah in 10.10.
Final, Wind: +0.4
B100
Final 2, Wind: +0.7
Women's 400 Hurdles: Bol beats Little for third consecutive time
Dutch athlete Femke Bol won her 12th consecutive 400-meter hurdle race, crushing the field by well over a second. Bol ran 53.24, not nearly as quick as her 52.37 (#4 performer all-time) at the Stockholm Diamond League on July 4 or her 52.81 at the Gyulai István Memorial on July 6, but still good enough to beat American Shamier Little for the third time in 10 days. Bol and Little battled to the line in Stockholm and in Székesfehérvár, with Little only 0.02 behind in Stockholm and 0.04 behind in Hungary, but it was not close today, as Little ran 54.53 for second. Bol pulled ahead before the seventh hurdle and opened a large gap, while Little was resigned to hold off Jamaica's Janieve Russell for second. Bol and Little are the second- and third-fastest women in the world in the event in 2021 (behind only world record holder Sydney McLaughlin), but Little will not compete at the Olympics in Tokyo because she did not make the US team.
Women's 200: Thompson-Herah Wins
2016 Olympic 100 and 200 champ Elaine Thompson-Herah of Jamaica ran a strong curve to grab the lead and she held on for the victory in 22.43. American Tamara Clark, the US 4th placer this year, was close to Thompson-Herah for most of it but she had a disastrous final 10 meters as she seemed to let up just a tiny bit as she went from second to fourth (22.62) as she got passed right at the line by Jodie Williams (22.60) and Blessing Okagbare (22.61).
While the times are modest, we'll try to get some meaning from this one by using the transitive property. At the US trials, Gabby Thomas beat Clark by 0.37. Tonight, Thompson-Herah beat her by 0.19.
Thompson-Herah acknowledged her time wasn't great but is excited about heading to Tokyo to defend her titles, saying:
It helps me to build my confidence to get that win on the board. It may not be my fastest time but I'm still pleased with that.
I need to get the work in to get that curve as quick as possible and keep pushing forward.
Tokyo will be my second Olympics and I'm pretty excited now. I've been there and I know what it feels like and even though there are no crowds I will hope to put on a show.
Final, Wind: +0.2
Men's 110 Hurdles: Jamaican champ Levy defeats disgruntled McLeod
Jamaican champion Ronald Levy pulled away from reigning Olympic champion and countryman Omar McLeod after the final hurdle, winning in 13.22 (+0.8 m/s) to McLeod's 13.42 in second. In a race billed as a redemption run for McLeod, who was left off the Jamaican Olympic team after finishing eighth in the final at their trials, it was Levy who verified his victory in Kingston, starting neck-and-neck with McLeod before having the superior final 15 meters.
Great Britain's Andrew Pozzi was third in 13.45 while NCAA champion Robert Dunning of the USA was fourth in 13.71.
McLeod was emotional and "heartbroken" in the pre-meet press conference, saying he wasn't given a "fair opportunity to make the team, with the ridiculous schedule that [he's] never seen in [his] years of track and field," which required the hurdlers to race a semifinal in the evening and then come back for an 8 a.m. final the next morning. He further criticized the Jamaica Athletics Administrative Association, saying Usain Bolt had been previously given medical exemptions at the Jamaican trials, but McLeod was denied that possibility despite dealing with a cramp the morning of the final.
Final, Wind: +0.8
Women's 100 hurdles: Sember grabs second DL win
Just as she did in the opening Diamond League meet of the season in Gateshead, Great Britain's Cindy Sember earned the win tonight. Her winning time (12.69) was significantly faster than it had been on May 28 (13.28) — it certainly helped that Sember was racing tonight in warm 66-degree temperatures with a friendly wind (+1.5) compared to the last DL meet in Gateshead, which was held in cold, wet, and windy conditions (there was a 3.9 m/s headwind on that day).
Final, Wind: +1.5
Women's 400: McPherson dominates in 50.44
Jamaican champion Stephenie Ann McPherson took a big lead on the second turn in the women's 400 and did not relinquish it, winning in 50.44 to defeat Great Britain's Jodie Williams (50.94) and Poland's Lieke Klaver (51.54). McPherson made the final at each of the last four outdoor global championships and her season's best is the 49.61 that she ran to win the Jamaican championships, which is fifth in the world in 2021. Williams, running an hour after she ran a seasonal best 22.60 (+0.2 m/s) to take second in the 200, capped a great day with a personal best in the 400, closing hard to pass Klaver in the final straight.
B Heat
Field events
Men's triple jump: PPP is easily the best
Portugal's Pedro Pablo Pichardo, the two-time World Championship silver medalist, only took two jumps tonight, but they were the two longest of the night. He went out to 17.29 meters on his first attempt, and with his spot in the three-man final virtually assured, passed his next four attempts. He returned for the all-important sixth round and got out to 17.50 meters to easily earn the win over Italy's Tobia Bocchi, who could muster just 16.60m.
Pichardo and Bocchi illustrate one of the negative side effects of the new Final Three format: if you jump well in an early round, there is no incentive to jump again until the final round as improving your mark cannot benefit you.
Men's High Jump: Donald Thomas takes the win with 2.25-meter clearance
Five days after we had a 40-year-old former global champ win a Diamond League javelin competition in Monaco, we saw a 37-year-old former global champ take this men's high jump competition, as 2007 world champion Donald Thomas of the Bahamas cleared 2.25 meters on his first attempt before missing twice at 2.28 and once at 2.30. Italian Marco Fassinotti also cleared 2.25 but did it on his third attempt and failed to clear 2.28. Thomas will jump in his fourth Olympic Games in Tokyo.
Women's Long Jump: Bekh-Romanchuk wins Final 3 in 6.67 meters and has longest jump of the day (6.77)
In the Diamond League's Final 3 format for field events, the athlete with the best mark of the day does not always win the competition. But that was not the case in the women's long jump in Gateshead as Ukrain's Maryna Bekh-Romanchuk was best during the first five rounds (6.77m in round five) and best in the final round (6.67m) to defeat Germany's world champion Malaika Mihambo.
Men's javelin: Vetter wins underwhelming competition
Competing in England for the first time since his 2017 world title in London, Germany's Johannes Vetter, the 2021 world leader at 96.29m, earned the win to make him a perfect nine-for-nine this season. But it wasn't easy. Vetter only had the second-best throw in the first five rounds (82.13 compared to 2012 Olympic champion Keshorn Walcott's 82.81), but he was best when it counted as he summoned an 85.25 effort in round six, while neither Walcott nor runner-up Julian Weber could even crack 80 meters.
Women's pole vault: Morris wins it
With world leader Katie Nageotte absent, world indoor champ Sandi Morris of the US took advantage. Jumping on her own poles for the first time in Europe, she won her first competition since April with a 4.76 clearance and more importantly regained some confidence.
"I've had a really tough time this last month. I've had a couple of bad meets and my confidence was lacking a bit so I really needed today. I decided that I'd have no expectations and just have fun and anytime I jump for fun I always jump high," said Morrs. "It's amazing how you can have five bad meets and one good meet and your world flips back to normal."
Brit Holly Bradshaw also got back some confidence by switching to lower poles to grab second at 4.71.
Non-DL Events
Women's 100: Del Ponte Wins
European indoor 60m champ Ajla Del Ponte of Switzerland got the win in 11.19 over Canadian Olympians Khamica Bingham (11.23) and Crystal Emmanuel (11.36).
Men's 400: Nicklas Baker wins in 46.24
The non-Diamond League field in the men's 400 consisted entirely of British athletes, none of whom have the Olympic standard. National champion Nicklas Baker took a narrow win over some of his Olympic 4x400M relay teammates, running 46.24 to defeat Joseph Brier, who ran 46.34 for second. British 400-meter mainstays Martyn Rooney (2008, 2012, and 2016 Olympian) and Matthew Hudson-Smith (2016 Olympic finalist) could only manage seventh and eighth, respectively, in 47.74 and 48.29.
Women's 4×100 relay: The Netherlands takes it
In a tuneup for Tokyo, the Netherlands' quartet of Jamile Samuel, Dafne Schippers, Marije van Hunenstijn, and Naomi Sedney got the win in 42.84, just holding off a Dina Asher-Smith-less British squad, who almost ran the Netherlands down thanks to a strong anchor leg from Daryll Neita.
1
5

NED

Samuel J.

Schippers D.

Van Hunenstijn M.

Sedney N.

42.84

42.82
42.04
2
4

GBR

Philip A.

Lansiquot I.

Dobbin B.

Neita D.

42.92

43.36
41.77
3
7

Robinson T.

Chadwick P.

Hailey C.

Morrison N.

43.45

4
6

SUI

Dietsche R.

Del Ponte A.

Atcho S.

Reinle C.

43.46

42.42
42.18
5
2

WAL

Brier H.

Odunaiya A.

Moore M.

Roberts M.

45.25

DQ
3

CAN

Emmanuel C.

Buchanan L.

Roxborough S.

Bingham K.

TR 24.7

43.24
42.60
Men's 4 x 100: Great Britain wins with world leader
Great Britain's Nethaneel Mitchell-Blake got the baton with the lead and managed to just barely hold off a fast-charging Andre De Grasse as Britain won in a world-leading 38.27 to Canada's 38.29.
Wondering what it takes to medal? The bronze medal has been won in the 4 x 100 at the last 3 global championships in 37.43, 38.04 and 37.64.