Men's Steeple: Hillary Bor & Benard Keter Deliver ADP 1-2; Mason Ferlic Rounds Out Team USA
By Jonathan Gault
June 25, 2021
On a baking-hot 90-degree afternoon at Hayward Field on Friday (though not quite as hot as this weekend's forecast), we saw training partners go 1-2 in a distance event for the third time at the 2020 US Olympic Trials. Unlike the men's 10,000 or women's 5,000 however, which both featured Bowerman Track Club sweeps, this time it was the men from Scott Simmons' American Distance Project who earned the honors as Hillary Bor and Benard Keter went 1-2 in the men's steeplechase final, Bor edging Keter to repeat as US champion in 8:21.34 to Keter's 8:21.81.
Just as in last night's women's steeple final, the battle for third was intense. Isaac Updike, unsponsored until today's final (he wore a Nike kit), narrowly led Mason Ferlic entering the final water jump, but Updike stumbled slightly emerging from the pit. Ferlic did not, and that gave him the space he needed to unfurl his long legs and create a gap for the third and final spot to Tokyo. Even then it wasn't over, as Ferlic had to fend off a fast-closing Dan Michalski coming off the final barrier, but Michalski just couldn't get to Ferlic in time, Ferlic edging it, 8:22.05 to 8:22.54.
Not much happened in the race for the first two kilometers, which were led by two-time Olympian Donn Cabral (2:51.44 at 1k, 5:42.92 at 2k). With the leaders only on 8:34 pace at 2k, it was little surprise to see the entire 14-man still in one large pack.
The racing began in earnest at the penultimate water jump, when Bor moved past Cabral into the lead. Bor was quickly passed himself by Updike, and at the bell, Updike led Bor, Ferlic, and Keter as the pack began to string out.
On the back straight, Keter moved up and he and Bor worked together to pass Updike and open a gap on the field. Updike had a small gap on Ferlic with 200 to go, who in turn had roughly five meters on Michalski in fifth. From there, Bor dueled Keter and Ferlic dueled Updike, Bor pulling away off the final barrier after Ferlic made his move on the final water jump.
Top results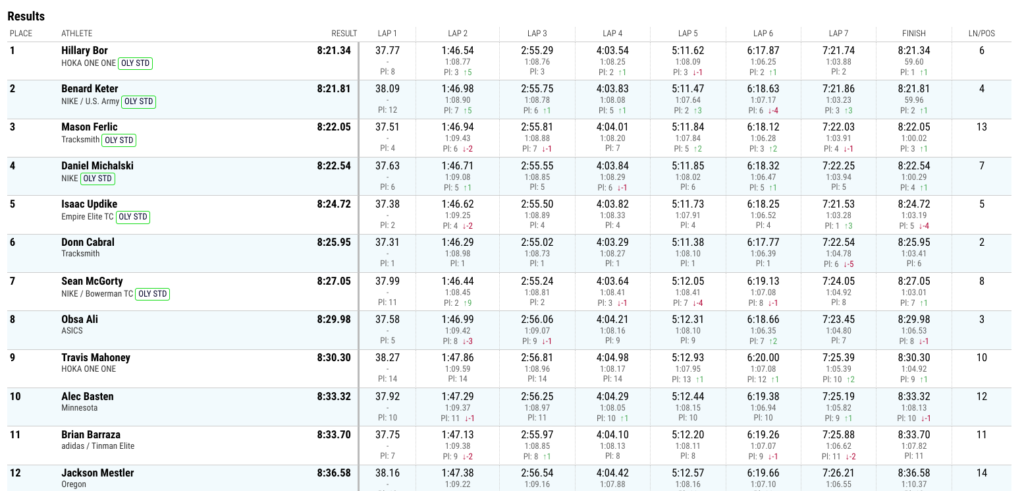 Quick Take: Hillary Bor is the top dog in American steeplechasing
Even while sidelined, Evan Jager has remained the unspoken top dog in US steeplechasing. Jager could well regain that mantle, but the fact is that he has not finished a steeple since 2018. Which means that right now, Hillary Bor is the man to beat. Bor has won the last two US steeple titles and won the opening Diamond League steeple of the year in Gateshead last month. Considering Bor beat the top two finishers from the Kenyan trials in that race (Leonard Bett and Abraham Kibiwott) and the uncertainty around the Ethiopian team, Bor, who was 7th at the '16 Olympics and 8th at the '19 Worlds, is a legitimate medal contender in Tokyo. Quite the journey for an athlete who competed in the long jump and triple jump as a high schooler in Kenya.
Quick Take: The pandemic had a massive impact on the outcome of tonight's race
Many of the Olympic teams selected at this meet look differently than they might have had the Trials been held as originally scheduled in 2020. But the men's steeple team may look the most different of all. This time last year, Jager was healthy (he ran 13:12 on June 30, 2020) and Keter was injured.
Article continues below player.
Ferlic wasn't injured, but for him the pandemic provided the opportunity to reassess who he was as an athlete. Coming out of Michigan as an NCAA champion in 2016, Ferlic signed with Nike and felt the need to do what he felt every pro needed to be doing — 100-mile weeks, doubling every day. Largely, that approach failed. Ferlic was 9th at USAs in 2017, didn't even make the final in 2018, and though he bounced back by taking 5th in 2019, he entered 2021 without a contract and without a pb since college.
This year, he tried to forget about outside expectations and focus on what his body was telling him in training. And he tried to enjoy the sport a bit more.
"[The pandemic], as terrible as it was, for me it was this great reframing and gave me a different perspective on how I wanted to approach the next year," Ferlic said. "…It wasn't until 2020 when we pumped the brakes and I realized I needed to listen to my body, the Very Nice Track Club in Ann Arbor became my outlet. Sharing these moments with Hobbs Kessler and Nick Willis, that's the fun part of the sport."
Ferlic also made a switch in coaches this year, from his college coach Kevin Sullivan to former Michigan coach Ron Warhurst. He's still close with Sullivan and stays in touch, but with Sullivan still coaching the Michigan team, he found himself spread a little thin by coaching Ferlic as well.
Quick Take: Like his friends and training partners, Benard Keter is now an Olympian
In 2008, Benard Keter's older brother, Tareq Mubarak Taher (born Dennis Kipkurui Sang) finished 11th in the Olympic steeple final for Bahrain. Keter didn't get to see it; he was at boarding school, and the teachers wouldn't let him watch the race. But that dream of becoming an Olympian stuck with Keter when he began his own running career after high school, and it is why he moved to Colorado Springs after graduating from Texas Tech after a solid but unspectacular NCAA career (best finish of sixth at NCAAs in 2017). 
"I moved to Colorado after college to train with Olympians," Keter said. "And when I moved to Colorado there [to train with] Olympians and I wanted my name to be an Olympian too."
Mission accomplished.
With Keter making the team, this is the third straight global championship in which more members of the US men's steeple squad were born in Kenya (2) than America (1).
Quick Take: Ferlic has a lot in common with the third placer in the women's steeple, Val Constien
Just like Constien, Ferlic made the team by winning a battle for third after a superior final water jump. And just like Constien, he was wearing the red, white, and blue Tracksmith uniform.
Constien was wearing the Tracksmith uniform because she is part of Tracksmith's Amateur Support Program, which provides a uniform and quarterly $250 gear stipend to unsponsored athletes competing at the Olympic Trials. That program has proven to be a coup for Tracksmith, which now has four Olympians — Constien, Ferlic, Rudy Winkler in the hammer, and Rachel Dincoff in the discus.
Ferlic is in a slightly different situation as he is actually a consultant for Tracksmith's business analytics. He also just wrapped his first year as a Ph.D student in statistics at the University of Michigan. Moving forward, the 27-year-old Ferlic said he isn't sure whether he wants to pursue a traditional sponsorship model and the financial stability that would offer, but he knows that he likes what he has right now.
"What I want from a sponsorship is what I think Tracksmith provides," Ferlic said. "I'm at the point in my career that I value the connections and the growth. It's exciting to be part of a brand that's invested in the sport and invested in people."
Speaking of Tracksmith, we found Tracksmith Athlete Experience Manager Nick Willis after the race to get his thoughts on training partner Ferlic making the team (he warmed up with Ferlic before the race and helped to pump him up), Hobbs Kessler missing the Olympic Trials final, and his own chances at qualifying for Tokyo. Like most Willis interviews, it's worth the watch:
Quick Take: Dan Michalski was a grateful fourth-place finisher
Usually fourth is the cruelest place at the Olympic Trials, but the overwhelming emotion from the fourth-placer tonight, Dan Michalski, was gratefulness. A grad of DII Cedarville (Ohio) University and now the head cross country coach at DIII LeTourneau University in Texas (and a LetsRun.com podcast listener!), Michalski was just a little bit too far behind Ferlic in the final stretch when he began his kick and had to settle for fourth place. But to hear him speak, you wouldn't know it. As a new father (and the new recipient of a Nike contract), Michalski has a lot to be thankful for.
"I'm really grateful to have gotten to this point, to have the support of my family, friends, coaches, coworkers," Michalski said. "…Though I would've been really, really proud to represent us internationally at the Olympics, I'm hungry and committed to following through with this thing. I'm going to keep doing it as long as there's still upside, which I think I have a ton of still.
"…As much as I wanted to make that team, I'm happy to see Mason Ferlic get it. He and I roomed together at the Mt. SAC meet this year and I really gained a friend on that trip…There's no real enemies in this thing…It's easy to root for the guys from our country in this event."
Quick Take: McGorty is a surprising nonfactor
One of the surprises of today's race was that Sean McGorty of the Bowerman Track Club, the man with the best flat pbs in the field (7:37/13:06), was not a factor and finished 7th in 8:27.05 — slower than he ran in the prelims despite a 10-second break to put his shoe back on. Perhaps a lesson to anyone who might diss the steeple as a "backup" option for talented flat runners that it is not an easy team to make.
McGorty was up near the front for the first half of the race, but said that his legs didn't feel good during the race and that created a negative feedback cycle which caused him to not feel good mentally either.
"The first word that comes to mind is disappointment," McGorty said. "I felt like I did a good job positioning myself, just right on Cabral's shoulders. We weren't running really fast, and my legs felt kind of heavy at that point in the race.. People started to move at a mile, 1200 meters to go, I let myself get out of the race mentally…Then there's a gap and you're watching your Olympic dreams fade away…There's no guarantee I would have made it if I stayed with them, but I'm just disappointed that I let the way I was feeling determine my race."
So will McGorty go back to the 5k? He said it's too early to know for sure, but added that he wants to run another steeple this year because he believes he has "unfinished business" in the event.
Quick Take: We could see some fast times in Monaco
The Monaco Diamond League always produces fast times, and if the Americans head over there this year on July 9, we could see some personal bests. Bor said he might be able to run 8:05 there — which would be #2 all-time by an American — while Keter believes he is in 8:10-12 shape right now.