Stop The Fear Porn, The Olympics Should Go On — Japan's COVID Rate Is Currently 50% Less Than the Rate in the US
by Robert Johnson
May 26, 2021
Fellow journalists, government officials, you're doing it again.
The fear porn.
Article continues below player
It's got to stop.
As someone who has really been looking forward to covering the Olympics this summer in Tokyo, it has been impossible the last few days to avoid the really depressing headlines from a wide variety of sources:
Seeing stories like that, I started wondering, "Wow, might the Olympics actually be canceled — even at this late of a date?"
I decided to do a tiny bit of research to see how bad the situation currently is in Japan and specifically Tokyo. The facts stunned me.
According to data from the New York Times and Johns Hopkins, the stats reveal that on a per capita basis, both the number of new COVID-19 cases and new COVID-19 deaths is 50% lower in Japan than the United States.
Yes, you read that correctly. Japan currently is doing much better than the United States in terms of COVID cases and deaths. As of May 24, the US's 7-day average number of new cases is 24,794 and for deaths it's 568. For Japan, those numbers are just 4,828 and 109, respectively. The US's population is 2.6 times that of Japan. So go ahead and multiply those Japanese numbers by 2.6.
Even on a per capita basis, you see that Japan is doing a much better job than the United States.
| | | | |
| --- | --- | --- | --- |
| COVID-19 in Japan and USA as of May 24, 2021 | Japan | US | Japan/US % |
| 7-Day Avg # of New Cases | 4,828 | 24,794 | 19.47% |
| 7-Day Avg # Deaths | 109 | 568 | 19.19% |
| Cases per million | 38.23 | 75.55 | 50.60% |
| Deaths per million | 0.86 | 1.73 | 49.87% |
Don't believe me? Our World in Data sums it up nicely with the following chart:
Even though the COVID numbers in the US are on a per capita basis twice as high as Japan, you'd never know that based on how people are acting.
In Japan, people are freaking out and some of the country's most prominent CEOs are calling for the Games' cancellation, including one who called it a "suicide mission." Today, the world's second-largest newspaper, Japan's Asahi Shimbun, also called for the Games to be canceled.
Meanwhile in the US, it's almost as if COVID-19 is over. Mask mandates are dropping like flies, Major League Baseball teams are returning to 100% capacity, and on Sunday, 17,000+ fans attended an indoor basketball game in New York City. Yet two days later, the US government issued its strongest travel advisory and urged Americans not to travel to Japan — a country where COVID is much less of a problem than here.
That makes no sense.
Did you know that the total amount of COVID-19 right now in New York is nearly identical to that in Tokyo? The latest stats I could find revealed a 14-day total of 9,669 new cases of COVID in NYC and 9,958 new cases in Tokyo. But remember, Tokyo's population (13.96 million) is much greater than New York's (8.42 million). So on a per capita basis, Tokyo has 82.2% of the COVID cases in NYC as we speak. Roughly one in 1,400 people has gotten COVID in Tokyo over the last 14 days and for NYC it's 1 in 1,150.
Yes, I know the US has done a much better job of vaccinating the most vulnerable than Japan, but that's why I also included per capita deaths, not just cases in the table above. Additionally, there is good news on that front. Japan has started a plan to vaccinate all of its senior citizens before the Olympics begin.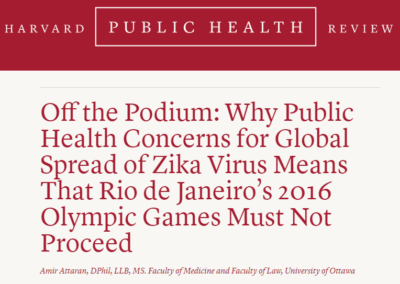 You probably haven't heard that good news as the media has been doing what it does every four years — acting like the latest "crisis" is the beginning of the apocalypse and coming up with a scary reason why the Olympics are in danger. Nine years ago, it was terrorism in London, then it was Zika in Rio and now COVID-19 in Tokyo.
COVID-19 is a very serious concern, but the Olympics should go on.
Holding the Olympics less than two years after a global pandemic shut down the world will be a glorious testament to the resiliency and ingenuity of mankind.
Tons of precautions will be taken. The vast majority of visitors will be vaccinated before coming to Tokyo. I, like every other Olympic visitor, will have to pass two COVID-19 tests before I arrive in Japan. Then I'll be tested daily on my first three days there. Athletes will be tested daily throughout their entire stay.
Will it be a zero-risk event? No, of course not, but it is a calculated risk worth taking. Plus the most vulnerable in Japan, or at least in Tokyo, will hopefully be vaccinated by then. Additionally, there certainly is enough time to vaccinate 100% of the Olympic volunteers and officials.
If you disagree with me, fine. But please do so using fact-based arguments as I've tried to use numbers myself to put the so-called "Japanese COVID-19 crisis" in perspective. The last year-plus has shown me that people consistently react emotionally to COVID and governments love to blame foreigners for COVID — whether it's someone from another state or country. The US's recent travel advisory for a country safer than the US is the ultimate virtue signal.
---
Robert Johnson is the co-founder of LetsRun.com. Five years ago, he wanted to start a family and was advised by a Johns Hopkins doctor to skip the Rio Olympics because of Zika. He did skip the Olympics, and has no regrets about doing so. Currently, he lives in Baltimore with his three-year-old son and wife and is fully vaccinated but still hasn't been to a local restaurant in over a year.
---
Talk about whether the Games should go on our messageboard.
MB: Tokyo Olympics – Not looking good / "Stop the fear porn" says Rojo.
Editor's note: The line about there being enough time to vaccinate the officials and volunteers was added after publication.