DK Metcalf Runs 10.37 for 100 Meters at 2021 USATF Golden Games (w/ Race Video)
By LetsRun.com
May 9, 2021
In his first track and field competition since high school, Seattle Seahawks wide receiver DK Metcalf ran a credible 10.37 but finished last in the second heat of the men's 100 meters at the 2021 USATF Golden Games at Mt. SAC on Sunday, failing to advance to the final later this afternoon. To qualify for the nine-person final, Metcalf would have had to have finished in the top three of his heat or earned one of the three time qualifiers; his time of 10.37 was .16 short of the final time qualifier, Bryce Robinson, who ran 10.21. The fastest qualifying time belonged to Isiah Young, who ran 10.09 to win heat one.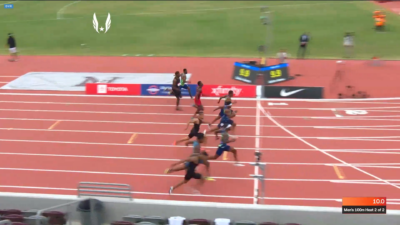 "Just happy to be here, excited to have the opportunity," Metcalf said on the USATF.TV broadcast after the race. "I just thank God for the opportunity to just come out here and run against world-class athletes like this…These are world-class athletes, they do this for a living and it's very different from football speed, from what I just realized."
Article continues below player.
Metcalf, who did not run track in college at Ole Miss, came well shy of the automatic qualifying standard for the US Olympic Trials (10.05), which will be contested June 18-27 in Eugene, Ore. USATF will take a total of 32 athletes in the 100 meters, filling the field with the fastest qualifiers outside of those with the automatic standard. To earn one of those spots will likely take a time under 10.20 seconds, which means Metcalf will have to race again if he wants to qualify for the Trials.
That doesn't appear likely though. When NBC's Lewis Johnson asked Metcalf if he would continue racing, Metcalf said he had to go to the Seahawks' mandatory minicamp, which is set for June 15-17.
Full Race Video
Talk about DK Metcalf's run on our world famous fan forum / messageboard.
MB: DK METCALF 10.37 – Rojo nailed it
Pre-Race: LRC "10.5ish If He Has a Good Race" – Ato Boldon Praises DK Metcalf For Racing, But Doesn't Think He'll Excel In 100 at the USATF Golden Games