Zouhair Talbi (Morocco) and Andrea Seccafien (Canadian Record) Win The Track Meet 10,000 as Sara Hall and 3 Others Get Olympic Standard
by LetsRun.com
May 14, 2021
Three men and three women picked up the Olympic standards of 27:28 and 31:25 tonight in the 2021 Track Meet. Results appear below. Lap splits, DNSs and othe results can be found here. The winners hit halfway in 13:44 and 15:48.
Article continues below player.
A guy you've never heard of – Zouhair Talbi – of Morroco won the men's 10,000. His pbs before tonight were 13:28/28:02. Emmanuel Bor and Joe Klecker of the US were also under the 27:28 Olympic standard. NCAA XC Champ Conner Mantz came up short (27:41) as did Sam Chelanga (27:42) in his comeback attempt.
Andrea Seccafien, the Canadian record holder in the half marathon, now has the 10,000m record as she won in 31:13.94, crushing Natasha Wodak's old record of 31:41.59. Former NCAA XC Champ Edna Kurgat is now a US citizen and she got under the 31:25 Olympic standard as did Sara Hall who at the age of 38 set a huge PR (previous best 32:35). There was some drama as Makena Morley, Amy-Eloise Markovc, and Jessica Judd all missed the standard by less than a second.
14 American women and 9 American men have the standard.
Talk about the action on our messageboard:
Women's A Heat Results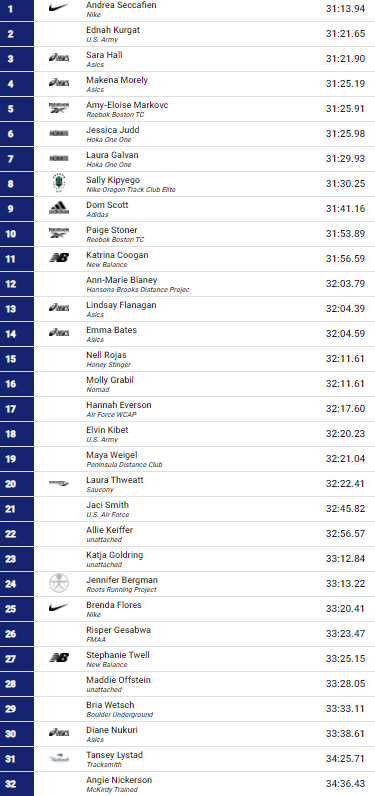 Men's B Heat Results