Can Eliud Kipchoge Get Back to His Winning Ways on Sunday? Could He Be Left Off the Olympic Marathon Team?
By Jonathan Gault
April 15, 2021
Eliud Kipchoge is a man of routine. He has worked with the same coach, Patrick Sang, since he was a 17-year-old in 2002. Over the ensuing 19 years, whenever he is training — which is most of the year — he has spent six days a week, Monday evening to Saturday morning, in the pared-down training camp run by his agency, Global Sports Communication, in Kaptagat, Kenya. Days in the camp tend to run together: morning runs, followed by mugs of steaming, milky tea. Chores or perhaps an afternoon nap. Another run, more tea, dinner, and bed. Track sessions on Tuesday, long runs on Thursday, intervals on Saturday before spending the weekend at home with wife Grace and his three children, all of it meticulously detailed in Kipchoge's handwritten training logs.
In recent years, his racing schedule became similarly predictable: one marathon in the spring, one in the fall. That's it. Since the start of 2017, Kipchoge has "raced" just one time below the marathon distance, and even that doesn't really count — a 13.1-mile dress rehearsal in 59:19 ahead of his Breaking2 attempt in Monza, a tuneup so insignificant it does not even appear on his World Athletics results page.
These are the pillars of consistency on which Kipchoge constructed his marathon empire. Twice a year, he would emerge, demonstrate the fruits of his training in Kaptagat, and remind us who the world's greatest marathoner was. Everyone was happy about this.
But in 2020, Kipchoge, like everyone else, was thrown out of his routine. The Kaptagat training camp closed. His April date on the streets of London with fellow luminary Kenenisa Bekele was postponed until the fall; for the first time since 2012, Kipchoge did not race a spring marathon.
Article continues below player.
And then when he returned to racing in October, Kipchoge could not find normalcy. At the rescheduled London Marathon, the marathon he has run more than any other, Kipchoge suffered his first marathon defeat in seven years. A blockage in his right ear was cited as the reason for his loss.
Back to the Routine
A month after the race, Kipchoge's agent, Valentijn Trouw, asked him how he wanted to proceed in 2021. Would the 36-year-old Kipchoge take a longer break than usual and focus all of his energies on the defense of his Olympic marathon title in Sapporo on August 8? Or would he run a spring marathon and the Olympics, as he had in 2016?
Kipchoge chose the second option. He wanted to return to his routine.
Only one problem: the spring marathon season was virtually non-existent. The World Marathon Majors — Tokyo, Boston, and London — were all postponed until the fall. So were fallback options such as Rotterdam and Prague. Fortunately, Trouw was already organizing the NN Mission Marathon, a last-ditch effort for athletes to earn Olympic qualifiers this spring. Adding Kipchoge to the field was a natural fit.
The race was originally scheduled to be held last weekend in Hamburg, but after the German city went back into lockdown, organizers had to scramble for a new venue, ultimately settling for an airport in eastern Netherlands once commandeered by the Nazis during World War II. It is there, over a flat five-kilometer loop, that Kipchoge will race for the first time since his defeat in London in October.
Usually when Kipchoge races, there is really only one question: how fast will he run? The usual queries lobbed at elite marathons — Is he in shape? Will he win? — eventually became pointless with Kipchoge when he started returning the same answers (yes and yes) year after year.
This time it's different. We don't just want to know how fast Kipchoge will run, but if he'll look like himself, if London was just a blip on the radar or the start of a decline. And what about his Olympic prospects? Should he falter this weekend and register his second consecutive subpar marathon, could Athletics Kenya do the unthinkable and leave Kipchoge off its Olympic team this summer?
Let's take those one at a time.
How fast will Kipchoge run?
This is unclear. Outside of Kipchoge, only two other men in the field have broken 2:06 (Filex Chemonges, who will be looking to secure an Olympic berth, ran a Ugandan record of 2:05:12 in 2019; Kenya's Laban Korir ran his pb of 2:05:54 in 2016). Kipchoge's personal best, of course, is the world record of 2:01:39, but if he wants company on Sunday, it seems unlikely the pace will go out anywhere close to that.
"We are checking what the weather conditions will be for Sunday, so still a lot can change," Trouw says.
There will be three groups on the men's side — a top group, a 2:07 group, and a 2:09/2:10 group. Kipchoge, naturally, will be in the top group, but beyond that nothing is certain yet.
"Kipchoge is the big name in the first group so he will have an important say in the pace," Trouw says.
Was London a blip on the radar or the start of a decline?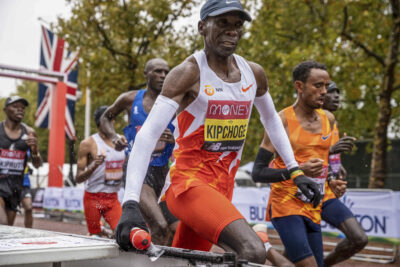 Kipchoge's defeat in London six months ago wasn't just shocking because he lost; it was shocking because Kipchoge was felled by the sort of issue he seemed immune from since taking up the marathon in 2013. It's not just the 26.2-mile distance that makes the marathon a brutal event; it's that it only takes one complication on race day to waste the labor of an entire training block. Stepping in a pothole, waking up with a sore throat, cramping at the wrong time — at some point, every marathoner has been derailed by something beyond their control.
Not Kipchoge, though. As he won 10 straight marathons (and two exhibition events) from 2014-19, Kipchoge never had a bad day. Even when one of those bizarre issues did pop up, it did not faze Kipchoge. In the 2015 Berlin Marathon, Kipchoge ran most of the race with his insoles flapping in the wind; he still won in 2:04:00, a personal best and the year's fastest time.
In London, though, Kipchoge developed another strange problem, an ear blockage that hampered him over the final 10 miles. After running with the lead pack through 23 miles, he faded to 8th place in 2:06:49, over a minute back of winner Shura Kitata.
Trouw says that within the Kipchoge camp, the belief is simple: the result in London was the result of a freak occurrence and not the harbinger of a decline.
"The training towards London was good so there was no worry in that training circle," Trouw says. "In the race in London, of course, something unforeseen happened. He did a checkup after and there was not any reason to believe that [ear issue] will come up more often, so basically that is not in the mind in that way. Of course it's nicer to have always good results, but that is not something that is in the mind now."
Still, Kipchoge's performance on Sunday bears watching. Trouw says Kipchoge's buildup went well and that his fitness is good; if he wins comfortably, as expected, that will be enough evidence for most people to consider him the favorite for this summer's Olympics.
If Kipchoge struggles again, however, the doubts will really start to seep in. There is a new crop of athletes like Shitata, Lawrence Cherono (reigning Boston/Chicago champ), and Birhanu Legese (two-time Tokyo champ, 2:02:48 pb) hungry for his crown. Prior to Kipchoge, it was rare for anyone to reign as World #1 in the marathon for more than a couple of years. Kipchoge occupied that spot for five.
Could Athletics Kenya leave Kipchoge off its Olympic marathon team?
Athletics Kenya named Kipchoge to its Olympic marathon team back in January 2020, alongside Cherono and World Championship bronze medalist Amos Kipruto. Of course, that was under the impression that the Olympics would take place in August 2020. In February 2021, AK came out with a new team: Kipchoge, Cherono, Kipruto, and Vincent Kipchumba, the runner-up and top Kenyan at the London Marathon last year. AK offered no indication which of those four athletes is the reserve…which is an issue considering only three of them can race in Sapporo.
Athletics Kenya and the National Olympic Committee of Kenya will have final say on the team, but Trouw expects Kipchoge will be at the Olympics, regardless of the outcome of Sunday's race.
"I don't know more than that Eliud is one of the four, but I think that within those four that Eliud is on the safe side, so to say, so that it's clear what his position in the Olympics will be," Trouw says. "…I don't think Sunday has any influence towards the Olympics because I think some [athletes] might run [a spring marathon], some might not run. But I don't think, especially also with Eliud's status and his position, I don't think Sunday has an influence on his position towards the Olympics."
***
Kipchoge to Face Olympic Champ Stephen Kiprotich
NN Mission Marathon race details
What: NN Mission Marathon
When: Sunday, April 18, 2:30 a.m. ET
Where: Twente Airport, Enschede, Netherlands
How to watch: You can find out how to watch in your country here. In the US, the race will be streamed live by FloTrack (requires subscription).
The weather for Sunday's race looks close to ideal for marathoning: partly cloudy with a high of 57 degrees. In addition, the wind will only be 7 mph — important considering the course at Twente Airport is open and at the mercy of the elements, unlike a big-city race where tall buildings could offer some protection.
Kipchoge is the star attraction, obviously, but there are a few other familiar names on the start list, including Uganda's Stephen Kiprotich. Yes, that means the last two Olympic champions will be squaring off this weekend. One other intriguing entry: 34-year-old Augustine Choge of Kenya. A distinguished track runner for many years — his duel with Craig Mottram at the 2006 Commonwealth Games is the stuff of legend — Choge made his marathon debut in Chicago in 2018 only to drop out. On Sunday, he'll try again, hoping to extend a ridiculous set of personal bests that range from 1:44 for 800m to 59:26 for the half marathon.
The women's side is not as competitive. The fastest entrant by personal best is Mexico's Madai Perez, but her 2:22:59 pb is from 15 years ago; the 41-year-old Perez, who ran 2:30:15, will be content just to hit the 2:29:30 Olympic standard. After Perez, the only other women in the field under 2:27 are Portugal's Sara Moreira (2:24:49) and Kenya's Gladys Chesire (2:24:51), who haven't finished a marathon since 2015 and 2017, respectively. Translation: this race is wide open.