BYU Upsets #1 NAU as Conner Mantz Wins, Nico Young Impresses, & BYU Sweeps Team Titles at Silver State Challenge in Vegas
The #2 BYU men may have upset #1 NAU, but NAU held out one of the top runners in the country in Luis Grijalva. Young finished an impressive second as NAU's Taryn O'Neill won the women's race.
Join Our Supporters Club To Keep Reading
Sign up today to get a free 12-week training program and t-shirt.
By Jonathan Gault
February 1, 2021
Believe it or not, we're exactly six weeks away from the NCAA Cross Country Championships. If this were a normal cross country season, it would be October 10 right now — a week before the Wisconsin/Pre-Nats Invites.
Things are starting to get serious. On Saturday, the Wisconsin men and Michigan State women won the Big 10 XC championships. And today, we saw a clash of college XC's men's superpowers as #2 BYU took down #1 NAU (and #4 Notre Dame), 49-54, to win the Silver State Collegiate Challenge in Las Vegas. Individually, last year's NCAA 3rd-placer Conner Mantz took the win in 22:50.4 on the fast 8k course at Craig Ranch Regional Park, with NAU superfrosh Nico Young finishing second in 22:52.7 in his first collegiate XC race. NAU's Luis Grijalva, one of the favorites for the NCAA individual title, did not compete.
Article continues below player
On the women's side, BYU completed the team sweep, with the #3 Cougars taking the win with 46 points, ahead of runner-up #13 Boise State. NAU's Taryn O'Neill earned the individual crown with a time of 19:51.2 for the 6k course.
Full results can be found here. A few quick takes from each race below.
Men's race
Team results (full results here)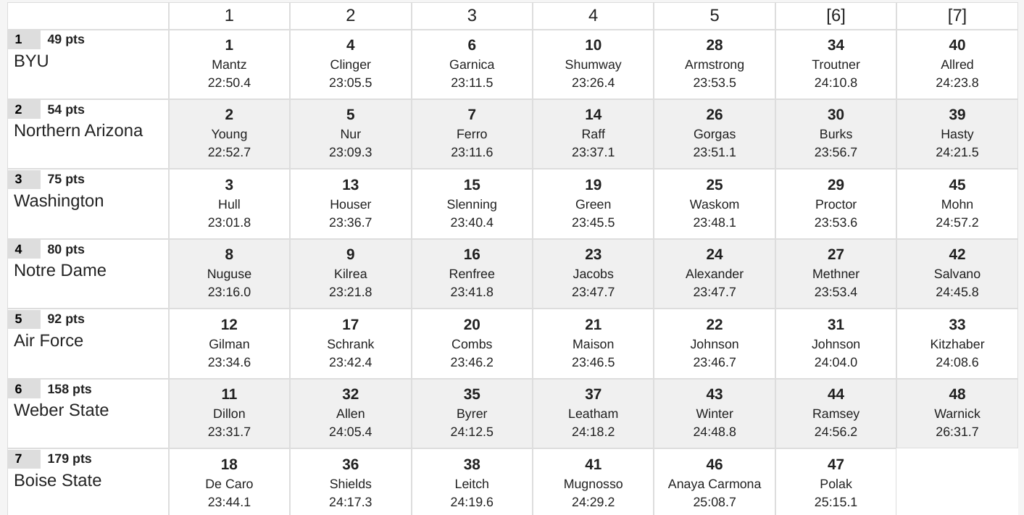 1) BYU may have won the battle, but NAU remain favorites to win the war
If you're BYU coach Ed Eyestone, you can't be upset with today's result. His top four of Conner Mantz, Casey Clinger, Brandon Garnica, and Clayson Shumway all ran well, finishing in the top 10. And the Cougars won the meet — the first defeat for the NAU men in regular-season competition since Mike Smith became head coach in 2017. But dig into the box score, and Smith should be the happier of the two coaches.
That's because NAU held out two of their best runners in Drew Bosley (their #1 man at NCAAs last year in 22nd) and Luis Grijalva (who ran 13:16 for 5k in December). Subbing in Bosley may not have made a huge difference — in his last race at the OSU Invitational in October, he was NAU's #5, finishing behind Abdihamid Nur, Ryan Raff, and Corey Gorgas (NAU's 2-3-4 today) and Grijlava. But if Grijalva is in this race, he likely finishes no worse than second, bumping 20 points off the Lumberjacks' total and turning this into a rout. NAU also has 3:39/13:49 guy Theo Quax as another option — though NAU's depth is so great that he might not even make their top seven.
BYU, meanwhile, doesn't have anyone who could make the same sort of impact. They were missing their #4 man from OSU, Zack Eriksen. And Matt Owens, who scored for BYU at NCAAs last year (45th overall), didn't run either (though he was only their 11th finisher at OSU in October).
If I've learned anything about NCAA XC though, it's that championships aren't awarded in October February. NAU is the stronger team and will enter NCAAs as the favorites — but they were the favorites last year and lost. BYU's top four is exceptional, which means NAU doesn't have much margin for error if one of their top guys slips up in March.
2) What a collegiate XC debut by Nico Young
Today's race wasn't Nico Young's first race in an NAU singlet — he ran 13:44 for 5k at the Track Meet in California in December — but it was the first college cross country race for the 2019 NXN champ, and he didn't disappoint. To finish second behind Mantz (the top returner from 2019 NCAAs in third) is a heck of a run.
Young's success shouldn't come as a huge surprise — it's no exaggeration to call him one of the greatest high school cross country runners of all-time. In 2019, he became the first high schooler to break 13:40 for three miles in XC at the Woodbridge Invitational and went on to set a course record at NXN, running 14:52 to blow away a loaded field. Two months later, he backed up that fitness on the track by clocking 7:56 for 3k at Millrose to break Drew Hunter's high school record. Smith held him out of NAU's only XC race last fall, perhaps because he was still getting used to training at 7,000 feet on a daily basis. Now Young appears to have adapted to the altitude and the results are looking good.
It is incredibly rare for an American true freshman to finish in the top 10 at NCAA XC. Only four men have done it this century — Dathan Ritzenhein (2001), Luke Puskedra (2008), Chris Derrick (2008), and Ben Saarel (2013). Young has a genuine shot to become the fifth. (Before the season, I was even wondering if he had a shot to join Bob Kennedy in 1988 and win the whole thing as a true freshman — though with the way Wesley Kiptoo and Luis Grijalva ran last fall, that seems unlikely).
MB: Nico Young – top 10 guy at NCAAs?
3) Washington, Notre Dame, and Air Force ran well, but they're not on the same level as BYU/NAU
If you're trying to beat NAU and BYU, having your top guy finish third overall and having your #5 beat both of their #5's isn't a bad way to start. Unfortunately, that's exactly what Washington did today, and the Huskies still weren't particularly close to the top two, finishing third with 75 points, 21 behind an incomplete NAU squad. The problem for Washington — and Notre Dame and Air Force — is that while depth is nice, you need multiple studs up front to contend for an NCAA title. ND and Air Force also got their #5 men in ahead of BYU and NAU, but when your top guy would only be the third or fourth guy on BYU or NAU, that doesn't do you much good.
Still, this was a strong result for Washington, who didn't compete at all last fall and should move up from the #18 spot it occupied in the USTFCCCA poll before today. And while #4 Notre Dame should fall slightly, both squads showed the depth to be in the podium conversation at NCAAs next month.
But what about teams who can win NCAAs? Will it be a two-horse race between NAU and BYU for the third year in a row? Let's run through the contenders.
Arkansas, ranked #3 in the USTFCCCA poll, is prioritizing indoor track and likely won't be a factor to win in XC. But Tulsa, who finished 5th last year and have yet to race in 2020-21, could have an outside shot if their guys made significant gains from last season (they bring back two top-13 finishers). Likewise, both Oklahoma State (who ran NAU and BYU close on their home course in October) and Iowa State (who lost to OK State on a tiebreaker at Big 12s last fall) could contend if everything breaks right. Oregon has a ridiculous mid-distance squad, but while Cooper Teare and Cole Hocker should be studs in 10k XC, it remains to be seen what the rest of their squad can do (it's also possible Oregon prioritizes NCAA Indoors over XC).
NCAAs are still six weeks away, so I'm not ready to proclaim this as a two-horse race just yet. But the smart money is on another NAU-BYU re-run in Stillwater in March.
Women's race
Team results (full results here)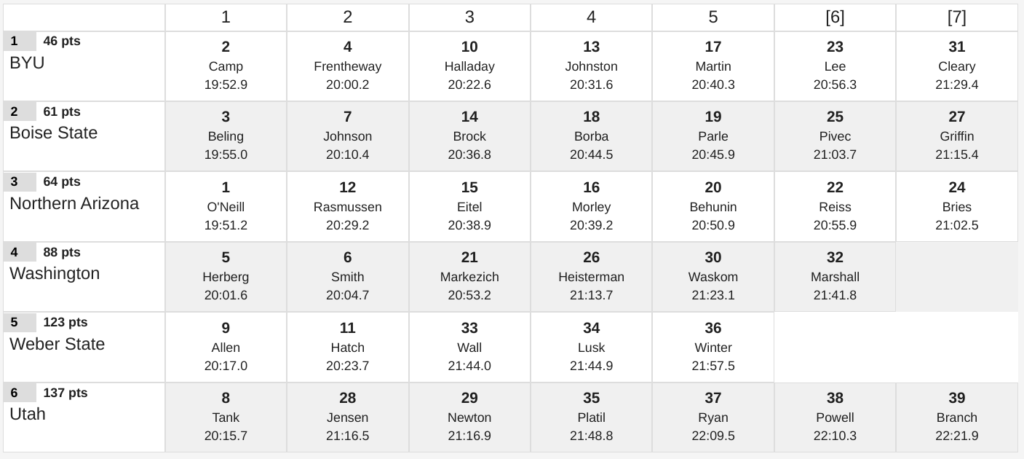 1) BYU shows their depth
The women's race was not as strong as the men's race, but #3 BYU still looked impressive. Running without the top four women from their NCAA runner-up squad last year (three are out of eligibility; presumptive NCAA favorite Whittni Orton has been dealing with foot pain recently and did not run), BYU still managed to put four women in the top 13, led by runner-up Anna Camp (60th at NCAAs last year).
2) Washington needs reinforcements
On paper, #8 Washington disappointed today, as they were only fourth with 88 points — well back of BYU (46), Boise State (61), and #26 NAU (64). But they were also without a couple of key pieces and only entered six runners. Both Melany Smart (12th at NCAAs last year as a freshman) and Allie Schadler (who ran a 4:38 mile indoors on Saturday) were absent; add those two women in and they fare significantly better.
3) Taryn O'Neill keeps improving
O'Neill, a Canadian who transferred from Villanova to New Mexico in 2019, showed flashes of promise during the 2019 XC season, notably finishing 20th at the Nuttycombe Invitational in Wisconsin. But she struggled for consistency, and only managed 124th at NCAAs (still an improvement on her 174th in 2018). In 2021, O'Neill looks set as a strong #1 and has a great shot at All-American honors in Stillwater. She ran 15:49 for 5,000 at the Track Meet in December, and though this field was missing big guns like Orton and Smart, she still ran a solid race to get the win.
---
Discuss this race on the LetsRun messageboard: MB: Luis Grijalva/NAU vs Yared Nuguse/ND @ Silver State Collegiate XC Challenge