Malcolm Gladwell Jokes About LeBron James Mile Showdown: "He's Ducking Me"
By LetsRun.com
December 16, 2020
Acclaimed author/podcast host Malcolm Gladwell appeared as a guest on this week's LetsRun.com Track Talk Podcast, where Gladwell, who called LetsRun.com his favorite website in 2013, discussed all sorts of topics related to his favorite sport.
We also asked Gladwell about the status of his mile showdown with Los Angeles Lakers star LeBron James. Back in 2017, Gladwell offered to race the four-time NBA champion over one mile for charity. "I'm dead serious," he tweeted. "One mile. Anywhere. Anytime."
I'm dead serious. One mile. Anywhere. Anytime. Me vs Lebron. All proceeds to charity. @KingJames @CitiusMag https://t.co/YJNOdsqK4J

— Malcolm Gladwell (@Gladwell) August 23, 2017
Article continues below player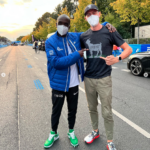 Kipchoge loves the 1:59:40 Shirt Get Yours Today
What a legend!
Three years have passed since then, and James has yet to respond to Gladwell's offer. We asked him on the LRC Track Talk Podcast if he thought their showdown would ever materialize.
"He's ducking me," Gladwell said with a laugh.
If the two were to somehow race, Gladwell doesn't like his chances.
"I don't think I'm beating LeBron," Gladwell said. "I've been very clear on this from the beginning. I think LeBron is easily a 5:00 miler."
James, 35, is 22 years younger than the 57-year-old Gladwell. But James, at 6-foot-9, and 250 pounds (according to the Lakers website; many speculate he weighs more than that), has a lot more weight to carry around than Gladwell, who ran 3:55 for 1500 meters in college. Gladwell has raced several times at the Fifth Avenue Mile, most recently clocking 5:11 in 2017.
With the Lakers set to tip off the new NBA season next week, the James-Gladwell showdown may have to wait a while. But Gladwell's offer still stands — as long as the race is held on a level playing field.
"He's a Nike athlete," Gladwell said. "There's no way he's entering without [the super spikes]. I demand equal kit. So if he's gonna wear the super spikes, I'm gonna wear the super spikes."
You can subscribe to our podcast here on your favorite podcast app. Or listen to Gladwell's comments on Lebron by click on this time stamp: [34:59].