By David Monti, @d9monti
(c) 2020 Race Results Weekly, all rights reserved
(03-Nov) — Each year on Thanksgiving Day more Americans participate in running races than on any other day.  According to the running industry trade group Running USA, about 1.2 million Americans ran in a "turkey trot" in 2018, up 71% from 2011 when the organization first began tracking participation.  It's the perfect activity before families sit down to their Thanksgiving feasts and hours of watching football.
"As the popularity of turkey trots grows, we increasingly see them as healthy activities for the whole family on one of the biggest holidays of the year," observed outgoing Running USA CEO Rich Harshbarger through a statement in 2019.  "The vast majority of participants are running with partners, children, other family members, friends, and even multi-generational branches of their family tree."
But the pandemic will put a huge dent in race participation on Thanksgiving this year which falls on Thursday, November 26.  Out of a representative sample of 39 well-established turkey trots tracked by Race Results Weekly, only six plan to stage in-person races this year.  The rest will be held virtually, or have simply been cancelled.
Among those six, are two of the nation's oldest road races, the YMCA Turkey Trot 8-K in Buffalo, N.Y., founded in 1896, and the Run for the Diamonds (9 miler) in Berwick, Pa., founded in 1908.  Remarkably, the Buffalo race has been held for 124 consecutive years without being cancelled, making it the longest running public road race in the world.  It was actually founded one year before the Boston Marathon.
Article continues below player
So when the pandemic struck last March, race director Rick Streeter quickly began thinking about how to put on the 125th edition as a safe, in-person race.  Streeter, a vice-president at Leone Timing, the event management and timing company which oversees the operation of the race, felt strongly that the streak should continue.  He and Leone Timing's president Pat Leone started to look for a way forward.
"We knew that we needed to do something live," Streeter told Race Results Weekly in a telephone interview earlier this week.  "Obviously, with some of our success with virtual racing in the spring, we were going to have that component, regardless.  But to preserve the record, the streak, we needed to do something live."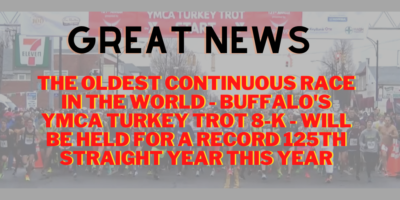 Working with leaders at the YMCA Buffalo Niagara Association, the not-for-profit organization which owns the event, Streeter and Leone proposed a hybrid race with most athletes running virtually, but 125 –one for each year of the race's tenure– could run in-person.  YMCA officials, with support from Erie County and the City of Buffalo, liked the idea but how would the 125 be selected?  The race is extremely popular, and had almost 12,000 finishers last year.  After a lot of discussion, they decided to select the runners randomly out of the pool of virtual entrants.
"That's the part of the event that everybody had an opinion on," said Streeter with a hearty laugh.  "A lot of people wanted us to weigh heavier on a group called the Quarter Century Club.  It's about 400 people who have run it over 25 times.  We felt we wanted to stay loyal to them.  Another group wanted to recognize former winners.  We had people who wanted to recognize YMCA members, then there was another group who wanted to recognize our costume contest winners."
The discussion made its way all the way up to the executive level at the YMCA's association office where president and CEO John Ehrbar and vice president of financial development Mario Hicks made the final call.  It would be a random draw.  They felt it was the fairest approach.
But there was a twist.  To be eligible for selection to the group of 125, runners had to agree to do at least $1000 of fundraising against their entries and, if selected, had to pay an additional $90 fee to help cover expenses for the live event.
On October 7, the YMCA posted the list of the lucky 125 (the list is here: https://bit.ly/2JzMm7i).  Those runners will race on a special, near-loop course (not the race's traditional point-to-point course), and the event will be held in a time trial format to maintain social distancing.  Streeter said that their city-approved plan is to release 15 runners every three minutes until all 125 are on the course.  He expects the race to take about one hour and 45 minutes to complete.
The traditional point-to-point course allowed the event to accommodate a large group of runners, but it also meant that runners had to be transported to the start.  Streeter wanted to eliminate that requirement.
"We had to create a new course because we didn't want it to be point-to-point," Streeter explained.  "We wanted to eliminate the transportation factor, so everybody is in charge of their own transportation.  It's not a common start/finish (line), but the start and finish are very close."
Of course, many runners may show up on the traditional course to do their virtual races on Thanksgiving, something that Streeter and Leone have anticipated.  They made sure that the special 2020 course isn't in the same location as the traditional course.
"I think the idea is getting the in-person race onto a different course and getting them out of the way of what may happen unofficially on the regular course," said Leone.
Streeter and Leone have worked on thousands of events over the last two decades, including last February's USA Olympic Team Trials Marathon in Atlanta, but the YMCA Turkey Trot means something special to them.  They have become caretakers of one of America's great running traditions, and getting the 125th edition of the race on the streets of Buffalo safely will be an historic accomplishment in the middle of a terrible pandemic.
"Actually, it was the one thing we talked about right from March when everything locked down," Leone said.  "I said, if I've got to gather five or ten people we've got to have the 125th… if we have to run them one at a time down the sidewalk into downtown to the convention center."  He continued: "We felt like we are stewards of it, something that survived world wars, all the world wars, and whatever else."
Leone and Streeter noted that the race came close to cancellation a few times, including in both 2000 and 2014 when early snowstorms hit the city hard just before Thanksgiving.  The city, and race officials and volunteers, were up to the challenge.  In 2000 the race recorded 3452 finishers, and in 2000 there were 12,280.
"They almost couldn't pull it off when the snow hit in November of 2000," Leone recalled.  "And they still did.  They still pulled it off."