Historic "America's Race" Between Army, Navy, & Air Force XC Teams Cancelled Amid Rising COVID Cases
The historic Plain at West Point will host a one-of-a-kind cross country meet on Veteran's Day between Army, Navy, and Air Force.
Join Our Supporters Club To Keep Reading
Sign up today to get a free 12-week training program and t-shirt.
By Jonathan Gault
November 9, 2020
The historic meeting of the Army, Navy, and Air Force cross country teams that was set to be held on Veteran's Day on The Plain at West Point has been cancelled after rising COVID cases at the US Naval Academy and US Air Force Academy caused their institutions to pull their squads from the meet. Chris Nickinson first reported the news on Twitter.
"You can imagine, our kids are crestfallen," said Army coach Mike Smith. "We could still put on the event, but our opponents are not able to make it."
Article continues below player
The meet, dubbed "America's Race," was slated to be held on Wednesday and broadcast live on ESPN+. It would also have been the first sporting event held on The Plain in almost 100 years, and the first head-to-head matchup between the Army and Air Force cross country teams since 1962. But rising COVID cases have hit both the Air Force and Navy communities, leading to the decision to cancel the meet. Air Force postponed its November 7 football game with Army and cancelled its November 14 game against Wyoming, while Navy's football game against Tulsa, scheduled for November 7, was also postponed.
Smith said that his team will still plan to hold an intrasquad meet in West Point on Wednesday.
***
LRC note: Prior to the meet's cancellation, Jonathan Gault wrote an article on how "America's Race" — featuring a unique course and once-in-a-lifetime matchup between the service academies — came together. Though the meet won't happen anymore — and may never happen, if the fall 2021 cross country season returns to a normal schedule — we've published Gault's original article below.
The 2020 cross country season isn't over just yet.
On Wednesday afternoon — Veteran's Day — the US Military Academy, US Naval Academy, and US Air Force Academy cross country teams will gather for a tri-meet. It will be known as "America's Race," a nod to the annual Army-Navy football game traditionally held as the final matchup of college football's regular season.
The meet is significant for several reasons. For starters, the venue: the large grassy area on the West Point campus known simply as The Plain. Bordered by Jefferson Hall (the school's library) and statues of men such as Ulysses S. Grant and Douglas McArthur, the manicured grass of The Plain is typically off-limits, with cadets only permitted to step on it during parade exercises and their first-year initiation known as "Beast Barracks." Mike Smith, now in his seventh year as Army cross country coach, has never stepped on The Plain — his first time will be when he sets up the course this week. But on Wednesday, up to 15 athletes per school will be racing all-out on it in an attempt to earn service academy bragging rights. It will be the first sporting event held on The Plain in almost a century.
"Every graduate since the Academy has started has walked across that field in some manner — it wasn't always a parade ground, but every graduate will have placed their foot on the ground," says Army cross country captain Daniel Mazzei. "Running past the eyes of McArthur and Grant and [George S.] Patton and [Sylvanus] Thayer is really significant to us."
The runners won't be alone. While no outside spectators are allowed, the 4,400-person student body is being encouraged to attend, and Army women's XC captain Mika Andrews is hoping for a good turnout, despite the pandemic. There will be a cornhole tournament and post-race barbecue, and Andrews and others have distributed flyers to spread the word.
"Getting the chance to race in front of the Corps [is great]," Andrews says. "Often times, as cross country runners, a lot of our friends can't necessarily go out and see us because the races are off-campus usually…from everyone I've talked to, they're all super pumped and super excited."
Smith is hoping that a "good chunk" of the students on campus will be able to watch the race, which will also be streamed live on ESPN+ (women at 2:30 p.m. ET, men at 3:30).
"The Plain is right in the center of the campus, so there could be cadets in their barracks, which are the dorms, that could look out their window of their room and watch the race," Smith says.
He's also hoping to capitalize on The Plain's foot traffic to attract casual viewers, since the opportunity to Beat Navy — words uttered on the West Point campus about as frequently as "Yes, sir" — is always appealing. There is a Beat Navy Tunnel on the western edge of The Plain running under Washington Road, the interior of which lists every football victory over Navy. Farther down Washington Road, the cross country teams frequently run by a three-story, 19th-century brick building known as the Beat Navy House, where visiting officers stay while they're in town. The roof of Gillis Field House, which holds the team's indoor track, is adorned with the words SINK NAVY. And on race day on The Plain, Army's runners will run by bleachers spelling out the words Beat Navy.
"It's pretty much drilled into us: if you go to West Point, you know that our goal is Beat Navy," Andrews says.
"Beat Army" is just as prominent in Annapolis. First-year Navy students, known as "plebes," are not allowed to walk normally down the hallways: they must walk down the middle and "square corners." Every time they turn, they must say one of two things: "Go Navy!" or "Beat Army!"
"[Beat Army] is printed on shirts," says Navy men's XC coach Aaron Lanzel. "It's the battle cry they'll use when they first come here as a plebe."
Army and Navy already have an annual head-to-head race, known as the Star Meet. The schools split this year's meet in Annapolis on October 17, with Navy taking the men's race and Army the women's. But with the Patriot League meet postponed until the spring and no NCAA regional in November, Smith wanted another meet on the schedule, and neither he nor Lanzel wanted to just re-run the Star Meet.
"It would water down the Army-Navy history and what the dual meet is," says Lanzel, a 2003 Navy grad.
Air Force Joins The Fold For The First Time Since 1962
Enter Air Force. With the Mountain West postponing fall sports, the Falcons haven't competed at all this fall, outside of a few intrasquad time trials. So naturally, Air Force coach Ryan Cole was excited by the idea when he first discussed it with Smith earlier this fall. After getting permission from the Mountain West and his own institution, and ensuring that the proper COVID protocols were in place, Cole agreed to the meet and "America's Race" was born.
Wednesday's race will mark the first head-to-head cross country competition between Army and Air Force since 1962, and it could be a while until the schools see each other again. Army rarely leaves the Northeast to compete, and the Army-Navy meet typically falls on the weekend of the Nuttycombe/Pre-Nationals Invitationals, the best opportunity the schools would have to race.
"I don't know that it's gonna be something that could happen again," Smith says. "…This is going to be a Commander-in-Chief's Trophy-type race decided within 20 or 25 minutes for the women and the men, and I think this is the only sport that can do that."
So on Tuesday, Cole and 25 of his athletes will board a military cargo plane in Colorado Springs and fly to Stewart International Airport in New York to make some history. Despite not competing yet this year, Cole says he's tried to keep his athletes on a typical fall training schedule, and as a result, Air Force will be favored to win. The women, currently ranked 25th in the USTFCCCA poll, are coming off the best season in program history, finishing 8th at NCAAs last year, while the men are ranked 27th.
"I expect there to be three very motivated teams going out there representing their programs, their institutions, and also their branches of service," Cole says.
The Most Spectator-Friendly Meet and Course In History?
Smith has long believed that track & field and cross country programs don't do enough to promote the sport to the public. An example he gave is the perplexed look a team receives when they stop at a rest stop on the way home from an unscored track meet and the clerk behind the counter asks, "Did you all win?"
In this meet, score will most definitely be kept between three huge rivals and spectators will be able to see all of it unfold. The Plain is not even a quarter of a mile wide, so a spectator will be able to watch the entire race from start to finish.
"I've always felt like we shortchange ourselves when we run off into the woods and then we come out of the woods and we finish," Smith says. "…There's an aesthetic quality that we all as runners appreciate when you go off to some of those courses, the Van Cortlandt Parks of the world, places where you're off on those trails. But a spectator doesn't really get to appreciate the sport. You miss the nuance of it and the compelling drama that happens is all taking place, in some cases, out of view."
Nothing will be out of view on Wednesday as the entire race is on The Plain. The men's 8k layout includes six perimeter loops and two zigzag loops across the interior of The Plain.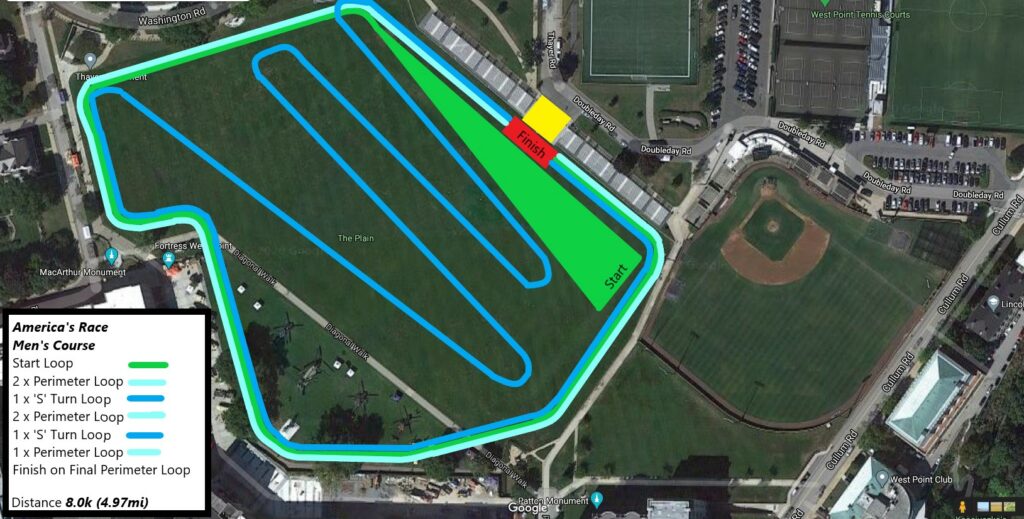 After the race, it's tradition for Army and Navy athletes to stand at attention as their alma maters are played, with the winning school's song reserved for last. The motto, usually, is "sing second" — but with Air Force in the mix, it's going to be "sing third" this time.
Smith views "America's Race" as more than just a competition opportunity. He also sees it as a chance to create relevance for a sport always struggling for it. While the race may be on Wednesday afternoon behind an ESPN paywall, the fact that it is being streamed at all is a minor miracle. Seriously — when was the last time you watched a cross country tri-meet online? It's still a race in a time when there aren't many on the calendar.
And you never know who may be watching. After the Army women edged Navy, last month, 27-29, Smith got an email asking to arrange a meeting with Secretary of the Army Ryan McCarthy and General James C. McConville, the Chief of Staff of the Army and highest-ranking officer in the Department of the Army. McConville is a runner himself — he ran the 2017 Boston Marathon in 4:28 at age 58 — and was impressed by the women's victory.
"Winning at Army is celebrated at the highest levels," Smith says.