RRW: One-Hour World Records Fall at Brussels Diamond League
By David Monti, @d9monti
(c) 2020 Race Results Weekly, all rights reserved
(04-Sep) — The World Athletics records for the one-hour run for both men and women fell tonight in Brussels at the pandemic edition of the AG Memorial Van Damme meeting in the magnificent, but mostly empty, King Baudoin Stadium.  The 44th edition of the meeting was part of the abbreviated 2020 Wanda Diamond League.
Article continues below player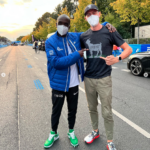 Kipchoge loves the 1:59:40 Shirt Get Yours Today
What a legend!
The women's record went down first after a compelling two-way battle between Dutchwoman Sifan Hassan, the reigning World Athletics 1500m and 10,000m champion, and Kenyan Brigid Kosgei, the world record holder for the marathon.  Following the pacemaking of Kenya's Sheila Chelangat, the pair got through 10,000m in 31:53 and 12,000m in 38:10, respectively.  That put them a comfortable 43 seconds ahead of the necessary pace to surpass Ethiopian Dire Tune's ratified record of 18,517m set in Ostrava in 2008.
Hassan led at 14,000m (44:30), but it was Kosgei who had the lead at 16,000m (50:51) and 18,000m (57:17), respectively.  The two women traded the lead multiple times, but when the gun was fired to signal the final minute of the contest, Hassan shot ahead took the lead for good.  When the clock struck 60 minutes, her distance of 18,930m was a new world record, more than a full lap farther than Tune's mark.
"I didn't felt good before the start of the race; I even puked," said the always colorful Hassan.  "After thirty minutes of racing, I finally felt better. It was in the final twenty minutes that I gained the confidence I needed. When there were only two minutes left on the clock, the fun began. I just gave everything I had left."
Kosgei finished second –also ahead of Tune's world record– but was subsequently disqualified for stepping inside of the rail in the final minutes of the race, a bitter result after running flat-out for an hour.  Still, she said that she was keeping her main goal of defending her Virgin Money London Marathon title on October 4, at the top of her mind.
"I am happy about today because it was all about speedwork and my main goal is the London Marathon," Kosgei said before being informed of her disqualification. "That's why I didn't want too push too hard. I was afraid to get injured."
Second place went to Lonah Chemtai Salpeter of Israel in 18,571m, and third went to Kenya's Eva Cherono who set an African record of 18,341m.
The men's race capped off tonight's meeting, and all eyes were on four-time Olympic gold medalist Mo Farah of Great Britain.  He and his long-time friend and training partner Bashir Abdi of Belgium planned to work together to attack Haile Gebrselassie's 2007 world record of 21,285m, a distance that is 187 meters longer than a standard half-marathon.  Farah had prepared specially for six weeks for this event, and it was his first race on a standard track in just over three years.
"I was very excited to be back on the track," Farah said.  "When the organization asked me to attack the one-hour world record, I was really happy and motivated, certainly with all the meets getting cancelled."
Belgium's Simon Debognies got the race going, splitting 3000m in 8:26.7 and 5000m in 14:05.2.  The Belgian was turning laps in the mid-67's, exactly what Farah and Abdi needed.  Farah ran with his signature long, loping stride, while Abdi showed the more compact gait of a marathoner.  Both men looked relaxed.
"I knew I was in a great shape after the hard work I did in the last six weeks," Farah said.  "My aim was to go after the world record with Bashir. We did a lot of work together the last six weeks and were totally focused on getting that time."
The last pacemaker, Peter Kiprotich of Kenya, led the men through 8000m in 22:33.1 and 10,000m in 28:12.  The trio covered 10,640 meters at the halfway point and were just 10 meters off of Gebrselassie's pace from Ostrava.
With the last pacemaker out, Farah did nearly all of the leading for the second half of the race with Abdi right on his heels.  The 15,000m mark went down in 42:18.0, and Farah was still running laps in the mid-67's.  He knew he needed to speed up to build up a little cushion in the final laps, so he gritted his teeth and cut down his lap times into the 66's.
Then, at 19,600m Abdi took the lead.  The move didn't seem to bother Farah who tucked in behind his friend and tried to save just a little bit of energy.
"At a certain point, with just ten laps to go, it became tough so I was happy that Bashir took the lead," Farah explained, not revealing if the move was pre-planned.
Abdi was the leader through 20,000m in 56:20.1, a new world best by about six seconds.  But, just before the gun fired to signal that only a minute remained, Farah moved back into the lead and moved up to his top gear.  At the end of the hour, he had covered 21,330m, 45 meters farther than Gebrselassie.  Farah actually ran longer than one hour, unsure if the contest was over, but finally stopped when officials flagged him down.
"I felt great with just one minute to go," Farah said.  "I kept believing in my speed so I knew I had a good chance to take this win. A last fast lap is still my best tactic."
Abdi's mark of 21,322m was a new Belgian record.
Also tonight, Jakob Ingebrigtsen of Norway won the men's 1500m in 3:30.69, about four seconds ahead of Spain's Jesus Gomez (3:34.64), and Faith Kipyegon dominated the women's 1000m in 2:29.92.  Unfortunately, Kipyegon fell short of breaking Svetlana Masterkova's world record of 2:28.98, her stated goal.  The Olympic 1500m champion actually ran faster in Monaco three weeks before when she clocked 2:29.15.
The Wanda Diamond League continues with the Golden Gala Pietro Mennea in Rome on September 17.