RRW: Fast Times Targeted On Looped Course At Elite-Only Prague Half-Marathon On Saturday
By David Monti, @d9monti
(c) 2020 Race Results Weekly, all rights reserved
(01-Sep) — Early this Saturday something very fast will be happening in the Czech capital of Prague.
Article continues below player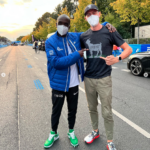 Kipchoge loves the 1:59:40 Shirt Get Yours Today
What a legend!
RunCzech, organizer of the Volkswagen Prague Marathon and other top-class events, will be holding an elite-only half-marathon in Letná Park called the Prague 21.1 KM – Ready for the Restart.  The objective?  Get at least one man to break 58:30 and one woman to break the women-only world record of 1:06:11 on the special 16.5-lap course which will be closed to the public.
"The pandemic has deprived these great athletes of the chance to participate in races all across the world," said RunCzech president Carlo Capalbo through a statement.  "It has deprived us from witnessing some of the great performances that we're accustomed to seeing.  We wanted to find a way of doing something spectacular for everyone."
Spectacular, indeed.  Capalbo's team has assembled a superb field of nine women and 18 men who will have the benefit of strong pacemaking.  Five women on the entry last have broken 1:06:00 for the half-marathon, led by Kenyans Joan Chelimo, Peres Jepchirchir, and Edith Chelimo.  Ethiopians Senbere Teferi and Netsanet Gudeta have also broken 66 minutes (see full athlete list below).  On the men's side, nine men have broke 60:00 led by Kenyans Stephen Kiprop, Kibiwott Kandie, and Benard Kimeli (see full list below).
Interestingly, the fastest times ever run on Czech soil are 58:47 by Ethiopia's Atsedu Tsegay in Prague in 2012, and 64:52 by Kenya's Joyciline Jepkosgei in Prague in 2017.  Jepkosgei's time was achieved in a mixed-gender race.  The fastest times in the world this year are 58:58 by Kibiwott Kandie and 1:04:31 by Yeshaneh Ababel of Ethiopia.  Both marks were achieved at the RAK Half in the UAE on February 21.
Saturday's event will also be a demonstration project for adidas, a long-time partner of RunCzech.  All of the athletes will be wearing the World Athletics-approved adizero adios Pro (39mm sole thickness) racing shoe.  The shoe, which sells in the United States for $200 a pair, has an ultra lightweight mesh upper, LightStrike Pro foam, a carbon fiber heel plate, and five carbon-infused "energy rods" in the forefoot which, the company says, were "inspired by the bone structure of the foot."  The shoe weights 7.9 ounces (224 grams).
"adidas has 70 years experience of working with elite athletes on shoes designed to win races," said adidas Running's design vice-president Sam Handy through a statement.  "Our expertise has continually evolved as athletes and sports science has progressed.  This shoe is our pinnacle race product, representing all those decades of dedication, experience and collaboration."
Capalbo is not only hoping for fast times, but is also trying to inject some life into road running which has been hit hard by the pandemic.  While in-stadium athletics is already back to a high level, most road races have had to switch to "virtual" status, where athletes run on their own, or have simply been cancelled.  Capalbo wants to show what is possible, even during a pandemic.  Saturday's event will be held in compliance with current Czech regulations for fighting COVID-19.
"While this race is coming at what would normally be the end of the (RunCzech) season we hope in a way that it will be the start, a spark, that gets race organizers all over the world thinking creatively about how to keep the sport alive."
The Prague 21.1 KM – Ready for the Restart will be broadcast live on ČT Sport, and there will be an international live stream with English language commentary (details to follow)
Full Fields (subject to change) with personal best times:
WOMEN –
Joan Chelimo, KEN, 1:05:04
Peres Jepchirchir, KEN, 1:05:06
Senbere Teferi, ETH, 1:05:32
Netsanet Gudeta, ETH, 1:05:45
Edith Chelimo, KEN, 1:05:52
Dorcas Jepchirchir Tuitoek, KEN, 1:06:33
Dorcas Jepchumba Kimeli, KEN, 1:07:10
Vivian Chepkirui, KEN, 1:09:28
Sheila Chepkirui, KEN, debut (29:46 10-K)
Pacemakers:
Brenda Jepleting, KEN, debut
Lilian Jepkorir Chebii, KEN, debut
MEN –
Stephen Kiprop, KEN, 58:42
Kibiwott Kandie, KEN, 58:58
Benard Kimeli, KEN, 59:07
Andamlak Belihu Berta, ETH, 59:10
Philemon Kiplimo Kimaiyo, KEN, 59:28
Abel Kipchumba, KEN, 59:29
Amos Kurgat Kibiwot, KEN, 59:37
Lucas Kimeli Rotich, KEN, 59:44
Alfred Chelal Barkach, 59:46
Henry Rono, KEN, 1:00:04
Meshack Kiprop Koech, KEN, 1:00:07
Felix Kipkoech, KEN, 1:00:12
Kennedy Kimutai, KEN, 1:00:21
Evans Kipkorir Cheruiyot, KEN, 1:00:26
Bethwell Biwott Yegon, KEN, 1:00:57
Benson Kipruto, KEN, 1:02:13
Timothy Kibet Kosgei, KEN, debut
Victor Kipruto, KEN, debut
Pacemakers:
Bravin Kipkogei Kiptoo, KEN, debut (27:12 10-K)
Charles Katal Lokir, KEN, debut (28:46.72 10,000m)
Weldon Kipkirui Langat, KEN, debut (29:21 10-K)