Jacob > Jakob: Kiplimo Tops Ingebrigtsen, 7:26 to 7:27, in Fast 3K Showdown in Rome
By Robert Johnson
September 17, 2020
The 3000-meter battle between the two 19-year-old sensations Jakob Ingebrigtsen, the European record holder at 1500, and Jacob Kiplimo, Uganda's World XC silver medallist who recently ran 12:48 for 5000, lived up to the hype this evening at the 2020 Golden Gala Pietro Mennea, Rome's Diamond League track and field meeting. 
Article continues below player.
After a near-perfectly even pace job for the first 1700 meters by former Ole Miss runner Sean Tobin of Ireland (he split 3:59.6 for 1600, going 59.5-60.1-60.0-60.0), Australia's Stewart McSweyn, the 3:31/13:05 man, kept things honest and ensured a fast time would be in the cards as he ran a 59.74 from 1800 to 2200. Just before the bell lap (60.42 penultimate lap), Ingebrigtsen took the lead from McSweyn with Kiplimo moving into second. With 200 to go, it became clear this was going to be a two-person battle between the two Jakcobs.
In the end, this is what happened in the finishing straight.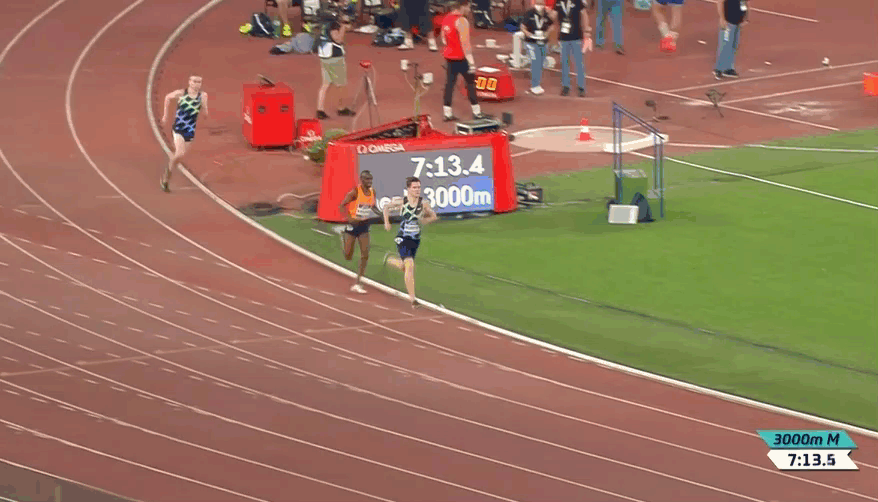 Yes, that's right. The more distance-oriented man, Kiplimo, outkicked the 1500-meter ace, proving yet again that a kick doesn't come down to who is the fastest but rather who has the most left in a race. Kiplimo closed in an unofficial 56.5 (27.8 final 200). 
Both men were rewarded with huge personal bests and national records as Kiplimo won in 7:26.64 (7:43.73 previous pb) with Ingebrigtsen second in 7:27.05 (previous pb officially was 8:00.01, but he's split faster in a 5000). McSweyn was richly rewarded for keeping the pace honest after the rabbit dropped with an Australian record of 7:28.02 (previous pb of 7:34.79). The fourth placer, Italy's Yemaneberhan Crippa, who was at the back end of the lead pack at 1600, also set a national record 7:38.27 (previous pb: 7:43.30).
3000 Metres - Men 
                                                                        
    1 KIPLIMO Jacob                    UGA   7:26.64                    
    2 INGEBRIGTSEN Jakob               NOR   7:27.05                    
    3 MCSWEYN Stewart                  AUS   7:28.02                    
    4 CRIPPA Yemaneberhan              ITA   7:38.27                    
    5 FOPPEN Mike                      NED   7:39.75                    
    6 KIMELI Isaac                     BEL   7:47.48                    
    7 RAMSDEN Matthew                  AUS   7:48.08                    
    8 ZOGHLAMI Osama                   ITA   7:48.63                    
    9 RIVA Pietro                      ITA   7:50.03                    
   10 GREGSON Ryan                     AUS   7:53.65                    
   11 RAZINE Marouan                   ITA   7:54.80                    
      ABDIKADAR SHEIK ALI Mohad        ITA       DNF                    
      ARESE Pietro                     ITA       DNF                    
      TOBIN Seán                       IRL       DNF
Quick Take: These times were historically fast
Kiplimo is now the 8th-fastest man in history and Ingebrigtsen is #9. Kiplimo's 7:26.64 is the fastest time recorded at 3000 in 13 years — since Kenenisa Bekele ran 7:25.70 in August 2007. As for Ingebrigtsen, his time is #2 in European history and probably should be considered the European record as European record holder Mohammed Mourhit (7:26.62 in 2000) was busted for EPO in 2002.
In terms of national records, the previous Ugandan record belonged to Moses Kipsiro (7:30.95 in 2009) while the previous Norwegian record belonged to Jakob's older brother, Henrik (7:36.85 in 2019). As for McSweyn, he destroyed Craig Mottram's Australian record of 7:32.19, which had stood since 2006. The previous Italian record was Gennaro Di Napoli's 7:39.54 from 1996.
Talk about the super men's 3000 on our messageboard.
*MB: Jakob ran a 7.27,05 3000m tonight in Rome. What do do think about that?
*MB: Official 2020 Rome DL Live Discussion Thread – Jakob vs Jacob —We're about to find out who's better over 3000
*MB: Jakob Ingebrigtsen is NOT even the Best 19 Year Old Runner Named Jakob/Jacob