Breaking Down The 2020 London Marathon Field Which Features 3 of the 4 Fastest Men Ever
By LetsRun.com
August 21, 2020
Today, London Marathon organizers released the full fields for the 2020 edition of the famous race, which will be held as an elite-only event on October 4 on a special loop course around St. James's Park.
World record holders Eliud Kipchoge (2:01:39 pb) and Brigid Kosgei (2:14:04 pb) as well as Kenenisa Bekele (2:01:41 pb) were the first three stars confirmed two weeks ago, and today's announcement adds several other studs, led by 2019 London runner-up Mosinet Geremew (2:02:55 pb) on the men's side and 2019 world champion Ruth Chepngetich (2:17:08 pb) on the women's side. 2018 London champ Vivian Cheruiyot (2:18:31 pb), 2019 Valencia champ Roza Dereje (2:18:30 pb), and 2019 Berlin champ Ashete Bekere (2:20:14 pb) provide terrific depth in the women's race, while 2:03 men Mule Wasihun (3rd at '19 London) and Sisay Lemma will also line up in London. 
Article continues below player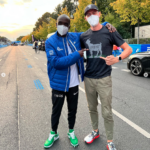 Kipchoge loves the 1:59:40 Shirt Get Yours Today
Shirts are $10 off if he breaks the world record and you order today.
British legend Mo Farah will also be part of the event, albeit as a pacemaker — he will try to guide a group of men toward the 2:11:30 Olympic standard.
Three American pros will cross the Atlantic for what is the only World Marathon Major event of the fall: Jared Ward, Sara Hall, and Molly Seidel. Ward (27th) and Hall (DNF) are coming off disappointing showings at February's Olympic Marathon Trials. Seidel, of course, made the team by finishing second in her marathon debut in Atlanta; London will be her first WMM event.
Full fields and analysis below.
*Full men's field *Full women's field
Quick Take: These fields are amazing as usual — and very similar to the ones London initially announced back in January
London annually stages the best professional elite race in the world of marathoning and they will do so once again in 2020. Of course, being the best in 2020 isn't all that hard to pull off as March's Tokyo Marathon was the only other Abbott World Marathon Major to take place this year.
But take a look at the PBs of the leading entrants in the men's and women's races. They are amazing. The men's race features three of the four fastest marathoners in history: Kipchoge (#1), Bekele (#2), and Geremew (#4). The women's race has #1 (Kosgei) and #4 (Chepngetich).
In all, the men's race features five sub-2:04 guys, eight sub-2:05 guys and 11 sub-2:06 guys, while the women's race includes four under 2:19, six under 2:20, and nine under 2:23.
2020 London men's field (sub-2:06)
| | | | |
| --- | --- | --- | --- |
| Athlete | Country | PB | Announced in January? |
| Eliud Kipchoge | Kenya | 2:01:39 | Yes |
| Kenenisa Bekele | Ethiopia | 2:01:41 | Yes |
| Mosinet Geremew | Ethiopia | 2:02:55 | Yes |
| Mule Wasihun | Ethiopia | 2:03:16 | Yes |
| Sisay Lemma | Ethiopia | 2:03:36 | No |
| Tamirat Tola | Ethiopia | 2:04:06 | Yes |
| Marius Kipserem | Ethiopia | 2:04:11 | Yes |
| Shura Kitata | Ethiopia | 2:04:49 | Yes |
| Vincent Kipchumba | Kenya | 2:05:09 | Yes |
| Sondre Moen | Norway | 2:05:48 | Yes |
| Gideon Kipketer | Kenya | 2:05:51 | Yes |
2020 London women's field (sub-2:25)
| | | | |
| --- | --- | --- | --- |
| Athlete | Country | PB | Announced in January? |
| Brigid Kosgei | Kenya | 2:14:04 | Yes |
| Ruth Chepngetich | Kenya | 2:17:08 | Yes |
| Roza Dereje | Ethiopia | 2:18:30 | Yes |
| Vivian Cheruiyot | Kenya | 2:18:31 | Yes |
| Valary Jemeli | Kenya | 2:19:10 | No |
| Degitu Azimeraw | Ethiopia | 2:19:26 | Yes |
| Ashete Bekere | Ethiopia | 2:20:14 | Yes |
| Alemu Megertu | Ethiopia | 2:21:10 | Yes |
| Sara Hall | USA | 2:22:16 | No |
| Sinead Diver | Australia | 2:24:11 | Yes |
| Carla Salome Rocha | Portugal | 2:24:47 | Yes |
What struck us about the list of entrants is that it's very similar to the initial list announced back in January. With London being the only major this fall, some were wondering if London might even be more stacked than usual. After all, if you're an elite marathoner looking to race this fall, your options are very limited. There's London, and potentially Valencia (December 6) and Abu Dhabi (December 11). That's about it. In the end, this year's field looks more like a normal amazing London year than a race with every single marathoner in the world in it. 
London seems to have honored the contracts it initially offered everyone back at the beginning of the year to run the 2020 race. That's the legal and morally right thing to do but it doesn't appear they added much to the field by getting others at a COVID-19 discount rate (or they may not have much extra money in the budget in a year without a mass race).
Quick Take: The list of people not running a marathon this fall is amazing as well
As mentioned above, not everyone is in London. Many big-time pros have not announced a fall marathon. In fact, six of the 10 men we ranked in the top 10 in the world for 2019 will not be in London, including our world #1 (Lawrence Cherono) and #2 (Birhanu Legese). 
The 2019 LRC World Rankers Not In London/2019 Accomplishments
1. Lawrence Cherono, Kenya: 1st Boston (2:07:57), 1st Chicago (2:05:45)
2. Birhanu Legese, Ethiopia: 1st Tokyo (2:04:48), 2nd Berlin (2:02:48)
5. Lelisa Desisa, Ethiopia: 2nd Boston (2:07:59), 1st Worlds (2:10:40), DNF New York
7. Titus Ekiru, Kenya: 1st Milan (2:04:46 CR), 1st Honolulu (2:08:00 CR)
8. Geoffrey Kamworor, Kenya: 1st New York (2:08:13)
9. Getaneh Molla, Ethiopia: 1st Dubai (2:03:34 CR)
Honorable Mention: Reuben Kipyego, Kenya: 2nd Buenos Aires (2:05:18), 1st Abu Dhabi (2:04:40)
Asefa Mengstu, Ethiopia: 3rd Dubai (2:04:24), 2nd Paris (2:07:25), 3rd Chicago (2:05:48)
Update: Initially we said our world #10 last year Vincent Kipchumba was not running London. He is. Thanks Emily Evans for the correction.
For the women, the 2020 London field will include four of the top five from our 2019 world rankings — which is mind-blowing — but a number of really good marathoners will still be sitting this one out, including five of our top 10 from last year's world rankings. It's also worth noting that a couple of big names who were initially entered in London are now no longer running — Gladys Cherono (three-time Berlin champ, 2:18:11 pb) and Joyciline Jepkosgei (NYC champ, former half marathon WR holder). 
The 2019 LRC World Rankers Not In London/2019 Accomplishments

3. Worknesh Degefa, Ethiopia: 2nd Dubai (2:17:41), 1st Boston (2:23:31)
6. Ruti Aga, Ethiopia: 1st Tokyo (2:20:40), DNF Worlds, 3rd New York (2:25:51
8. Joyciline Jepkosgei, Kenya: 1st New York (2:22:38)
9. Mary Keitany, Kenya: 5th London (2:20:58), 2nd New York (2:23:32)
10. Helen Tola, Ethiopia: 2nd Tokyo (2:21:01), 4th Berlin (2:21:36)
Honorable mention: Edna Kiplagat, Kenya: 2nd Boston (2:24:13), 4th Worlds (2:35:36)
Vivian Kiplagat, Kenya: 1st Milan (2:22:25), 2nd Eldoret (2:28:06), 1st Mexico City (2:33:27), 1st Abu Dhabi (2:21:11)
Tigist Girma, Ethiopia: 1st Ottawa (2:26:34), 2nd Amsterdam (2:19:52)
Quick Take: Where's Galen Rupp?
Another name notably absent from the London entries is America's best marathoner, Galen Rupp. While Rupp probably wouldn't have challenged for the win — his 2:06:07 pb would have ranked him just 12th among London entrants — this race would offer him perhaps his best opportunity to break Khalid Khannouchi's 2:05:38 American record (assuming Rupp is fit and healthy right now).
Remember, of Rupp's nine career marathons, just three of them featured pacemakers: 2018 Prague (which he won in 2:06:07), 2018 Chicago (5th, 2:06:21), and 2019 Chicago, where Rupp wasn't fully healthy and had to drop out. This year's London course is supposedly even faster than the traditional course; it would have been interesting to see what Rupp could have run on it.
The question now becomes: what will Rupp do between now and the Olympics? Will he try Valencia or Abu Dhabi? Will he wait until 2021 to race again? Or will he skip marathons entirely until Sapporo?
If we were Rupp, we would be tempted to go for Valencia but the guess here is that he races one in the spring of 2021. Boston, which Rupp ran in 2017 and 2018, is the natural choice. It's a bit closer than usual to the Olympic marathon (16 weeks) but the turnaround is certainly doable. Otherwise, Tokyo (March 6) is an option, but London (which has moved its 2021 race to October) is not. 
Quick Take: How will the Americans fare?
Sara Hall, Molly Seidel, and Jared Ward are all entered and all, presumably, will be searching for personal bests. 
Hall, at 37, has been running better than ever of late — she clocked a pb of 2:22:16 in Berlin last year, and though she dropped out of the Trials in February, she's run two pbs in the half marathon this year (68:58 in Houston in January, 68:18 in Oregon on August 7).
Seidel has said she wants more experience racing the marathon before next year's Olympics. London provides that, even if the style of race will be drastically different than what she'll encounter in Sapporo on August 7. At the very least, expect her to knock a chunk off the 2:27:31 pb she set in Atlanta.
Ward logged some of the best training of his life before the Trials and ran a pb of 61:36 while basically training through the Houston Half. In Atlanta, he struggled to a 2:15:55, 27th-place finish while dealing with a foot injury, but if he's back close to full health, he could challenge his 2:09:25 pb from 2019 Boston.
Talk about the 2020 London Marathon elite field on our fan forum / messageboard. MB: London Marathon elite fields 2020