I Was Bored, So I Watched the 2005 NCAA Cross Country Championships
Throwback Thursday #16
By Jonathan Gault
July 30, 2020
Welcome back to Throwback Thursday. With limited live events during the coronavirus quarantine, I'm plumbing the depths of YouTube and watching/sharing my thoughts about one classic race per week. If you missed any of the first 15 installments, click here.
Article continues below player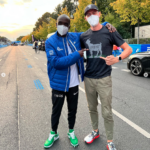 Kipchoge loves the 1:59:40 Shirt Get Yours Today
What a legend!
After a one-week hiatus, Throwback Thursday is back due to popular demand. Since most recent entries have focused on the pro scene, I decided it was high time for us to return to this series' roots with a good-old fashioned NCAA XC race (and let's face it — rewatching old races could be the only way anyone ends up watching cross country this year).
I chose the 2005 NCAA XC champs in Terre Haute. Or, more accurately, the race chose me — it's one of the few NCAA TV broadcasts available on YouTube in its entirety. The big story in 2005 was the Wisconsin men. Coached by Jerry Schumacher, Wisconsin entered the 2004 NCAAs with a Dream Team (Simon Bairu, Matt Tegenkamp, Chris Solinsky) heavily favored to win its first NCAA title in 16 years. Despite all their talent, the Badgers were upset on a muddy course by a spunky Colorado squad and finished second. That was their third straight runner-up finish, and Schumacher and Wisconsin were starting to resemble Marv Levy and the '90s Buffalo Bills.
(Related: MB: Solinsky admits 2004 Wisco XC team "kind of choked" while Bairu says "we were overly confident and maybe not as focused"
*LRC 2011: How Did The 2004 Wisconsin "Dream Team" Lose?)
But the more accurate comparison for the 2005 Wisconsin team turned out to be the 2017 Golden State Warriors — smarting from a humbling defeat the year before, they used a key addition (redshirt freshman Matt Withrow played the Kevin Durant role) to demolish all comers en route to an easy championship. How good was this Badgers squad? In the last 26 years, only one team (the legendary 2003 Stanford squad) has scored fewer points than Wisconsin's 37. Northern Arizona's best team from its recent three-peat, the 2017 edition, scored 74 at NCAAs — double what Wisconsin managed.
The women's race was full of stars, though it was a little hard to tell at the time — Amy Cragg, Molly Huddle, and Shannon Rowbury were all seniors, yet none finished in the top 10 (a freshman version of Jenny Simpson also makes an appearance in 43rd place). Instead, it was the late Johanna Nilsson of NAU and Sweden who claimed the individual title.
(LRC Remembering Johanna Nilsson)
With that as preamble, let's head back to Terre Haute, Ind., on November 21, 2005…
Men's race
Women's race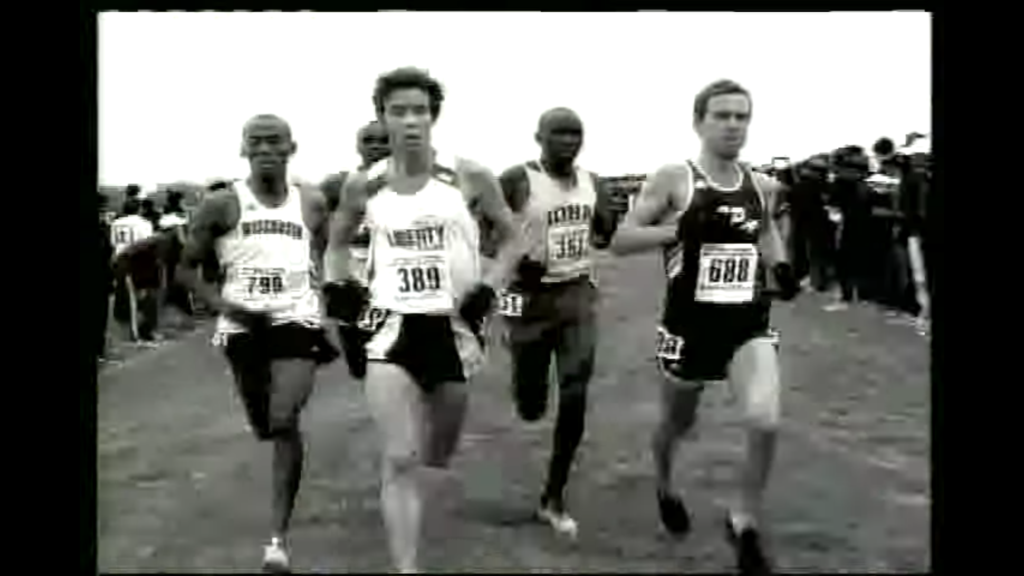 Very dramatic opening to the Fox Sports Net broadcast, with plenty of black and white.
"They assemble from all parts of the country, with a passion and determination unmatched in other sports," announcer Jim Barbar tells us in a voiceover.
While I'm not sure about the accuracy of that statement, I love the enthusiasm!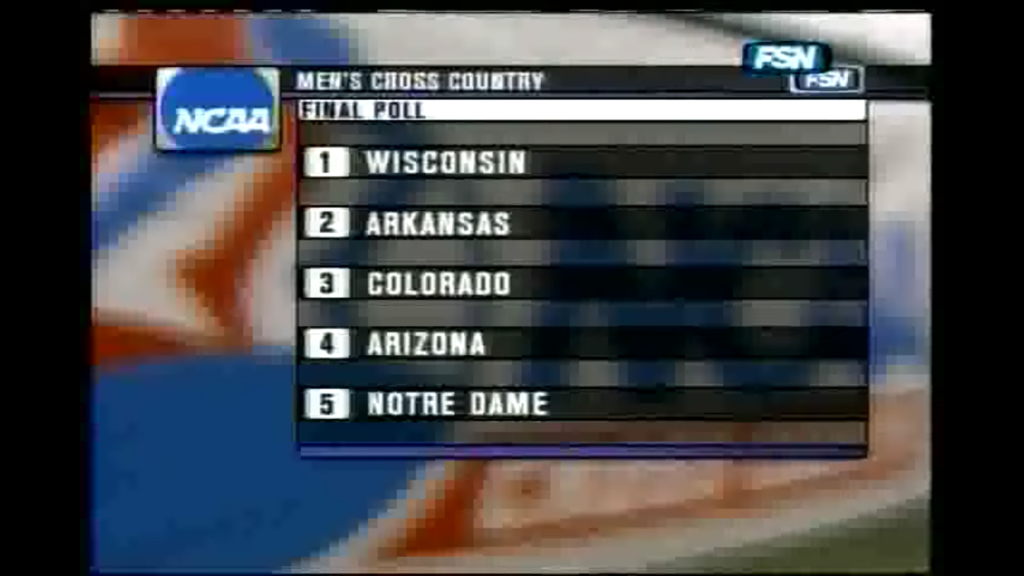 Whenever I watch one of these old XC races, there's always one team that makes me say, "Wow, I didn't realize they used to be good." In this case, it's Arizona. The Wildcats would wind up 10th in '05, slip to 21st in '06, and haven't qualified for the Big Dance since.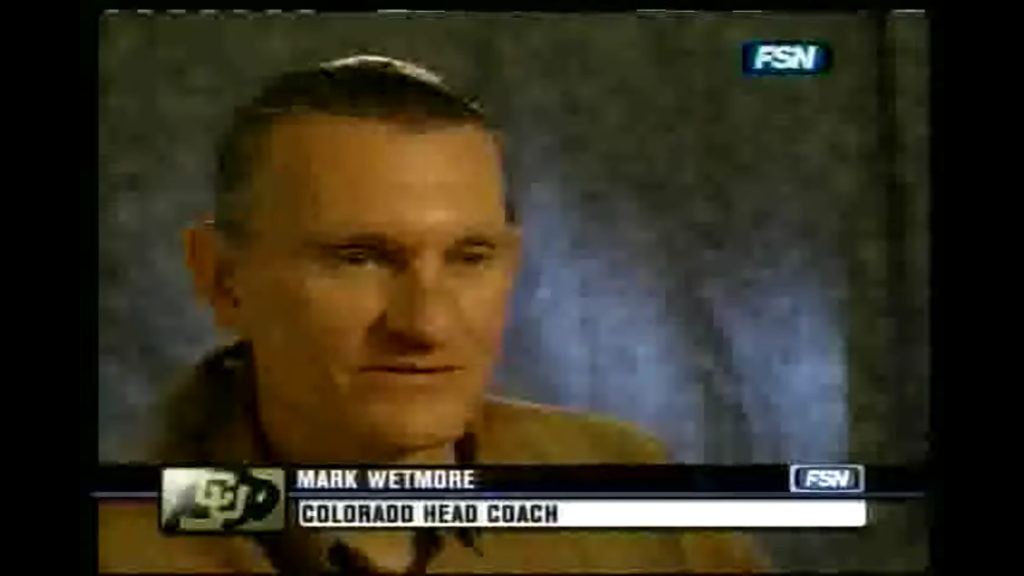 Pre-race advice about NCAA XC from a guy who has now won eight of these things: "It's always aggressive. It's always very fast early on. There's years when that's a mistake and then there's years when it's a mistake to not respond to that, and I think this will be the latter."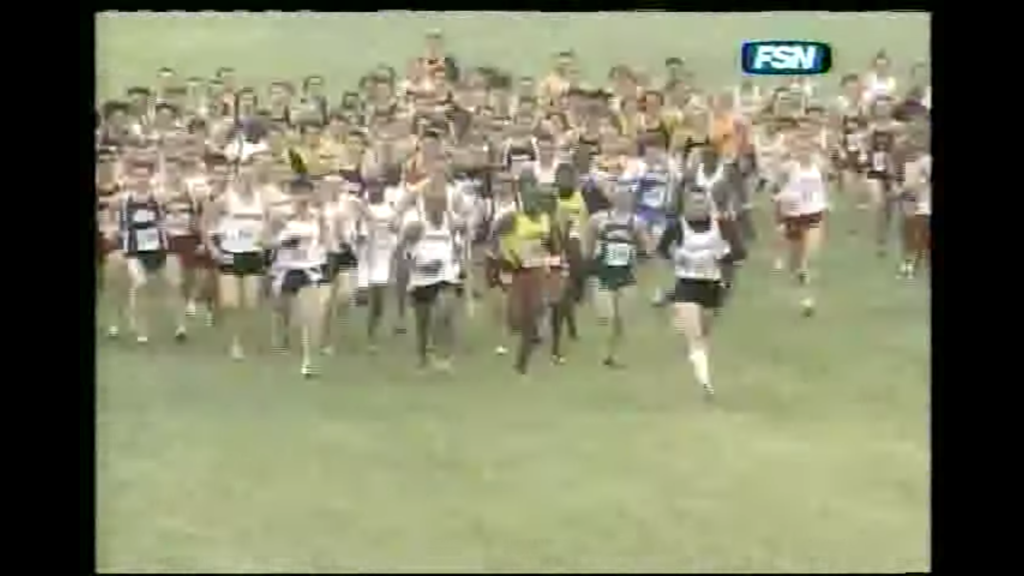 Carrie Tollefson on the conditions: "It's in the 40s. There's a little bit of wind out there, but you can see that it's very dry…This is going to be a fast day."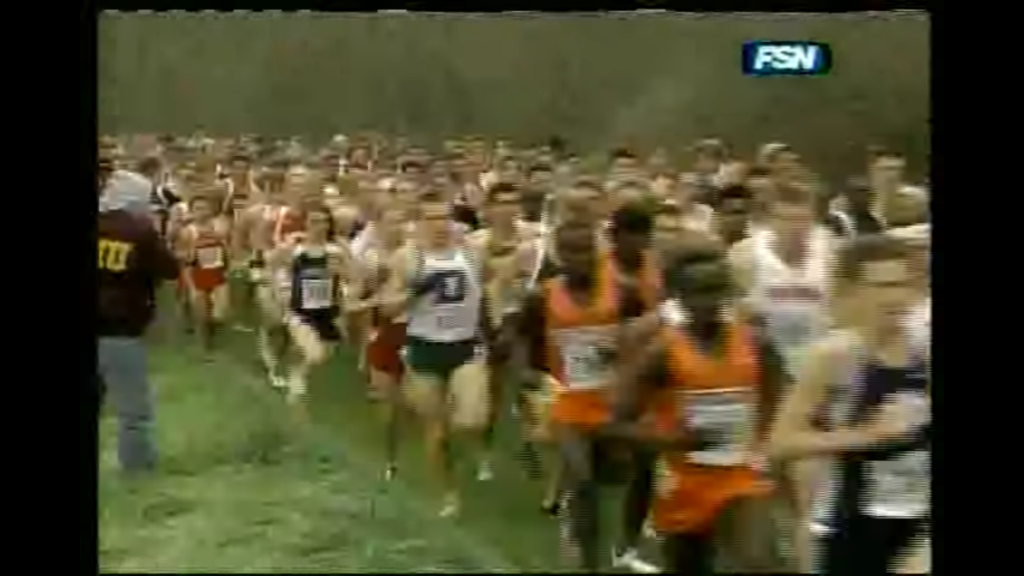 DARTMOUTH ALERT! You know I love to shout out my alma mater, but I also feel it's appropriate since the blurry runner turned out to be a very good pro: Ben True. While this wasn't Dartmouth's best team ever, the '05 squad was talked about in reverential tones during my time on campus. They won Heps in a rout (scoring 30 points) and finished an impressive 15th at NCAAs.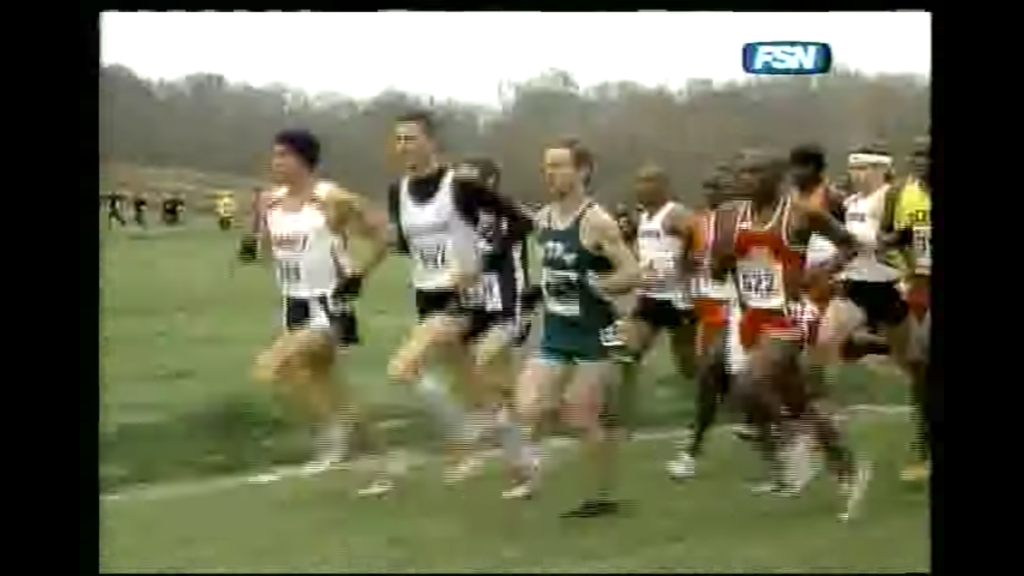 Among the early leaders: three present/future NCAA XC champs (Wisconsin's Simon Bairu, BYU's Josh Rohatinsky, Liberty's Josh McDougal), one future EPO cheat (Providence's Martin Fagan), and one guy who was accused of being an EPO cheat in college (UT-Pan American's Westly Keating).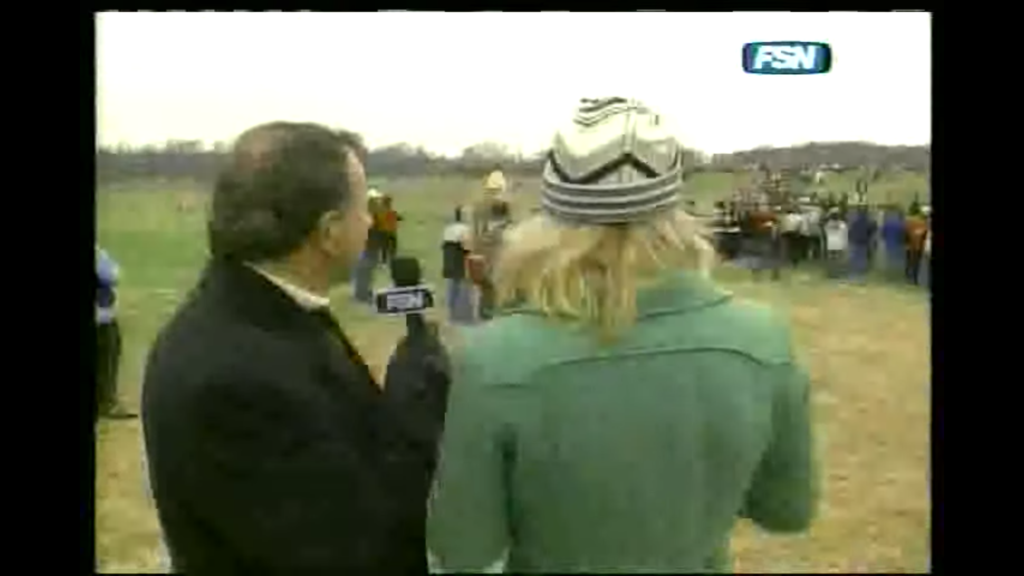 That's the two broadcasters, Barbar and Tollefson, standing right by the course and watching/calling the race. I'm guessing they went back and recorded most of their commentary via voiceover, but I'm kind of confused by their broadcasting setup now.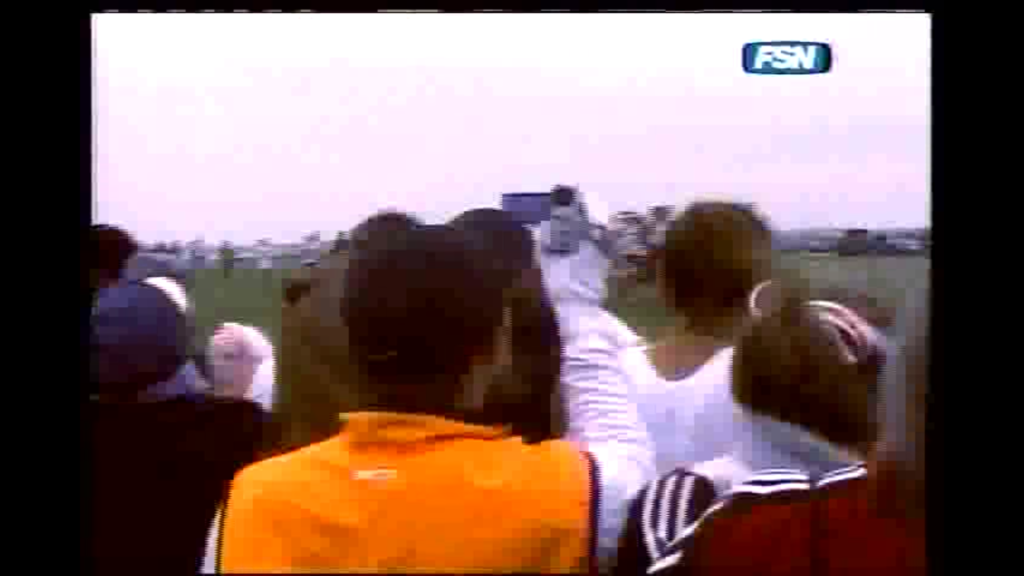 This is our view as the runners approach halfway. Did this cameraman forget his credential? Did anyone try reaching out to the fan in the orange vest for his footage instead?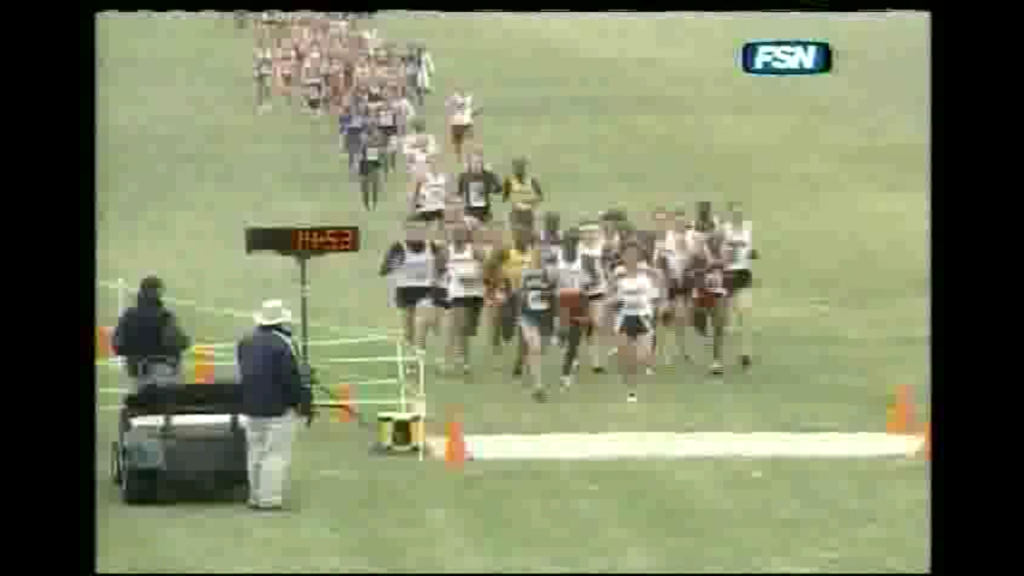 McDougal and Keating lead a large pack through halfway in 14:54. So far, it's not the fast day Tollefson predicted.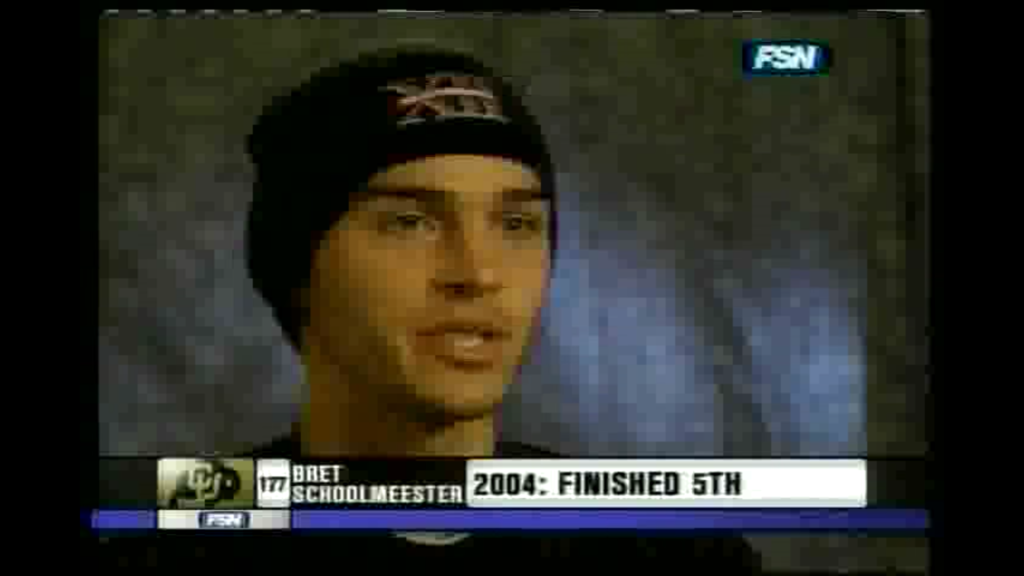 Let this serve as the official reminder that one of the brains behind the Nike Vaporfly (Bret Schoolmeester, pictured above) was actually a damn good XC runner in college. And that Colorado was once in the Big 12.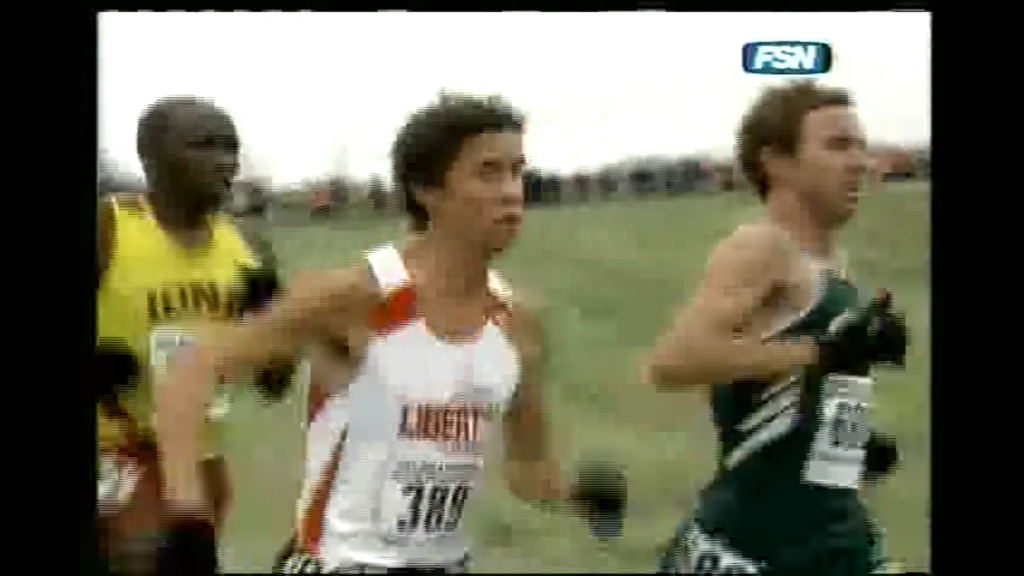 "Let's talk about the scoring, Carrie."
"You know, they run seven people out here today. Each team has seven people. They score their top five runners, and it's the lowest score wins."
Does any sport have its fundamental rules explained more frequently on TV than cross country?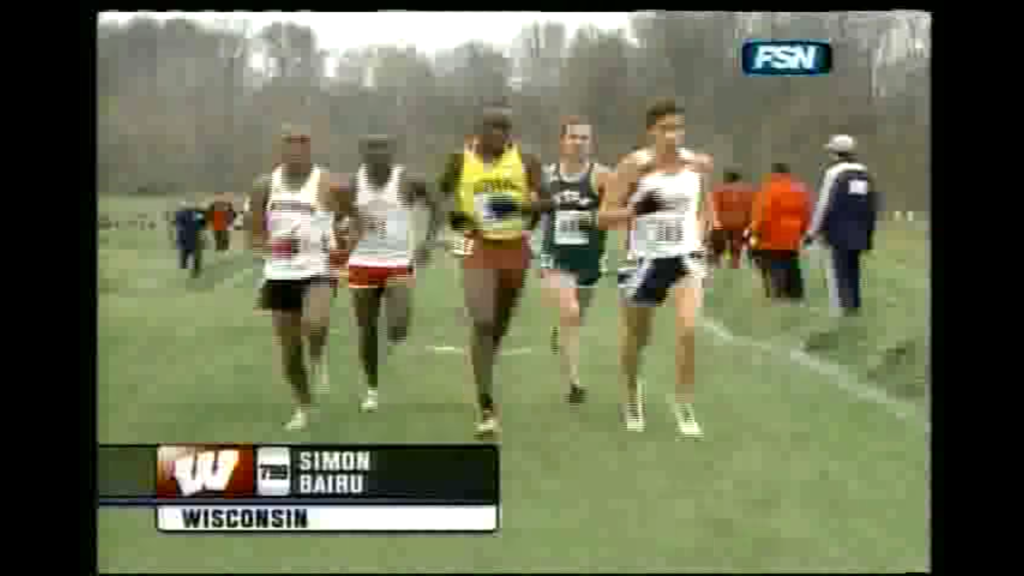 We're down to five guys up front: defending champ Bairu, McDougal, Keating, Arkansas' Josphat Boit, and Iona's Richard Kiplagat.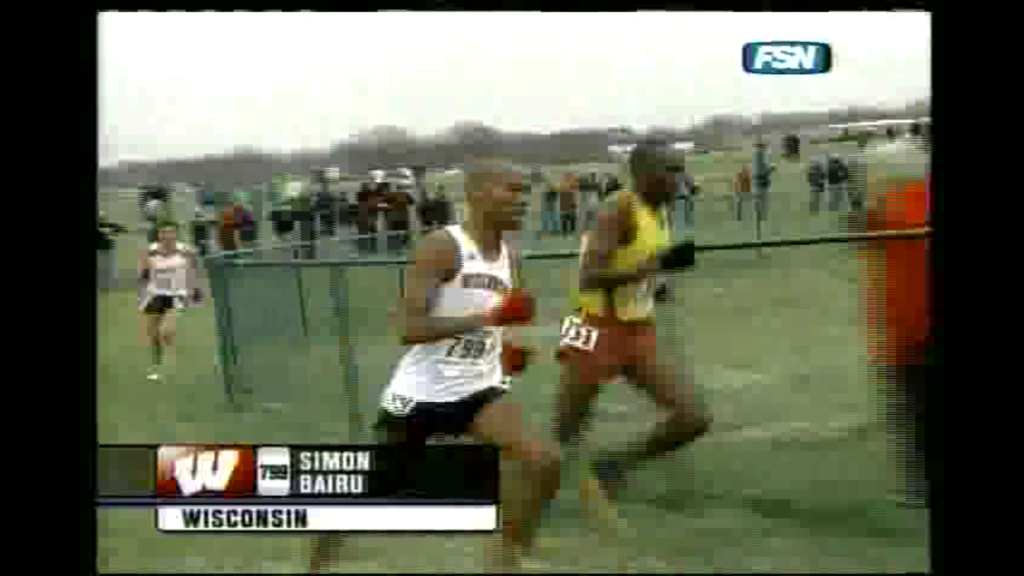 We're into the final 2k now (the broadcast is making it difficult to tell exactly how far in), and Keating and Boit have dropped off. McDougal is in the process of being dropped, leaving only Bairu and Kiplagat.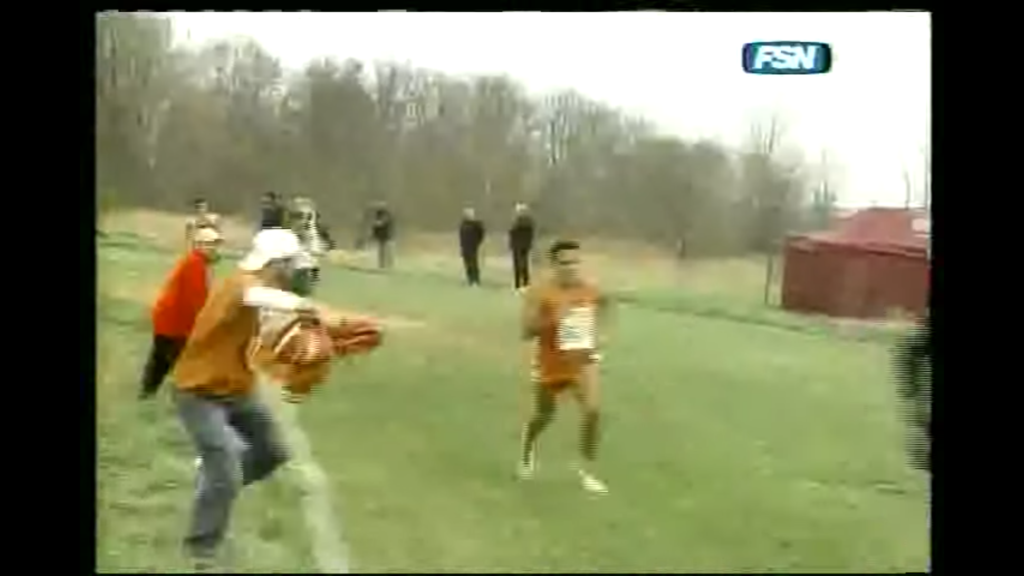 I love it when mid-d guys like Leo Manzano run XC. Anyone in the top 67 in 2005 wound up claiming the scalp of a future Olympic silver medalist.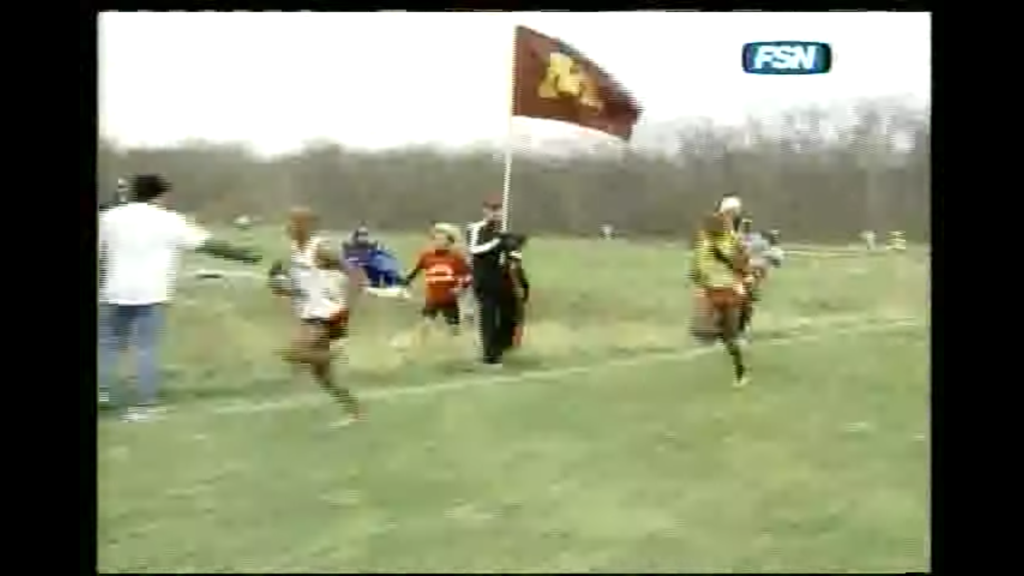 Bairu makes his move as he enters the long final straightaway, and Kiplagat cannot respond.
Also shoutout to Minnesota, whose flag always pops up on these old broadcasts.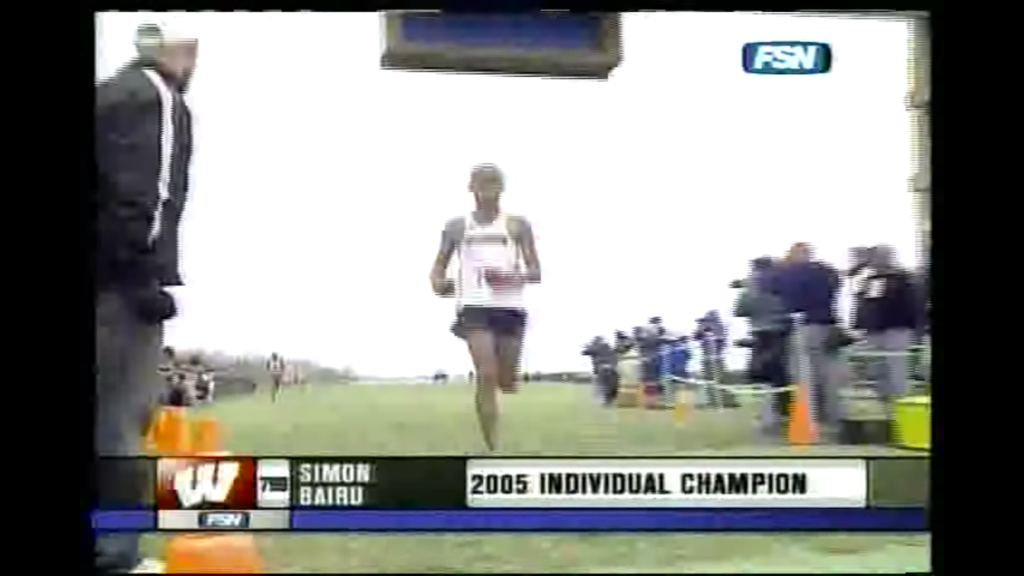 Bairu repeats in style, crushing the second half of the course (splits of 14:55/14:20) to win by six seconds over Kiplagat in 29:15.9 (Tollefson was right — pretty quick in the end). Chris Solinsky rolls up a ton of guys over the second half to finish 3rd, redeeming himself from the previous year, when he ran out of gas toward the end and contributed to Wisconsin's four-point defeat.
While we're here, let's pay some respect to Bairu. He was surpassed as a pro by Solinsky and Tegenkamp, but winning two NCAA XC titles is incredibly tough. Bairu also ran a Canadian record of 27:23 for 10,000 — but of course that race was overshadowed by Solinsky as well (another Canadian Wisconsin grad, Moh Ahmed, has since smashed past Bairu's mark).
Barbar: "In 4th place from tiny Liberty, Josh McDougal. 14th last year, 4th this year. What a remarkable story."
What, exactly, is so remarkable about a guy who was 14th last year finishing 4th a year later? Kiplagat was 45th in 2004 and just finished 2nd. For the record, McDougal would fade to 27th in 2006 before going out in style in 2007 with a win in a race where a guy by the name of Galen Rupp was second.
LRC 2007 LetsRun.com NCAA Men's Cross Country Recap: Oregon and McDougal Reign Supreme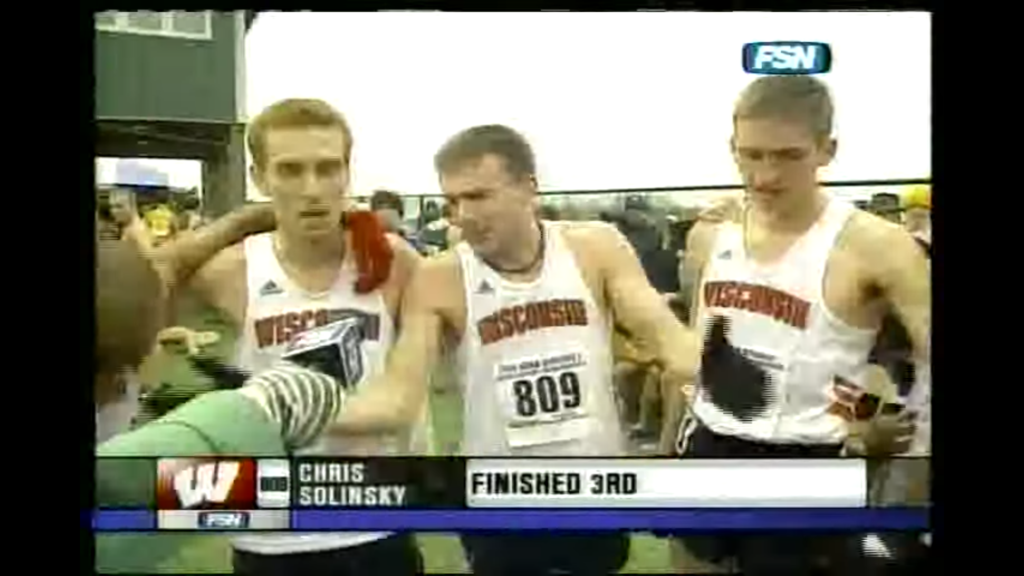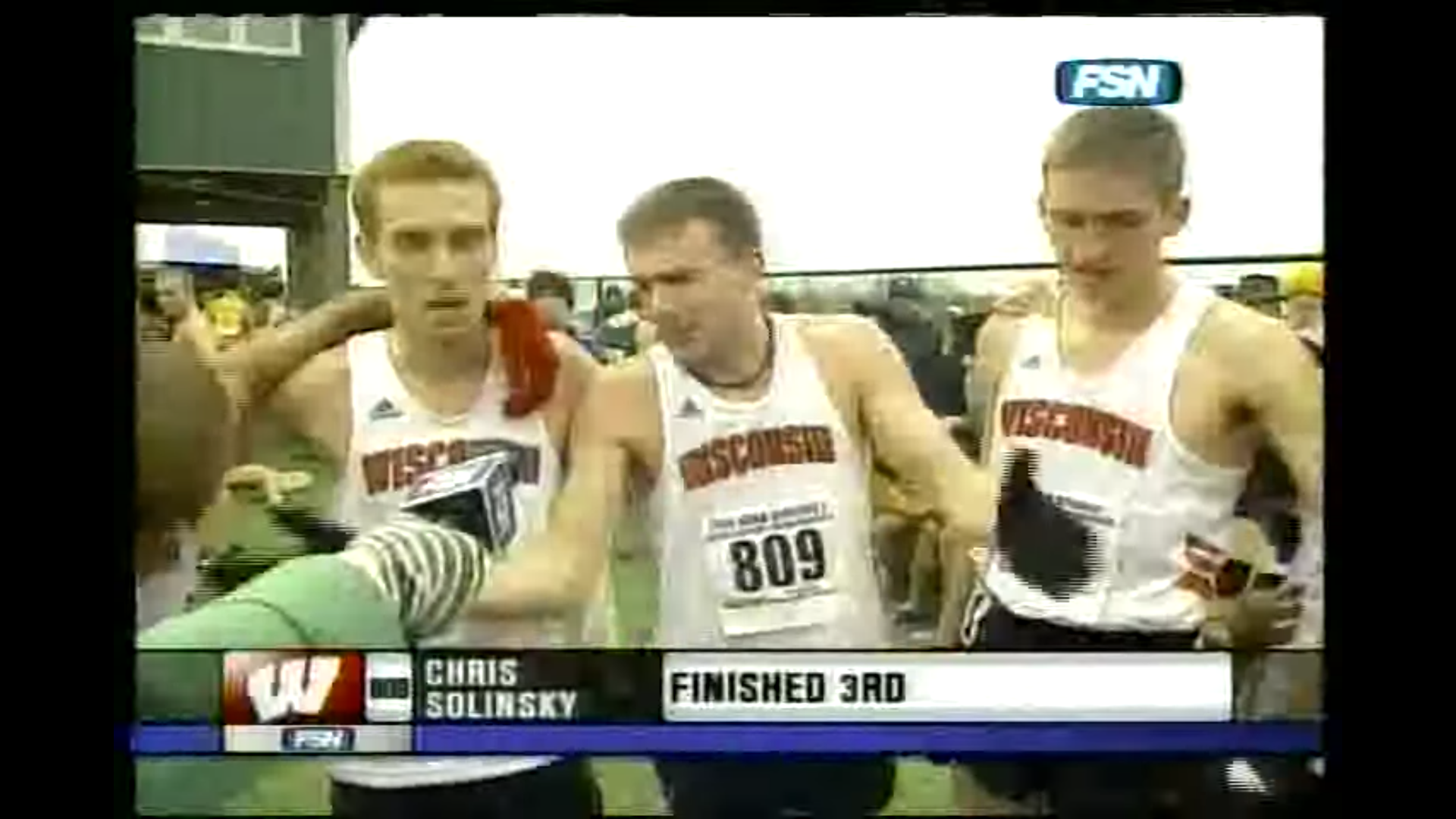 The Wisconsin guys are understandably pumped to have the monkey off their backs.
"We had fights because we're a brotherhood," Solinsky says. "And it was worth it, everything. I love these guys to death. We worked our asses off for it and we deserve everything we get."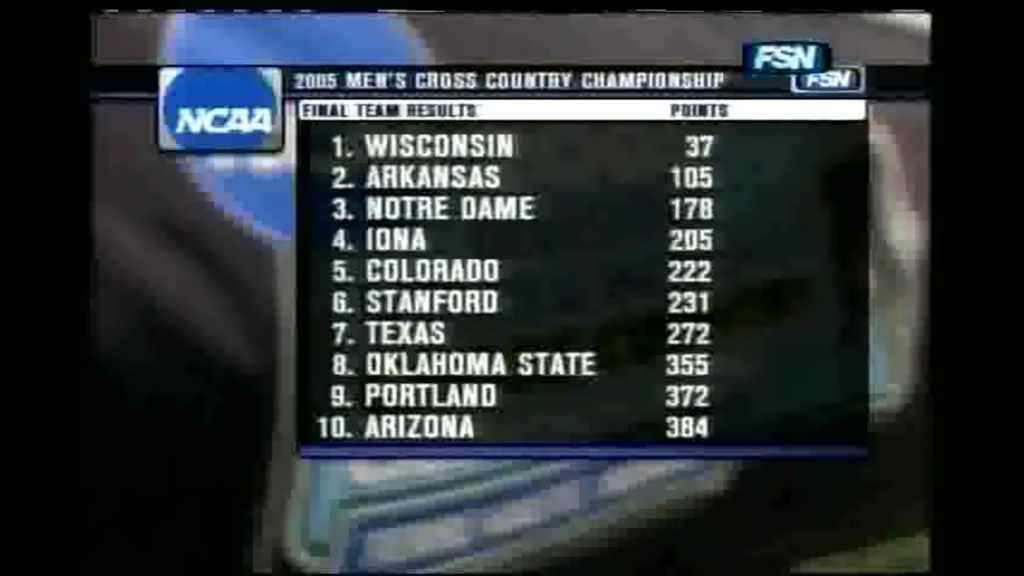 Between Bairu (1st), Solinsky (3rd), Withrow (9th), Antony Ford (14th), Stuart Eagon (17th), and Tim Nelson (18th), Wisconsin puts six guys in the top 20. They were so good that if you removed Bairu and Solinsky, they still would have won handily, with 86 points.
Unsurprisingly, this broadcast does not include a Jerry Schumacher interview.
Arkansas was second, and that fact seemed far from remarkable at the time. Little did we know that, 15 years later, this would remain their most recent podium appearance (top 4) at NCAAs. If you'd made that prediction in 2005, people would have thought you were crazy; this was Arkansas' 20th top-4 finish in 26 years, with 11 titles sprinkled in under legendary coach John McDonell.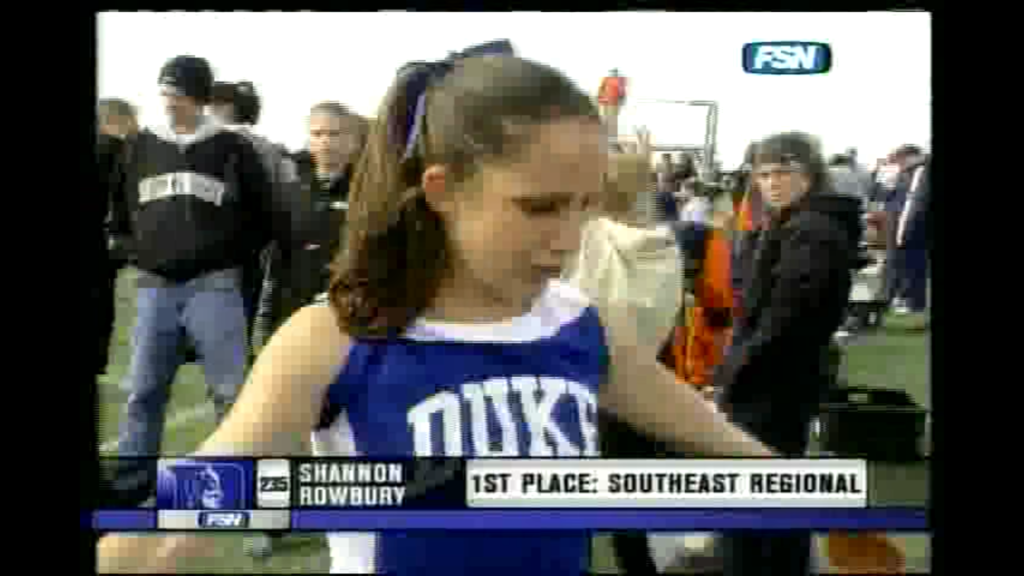 I'm surprised when Barbar begins his discussion of the women's race with the phrase "Duke is expected to dominate," but a little research shows the Blue Devils were favored and were led by future American record holder Shannon Rowbury. This is a day Rowbury would rather forget though: after being touted as an individual title contender, she'd fade from 6th to 55th in the final kilometer and the Blue Devils would end up third, 39 points off the win (Had Rowbury not faded, it would have been very close as she wound up 39th in the team standings).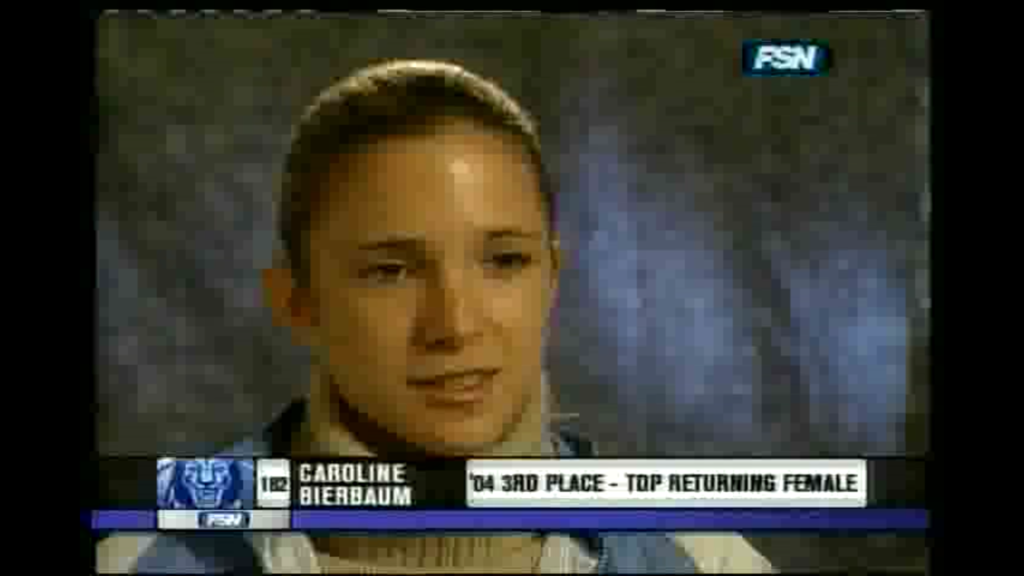 More Heps in the house! Columbia's Caroline Bierbaum is the top returner and a serious threat for the win. She'd end up second and the Ivy League would have to wait eight more years for an individual champ (Dartmouth's Abbey D'Agostino).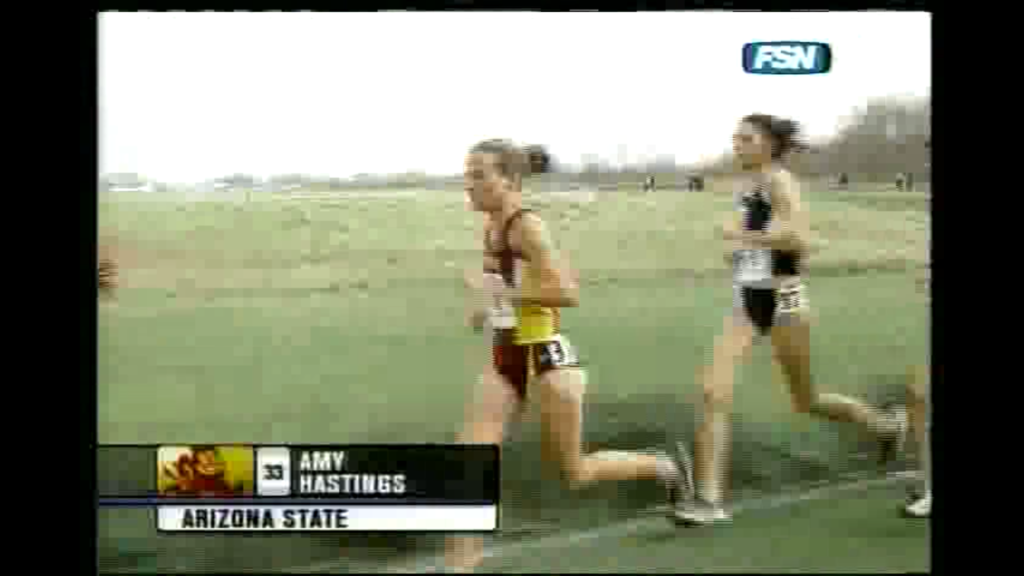 Here's another future star: Amy Hastings (now Cragg), who takes the lead utilizing her familiar short, clipped stride. It's pretty wild that Hastings and Des Linden (who had graduated by this point) were roommates at Arizona State.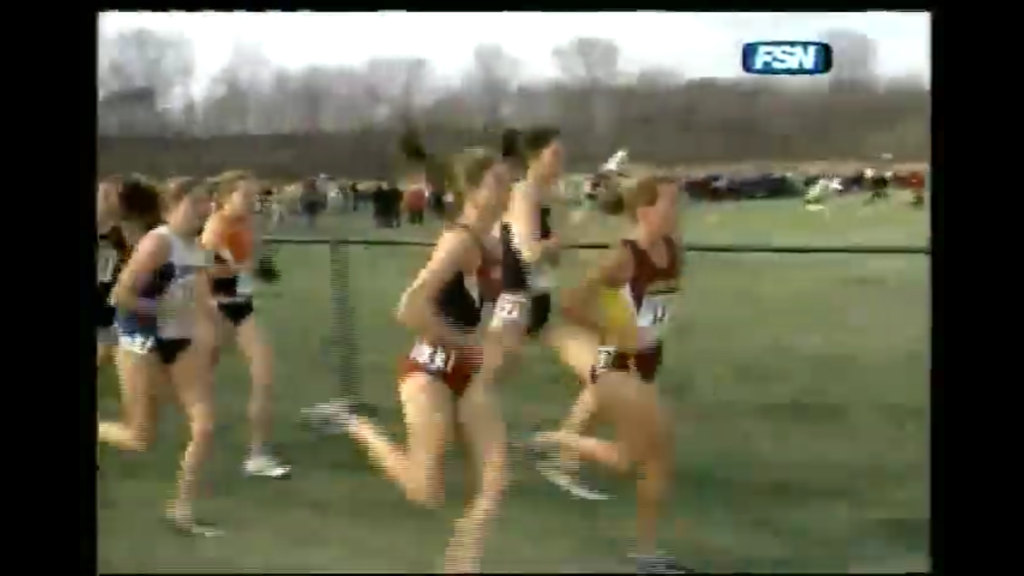 Stanford's Arianna Lambie and Princeton's Cack Ferrell have joined Hastings up front. But I'm having a hard time focusing on the race because the broadcast is gnawing at me.
Rather than calling the action, Barbar mainly makes simple observations or asks questions any random person watching their first cross country race might ask. Here's everything he said for a minute of the broadcast:
"Should we be seeing a separation of the pack at this point or not?"
"And in your opinion, is it unusual for this particular race to be so wide open?"
"And I ran cross country many years ago, but not competitively on the collegiate level. Is anybody having fun out there right now? Because it looks so intense, it looks so grueling, and it looks so difficult."
"Seriously? They are enjoying it?"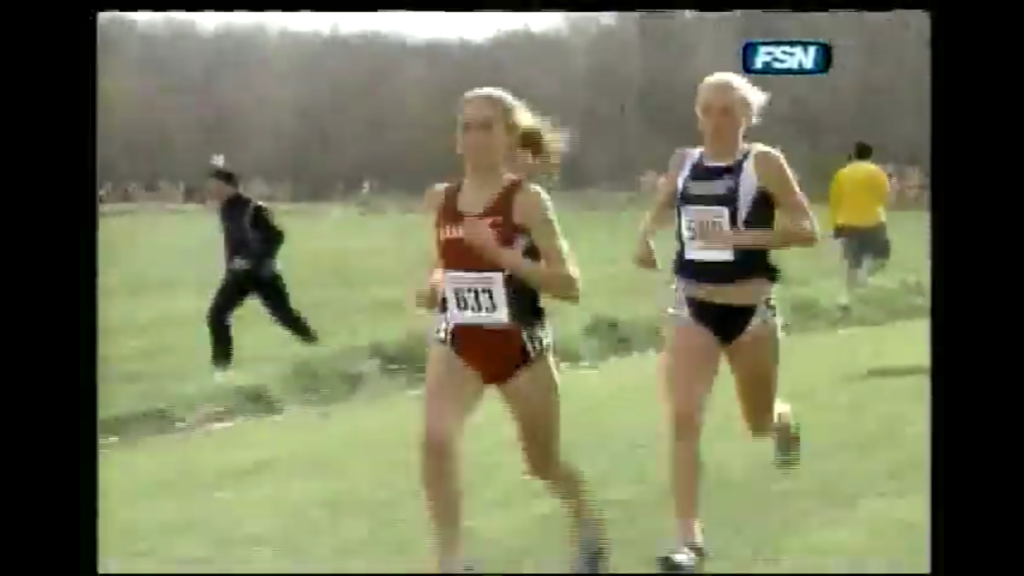 Just past 4k, Lambie moves to the front. Nilsson is the only woman to go with her.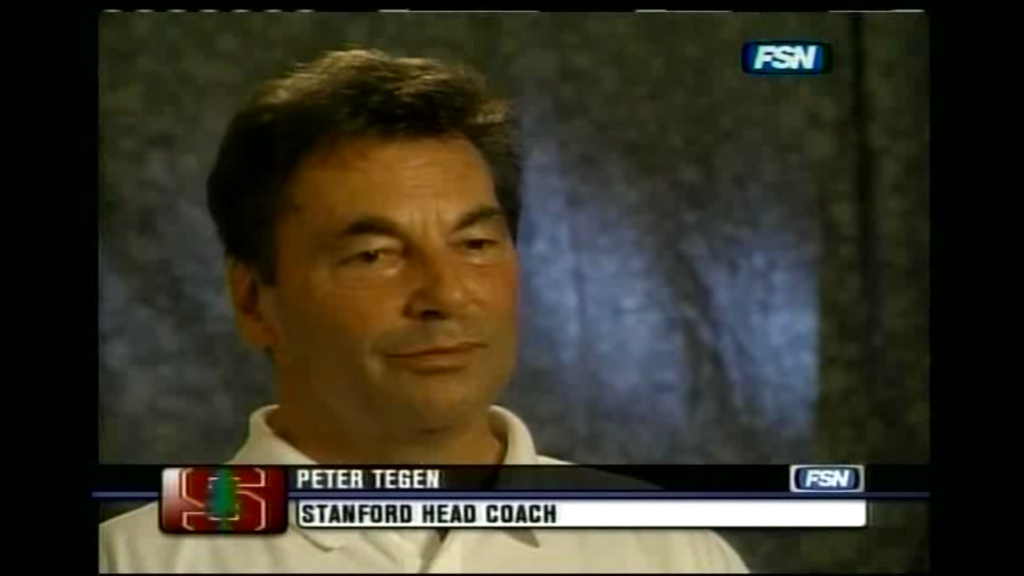 We're down to two women in the final mile, so…time for a 45-second interview with Stanford coach Peter Tegen. I'd love to know what producer thought it would be a good idea to show this interview instead of the most dramatic portion of the race. How is it a better experience for any viewer, let alone the die-hard cross country fan (who are just about the only people watching)? Let's just hope no one made a big move during the break…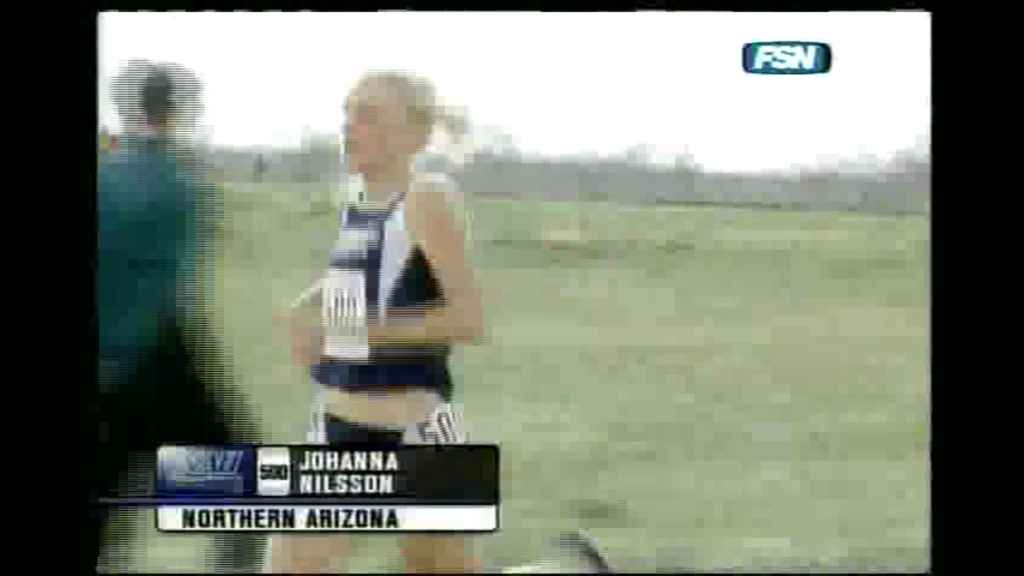 …and of course, by the time we come back, Nilsson has made her winning move and dropped Lambie. Fantastic.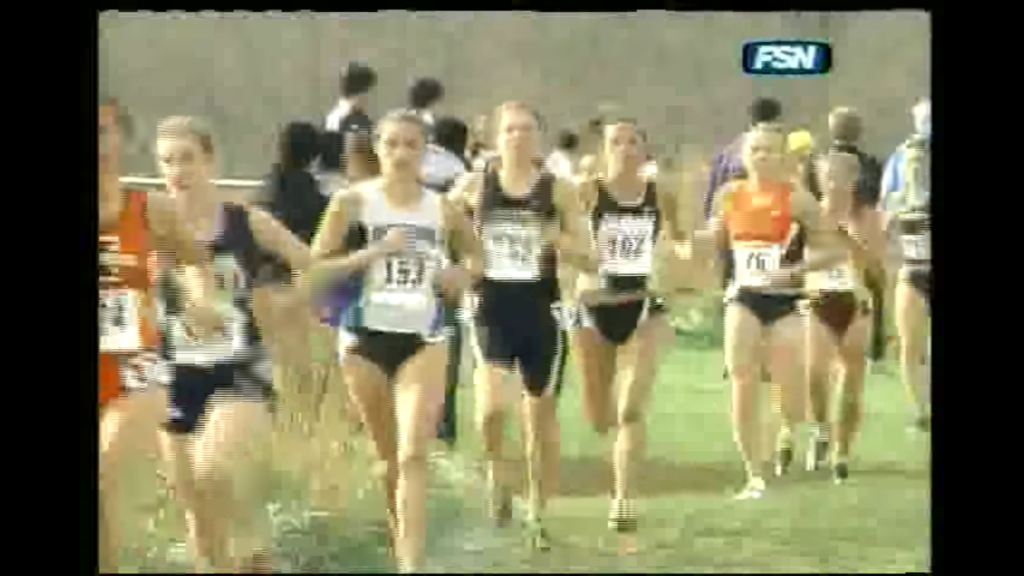 Molly Huddle sighting! (Second from left)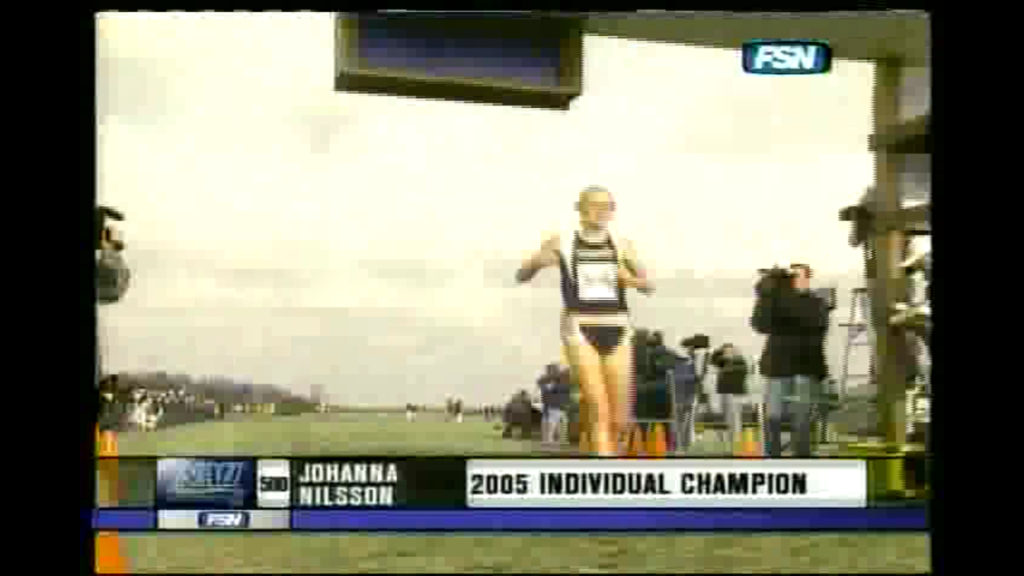 Nilsson wins it in a course-record 19:33.9, 12.1 seconds ahead of runner-up Bierbaum.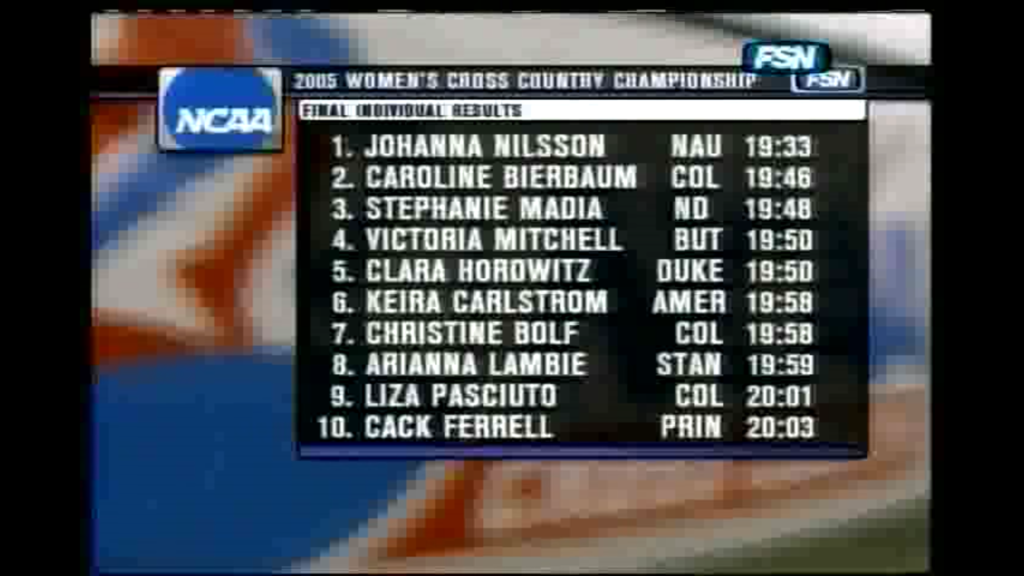 A few months ago, I would have only recognized about half of these names. That's still the case, though I can now say I do know Keira Carlstrom. Now known as Keira D'Amato, she's been crushing it this summer at age 35, notably running 15:04 for 5,000 in a time trial in June.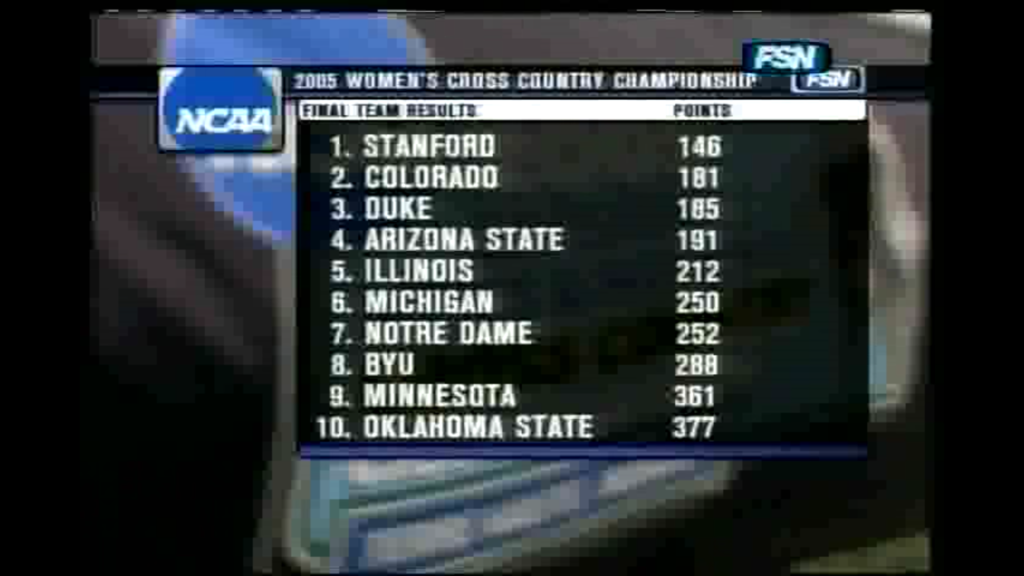 Stanford wins the team title with an unusually large 146 points (only two schools — 2006 Stanford and 2011 Georgetown — have won with more). Stanford's fourth scorer in this race, 47th overall? Lauren Centrowitz. Interestingly, her brother, Matthew, would finish two places higher as the fourth man on Oregon's title team in 2008. Are they the only brother-sister pair to have both been on NCAA title teams?
It was Stanford's third title in 10 years and all came under different coaches: Beth Alford-Sullivan in 1996, Dena Evans in 2003, and Tegen in 2005.
According to RRW, Tegen was in his first year "at 'The Farm' after 30 seasons, two NCAA cross country team titles, and 43 individual NCAA cross country and track crowns at the University of Wisconsin."
More: NCAA XC Championships: Wisconsin Dominates, Stanford Upsets Duke
***
That's it for this week. Check back next Thursday for the next installment.
*TBT #15: I Was Bored, So I Watched Jenny Simpson's Shock Gold at the 2011 Worlds
*TBT #14: I Was Bored, So I Watched the Greatest Marathon Ever — 2002 London
*TBT #13: I Was Bored, So I Watched Lynn Jennings Win 1992 World XC on Home Soil
*Previous entries