The Case For Interval Starts As An Emergency Option For Fall 2020 XC Racing
By JD Downing, guest contributor
June 25, 2020
A couple of weeks ago, I read the excellent LetsRun.com article by Jonathan Gault regarding NCAA cross country options for this fall. However, there is one specific item in the article I wish to comment on as I would argue it was very wide of the mark.
Gault wrote:
"Starting each runner individually, Tour de France time trial-style, is a nonstarter. Do that and it's no longer cross-country, a sport where place is everything and times largely meaningless."
I strongly feel this is incorrect in all respects. In an email to LetsRun.com, I submitted a list of reasons why using an interval start (aka "time trial" or "individual start") format would be the best alternative for high school and college XC racing should sport association or state government restrictions make traditional mass starts for XC unfeasible for fall 2020 in the face of the current COVID-19 pandemic.
To be clear, traditional mass starts are always going to be preferable for XC running, both from racing and spectating perspectives. 
Article continues below player.
But if the pandemic means we may not have a 2020 XC season at all using mass starts — or if the restrictions on using mass starts are so restrictive as to make races unfair or field sizes ridiculously small — interval start races will be our most efficient, fairest, safest, and proven path for just one (we hope) pandemic-impacted XC season.
LetsRun.com has graciously allowed me to present this outline for using interval starts as an emergency option for the 2020 XC season. Portions of this outline have already been submitted to the Oregon School Activities Association (OSAA) focus group on XC as well as circulated amongst a number of West Coast high school and NCAA coaches.
Background
I have an extensive 46-year background in Nordic ski competition as an athlete, coach, event director, and administrator. I also have an XC running background as both athlete and coach. I am currently in my fourth year as an assistant for Summit High School (Bend, Ore.) — the 2018 NXN girls' champions. I also serve as head coach for the Summit Nordic team in addition to multiple professional roles in Nordic skiing. 
Whereas very few running events worldwide ever use interval starts, in Nordic ski competition, interval starts are extremely common from youth to Olympic levels. In Nordic skiing, having enough physical space for large numbers of racers on snowy courses is a common dilemma. Interval starts developed over a century ago as a mitigation method for creating fair racing conditions. 
| | |
| --- | --- |
| Overall | |
| Comfort | |
| Cushioning | |
| Durability | |
| Appearance | |
| Value | |
Multiple states annually have Nordic HS championships that use both interval and mass starts. Further, every NCAA skiing championship for over half a century has included interval races, with mass starts only added in more recent decades. The 2020 NCAA skiing championships (unfortunately halted at the mid-point due to the pandemic) were scheduled to have two interval start races and two mass start races.
For coaches and athletes with a Nordic racing background, emergency use of interval starts for XC running does not seem unusual at all. But it is perfectly understandable if the vast majority of the XC running community has reservations. It is admittedly a really unusual format to propose for XC running. But we are facing a really unusual year. Having open minds to find a way for our sport to happen might be essential in coming months.
Basics On How Interval Starts Can Work For XC Running
Runners start one at a time at timed intervals. The typical interval in Nordic skiing is 30 seconds, but in large junior events it is not unusual to use 15- to 20-second intervals. Every XC race would require creation of a predetermined start sheet with all athletes assigned a start time. Bibs match the start order. Number one bib is the first starter and so on. 

Races would still be divided as female or male races. All events would have a cap on the max number of teams and max runners per team. All females would start in one extended interval sequence, followed by a pause in starts of as little 5-10 minutes, then all males in another extended interval sequence.

For simplicity, each race would set a limit on total number of runners allowed per gender with (for high school) no pre-race varsity/JV designation. For example, for a given race, each team is allowed a maximum number of runners per gender and then the top seven finishers for each team becomes the default "varsity" for scoring purposes (no scoring displacement past #7). At a championship level, standard team sizes would apply as the max athlete cap.

Because of the health concerns in fall 2020, the less overtaking that happens in any race, the better. We also may be required by health officials to reduce field compression at the finish line as much as possible. Thus, it makes sense to interval start runners in a rough order of running speeds (faster runners started earlier).  

A common practice for Nordic interval start races is to use "seed groups" that are each randomly sorted to create the final interval start list. For example, the top 20 racers could comprise "seed group #1," which ostensibly includes the fastest racers. Once randomly sorted, the start positions would be assigned bibs 1-20. Seed group #2 would be bibs 21-40, also randomly sorted. Using seed groups prevents a situation where the top-seeded skier is always forced to go out first. This is a relatively simple system that can easily be adopted for XC running. The size and number of seed groups is easily customized for regular season events to match the cap on racers per gender.

For regular season races, athletes can be seeded by recorded season race times or via coaches' discretion on "best guess" times. This is regularly the case for distance events in track. Since fields would likely be limited and team size automatically capped at conference/state/national levels, a simple and fair championship race solution is to allow each team only one starter for each randomly-sorted seed group. For example, a high school conference championship with eight schools would have seven seed groups (one per the number of athletes each team can run), with a maximum of eight athletes per seed group (one per team). Coaches would determine which of their athletes go into each seed group based on their own criteria. With each seed group randomly sorted, it's as fair as we can get if we can't run mass starts.

If a given runner is not present for their start, that interval spot is either left empty (a timing "ghost") or the timing crew can fill it on the race day with late registrations. It is also possible to add late registrations to the end of a given female/male interval sequence.

Nordic examples demonstrate that it takes several hours for interval start races with a couple hundred athletes in each gender. More teams at any event would mean more humans on-site and a longer event time frame. Both of these situations could be of concern on a health front. State high school authorities and the NCAA have to determine a limit on maximum race numbers they believe is realistic for safety and logistics. State government restrictions would also obviously play a big role.

Runners can easily be lined up for interval starts with six-foot spacing using chalk. Typically in Nordic, we line up five minutes' worth of starters at any given time to help avoid missed starts. One start volunteer would stand six feet away to give each athlete a countdown. 

Finish chutes would need to be re-designed to encourage athletes to leave the finish area quickly after finish and with physical spacing. Interval start fields that finish in roughly the start order would automatically mean far less finish area athlete concentrations than any mass start event.

Nordic has proven that small groups of volunteers with minimal training can easily handle timing interval start races. Bigger events can use chip companies which need no modifications to do interval starts.

Other modifications may be needed to enhance maximum safety in a pandemic (examples: no or limited spectating, larger number of toilets, no in-person awards, etc.). These issues will need to be resolved for XC regardless of start format.
Anticipated Questions and Key Arguments
Would using interval starts impact the essential team element to XC racing?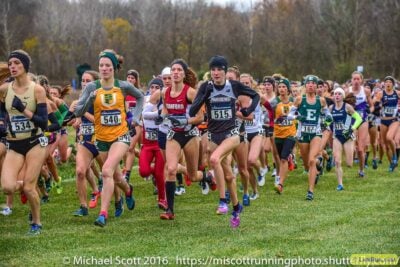 In both HS and NCAA situations for Nordic, team scoring is always included and it's just as big a deal as it is for XC running. Times are ranked and updated as more racers finish and team scoring is ultimately determined (point for place) once all competitors are finished, precisely as it is in traditional XC running events. 
The only real difference between interval and mass starts is actually for individuals — not teams. It can take a little while to know your individual place in interval start races because you aren't competing head-to-head (you need to wait for timing to produce full results before you know your place). But we are all used to waiting at XC running meets for tabulation of team scores, so in this respect, nothing would really change.
Interval starts are unquestionably the most efficient and proven way to provide physical space for endurance sport competitors before, during, and after races.
Below I've included video of a 2019 World Cup Nordic race in Norway (go to the roughly the 8:50 mark for the first starter). This video also shows why a 15- to 20-second interval might be all that is needed for XC running; 30-second intervals offer a lot of space, maybe more than we need.

You can easily see the spacing at the start, but now imagine the spacing out on course, in the warm-up, the finish area, and the cool down. Literally every process of a typical interval start race is much more spread out than mass start races in terms of bodies in concentrated areas. This can be perfectly duplicated for XC running.
For fall 2020, the critical proof of concept for XC to be done with maximum safety is avoiding high concentrations of athletes at all events, from arrival to departure — which we know presents the biggest risk for spreading COVID-19. Traditional mass start races cannot avoid multiple areas of concentrated athletes. 
Everyone is focusing on the health risks of the XC crowd at the start line, but the XC pre-race and finish areas also represent risk points with any size of mass start. Example: 100 athletes starting a mass start at 11 a.m. tend to all want to use the toilets around the same time. More lines = more risk.
By using 15- to 30-second start intervals (again, Nordic events vary on the precise interval time, so XC could as well), not only do you efficiently spread out the athletes at the start and on the course — but you also spread out bodies in warm up areas, lines for toilets, the finish line cluster, and cool down areas. Bonus: We know separation of athletes will work as hoped because of the decades of Nordic event examples using the interval start format. 
For fall 2020, the XC running community may require a proven safety answer if we get push back on our events being truly low risk.
Nordic skiing is annually conducted in the heart of cold/flu season around the world. So the Nordic experience over decades is extremely useful for establishing the relative value of interval starts in the middle of a serious health risk situation. All with added benefit of offering a proven and fair format for individual/team scoring.
Put simply — the XC running community needs to be prepared to make our best argument to the alphabet soup of associations and health authorities nationwide that we should be allowed to have a 2020 season. If authorities ultimately agree to let us have traditional mass start XC events, that's awesome. But if XC has a plan for interval starts ready and waiting to be our best emergency alternative, that can only improve our chances of running this fall.
Does the interval start format work with larger events?
Large Nordic HS or NCAA events can feature upwards of 400 skiers starting via intervals. Well-organized timing and event staffs can handle those numbers of individual starters without taking forever. So interval starts do scale — you just have to know what you are doing. 
LRC addition: We've decided to create a chart showing you how long it would take to start the entire 255-person NCAA XC field (31 teams of seven plus 38 individuals) with staggered starts of various lengths. If they started 14.1 seconds apart, the entire field could be started within one hour.
How Long Would It Take To Start a 255-Person NCAA Field One At A Time?
Start Separation
5 seconds
10 seconds
15 seconds
30 seconds
1 minute
Duration of Start

21:15
42:30
1:03:45 
2:07:30
4:15:00
To really expand capacity levels, the biggest XC invitationals and multi-classification championships could run completely separated interval start races in compartmental windows. That would mean one start-to-finish race field runs in the morning. All teams leave. Then there is a totally separate start-to-finish race field in the afternoon. Maybe three races could be fit into one day. Maybe you need two days to do what we can do in half a day in a normal year. Not ideal for sure, but what is going to be ideal in a pandemic?
A huge bonus — because of Nordic skiing, both NFHS and the NCAA already have complete rules in place for how to organize races using interval starts. The translation of these rules from Nordic to XC would be very easy and quick. Making life easier for high school associations and NCAA cannot be underestimated as a selling point this summer!
What about using multiple wave starts as a compromise? 
Wave starts (starting a select number of athletes at a time) simply reduce the size of athlete clumps compared to mass starts without resolving the key health issues. Only interval starts offer a truly strong mitigation relative to virus transmission risks.
Wave starts also create an inherent competitive imbalance. Any race where "like competitors" are separated into different waves creates a situation where runners in the fastest wave have an advantage over runners in slower waves. It's exactly the same as separate heats at a track meet. One of the beauties of XC is a truly egalitarian quality to the race format. In a 100-athlete field, only a handful have a legitimate chance to win the race. But at least they all get a fair start.
If you limit waves to, say, 15-20 runners and organize waves by seeding, the runners pushed to the next wave are at a huge disadvantage. That ripples down the more waves you use. Using bigger waves just increases health risks. Randomly assigning athletes to waves would make the competitive balance issues worse. Team scoring could be radically impacted by how waves are split and which teams have runners in which wave.
Note: The Nordic World Cup tried using wave starts on the elite scene only once in the past 40 years (December 1989) and it was a disaster, never to be repeated again. Whereas interval starts have been part of the Winter Olympics program in Nordic for over a century.
Using interval starts completely levels the playing field for both individuals and teams while making our best case against virus health concerns. Even using seed groups for interval starts (whether seeding is by recorded time or coaches' discretion) still means every athlete is separated by the exact same interval. It's fair and it works.
The one exception for waves that could be fairly used at select regular season events would be to start teams in separate waves of just their athletes. That could be a fun format to shake things up a few times this fall — and since the teams presumably are already exposed to each other, the safety issues of being clumped together are already mitigated.
Summary
I love traditional XC running and have no illusions about interval starts ever being better for XC running than traditional mass starts. Interval start races are less exciting to watch, take more time to host, and require more organizational steps. By fall 2021, we all want the running world back to normal (amongst many other aspects of life!) and both high school and NCAA XC conducted with all our wonderful XC traditions including mass starts fully back in place. 
But right here and right now, we face an unprecedented year where this particular start format might very well be needed as an emergency solution for high school, and perhaps NCAA XC, to happen this fall.
Discuss this plan on the LRC messageboard. MB: An Interesting Proposal To Save The Fall XC Season: Implement Interval Starts