Jakob Ingebrigtsen Breaks European 2k Record, Team Norway Destroys Team Kenya, Karsten Warholm Gets Record, Track & Field Returns at Impossible Games
By Jonathan Gault
June 11, 2020
The events were weird. The spectators were weirder. But there was a real, honest-to-goodness track meet in Oslo on Thursday, and that was welcome relief for fans who have spent the last three months in a COVID-enforced desert largely devoid of meaningful competition.
The Impossible Games — rebranded this year from the traditional Bislett Games — featured Karsten Warholm setting a world best in the 300m hurdles…while Karsten Warholm watched on from the stands. It featured Mondo Duplantis beating Renaud Lavillenie in a pole vault competition that spanned time and country. And it featured an incredible 4:50.04 European record in the 2000m by 19-year-old Jakob Ingebrigtsen, who remains a remarkable talent, global pandemic or not.
Meet recap, quick takes, and results below.
Article continues below player.
Men's 2000: Jakob Ingebrigtsen breaks European record to lead Norwegians to victory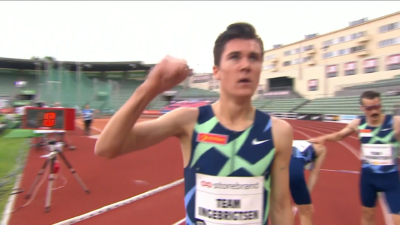 In an impressive display of fitness, 19-year-old Jakob Ingebrigtsen ran 4:50.01 to break the European 2000m record of 4:51.39 held by Steve Cram — who also happened to be doing the commentary for this race on the international feed.
Technically, this event was one race — Ingebrigtsen and his brothers competing in Oslo against Timothy Cheruiyot, Elijah Manangoi, and Edwin Melly in Nairobi — but it quickly became clear that this was two completely different events, and the results should be judged accordingly.
The Ingebrigtsens were competing under pristine conditions at sea level Oslo — 73 degrees, partly cloudy — and also had the added benefit of Wavelight pacing technology (plus human pacers) while Team Cheruiyot faced damp, rainy conditions (63 F), no Wavelight, and 5,800 feet of altitude. Wavelight is a series of lights circling the inside of lane 1 on the rail that moves at the correct pace.
It didn't help that the Kenyans' pacer, Timothy Sein, towed them through 400m in a ludicrous 54.57. They slowed significantly for the second lap (60.99), at which point Manangoi was already starting to fade and the race between the teams was effectively over.
The Ingebrigtsens, meanwhile, with the benefit of Wavelight pacing technology, hit 400 in a much more sensible 58.91. The two teams recorded near-identical splits at 1200 — 2:57.15 for Cheruiyot, the only racer left up front for his team; 2:57.60 for the Ingebrigtsens, with Jakob and Henrik still up there as Filip, doubling back from a 1k just 45 minutes earlier, began to fade. But Cheruiyot was slowing significantly (61.59 for the previous 400) while the Ingebrigtsens continued to cruise along (59.31). This was only going to end one way.
Jakob continued to look incredibly smooth, passing 1600 in 3:55.85 (Cheruiyot came through in 4:01.04, with Melly and Manangoi well back), and it was clear he had plenty left in the tank, quickly gapping older brother Henrik and streaking away to a 4:50.01 final time thanks to a 54.16 last lap. Henrik (4:53.72) and Filip (4:56.91) trickled in behind to give Team Ingebrigtsen a comfortable win. Cheruiyot (5:03.05) led the way for Team Cheruiyot, with Melly (5:13.12) second and Manangoi — perhaps not back to full fitness following the ankle stress fracture that kept him out of the 2019 Worlds — coming last in 5:18.63.
Results (Oslo)
| | | | | | |
| --- | --- | --- | --- | --- | --- |
| 1 | 1 | NOR | | 4:50.01 | |
| 2 | 2 | NOR | | 4:53.72 | |
| 3 | 3 | NOR | | 4:56.91 | |
| DNF | 4 | NOR | | | |
| DNF | 5 | NOR | | | |
Results (Nairobi)
1
1

KEN

5:03.05

2
4

KEN

5:13.12

3
2

KEN

5:18.63

DNF
3

KEN

DNF
5

KEN
Quick Take: Incredible running from Jakob Ingebrigtsen
There were some doubts about how fit athletes would be in this meet, given the COVID-related interruptions in training. The Ingebrigtsens, for example, could not go on their planned altitude trip to Flagstaff this spring. Based on the limited evidence from this meet, however, we could still see some quick times should the Diamond League resume as scheduled in Monaco on August 14. After Filip's 2:16 1k earlier in the meet, Jakob one-upped him with a remarkable 4:50.04 in the 2000.
Considering the 2000m is rarely run at any level, it can be tough to compare times, but 4:50.04 is very, very good. A few points of context:
-Ingebrigtsen moved one spot ahead of Noah Ngeny on the all-time list. Ngeny ran his 4:50.08 in Stockholm on July 30, 1999 — just three weeks after his 3:43 near-WR in the mile.
-According to World Athletics' scoring tables, 4:50.04 in the 2000 is worth 3:30.71 in the 1500 and 7:30.72 in the 3000.
-Ingebrigtsen came through 1600 in 3:55 and closed in 54.1. There aren't many people who could do that right now — or ever.
Ingebrigtsen is now #7 on the all-time 2000m list (#6 counting only outdoor performances):
| | | | | |
| --- | --- | --- | --- | --- |
| Rank | Time | Name | Venue | Date |
| 1 | 4:44.79 | Hicham El Guerrouj | Berlin | 9/7/99 |
| 2 | 4:46.88 | Ali Saidi-Sief | Strasbourg | 6/19/01 |
| 3 | 4:47.88 | Noureddine Morceli | Paris | 7/3/95 |
| 4 | 4:48.69 | Venuset Niyongabo | Nice | 7/12/95 |
| 5 | 4:48.74 | John Kibowen | Hechtel | 8/1/98 |
| 6 | 4:49.99i | Kenenisa Bekele | Birmingham | 2/17/07 |
| 7 | 4:50.04 | Jakob Ingebrigtsen | Oslo | 6/11/20 |
One thing I'm curious about is how much the Wavelight aided him. It certainly seemed to help keep him in check early in the race and avoid pacing errors like the one by Team Cheruiyot.
MB: JAKOB INGEBRIGTSEN runs 4:51min for 2000m!!!!!
MB: is JAKOB INGEBRIGTSEN going to break the mile/3k/5k world records in his career?
Men's 300 hurdles: Warholm smashes world best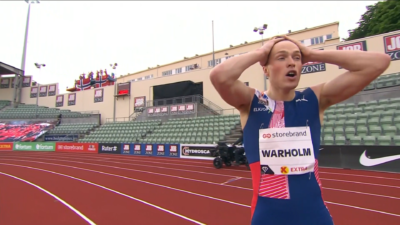 Two-time 400 hurdles world champ Karsten Warholm entered this solo "race" with the aim of breaking Chris Rawlinson's world best of 34.48. Considering Rawlinson's 400H pb (48.14) is considerably slower than Warholm's (46.92), the question wasn't whether Warholm had the ability to do it, but whether he was fit enough right now considering lockdown-induced training difficulties.
Warholm laid any doubts to rest, unfolding his enormous stride from the starting blocks and tearing around the track to stop the clock at 33.78. That's 45.04 pace for 400 meters…an appetizer for what the 24-year-old Warholm could be capable of once full competition returns.
Men's 1000: Filip Ingebrigtsen claims Norwegian record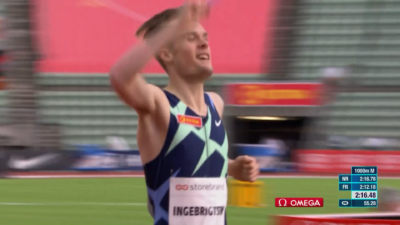 This event was purely man against clock: it was all about Filip Ingebrigtsen chasing the Norwegian 1000m record of 1996 Olympic 800 champion Vebjørn Rodal. With the aid of two pacers and Wavelight, everything was set up for Ingebrigtsen to run as fast as possible, and he came through 600 ahead of pace at 1:21.20. Though he would slow slightly on the final lap, it wasn't enough to cost him the record as he finished, alone, in 2:16.46 to take .32 off Rodal's previous mark.
Quick Take: Was this faster than a normal race?
One way to run fast is to get a field of studs together, get a good pacer, and let the fast guys drag the not-as-fast guys to times as they try their best to keep up.
The Impossible Games used a different approach, giving Ingebrigtsen two pacers (there was a third runner — maybe another pacer? — who ran behind him but wound up dropping out) and Wavelight technology. This strategy — building everything around one athlete — has been used in the past, but usually it's by the best of the best chasing world records — when there's literally no one fast enough for the runner to chase. Edward Cheserek and Yomif Kejelcha used it (without Wavelight) in their fast miles at Boston University in recent years.
 Though Ingebrigtsen didn't have any humans to chase over the final 200, he still had the Wavelight to key off — and had the advantage of never having to run any extra distance.
Incredible pacing! Had one guy get to 500m and one to 800m in 1.48. Shows the benfits of having a nice small field, and not having to battle 10 guys in the first 100m!

— Nick Willis (@nickwillis) June 11, 2020
So what's the bigger advantage: athletes to chase for the entire race, or personal pacers and no extra distance to run? We don't have a verdict, but the latter approach worked for Ingebrigtsen tonight.
Quick Take: The Wavelight technology worked well
With no other athletes in the field, the track's Wavelight technology was quite helpful. The only thing that was slightly confusing: it appeared Ingebrigtsen was behind pace for the entire race, because he never moved in front of the green lights (about five or six would light up at a time and in front if that were red lights). In fact, it was the last light in the series, not the first, that showed record pace. With that cleared up, this could be a useful tool for future record attempts.
Men's 25,000m: Moen nabs European record
Running a very lonely 62.5 laps of the track, Norway's Sondre Nordstad Moen (59:48/2:05:48 pbs) took over a minute off the 21-year-old European 25,000m record by running 1:12:46.5. That's 61:24 half marathon pace for 15.53 miles.
Women's 600: Hedda Hynne wins it after Selina Buchel blows up
This was a two-person match race run entirely in lanes between Norway's Hedda Hynne and Switzerland's two-time Euro indoor champ Selina Buchel. On paper, Buchel was favored, with faster pbs at both 400 (52.97) and 800 (1:57.95) to Hynne's 53.24 and 1:59.87. But starting in lanes may have thrown off Buchel (lane 3) as she started this race like a 400, splitting 25.9 for her first 200.
Ultimately, that came back to bite her, as Hynne made up the stagger on the final turn and ran Buchel down to win in 1:29.06 to Buchel's 1:30.10.
Men's pole vault: Duplantis wins it, but his 6.00m streak ends

Mondo Duplantis began 2020 by clearing 6.00m or higher in each of his five indoor meets, but in his outdoor opener (not counting the Ultimate Garden Clash), he could "only" manage 5.86. That was enough to take the win over Renaud Lavillenie, who competed earlier this week from his home in France. Lavillenie put some fear into Duplantis by clearing 5.81 on his shortened runway at home, but Duplantis matched with a 5.81 of his own before clearing 5.86 on his third attempt. Duplantis missed all three attempts at 6.01.
Men's discus: World champ Stahl prevails

Sweden's Daniel Stahl recorded only two legal throws, but either would have been good enough to win this four-man competition. His best was a 65.92m in round five.
Photo gallery
Though the stadium was largely empty, there were still cardboard cutouts, puppets — and some creative spectators who managed to find their way in.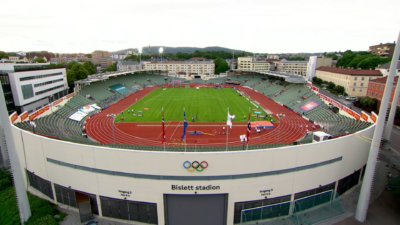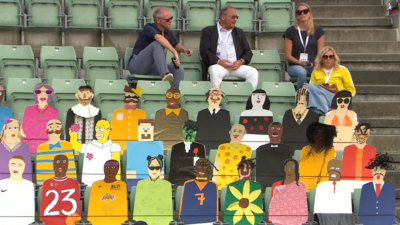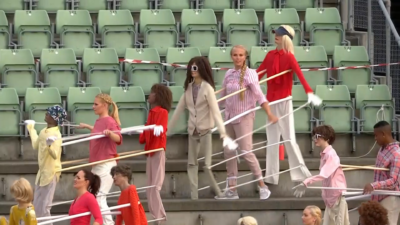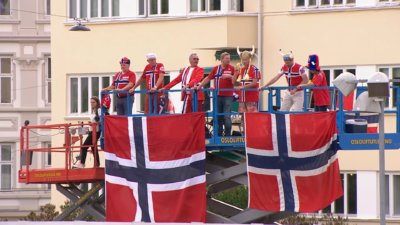 ---
Discuss the meet on our messageboard:
MB: Official 2020 Impossible Games Discussion Thread – Team Cheruiyot vs Ingebrigtsen
MB: JAKOB INGEBRIGTSEN runs 4:51min for 2000m!!!!!
MB: is JAKOB INGEBRIGTSEN going to break the mile/3k/5k world records in his career?