Road Races Continue To Be Cancelled – Beach to Beacon (August 1) and Falmouth (August 16) Bite The Dust For 2020
By David Monti, @d9monti
(c) 2020 Race Results Weekly, all rights reserved
(29-Apr) — With nearly all spring running events already cancelled or postponed, several prominent summer races have begun to join them. July and August looked safe just a month ago for holding events, but event organizers are realizing that there is still too much uncertainty due to the COVID-19 crisis to fully plan for races in late June, July and August.
"This has been a heartbreaking decision for all of us, but is the right and only decision to be made at this time of uncertainty and unknowns," said Olympic gold medalist Joan Samuelson the founder of the TD Beach to Beacon 10-K which was just cancelled yesterday. The event had been scheduled for Saturday, August 1, in Cape Elizabeth, Maine. She continued through a statement: "The TD Beach to Beacon 10-K will return next year, consistent with the enduring nature of our sport, team and community."
Article continues below player
Other important summer road races which have cancelled or postponed include:
. Grandma's Marathon, Duluth, MN (20-Jun) – Cancelled
. Steamboat Classic 4 Mile, Peoria, IL (20-Jun) – Postponed until September 5
. B.A.A. 10-K, Boston, MA (21-Jun) – Postponed until November 22
. Univé Stadsloop Appingedam, Appingdam, NED (27-Jun) – Cancelled
. Hella Hamburg Halbmarathon, Hamburg, GER (28-Jun) – Cancelled
. Scotiabank Vancouver Half-Marathon & 5-K, Vancouver, BC, CAN (28-Jun) – Cancelled
. Aquafina Butte to Butte 10-K, Eugene, OR, USA (04-Jul) – Cancelled
. Fifth Season/Health Solutions 8-K, Cedar Rapids, IA (04-Jul) – Cancelled
. Loopfestijn Voorthuizen, Voorthuizen, NED (11-Jul) – Cancelled
. Boilermaker 15-K, Utica, NY (12-Jul) – Postponed until September 13
. Lululemon Edmonton 10-K, Edmonton, AB, CAN (19-Jul) – Cancelled
. Media Maratón Internacional Bogotá, Bogotá, COL (26-Jul) – Cancelled
. Wharf to Wharf Race 6 Miles, Santa Cruz to Capitola, CA (26-Jul) – Cancelled (virtual race only)
. Debbie Green Memorial 5-K, Wheeling, WV, USA (01-Aug) – Cancelled
. TD Beach to Beacon 10-K, Cape Elizabeth, ME, USA (01-Aug) – Cancelled
. Meia Maratona Internacional do Rio, Rio de Janeiro, BRA (16-Aug) – Postponed until January 24, 2021
Update on 4/30 by LRC. Today the Falmouth Road Race was also cancelled. Technically it will be run "at home." See addition at the end of article.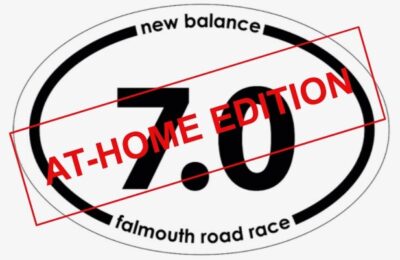 In addition, several races have paused their registration process including the Missoula Marathon (28-Jun), Village Roadshow Theme Parks Gold Coast Marathon & Half-Marathon (05-Jul), and the Crazy 8's 8-K (11-Jul). These events may, or may not, be held.
"In considering the uncertainty of our ability to deliver an event in July, the Board of Events Management Queensland yesterday decided to suspend planning and entry registrations for the 2020 Village Roadshow Theme Parks Gold Coast Marathon, effective immediately," read a statement recently posted to the Gold Coast Marathon website. "This suspension will be reviewed no later than 19 May 2020, or when a revised public health order provides us with certainty of the future of this year's event."
One of the summer's top road race fixtures, the New Balance Falmouth Road Race, won't be held on the published date of August 16, but race organizers are not yet sure if they will cancel or postpone. There is already the low-key Falmouth in the Fall event which is held on the same course on November 1. However, that event has a different organizer.
"With the safety of our runners always our top priority, the New Balance Falmouth Road Race has for the past month been exploring options should it become apparent that hosting a race on August 16 would be unwise in light of the COVID-19 situation," read a statement on the event's website. "Out of an abundance of caution, the Falmouth Board of Selectman voted on April 27, to cancel approvals of all special events in Falmouth through August 31, a decision we support. Over the next few days we will make a determination of whether the 2020 New Balance Falmouth Road Race will be run at some other time or in some other format."
The situation remains very fluid, however, with events changing status by the day. Still on the summer schedule (but subject to change) are the Buffalo Subaru 4-Mile Chase (17-Jul), Summerfast 10-K (Vancouver, BC, 18-Jul), Humana Rock 'N' Roll Chicago Half-Marathon (19-Jul), Marvejols Mende 22.4-K (Lozere, FRA, 19-Jul), Real Insurance Sydney Harbour 10-K (19-Jul), Quad-City Times Bix 7 Mile (Davenport, IA, 25-Jul), and Cooper River Bridge Run (Charleston, SC, 01-Aug). The Cooper River event was already postponed from April.
While organizers are of course bound by national, state and local laws and emergency orders, they are also being guided by what they think would be in the best interest of their runners, communities and other stakeholders.
"COVID-19 and its impact on our state, the nation, and the world is unprecedented, and after significant review and in partnership with our medical partners we have made this very difficult decision," said TD Beach to Beacon 10-K president David Backer through a statement. "We know this will be disappointing for those of us who look forward to the race each year but the health and safety of our runners, volunteers, spectators, staff, and community remains paramount."
Update on Falmouth
(30-Apr) — For the first time in its 47-year history, the New Balance Falmouth Road Race won't be held on the famous coastal, 7-mile course from Woods Hole to Falmouth Heights this August. Instead, race organizers are organizing an "at home" edition for what would have been the 48th running of one of America's most iconic road races, founded in 1973 at the beginning of the original running boom.
"With safety always the top priority, we see an 'At-Home' event as the ideal option for 2020," said Scott Ghelfi, president of the Falmouth Road Race, Inc., board of directors through a statement. "Although it's sad to think of a summer in Falmouth without the usual race spectacle along our shores, conducting an 'At-Home' event will not only give runners from everywhere the chance to experience the Falmouth spirit but also give Falmouth Road Race, Inc., a way to show support for the town, our medical community, and our Numbers for Nonprofits participants, who are raising funds that will be needed now more than ever."
Race organizers had little choice but to move to a "virtual" event. The Falmouth Board of Selectmen just implemented a "no large event" policy through the end of August. The race was originally scheduled for Sunday, August 16.
Registration for this year's at-home event will commence on May 18, and the first 5,000 runners to enter will be guaranteed a spot in the 2021 edition of the event. Under the at-home format, runners will have two weeks, from August 15 to August 29, to complete their 7-mile runs.
Not holding the race will be a big blow to the hotels, restaurants and other local business which regularly welcome the nearly 12,000 runners and their families who come to Cape Cod each summer to run the race. To soften the blow, the race plans to purchase $25,000 in gift cards from local businesses which will be randomly distributed to race entrants. The race also plans other charity activities.
"Running at home, together but apart, is the best way for all of us to show that we care about Falmouth –the town, its people, the race and its tradition– in 2020," said Ghelfi. Referring to the late race founder Tommy Leonard, Ghelfi continued: "Tommy Leonard wouldn't want it any other way."
Runners can still run on the Falmouth course this year in an organized event, however. The low-key Falmouth in the Fall, which uses the same course, is scheduled for Sunday, November 1.