RRW: Hitomi Niiya Dominates Aramco Houston Half-Marathon, Sets Japanese Record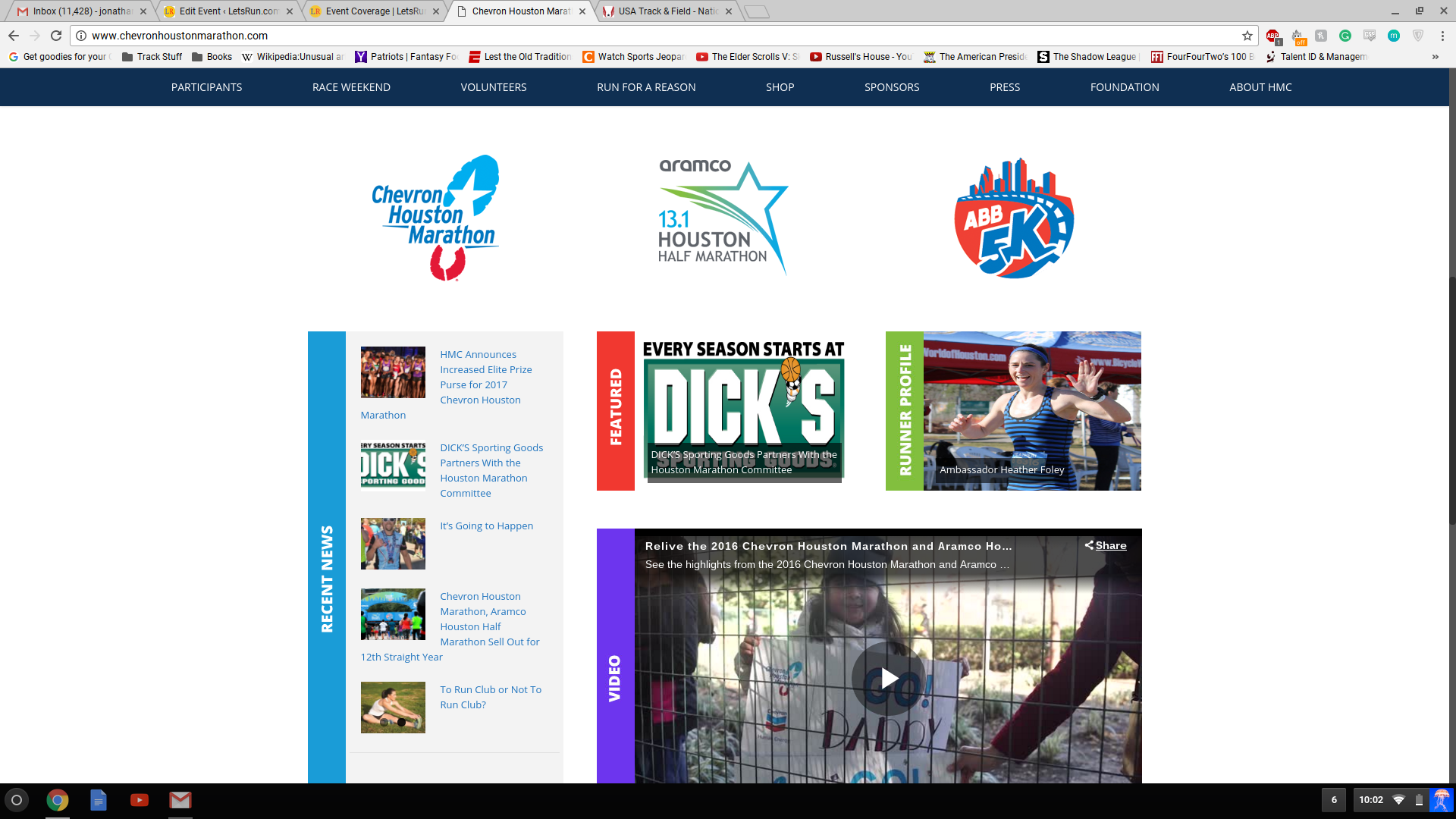 January 19, 2020
By David Monti, @d9monti
(c) 2020 Race Results Weekly, all rights reserved
HOUSTON (19-Jan) — Japan's Hitomi Niiya, who came out of a five-year retirement from elite distance running in 2018, dominated the women's division of the Aramco Houston Half-Marathon, a World Athletics Gold Label road race, here this morning. Despite chilly temperatures accompanied by sometimes strong winds, she won the women's race in a new Japanese record of 1:06:38, leading from gun to tape. Her margin of victory was an improbable one and one-half minutes, and she became the first-ever Japanese woman to win the race.
"All of my training toward the Houston Half-Marathon was to get the Japanese national record," said Niiya, whose Canadian manager Brett Larner translated for her. "I wasn't paying attention at all to anyone else."
Article continues below player
Indeed, after the starter's gun fired at 7:00 a.m., Niiya and her personal male pacer Tsuyoshi Ugachi set out at a very fast pace and never looked back. Wearing gloves and arm warmers to fight off the chill, she blitzed through the 5-kilometer mark in 15:37, on pace to not only break Kayoko Fukushi's 2006 national record of 1:07:26 but also to break 1:06:00. That was by design, Niiya said.
"My minimum goal coming in here was to break the national record," she explained.
Her lead over the rest of the field grew with every kilometer, from 14 seconds at 5-K, to 77 seconds at 10-K (31:11) until 90 seconds at the finish when second place Brillian Jepkorir Kipkoech of Kenya crossed the finish line behind her in 1:08:08. Niiya's 20-K split of 1:03:13 was also a Japanese best.
When asked, Niiya said she came out of retirement for practical reasons. "To me running is work," she said seriously. "I still have work to do and that's what I'm best at."
Third place went to another Kenyan, Caroline Chepkoech Kipkirui, who clocked 1:08:13. The top European was Steph Twell of Great Britain in 1:08:55 (8th place), and the top American was Sara Hall in 1:08:58 (9th place). Both women set personal bests, and Hall ran on tired legs because she is in the middle of her marathon training block ahead of the USA Olympic Trials Marathon scheduled for Saturday, February 29, in Atlanta.
"This is really encouraging to me to give context to my training," Hall told Race Results Weekly minutes after crossing the finish line. "Everything I've been doing is hilly, crazy courses to prepare for Atlanta. So, I really didn't know what I could do for a flat, fast half. This is encouraging to me."
In the men's half-marathon, Ethiopia's Jemal Yimer avenged his runner-up finish from last year when he went slightly off course, and won in a sprint finish against three Kenyan rivals –Bernard Ngeno, Shadrack Korir and Philemon Kiplimo– in 59:25. His time was only three seconds off of the course record set by his compatriot Feyisa Lilesa in 2012.
"I'm very happy," Yimer said through a translator. "I was really prepared for it. I practiced a lot." He added: "The only difficult I had was the weather. The weather was hard."
In all nine men broke 60-minutes, including Ngeno (2nd, 59:25), Korir (3rd, 59:27) and Kiplimo (4th, 59:28).
Behind the leaders, a platoon of 14 USA men broke 62 minutes, led by Olympian Jared Ward in 1:01:36, a personal best. Ward said that running with such a large group was a huge help, especially give the windy conditions.
"It was amazing; it was crazy," Ward told Race Results Weekly. "For the wind out there today, that was just perfect. We were all together with a mile to go. I kept thinking the pack was going to break up at seven, then at eight miles, then at ten miles. Then there was still 20 of us at 12 miles."
Reed Fischer was the second American in 1:01:37, followed by Nic Montanez (1:01:38), Futsum Zienasellassie (1:01:44), Reid Buchanan (1:01:45), Willie Milam (1:01:46), Colin Mickow (1:01:47), Harvey Nelson (1:01:48) and Alex Monroe (1:01:50).
"It was cool," said Fischer, who is unsponsored. "You had everyone from Olympians to up-and-comers just crushing it. It's very indicative of what Atlanta is going to look like. It was a ton of fun."
In the accompanying Chevron Houston Marathon, also a Gold Label race, Ethiopians Kelkile Gezahegn Woldaregay (2:08:36) and Askale Merachi (2:23:29) were clear winners. Gezahegn broke away from his last rival, compatriot Bonsa Dida, with 1:58:30 showing on the race clock. With one big move, he left Bonsa well behind (he finished second in 2:10:37). Third went to Amanuel Mesel of Eritrea in 2:11:04.
"I'm very, very happy that I won, thank God," Kelkile said through a translator. He continued: "I was in control. I knew I was going to win."
Merachi, who set a personal best, was never threatened. She had over a two-minute lead at halfway (1:10:10), and despite slowing in the last ten kilometers, she still won by 78 seconds over defending champion Biruktayit Degefa Eshetu (2:24:47).
"From the beginning I started on my own," Merachi told reporters through a translator. "I finished the way I started. My goal was a single one, just winning."
Perhaps the most noteworthy performance came from the third place woman, Malindi Elmore of Canada. An Olympic 1500m runner in Athens in 2004, the 39 year-old Elmore ran a pending Canadian record of 2:24:50, smashing her personal best by seven minutes and 25 seconds. Her time was well under the 2:29:30 Olympic Games qualifying standard, so she has a good chance of gaining selection to the Canadian team.
"Everything's been kind of pointing in that direction the last few months of training," an obviously grateful Elmore told Race Results Weekly. She continued: "We really locked into that pace."
Down the finish order, there were some other noteworthy performances. Adriana Nelson, who hasn't won a marathon since finishing 12th at the 2016 USA Olympic Trials in Los Angeles, was the first American in the women's division, finishing eighth. She said that although she had accomplished a lot in her long, competitive running career, at nearly 40 years-old she still wasn't done.
"I do have a very busy life, being a mother and having a business with my husband," said Nelson who is a founder of Roll Recovery, a line of personal massage tools invented by her husband, Jeremy. "But the love of running is still there. I feel like I want to go and suffer with everyone else."
Neely Spence Gracey, who qualified for the 2016 Trials but wasn't able to start the race due to an injury, qualified for the 2020 Trials here today. Off of a short preparation, she clocked 2:44:03, a modest time compared to her personal best of 2:34:55. However, it was a big personal victory for her after struggling to get back to running at a high level after maternity leave and injury problems.
"It went great," Spence Gracey told Race Results Weekly. "I was so grateful because we had such a big pack. We all worked together, super-relaxed. We joked, we were laughing, we shared water bottles. It was really awesome."