Molly Huddle, Sara Hall, Jared Ward & More: Olympic Trials Preview on Tap at 2020 Houston Half Marathon
By Jonathan Gault
January 16, 2020
Year-in, year-out, no American half marathon assembles better fields than Houston. In addition to being the site of both the men's (Ryan Hall, 2007) and women's (Molly Huddle, 2018) American records, there is always a deep list of sub-60:00 men and sub-67:00 women on the start line. Last year, Brigid Kosgei kicked off one of the greatest years in the history of distance running with a win in Houston.
The international fields in Houston, which takes place on Sunday, are strong once again. But from an American perspective, the more intriguing storyline is the impending US Olympic Marathon Trials, to be held in six weeks' time in Atlanta. Several top Trials contenders — Molly Huddle and Sara Hall on the women's side, Jared Ward and Shadrack Biwott on the men's — will be racing on Sunday, and while no result will make or break their Trials hopes, it does give us one last piece of evidence to go on. With that in mind, here are a few things to watch for this weekend in Houston, where the locals could use some good news.
Article continues below player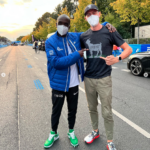 Kipchoge loves the 1:59:40 Shirt Get Yours Today
What a legend!
What: 2020 Chevron Houston Marathon & Aramco Houston Half Marathon
Where: Houston, Texas
When: Sunday, January 19, 8:01 a.m. ET (marathon & half marathon start simultaneously)
How to watch: The race can be streamed live around the world on ABC13.com
1) Can Molly Huddle reassert her dominance on the roads?
When Huddle debuted in the marathon, placing third in New York in 2016, it looked to be the first step in a journey that would culminate at the 2020 Olympic marathon. Among Americans, Huddle was the queen of all distances between 5k and the half marathon and her grind-it-out style seemed well-suited to marathon success.
More than three years later, that success hasn't quite materialized. Huddle is one of the country's top marathoners, but she has yet to record a signature performance; her best marathon to date came at 2018 New York, where Huddle was 4th in 2:26:44, a minute up on Des Linden but 22 seconds behind Shalane Flanagan. Last year, she had opportunities to run fast times on fast courses and couldn't deliver. In April's London Marathon, Huddle was just 12th in 2:26:33 (#5 among Americans in 2019). At the Valencia Half in October, Huddle ran 69:35, which is very good for most Americans, but not Huddle, for whom it was the slowest half of her career.
2019 wasn't all bad for Huddle — she won her fifth straight US 10,000 title on the track and finished a respectable 9th at Worlds — but, at 35, there are questions about which version of Huddle we will see moving forward. It might be too much to expect a vintage Huddle performance on Sunday, given she's in the meat of a marathon buildup — but then again, so are her domestic opponents. If Huddle can't beat Sara Hall and Aliphine Tuliamuk — women Huddle would have crushed in her prime — it could be a red flag ahead of Atlanta.
Speaking of red flags, Jordan Hasay was initially entered here but scratched. Something to keep an eye on, considering Hasay tore her hamstring in Chicago in October (though she appears to be training okay now).
2) Will any American women surprise?
When I separated the Olympic Trials contenders into tiers back in November, I put Huddle and Hall in the top tier, and their head-to-head matchup is the most interesting one in Houston. The question, then, is whether there's another American who can break them up and boost their Trials chances in the process.
Tuliamuk, the 2018 US half marathon champ, is an option, though she's got progressively slower in Houston the last three years, from 69:58 in 2017 to 71:41 in 2018 to 72:03 last year. She'll need to get back to her 2017 form to crack the top two Americans on Sunday.
Katy Jermann (née Moen) and Molly Seidel both ran 70:27 last year, tied for third-fastest in the US. Of the two, Seidel, who in 2015 broke the "Foot Locker curse" to win the the 2015 NCAA XC title, is the more intriguing prospect. Seidel had never run a half before October 2019, but Houston will be her third in three months, and she plans to make her marathon debut at the Trials. Barring something insane in Houston, she's not a serious Olympic prospect in 2020, but could be someone to watch for 2024. Jermann, who ran collegiately at Iowa State, was 8th at the 2014 NCAA XC meet.
The one other woman who could be a factor at the Trials is Laura Thweatt, who ran 2:25 back in 2017. Since then, Thweatt has been banged up and only managed 2:29 in Chicago last fall. But that was a decent first step for someone who hadn't finished a marathon in two and a half years; can she take another step forward in Houston?
3) US men aiming to make a statement
With a 2:09 in Boston and two sixth-place finishes in New York, Jared Ward has been the most consistent American marathoner over the last 18 months. Beating him on Sunday doesn't guarantee a repeat result next month in Atlanta, but it would be a positive sign for the other Olympic hopefuls in this field.
Ward doesn't need to prove himself ahead of the Trials. The same can't be said for some of the other guys in this field. Shadrack Biwott has three top-five WMM finishes to his name, but none since April 2018; last year, patellar tendinitis limited him to 15th in Boston and caused him to scrap his fall marathon plans at the World Champs in Doha. Diego Estrada won this race back in 2015 but hasn't produced anything close to that since on the roads. And then there's Sam Chelanga, who retired from running in 2018 to enlist in the Army but is entered in Houston. At 34, does the 2009 and 2010 NCAA xc champ have anything left in the tank? Remember, he ran 60:37 in Houston just two years ago.
Reed Fischer (4th at USAs in the 10k in 2018) and Matt Llano (2:11 in Berlin last fall) could also factor here.
4) Expect competitive races up front
With a high of 59, the temperature looks great for running on Sunday, though 13 mph winds mean the conditions won't be perfect. Still, with the talent on hand in Houston, there should be competitive races up front. In the men's race, there's no clear favorite. Ethiopia's Jemal Yimer (58:33), the fourth-fastest man ever, was a close second last year after taking a wrong turn late in the race. He went on to run 59:09 in Valencia in October, where he finished two seconds behind Kenya's Bernard Ngeno, also entered in Houston. Andamlak Belihu had a terrific 2019 (26:53/59:10, 5th at Worlds in 10k), while the last two Houston champs, Shura Kitata of Ethiopia and Jake Robertson of New Zealand, return as well. Robertson recently joined a Japanese corporate team: MB: Did Zane Robertson join a japanese corporate team?.
You'd expect a fast time up front, given those resumes. But Houston has a tendency to go tactical: no one has broken 60:00 there since Feyisa Lilesa's 59:22 course record in 2012. Unless the wind dies down, that could be the result in 2020 as well.
On the women's side, Caroline Kipkirui has the fastest pb by more than a minute (65:07) but could be challenged by Gelete Burka (1st Paris/3rd Chicago in her 2019 marathons), 2018 Houston half champ Ruti Aga, and Brillian Kipkoech, who ran a pb of 67:12 in Copenhagen last fall.
Talk about Houston on our fan forum / messageboard. MB: Official 2020 Houston Discussion Thread