Mary Cain and Katelyn Tuohy Struggle in 3000, Cain Reflects On Her Biggest Regret at NOP
By LetsRun.com
January 25, 2020
NEW YORK — Being a female high school distance phenom has to be one of the least enviable and loneliest positions at the top of sport. Mary Cain and Katelyn Tuohy understand that and that is what made the women's 3000m the most anticipated match-up at today's Dr. Sander Invite. The race featured Cain, the greatest American high school distance runner ever, facing Tuohy, the current best American high school distance runner, and a host of lesser-named pros.
The race did not go well for either of them, as Tuohy faded to second to last in 9:32.88 (well off her 9:01.81 PR from last year at this meet) and Cain was one spot ahead of her in 9:24.38 (she has a 8:58 outdoor PR) as Nicole Hutchinson of the Mission AC (formerly of Villanova) got the win in 8:48.92.
The Race
Coming in, the expectations were that Cain might be in over her head. She had run 9:25.50 16 days ago at the Armory and with a sub-9:00 race expected, how much could Cain realistically expect to improve?
Tuohy ran 9:01.81 at this meet last year and if she could duplicate that or improve a little, she could be expected to be a factor.
Article continues below player.
Cain and Tuohy were positioned next to each other on the start line and Cain got the biggest ovation of the afternoon from the crowd, with Tuohy coming close to matching her.
When the gun went off, Niki Hiltz, the 2019 US World Championship team member who had won the mile earlier in the meet, took the lead and the pacing duties, hoping to lead her Mission AC teammates to the 8:49 World Indoor Championship standard. Tuohy settled into the back half of the pack, and Cain, racing in a black outfit with no logo and Saucony spikes, was second to last.
Hiltz did a good job of maintaining sub-72-second pace and keeping 8:49 a possibility. However, that meant Cain in the very back of the pack was running close to 9:00 pace. After a 74.1 first 400, Cain hit 800 in 2:26.0 and was at 3:01.4 at the 1000m mark, still in second to last. Tuohy was 5 spots ahead of her in 10th in 3:00.26. The pace started taking its toll on Cain, and when she hit 1600 in 4:51.00, a gap had opened up between her and the last person in the pack.
Tuohy managed to stay with the pack through 1600 (4:47.29), but didn't make it much past that. She ran 74.3 for the next 400, then totally cratered, running over 80 seconds per 400m the rest of the way home. She had been comfortably in front of Cain at the mile, but less than 1000m later Cain passed Tuohy as they both were relegated to running for pride.
Up front, Hiltz had rabbited the field through 1600 and soon it was three adidas athletes — Hutchinson, her teammate Heidi See, and Emily Lipari — doing the leading. With 400 to go (7:42.56), some serious work needed to be done to go sub-8:49 and Hutchinson was the only one able to close fast enough to get the Worlds qualifier.
Afterwards, Tuohy did not speak to the media, but she did speak to Cain. Cain not only gave Tuohy some words of encouragement, but also her phone number, and told her to call if she needed anything. Cain spoke to the media at length (see below).
Mary Cain talks about getting her 'ass kicked,' being 'cowardly' in past, and regrets
Mary Cain may not be nearly as fast as she once was, but she now has perspective and a very prominent platform for speaking out on issues after having gone viral after speaking to the NY Times about her treatment by Alberto Salazar while a member of the Nike Oregon Project. Cain said the last thing she really wanted to do was speak to the media after running 9:24 for 3000m, but she spoke for 18 minutes (full video below).
Cain said she hoped to run in the 9:10-9:15 range, but the early pace took its toll on her and she faded to 9:24. Not a great performance, but it still was faster than she ran two weeks ago despite going out nearly 10 seconds faster for the mile.
"It's a very important year for me and when you haven't raced in a long time you kind of deserve to get your ass kicked in indoor so you can run well outdoors," she said.
Cain said the old Mary Cain wouldn't have even run this race as she was not comfortable racing when she was not at her best. Now with a little more wisdom, Cain realizes if she is going to get back to the top, it will come in small chunks and she has to put her ego aside.
Today was a very small chunk of improvement, and one that likely will send Cain back to the drawing board, as she and her coach were expecting a little bit more. Cain does not know what her next race will be but said her focus is on the outdoor season.
Mary Cain gets emotional when talking about NOP
Cain has another focus now apart from her racing and that is to help others in vulnerable positions in the sport. Part of that meant consoling Tuohy after the race and passing on her number so they could chat. Cain did the same with high school mid-distance sensation Athing Mu, who ran a high school leader in the 400 in the meet.
"I want to pass on any wisdom I can to a younger athlete," Cain said.
Cain did say she has one huge regret. She got very emotional when she started talking about how she did not always help other athletes in the past.
"There is one regret with everything that I went through. There was one younger athlete who joined the Oregon Project after I did (Nozomi Musembi Takamatsu of Japan, the 2014 Youth Olympic 3000m champ who was in the program from 2016-2017). She joined the year I moved home to New York [when I was] trying to get over my eating disorder and I never said anything to her. I never warned her. I never even admitted to her what I was currently going through. I was trying to selfishly stay on the team. I think I was in such denial [that] I let her join the team and that was one of my biggest regrets as she went through something similar to what I did."
Cain said she had been in touch with Nozomi on Instagram after leaving the NOP, but has not been able to contact her since she went public with her story to the New York Times. Cain fought back tears and said, "I just want to say 'I'm sorry.' My biggest thing is I don't want there to be another Mizomi. I can't ever forgive myself for not being brave in the past," Cain said.
Cain was very harsh on herself for not speaking up. She also said the "cowardly Mary would never have been racing right now."
But Cain did race, and she now knows she has a long way to go back to the top.
Full interview and results below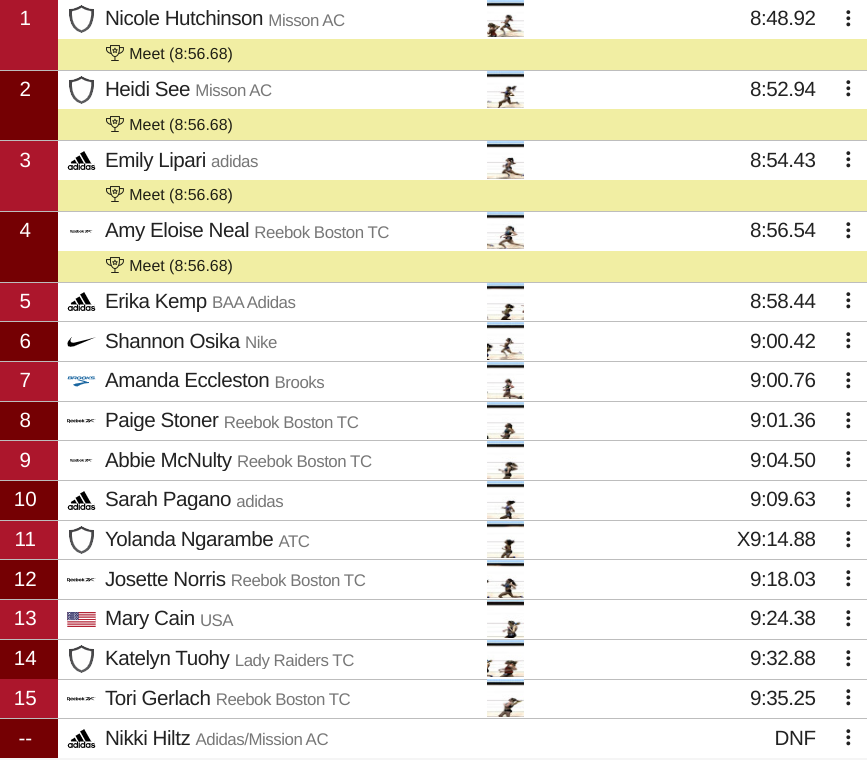 We have a Race Results Weekly Recap of the rest of the meet here:  Dr. Sander Distance Recap: Early World Leader for Nikki Hiltz, Ajee Wilson, Isaiah Harris, Jordan Gusman Win (and with post-race videos). If you just want the videos they are below.
Post-race interviews below from LRC
*Results of Dr. Sander meet here

Jordan Gusman 3000
Gusman is Australian and won the 5,000m title for Australia last year. But Gusman is now representing Malta out of respect for his grandfathe who died last year and Gusman said the support from Malta has been great.
Nikki Hiltz Wins Mile
Hiltz turned heads by making Worlds last year and started out 2020 with the win.
Athing Mu after 400
Mu broke the US 600m record last year as a high school junior. She followed that up by breaking the US record for 500m last week. Here she dropped down to the 400 and ran 53.14 but that was short of her PR of 52.55 from last year. She said her focus on the year will be the 800.
Ajee' Wilson wins 800
Wilson was upset at Worlds last year and had to settle for bronze but she said looking back she just thinks she had a bad race and is confident in her training heading into 2020. Off-camera, Wilson said she was thinking about running the mile here but she got sick in December.
Wadeline Jonathas now a pro
Jonathas got 4th at Worlds last year and turned pro. She got the win here and talked about staying in school via online classes to get her degree in retail from South Carolina.
Jonathas' rise through the ranks has been amazing. Two years ago, she was a DIII athlete with a PB of 52.81. Last year she ran 49.60 and now she's a pro and she lowered her indoor PR to 52.86 from 53.70.
Nicole Hutchinson gets indoor standard
Hutchinson hopes to run World Indoors for Canada and she just dipped under the 8:49 auto standard. Training is going well in her Terrence Mahon-coached Mission AC group.
Justyn Knight wins
Knight knows the wins as a pro are harder to come by than when he was in college.
Isaiah Harris back from injuries in 2019
Harris struggled much of 2019 with injury but is now healthy and back to his winning ways.