WTW: World Records Don't Fall in Valencia, Father-Son Marathon Record Madness, Camille Herron Crushes 24 Hour Record
The Week That Was in Running, October 21 – 27, 2019
By LetsRun.com
October 29, 2019
Past editions of the Week That Was can be found here. Got a tip, question or comment? Please call us at 844-LETSRUN (538-7786), email us or post in our forum.
Article continues below player
If you missed our coverage of Shalane Flanagan's retirement, catch up now:
*****
The World Records Survive in Valencia
Last week, there were at least 77,000 reasons to break the half marathon world record in Valencia: the race offered a €70,000 ($77,700) world record bonus and an additional €30,000 ($33,300) bonus for sub-58:00 for men or sub-1:04:30 for women. But after world records in Valencia in 2017 (women) and 2018 (men), the world records survived in 2019.
In the men's race, former Nike Oregon Project runner Yomif Kejelcha got the €25,000 win and lowered his pb from 59:17 to 59:05 as he won a four-way sprint finish.
https://twitter.com/Jokin4318/status/1188395413692391424
In the women's race, much of the hype was focused on Sifan Hassan, given her remarkable performance at Worlds. However, at the pre-race press conference, she admitted she had been under a lot of stress since Worlds given the Alberto Salazar ban and wasn't sure how she'd do.
Once the gun went off, the leading ladies did take a crack at the world record as Senbere Teferi and Joan Melly hit 10k in 30:42 (that's 64:47 pace and the WR is 64:51) with Hassan, who fell during the first 10k, four seconds back, but the pace slowed over the second half. Teferi, who was 6th at Worlds in the 10,000 a few weeks ago, won in 65:32 with Hassan second in 65:53 and Melly third in 66:09. American Molly Huddle was 7th in 69:35, one spot and one minute behind world half marathon champ Netsanet Gudeta.
MB: Official 2019 Valencia Half Marathon Discussion Thread
****
Age-59 and Father-Son Marathon World Records Fall in Frankfurt
This is a cool story.
While the half marathon world records didn't fall in Valencia, two world records did fall at the Frankfurt Marathon. Irishmen Tommy and Eoin Hughes set a Guinness World Record for fastest combined father-son marathon time, at 4:59:22 (previous record 5:02:11 by Graham and Ben Green). What's crazy is that Tommy — the father, who was an Olympic marathoner in 1992 — actually led the way with an age-59 world record of 2:27:52. Eoin, 34, got passed by dad between 35 and 40k and ran 2:31:30.
So congrats to the Hughes!!!
While it looks like they'll get the Guinness record, the Hughes aren't actually the fastest father-son duo in marathon history. A messageboard poster pointed out that Americans Chris and Ken Prior ran a combined time of 4:52:10 at the 1983 Boston Marathon. Boston, of course, isn't record-eligible as it is point-to-point and net downhill.
But 4:52:10 isn't the fastest father-son marathon time either. France's Gérard Kolbeck wrote in on the messageboard to point out that he and his father, Fernand Kolbeck, a 1972 and 1976 Olympic marathoner for France, also twice ran faster than 4:52:10. At the 1987 Neuf-Brisach Marathon, a loop course that was record-eligible, the Kolbecks ran 4:46:04, with 43-year-old Fernand leading the way with a 2:22:54 win and Gérard close behind in 2:23:10. In 1993, at the same marathon, they ran 4:48:01 as Gérard, then 29, led the way with a 2:23:22 and Fernand, then 49, ran 2:24:39.
In an email exchange, Gerard apologized for not being fluent in English (as if we are fluent in French) and wrote that they never thought to call Guinness to get their marks registered as a world record. We asked him if he trained with his father and if he viewed him as a rival or not and he replied:
"Yes I trained with my father and one of my goal was to beat him but sometimes we have different conception of running and different character but it was to difficult for me to make better, he has more will than me…"
He then graciously shared some photos.
###
For the record, both of the Hughes were wearing the Nike Vaporfly Next% shoes in Frankfurt, as was the overall men's winner in Frankfurt, Ethiopia's Fikre Bekele Tefera (2:07:08). We only point that out because the shoes have totally changed the game in the marathon.
But the biggest breakout came in an athlete who didn't run in Vaporflys. Before this weekend, had you ever heard of Valary Jemeli Aiyabei? We bet most of you hadn't. The 28-year-old had run 17 marathons in her career, and while she'd picked up wins along the way in Mainz, Belgrade, Eldoret, Barcelona, Valencia, Prague, and Beijing, she'd never run faster than 2:20:53 and only had ever run one major in her career (3rd in Berlin in 2017 in 2:20:53).
Guess how fast she went out in Frankfurt? She ran her first half in 67:42, and held on to win in 2:19:10. Adidas has a new experimental shoe out and Aiyabei was wearing those (as will Mary Keitany this weekend in NY).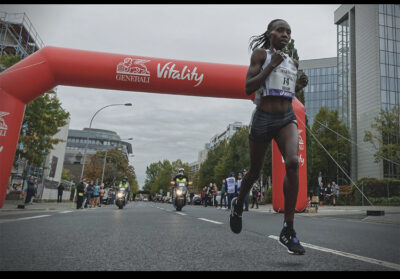 There was one American elite in Frankfurt. Former Iowa State runner Samantha Palmer (nee Bluske), now a volunteer assistant coach at Alabama, ran 2:29:07 pb (previous pb of 2:31:55) to place 11th. Pretty good stuff for someone who didn't break 11:00 for 3200 in HS (yes, she was wearing the Vaporflys as well).
https://www.instagram.com/p/B4LHlXbnN9x/
****
Camille Herron Sets Another 24-Hour World Record
270.116 – amount of kilometers (167.84 miles) that American Camille Herron ran at the IAU World 24-hour champs in Albi, France, breaking her old world record of 262.193km by nearly 8 km. She averaged 8:34.9 mile pace for 24 hours.
5 – number of men in the men's race that ran farther than Herron. The bronze medallist ran 275.485 kms (8:24.7 mile pace).
More: MB: Camille Herron sets ANOTHER WORLD RECORD for 24 hours!!!!
*IAAF Recap: HERRON SETS WORLD BEST TO WIN IAU 24 HOUR WORLD CHAMPIONSHIPS The US won both team titles while Poland's Aleksandr Sorokin set a men's championship record of 278.973 km.
****
Random Stat of the Week
64:45 – average time recorded by the top 10 men for Japan's Tokyo Kokusai University at the Yosenkai Half Marathon.
The race serves as a qualifier for the biggest race in Japan — the Hakone Ekiden — and the top 10 teams in the half marathon based on the total time of their first 10 runners qualify. The last team to qualify averaged 65:41 per man.
Per the IAAF scoring tables, those are equivalent to 10-man averages of 29:33 for 10k for the top team (Kokusai) and 29:58 for the 10th. Realize though, that those teams are far from the powerhouse teams in Japan (Kokusai was 15th at Hakone last year). For example, at the recent alternates' race at the Izumo Ekiden, which is a race for runners who didn't get to run in one of the six stages, the winning time was 13:59 for Tokai University's Yohei Komatsu. That team also had a guy at 14:00, meaning their seventh and eighth runners were able to run 14:00.
More: Kisaisa and Tokyo Kokusai Dominate 2020 Hakone Ekiden Qualifier
****
Weekly Free Coaching Advice / Don't Use Social Media To Compare Yourself To Top Pros
"You look at the pros on social media and what they do creeps into your habits. I restricted my social life, how I was eating, how I thought an elite runner does her workouts. Those women already exist. I need to be unique."
-American Brittany Charboneau, talking to RunWashington.com about mistakes she's made in the past. Charboneau, who won the Marine Cors marathon in 2:44:47 last week, reminds us of a good point. When you see an interview of an elite or read their social media, remember, they likely are only sharing their highlights — their best workouts. Trying to imitate that can lead to disaster.
More: Comedian Brittany Charboneau misses goal of 2:37:00 course record but comes away with Marine Corps Marathon win in 2:44:47
****
Quotes of the Week (That Weren't Quote of the Day)
#1 The Marathon Is No Longer A Draining Test of Endurance
"The athletes out-trained the distance years ago. In that sense, the mighty marathon has been brought to heel. No longer a spirit draining test of endurance, today the marathon has been reduced to just another speed event contested over a longish distance. It's no longer, runner beware. It's balls-out from the get-go; distance be damned!"
-Toni Reavis writing on tonireavis.com about how the marathon has changed dramatically as now, given how much people train, they no longer fear the 26.2-mile distance.
More: SOLES DISCRETION
#2 Seeing Two Zeros On Your Training Log Each Week Can Be Demoralizing
"It's demoralizing to see all of those zeros. But I don't want to crush a workout beforehand and then be tired at work. Then you come home and just feel like total butt, so that hoses two days each time."
– Jordan Tropf talking to RunWashington.com about how hard it is to train at an elite level while also doing his orthopedic surgery residency, which features two 24-hour shifts per week. Tropf said as a result of his schedule he's stopped logging his training as the zeros were mentally debilitating. On Sunday, he won the Marine Corps Marathon in 2:27:43.
More: Ex Midshipman Jordan Tropf wins Marine Corps Marathon in 2:27:43
#3 Shalane Flanagan Accomplished So Much, She Forgot She Won An NCAA Track Title
"I told that to my coaches at North Carolina and tried to develop my speed at 1,500 meters before moving up to the 5,000. I didn't win a lot of track titles—in fact, I won none. (Laughs.) That being said, I was really successful at cross country. That was my bread and butter. If I could go back and do anything over again to re-visit and re-run a bunch of races, it would be college cross country. It was the most fun I've ever had in my career. I think I only lost like three cross country races in four years."
–Shalane Flanagan reflecting back on her career in a Q&A with Sports Illustrated's Chris Chavez. The reality is Flanagan won the 2003 NCAA indoor 3000 title in 9:01.05 in a race where Lauren Fleshman was second in 9:01.58. The race also included future Olympians Molly Huddle (9th), Julie Culley (11th), Malindi Elmore (15th), and Christin Wurth-Thomas (16th) as well as future NCAA champ Sara Slattery and eventual US champ Lisa Aguilera.
More: Chris Chavez Does An "Exit Interview" With Shalane Flanagan
#4 Ashton Eaton Has Regrets
"Don't just lose contact with some of your best friends to focus solely on your track career. You will miss friend's wedding because of training but, remember, life is short. You will later discover attending such events will have had no negative impact on your training. In fact, it could have a positive effect on your mentality.
"Later you will compete at the London Olympics, but during your time at the Games you will choose, for the most part, to stay in your room. People will ask you about life in the Village but you will have no clue. Please take the time to leave your room and experience what the Olympics has to offer. This is important…
"Finally, Ashton, don't be afraid to pursue something you love but may not be good at instead of something you are confident you will do well in but dislike. At school you have a specific interest in science and technology but you fear you won't do well. You will choose instead to study psychology. Ashton, it is important to follow your passions."
-former decathlon world record holder Ashton Eaton writing a letter to his younger self for the IAAF.
****
Recommended Reads
To see our favorite reads from other weeks, go here.
***
Quotes Of The Day And Last Week's Home Pages
To see the quotes of the day from last week or last week's home page or any home page, go to our archive page.
Got a tip, question or comment? Please call us at 844-LETSRUN (538-7786), email us or post in our forum
Correction: An earlier version of this article stated that Valary Jemeli Aiyabei wore Vaporflys in the Frankfurt Marathon. She did not.