WTW: King Ches Breaks His PR (Finally), Fake News Coming From Kenya and Laura Muir Makes History?
The Week That Was in Running, July 15 – 21, 2019
By Robert Johnson
July 23, 2019
Past editions of the Week That Was can be found here. Got a tip, question or comment? Please call us at 844-LETSRUN (538-7786), email us or post in our forum.
If you missed our coverage of last week's London Diamond League and Ethiopian 10,000 Trials, catch up now:
*****
USATF Is Forced To Follow Its Own Rules
Article continues below player
Last week, with some major help from lawyer David Greifinger, we helped hold USATF accountable for failing to follow their own published rules on how to select the 2019 Pan American Games team.
LRC USATF Ordered To Re-Pick Entire 2019 Pan Am Games Team Based On 2019 Comprehensive List
It's a bit sad it took two arbitration cases for this to happen. It's also unfortunate that athletes' spots on the team were held in limbo for over a month.
The judge didn't require USATF to pick up the $2,000 it cost to fight the case. Some of you had offered to donate to the cause which you can do below or here. If you donate more than $50, we'll print up a T-shirt for you (just email us your address).

****
Stat of the Week I
5 years, 1 month, and 7 days – amount of time (1,863 days) that passed between Edward Cheserek PRs in the outdoor 5,000. Last week, Cheserek finally broke his 13:18.71 5,000 PR — which he set during his freshman year at the University of Oregon in one of the greatest races in NCAA history — by running 13:04.44 to grab the win in Heusden. (Note: Cheserek did run 13:08.05 indoors in February 2019)
Cheserek, 25, now faces a dilemma. His attempts to get US citizenship haven't been going well. Should he consider competing for Kenya? He's currently the 3rd-fastest Kenyan in 2019 and might be able to make their team this year and next. If not, and he skips both this year's Worlds and next year's Olympics, he'll be 30 when the 2024 Olympics roll around.
And while distance runners are extending their careers as medicine improves and the sport is fully professional, 30 is pretty old for a 5,000-meter runner.
On the messageboard last week, there was a thread about how most elite female swimmers reach their prime at a very young age. That thread included an amazing post by "LateRunnerPhil" about why most 5,000-meter men run their PBs in their early 20s and proceeded to list the ages of the 13 fastest 5,000-meter men in history when they ran their 5,000 pb.
In fact, [in] only very long distances – half/marathons, triathlons, or cycling – benefit older athletes. VO2MAX decreases after early 20s. That's why most elite runners PR in the 5k when they are 18-23 years old, and I assume the decline in VO2MAX also [a]ffects swimming.
Here a list of the fastest 5k times and the age in brackets at which they ran it:
1. Kenenisa Bekele (22) ETH 12:37.35
2. Haile Gebrselassie (25.2) ETH 12:39.36
3. Daniel Komen (21.3) KEN 12:39.74
4. Selemon BAREGA (18.5) 12:43.02
5. Hagos GEBRHIWET (24.3) 12:45.82
6. Eliud Kipchoge (19.7) KEN 12:46.53
7. Yomif KEJELCHA (21.0) ETH 12:46.79
8. Dejen GEBREMESKEL (22.7) ETH 12:46.81
9. Sileshi Sihine (21.4) ETH 12:47.04
10. Isiah Kiplangat KOECH (18.5) KEN 12:48.64
11. Issac Songok (22.3) KEN 12:48.66
12. Yenew ALAMIREW (22.1) ETH 12:48.77
13. Saif Saaeed SHAHEEN (20.7) KEN 12:48.81
Now, people can debate all they want about the accuracy of some of those ages (and some speculate Cheserek may be older than officially listed), but the reality is most athletes set their PBs at a relatively young age in the 5,000. None of the 13 fastest 5000 men in history ran their pb over the age of 25.
Along those lines, I thought it would be fun to look at the US all-time list and see when the best Americans set their PBs. The US list definitely skews a bit older, but only one of the US's top 10 ran their 5,000 pb after the age of 30.
Top 10 US 5,000 List / Age They Ran Their PB
1 12:53.60 Bernard Lagat – 36
2 12:55.53 Chris Solinsky – 25
3 12:56.27 Dathan Ritzenhein – 26
4 12:57.55 Paul Chelimo – 27
5 12:58.21 Bob Kennedy – 25
6 12:58.56 Matt Tegenkamp – 27
7 12:58.90 Galen Rupp – 26
8 13:01.15 Sydney Maree – 28
9 13:02.40 Evan Jager – 24
10 13:02.74 Ben True – 28
Edward Cheserek, if you are reading this post, don't freak out. The reality is 2024 and 2028 still could work out, even at 5,000. Mo Farah was 29 and 33 when he won his two Olympic 5,000 golds.
More: Women's Swimming is the only endurance sport where you get old at an extremely young age
*MB: Edward Cheserek Runs 13:04.44 FTW In Heusden Cheserek beat out Kenya's Stanley Waithaka (13:05.21).
*****
Hagos G Wins Again, But Not As Impressively
Last week after Hengelo, I compared Hagos Gebrhiwet's 10,000-meter splits to Mo Farah's back in the day and came across impressed by Hagos' splits: LRC Analyzing The Ethiopian 10,000 Trials: Last Night, Would Hagos G Have Beaten Mo Farah In His Prime?
Here, I thought it would be fun and informative to compare Hagos' 5,000 splits from his London DL win to Farah in his heyday. Farah comes out on top this time. Farah closed the 2016 Olympic 5,000, a 13:03 race, with a faster final 1600 and final 400, as shown below.
Race
4th to last lap
3rd to last lap
Next to last lap
Final lap
Total Last 1600
2019 London
(13:01)
64.4
62.9
60.9
53.3
4:01.5
2016 Rio (13:03)
64.9
63.4
59.9
52.7
4:00.9
****
Laura Muir Does Something We've Never Seen Before — Closes a 3:58 Race With A 57 Last Lap
Speaking of fast closes, Laura Muir greatly impressed with her dominant win in the London DL 1500 on Sunday. She ran a 3:58 after a somewhat tactical opening 800 (2:11) thanks to a 57.54 last lap. That's remarkable.
For comparison's sake, realize that American Jenny Simpson has only run 3:58 or faster in her life five times, the most recent coming in the DL final in Zurich in September 2016, when she ran 3:58.54. In that race, Simpson ran 3:58 off of a 2:09 opening 800 and her last lap was just 62.2. Last year, we raved about Shelby Houlihan closing USAs in 57.67, but that was a 4:05 race.
Muir's 57 certainly wasn't the only time that someone has closed a 1500 in London in 57. At the London Worlds in 2017, Faith Kipyegon won the world title with a 57.9 last lap, but that was a 4:02 race. In the 2012 Olympic final in London, one of the most drugged-upped races in women's track and field history, Turkey's Asli Cakir Alptekin crossed the finish line first after a 57.9-58.0 last lap, but that was a 4:10 race.
But a 57.6 in a 3:58 race? That may be unprecedented. I asked on our forum if anyone remembers a close like that, and while people have found some great closes, no one has pointed to a 57 in a 3:58 race.
MB: Trying to put Laura Muir's close in perspective. Has a woman ever closed a 3:58 race with a 57 last lap before?
****
Stat of the Week II / Ethiopia Is the World's New Steeplechase Power
2 – number of Ethiopian men that had broken 8:10 in the steeplechase prior to this year (Roba Gari and Chala Beyo).
3 – number of Kenyan men that have broken 8:10 in the steeplechase this year.
4 – number of Ethiopian men that have broken 8:10 in the steeplechase this year after Lemecha Girma ran 8:08.18 last week in Hengelo.
Ethiopia's Sub-8:10 Steeplers in 2019
8:05.51 NR NJR Getnet Wale
8:06.48 Chala Beyo
8:08.18 Lemecha Girma
8:09.50 Takele Nigate
****
Stat of the Week III / The Ethiopian Trials Were Deep
6 – number of Ethiopian men that broke 27:00 at the Ethiopian 10,000m trials last week in Hengelo, a record for most sub-27s from a single country in a single race. The previous most sub-27 clockings from the same country in a single 10,000 came at the 2011 Prefontaine Classic and 2011 Brussels 10,000, with five Kenyan men breaking 27:00 in each of those race. That 2011 Pre Classic race featured the most sub-27s overall in a single race (9). The 2017 Worlds 10,000 and the 2011 Brussels 10,000, each with seven total sub-27s, are the only other races with more sub-27s than the six recorded in Hengelo last week.
##
The Ethiopian women's 10,000 trials in Hengelo did not set any records for most sub-31s in a race or most from single country, but it came close. In the women's race, nine women total broke 31:00, including eight from Ethiopia.
The most sub-31s in a women's 10,000 came at the 2005 Worlds in Helsinki, where 10 women broke 31:00. Nine women have broken 31:00 in a race on three other occasions — the 10,000 in Hengelo 2016, the 2012 Olympic final in London, and last week's race in Hengelo. In the 2016 Hengelo race, all nine of the women who broke 31:00 were from Ethiopia, whereas this year one of the nine was from Turkey.
##
Speaking of deepest races ever, in case you missed it, the Diamond League men's 800 in London set a record for fastest 11th place in history at 1:45.10.
****
Makhloufi Returns to Action
Last week, Algeria's Taoufik Makhloufi, the 2012 Olympic champion in the 1500 and 2016 Olympic silver medallist in the 800 and 1500, returned to action for the first time since the end of the 2016 season. Despite a nearly three-year absence, Makhloufi showed that he needs to be considered a threat for a medal at Worlds. On Tuesday, he ran 1:46.33 in an 800 in France before coming back on Saturday and running a full second faster, 1:45.33 in Heusden. In both races, he finished second to Kenya's Alfred Kipketer.
So 78 days out from the 1500 final at Worlds, Makhloufi showed he was in 1:45.33 shape. How does that compare to the past? Well in 2016, he opened up in the 800 on May 22, 90 days out from the Olympic 1500 final, and ran 1:44.91. So he's a bit behind that schedule, but it's fairly close.
MB: 2012 Olympic 1,500m Champ Taoufik Makhloufi Runs 1:46.33 For Second Place In Sotteville les Rouen, France
****
Fake News Of The Week / Kenya Gets Smart (Sort Of)
I've always said that if I was named to the head of Athletics Kenya or USATF, I would do one thing for performance improvement. I would put the date of the national championships/trials as late as possible and get out of the way.
Kenya appears to be doing that in 2019. Kenya's trials will be held August 20-22, which is a really smart plan, particularly given the fact that Worlds are so late this year (they begin on September 27). You don't want to pick someone to the team who is barely holding on to their form in July when Worlds go into October this year.
Kenya is also saying that the first three across the line will be on the team. There is no role for the selectors. That's fantastic as well. Yes, every once in a while there will be a false start or a fall in a distance race, but letting the results pick the team is way better than letting biased selectors pick it. Plus it's way more exciting.
So a big thumbs up to Athletics Kenya for getting smart. What they need to do next is get rid of their national team camps after the team is selected. Just let the athletes train with their normal coaches.
But someone does need to tell the head of Athletics Kenya one thing. Check out this excerpt from The Nation:

We're not sure if the reporter got it wrong or Athletics Kenya president Jackson Tuwei got it wrong, but that's not how it works. The Diamond League champion from 2019 gets a bye into Worlds, not 2018. 2018 DL winners Emmanuel Korir, Timothy Cheruiyot, and Beatrice Chepkoech do not have byes into Worlds.
And speaking of the Diamond League and Kenya, one thing that Kenya's trials date of August 20-22 means is that it may be tough for any Kenyans to be at the final two regular-season DL meets of the season.
Here is how the schedule looks:
August 18 Birmingham DL
August 20-22 Kenyan Trials
August 24 Paris DL
August 29 Zurich DL Final #1
September 6 Brussels DL Final #2
September 27-October 6 Worlds
****
If Someone Runs Fast But No One Is There, Does It Count?
High school sprint star Matthew Boling ended his 2019 season in style last week with four gold medals at the Pan American U20 Championships.
He kicked things off with a wind-legal 100-meter pb of 10.11 (+.5 m/s) to win gold. He followed that up with another wind-legal pb of 20.31 in the 200 (-.9 m/s) to earn a second gold before running a leg on the US 4×100 (38.32) and 4×400 (2:59.30, we had Boling in 44.9) relay teams, both of which broke the meet record. The latter time was a world U20 record, shaving over a second off the previous mark of 3:00.33. For context, only two NCAA teams have ever run faster than 2:59.30 (the US U20 team is limited to college freshmen or younger).
All in front of a sold-out crowd.
Ok, not quite. The stadium in Costa Rica was DESERTED.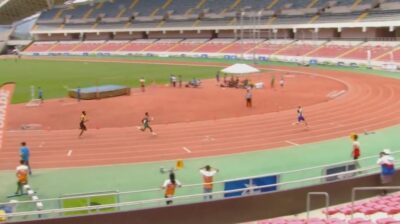 ICYMI, Boling was a guest on the LetsRun.com podcast earlier this month. You can listen to that episode here.
MB: Matthew Boling runs 10.11 pb (+.5) to win Pan Ams U20 100 Gold
****
Quotes of the Week (that weren't quote of the day)
#1 Patrick Sang on how his role in Eliud Kipchoge's life has been reversed
"In some ways the roles have actually reversed now. I was a role model to Eliud for many years and played the role of teacher because, for many years, it was possible to teach him something new. But at some point, about three years ago, those roles somehow swapped around and it was me who became the student and Eliud the teacher. He is now teaching me things and I am learning from him.
"I think we can all learn from him, the way he lives his life and the values he holds.
"Eliud believes in discipline, in patience, in humility – he fundamentally believes that however much you earn, whatever you have achieved, you must remain humble and that is certainly not easy."
-Excerpt from a piece by coach Patrick Sang on the INEOS 1:59 Challenge website.
#2 Olympic 1500 champ Faith Kipyegon talks about why she didn't run at all during her pregnancy
"I knew this was my resting time."
-The quote comes from a fantastic IAAF profile of Kipyegon by Steve Landells. In it, Landells reveals that Kipyegon is the fastest Gallowwalker in history. Here is how she described her first session back, "The first session back was 20 minutes with two minutes of running, followed by one minute walking. It was painful, but that is life. I had to start again. I then started jogging for 30 minutes and slowly the speed returned."
More: Faith Kipyegon Is Preparing To Defend Her World 1,500m Title After Stopping Running During Her Entire Pregnancy And The 7 Months After
****
Course Records at Badwater Fall
Both the men's and women's course records at the Badwater Ultramarathon (135 miles) fell last week as Japan's Yoshihiko Ishikawa, 31, took 23+ minutes off the course record and won in 21:33:01 while Poland's Patrycja Bereznowska, 43, took more than 90 minutes off the old CR and won in 24:13:24.
Ishikawa also got engaged in the process as he proposed to his girlfriend at the finish line (she accepted).
Had there not been two course records and a proposal, the race might not have been worth reporting on as the depth at the top end of some ultras is almost nonexistent. Ishikawa won by more than 4 hours and 38 minutes, whereas Bereznowska won by more than 5 hours and 13 minutes.
Patrycja Bereznowska (Poland) and Yoshihiko Ishikawa (Japan) win 2019 women's and men's @badwater ultramarathon in ?record times✨ (24:13 and 21:33, respectively.) 135 miles, 14,600 ft ascent, 100˚+ F temperatures, melting pavement. Mad respect. ?? https://t.co/KN0Bg83y2c

— Ricardo J Salvador (@cadwego) July 20, 2019
****
Recommended Reads
To see our favorite reads from other weeks, go here.
***
Quotes Of The Day And Last Week's Home Pages
To see the quotes of the day from last week or last week's home page or any home page, go to our archive page.
Got a tip, question or comment? Please call us at 844-LETSRUN (538-7786), email us or post in our forum