How Good Was Sifan Hassan's 8:18?, Western States Analysis, Will Claye and a New Type of Track Meet in Belarus
The Week That Was in Running, June 24-30, 2019
By LetsRun.com
June 25, 2019
Past editions of the Week That Was can be found here. Got a tip, question or comment? Please call us at 844-LETSRUN (538-7786), email us or post in our forum.
Article continues below player
*****
Stat of the Week I  / Trying to put Sifan Hassan's 8:18.49 in perspective
4:05.63 – estimated final 1500 run by Sifan Hassan in the women's 3000 at the 2019 Nike Prefontaine Classic (after she opened up with a 4:12.86 first 1500).
If she'd run that time in the open 1500, she would have beaten seven finishers and finished ninth overall.
Hassan's 8:18.49 is the fastest outdoor 3000 run in 26 years (Genzebe Dibaba ran 8:16.60 indoors in February 2014). Three of the 10 fastest 3000s ever run were run at Stanford on Sunday.
The 10 Fastest 3000s in History (via Alltime-athletics.com)
1 8:06.11 Wang Junxia CHN 09.01.73 1 Beijing 13.09.1993
2 8:12.18 Qu Yunxia CHN 25.12.72 2 Beijing 13.09.1993
3 8:12.19 Wang Junxia CHN 09.01.73 1h2 Beijing 12.09.1993
4 8:12.27 Qu Yunxia CHN 25.12.72 2h2 Beijing 12.09.1993
5 8:16.50 Zhang Linli CHN 06.03.73 3 Beijing 13.09.1993
6 8:16.60 Genzebe Dibaba ETH 08.02.91 1rA Stockholm 06.02.2014
7 8:18.49 Sifan Hassan NED 01.01.93 1 Stanford 30.06.2019
8 8:19.78 Ma Liyan CHN 03.11.68 3h2 Beijing 12.09.1993
9 8:20.07 Konstanze Klosterhalfen GER 18.02.97 2 Stanford 30.06.2019
10 8:20.27 Letesenbet Gidey ETH 20.03.98 3 Stanford 30.06.2019
###
Not everyone in the 3000 at Pre knocked it out of the park. Coming into the race, South African journalist Wesley Botton predicted that former Arkansas star Dominique Scott-Efurd would be become the first South African in nearly 26 years to break 8:40 for 3000. That was far from a crazy prediction given the fact that Scott's PB is 8:41.18, but in the end it didn't come to fruition as Scott ran 8:43.88. No South African woman has gone sub-8:40 since August 4, 1993, when world 10,000 silver medallist Elana Meyer ran 8:34.62 to get second in Zurich in a year during which she broke 8:40 four times.
Big weekend for Dom Scott-Efurd. She goes in the 3k race at the Prefontaine Classic on Sunday, and she could become the first SA woman to run under 8:40 in nearly three decades.

Never bet the farm, a wise gambler might suggest, but I'd risk a few acres on her getting it done.

— Wesley Botton (@wesbotton) June 27, 2019
****
Tweet Of The Week
The line to get into the Pre Classic, less than 20 mins before the first event: pic.twitter.com/El2UZaEuyN

— Jonathan Gault (@jgault13) June 30, 2019
A thumbs up to everyone who packed the stadium at Stanford for the Prefontaine Classic. A packed house of 8,128 made the meet's one year in California a big success.
##
But 8,128 may not have been the largest crowd to see an athletics event in recent weeks. The first ever Dynamic New Athletics event was held at the European Games in Minsk, Belarus in a stadium that seats over 22,000 (official attendance wasn't announced). It's hard to describe what DNA is exactly, but the Olympic Channel gave it a go by writing:
DNA is a team-based competition designed with the intention of entertaining and engaging the fans in the stadium.
The focus is on mixed gender teams competing in six track events and three field disciplines, each taking place in turn.
Every competition takes two hours so instead of having field events coinciding with races on the track, spectators can now watch all of the action uninterrupted.
The events are as follows: Men's 100m, Women's Long Jump, Women's 100m, Women's Javelin, Mixed 4x400m, Men's 110m hurdles, Men's High Jump, Women's 100m hurdles, and The Hunt.
While most meets end with a 4×400, a DNA event ends with "The Hunt" — "a mixed medley relay of 800m, 600m, 400m and 200m with the teams setting off at staggered intervals depending on points accrued in the previous eight events."
It was novel how they handled the time gaps for The Hunt. Each lane had a little gate in it that opened up when it was time to start running as shown below.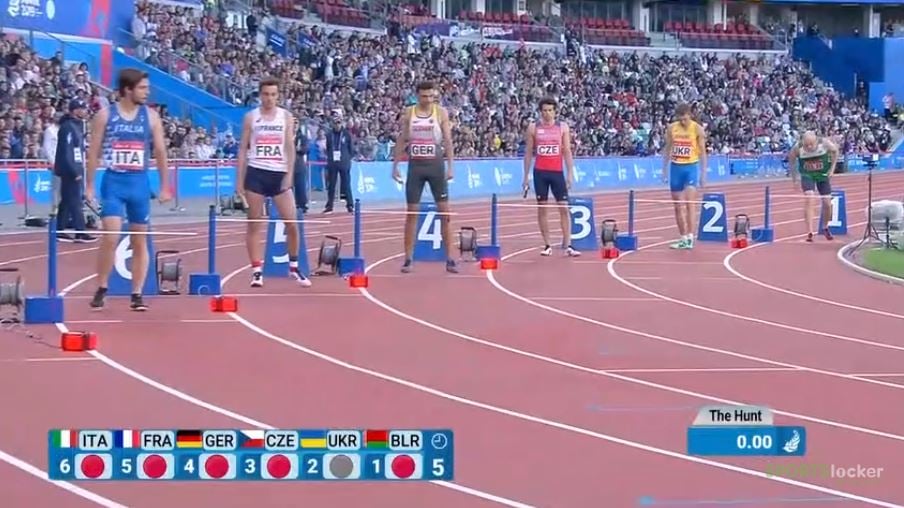 Here is a video of "The Hunt."
More: Packed Stadium (LRC note: It doesn't look packed to us) Showed Up In Belarus, Including The Belarussian President, To Watch The 2nd European Games It's a team competition using the new DNA format. Ukraine got the team title.
*Video explaining how the DNA HJ was done with the "Jeopardy" format.
****
Stat of the Week II / Proof that in an ultra, it's not ever officially decided until the finish line
42 minutes – largest lead held by defending champ Courtney Dauwalter at the 2019 Western States Endurance Run.
Dauwalter appeared to be well on her way to taking advantage of cool Western States conditions and obliterating the course record run in America's most famous 100-mile race (100.2) until she picked up an injury and had to drop out before 80 miles. At the 65.7-mile checkpoint, Dauwalter led by 42 minutes — at that point, she was running on average 38.4 seconds per mile faster than Clare Gallagher, who ended up winning the race in 17:23:25, the second-fastest time in the history of the women's race (at the 55.7-mile checkpoint, while Dauwalter's lead was "just" 37 minutes, she was beating Gallagher by an average of 39.9 seconds per mile). Ellie Greenwood holds the Western States CR at 16:47:19.
We know there are some opposed to dropping out (not us — we've even entered longer races ourselves with the intent of dropping out) asking why Dauwalter wouldn't just walk it in to the finish. Well, it took her 48 minutes to go from the 78-mile mark to 79.8. At that pace, it would have taken her nearly 10 hours to get to the finish.
As for Gallagher, she was a miler (4:33 1500 pb)/steeplechaser (10:44 pb) at Princeton who signed up for a 50-miler in Thailand in 2014 to force herself to stay motivated to train while teaching English in a remote village where it rained all the time. At Western States, she had an eight-minute lead on eventual runner-up Brittany Peterson at the 85.2-mile mark. At the 94.3-mile mark, the two were side by side, yet over the next 2.5 miles, it was Gallagher, not Peterson, who surged away at 7:34 pace to open up a big gap that would only grow the finish as she won by just over 11 minutes.
"When Brittany caught up to me, I didn't think about the 94 miles I'd just run. All I thought about was that this had just turned into a six-mile race," Gallagher said to Outside. "I redlined harder than I've ever redlined in my entire life for six miles."
Impressive stuff for someone who got ready for Western States by taking a two-week trip to the Arctic National Wildlife Refuge, where she "wasn't running" according to her coach. From looking at her Strava profile, it looks like she didn't run at all for one week of that trip.
https://www.instagram.com/p/BzOYNuBjdO4/
###
In the men's race, Jim Walmsley took advantage of the great conditions and knocked more than 20 minutes off his course record from last year, winning in 14:09:28. Runner-up Jared Hazen, Walmsley's housemate, also broke the old CR of 14:30:04 by running 14:26:50.
Message board poster Ap5000 is in awe of Walmsley and pointed out he's now the first person to have averaged under 8:30 mile pace at Western States. "I hope everyone appreciates the significance of running 8:30 pace for 100 miles with 18,000 feet of climbing. Only one guy in the world can do it!"
For the record, 14:09:28 for 100.2 miles averages out to 8:28.67 per mile. Hazen averaged 8:39.06 per mile.
Your new course record holder and winner of @wser…congrats @walmsleyruns! pic.twitter.com/FkohBSG5ZI

— hokaoneone (@HOKAONEONE) June 30, 2019
More: Irunfar.com's coverage of Western States
MB: Official 2019 Western States 100 Live Discussion Thread
*MB:WHY NO BLACK PAGE FOR WALMSLEY!!!
*Outside:How Clare Gallagher Won Western States  After spending days in the Arctic wilderness, running 100 miles on a trail is a piece of cake.
*5280.com: How Clare Gallagher Is Helping Runners Save the Planet
*Princeton Alumni Weekly From 2016: Ultramarathoner Clare Gallagher '14 Finds a Niche in Long Runs
****
What "Should" The Women's Course Record at Western States Be?
One thing we were thinking about in terms of Western States is what "should" the women's course record be? There are two ways to think of this. The first is, "What would Dauwalter have run if she hadn't gotten injured?"
Obviously we'll never know, but if she ran the whole race 38 seconds per mile faster than Gallagher (and she was averaging 38.4 at the 65.7-mile checkpoint), then Dauwalter's winning time would have been 1:03:27 faster than Gallagher's winning time of 17:23:25. That's 16:19:58, more than 27 minutes faster than Ellie Greenwood's 16:47:19 CR.
The second way to think of this question is in a theoretical sense. In most running events, the women's world record is 10-12% slower than the men's. For Western States, the course record is 118.58% of the men's. If the women's CR was 110% of the men's, it would be 15:34:25. If it was 112%, it would be 15:51:25.
More: Women's Vs Men's World Record Comparions
****
Field Event Performance of The Week
Check out Will Claye's 18.14m (59' 6¼") triple jump from last week. The two-time Olympic silver medallist, 28, was so good that he wasn't that far from hitting the sand in his second phase.
https://www.youtube.com/watch?v=RhR0R43u2bg
18.14 is the fourth-best wind-legal jump in history and moves Claye to #3 all-time in world history behind Jonathan Edwards (18.29, 18.16) and Christian Taylor (18.21). Claye's best wind-legal jump prior to last week was 17.91, although he had one 18.05 jump with a +2.4 wind. He's now the sixth human to go over 18 meters wind-legal. Congrats Will on the nine-inch PB.
****
5 Quotes of the Week (that weren't quote of the day)
#1 Caster Semenya compares herself to Jesus
"I cannot say I've been victimized. I think I set an example. I think I'm in this world for a reason. I think I am a living testimony. I would say I'm a savior.
"If you read the Bible you will understand what I'm talking about. If I may compare my life, I would compare my life with Jesus. I've been crucified, I've been done bad. I've been called by names. I've been called by this and that.
"But at the end of the day I'm still here, am still alive. I am still standing. What I can do best is just to go back there, fight for those who cannot fight for themselves and fight for their right."
-Caster Semenya talking to the BBC after the 2019 Prefontaine Classic.
MB: Caster Semenya compares herself to Jesus…"I would say I'm a saviour…I've been crucified." –
#2 A $4.5 million bribe isn't sufficient unless 10% of it is paid in cash
"You will find attached the bank details for the transfer of $4.5 million which must be done as agreed. The balance of 440,000 must remain in Doha in cash, I will pick it up the next time I come."
-excerpt from an alleged email from Papa Massata Diack, son of former IAAF head Lamine, to Sheikh Khalid bin Khalifa Al-Thani, according to The Guardian. Al-Thani is a member of the "royal family and chief of staff to Tamim bin Hamad Al Thani, who was then the crown prince and heir to the throne and became the emir of Qatar in 2013."
More: IAAF agent 'asked Qatari royal' for $5m in bid for sporting events
#3 Going undefeated for five years and 151 races isn't necessarily as fun as it sounds
"I didn't enjoy my success at all as a junior. I was expected to win because that's what I did. I felt a lot of pressure and a lot of isolation from my peers because I was doing something so different to what the rest of my friends and rest of people my age were doing."
-British sprinter Jodie Williams talking to Telegraph Sport about what it was like to be a teenage sensation. Williams, now 25, finally broke her age-17 pb of 11.18 when she ran 11.17 (+2.0) at the beginning of May.
More: Jodie Williams exclusive interview: 'I didn't enjoy my success at all as a junior – now it feels like a second career'
#4 The Olympic champ has the standard
"The time wasn't special, but it was the standard. I didn't have the standard coming in to this, so that was pretty big for me to get because I only have a few opportunities between now and USAs."
–Matthew Centrowitz, talking after running 3:52.26 in the Bowerman Mile, well under the 3:53.10 needed to qualify for Doha.
More: LRC A New Era Begins: Why Matthew Centrowitz Left the Nike Oregon Project for Bowerman Track Club
#5 Some people may not cuss at work but they do at home
"I've literally never heard Clayton say one cuss word. You can say that's a little thing. In a way, sometimes, little things tell you a lot."
–Alberto Salazar talking to Ken Goe about Clayton Murphy. We hope Alberto isn't crushed by the following tweet.
@HeidiSnipes yes sir ? makes it way funnier and shit ?

— Clayton Murphy (@Clayton_Murph) August 14, 2013
There are three others on Twitter.
****
Quotes Of The Day And Last Week's Home Pages
To see the quotes of the day from last week or last week's home page or any home page, go to our archive page.
Got a tip, question or comment? Please call us at 844-LETSRUN (538-7786), email us or post in our forum.