The Greatest Ultramarathons In The World: The "Triple Crown of Ultras": Comrades, Western States, UTMB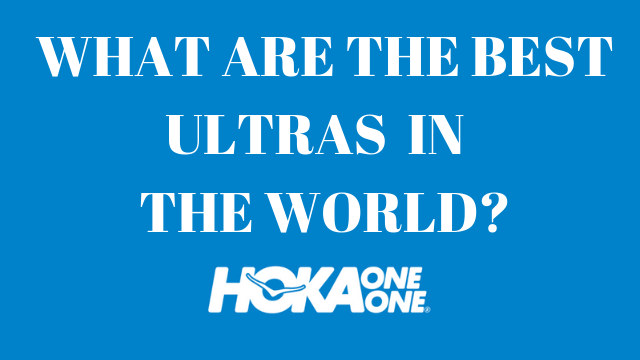 April 25, 2019 to May 31, 2019
By LetsRun.com (Sponsored by HOKA ONE ONE)
June 10, 2019
Editor's note: HOKA ONE ONE is sponsoring LetsRun.com's exploration of the ultramarathon over the month of May (and a little bit before and after), trying to determine the answer to the question: "What are the best ultramarathons in the world?" You can join the debate here. While this is sponsored content, HOKA had no say in what was written.
Professional golf and tennis have their majors. Horse racing has its triple crown.
Article continues below player
It's time for ultramarathoning to join the party.
After a month-plus exploration of the ultramarathon scene thanks to the sponsorship of HOKA ONE ONE, we'd like to introduce you to the "Triple Crown of Ultramarathoning." These are the three most prestigious ultramarathons in the world, at least from an American perspective.
Comrades – The oldest, richest, largest, and most competitive ultramarathon in the world.
Western States – The world's oldest 100-mile trail race.
UTMB – Europe's most popular ultramarathon is the most prestigious mountain race in the world.
Picking those three as the big three of the ultramarathon world wasn't hard at all. When we started asking "what are the best ultras in the world?" those three constantly came up.
And for good reason. If you walked up to a pro ultramarathoner and asked them, "What's the ultramarathon in North America you'd want to win the most?" we have no doubt most would say Western States.
If you asked them, "What's the ultramarathon in Europe that you'd want to win the most?" we have no doubt most would say UTMB.
If you asked them, "What's the ultramarathon in Africa you'd want to win the most?" or "What's the road ultramarathon you'd want to win most?" we have no doubt most would say Comrades.
We love our notion of the "triple crown of ultramarathoning" because these three races are held on three different surfaces and they test three different levels of endurance. Comrades is run on a road and lasts a little less than a quarter of a day. Western States is run on a trail and lasts a little more than half a day. UTMB is run entirely in the mountains and last about a day (a little less for the men, a little more for the women).
That's not to say that everyone agrees those are the three most prestigious races in the world. Japanese runners aren't really into Comrades because it's right around the time of the Lake Saroma 100k, which is their most prestigious race. (Believe it or not, world 100k record holder, Nao Kazami of Japan, who finished 3rd at Comrades this past weekend, said he had never heard of Comrades until last year's IAU World 100k Championships).
Below we explain why each of our selections made the cut and what, if anything, they are lacking.
Comrades Marathon
Established: 1921
Distance: 87-90 km
Terrain: Road
Location: Durban/Pietermaritzburg, South Africa
What Comrades has going for it: Just about everything.
Most prize money in the ultramarathon world? Check.
Largest field in the ultramarathon world? Check.
Oldest ultramarathon in the world? Check.
Easy access for any top-notch pro? Check.
Live television coverage? Check.
Variety? Check. One year, the race runs west to east and is a net uphill. The next year, it's the reverse.
We loved what "Oakland runner", a former two-time US national team member who has more than 100 ultra finishes on his or her resume, wrote about Comrades on the LRC messageboard:
"In my opinion, by far the best ultra is Comrades. Comrades is to South Africa what the Superbowl is to the U.S. The entire country shuts down for the day to follow the race. There is nothing comparable in U.S. running. In 1996, Nelson Mandela, then president of South Africa, handed out the awards. Comrades was my best ever running experience in 50 years of competitive running."
What's not to like about Comrades? Nothing.
We can't think of a single reason why Comrades wouldn't be regarded by everyone as one of the giants of the ultramarathon scene. Yes, we know in recent years that the popularity of trail running has been skyrocketing and many people like to run ultras to get out into nature, but give us a break. All of the things that got checks above are things that virtually no other ultramarathon in the world gets check for.
No ultra race has anywhere close to the same history of Comrades, which will celebrate its 100th anniversary in 2021. Many trail races are very hard to get into, even for elites. The Western States field had just 369 entrants this year. Comrades was capped at 25,000.
Western States Endurance Run
Established: 1974
Distance: 100 Miles
Terrain: Trail
Location: Squaw Valley to Auburn, California, USA
What Western States has going for it: Prestige/history.
The prestige of a Western States win mainly comes from the fact that it has a deep history thanks to it being the oldest 100-mile trail race in the world, dating to 1974. But really, Western States has more tradition than that as it started in 1955 — as a horse race. Wendell Robie wanted to prove it was possible horse to cover the beautiful trail in under a day and now, 64 years later, a human (Jim Walmsley) has run it in 14:30.04.
For Americans, Western States has near-mythical status. Many of America's best ultramarathon stars are famous for their exploits at Western States, whether it was Ann Trason (14 women's victories), Scott Jurek (9 men's victories) or Walmsley (2 spectacular failures but one course record).
The 100-mile distance certainly helps increase Western States appeal for those not on the metric system.
What's not to like about Western States? Lack of prize money & depth/ Hard to gain entry
While Western States is a legendary ultramarathon, organizers need to be careful and make sure they keep attracting the top ultramarathoners in the world. Japan's Fukuoka Marathon used to be regarded as the unofficial world championship in the 1970s and now it's not even a World Marathon Major.
A better comparison might be the Boston Marathon. Boston reminds us of Western States as it is the oldest of US marathons, yet it nearly lost its revered status when it was slow to adapt to the professionalization of the sport in the early 1980s. The top runners boycotted Boston in 1985 because it refused to offer prize money and the winning times ballooned to 2:14 and 2:34 as a result.
A race can rest on tradition when all of the competitors in the sport are amateur runners. But with the increasing professionalization of the ultramarathon world, a race can quickly lose that prestige. What happens if, in 10 years, many of the top ultramarathoners are from Kenya or Ethiopia? Will they want to run Western States if there is no prize money and they have to jump through a bunch of hoops to get in?
Even for pros, it's hard to get into the race as you either need to have finished top-10 the year before, win a golden ticket race in the US, or do well on the Ultra-Trail World Tour in Europe.
Because it's a trail run, Western States will never be a huge mass participation race, which may make the economics of offering significant prize money hard to execute. After all, there are only 369 accepted entrants in 2019. Even with the entry fee being $410, that's not a lot of money.
What if pros decide it's not worth it?
Prize money isn't very big for most ultras, so prestige may allow Western States to still attract a quality field each year assuming those runners can get into the race. But the reality is if Eliud Kipchoge said he wanted to run Western States this year, he couldn't do it as even "special consideration" entries granted by the race director must come in before December 1.
In terms of the quality of the field, there are several trail ultras as good, if not better than Western States, but they don't have the same prestige.
It's also not nearly as deep as Comrades or UTMB. Ultramarathoner Sage Canaday pointed out to us recently that he's bombed both races but when he walked it in at Western States in 2016, he ended up 11th. When he walked it in at UTMB in 2017, he ended up 50th.
UTMB (Ultra-Trail du Mont-Blanc)
Established: 2003
Distance: Approximately 171km (106 Miles)
Terrain: Mountain
Location: Chamonix, France (start/finish)
What UTMB has going for it: Location/size/scenery
UTMB only began in 2003, but this year more than 26,000 people applied for an entry that is capped at 10,000 for the four races that now make up the UTMB weekend (the main UTMB race had more than 2,500 entrants last year). How can a race get so popular, so quick?
Well, the location of the race is key. Who wouldn't want to go run through France, Italy, and Switzerland at the end of the summer? How about doing that in the Swiss Alps in the midst of a beautiful ultra? How about doing it on a circular trail that is one of the most famous in Europe? Sign us up.
The course follows the Tour du Mont Blanc — one of the most famous long-distance walks in Europe. That walk traditionally takes 11 days, but the top male pros can now circle the Mont Blanc massif in about 20 hours. And we love how the UTMB course is logical — it makes sense to us. You are circling a mountain range, not simply trying to run some contrived artificial distance like 100 miles.
What's not to like about UTMB? Specialized nature of it / Minimal prize money
To find negatives about UTMB isn't easy. Yes, the race is younger than LetsRun.com (founded in 2000), but while the race doesn't have a ton of history, the trail that it is run on does (similar to Western States when it started).
So does the city where the race begins and ends, Chamonix, France. It's totally fitting that the world's most famous mountain ultra starts and ends in a city that has a statue of Horace-Benedict de Saussure, "the Father of Alpinism," in it. Chamonix also was the site of the first Winter Olympics in 1924.
"[Chamonix] is like Boulder on steroids," said US ultramarathoner Sage Canaday. "It's just a really athletic town. It makes Boulder look like it's full of a bunch of lazy people. There is mountain biking, squirrel suit jumping, hang gliding. They have it all. You just see people parachuting in town all the time."
So its lack of a long history doesn't bother us. The biggest negative for UTMB is the specialized nature of it. There is a zero percent chance that if Eliud Kipchoge showed up at the starting line the evening of the race (6 p.m. start), that he'd win it. For starters, even if he had an entry, he wouldn't be allowed to start as you have to carry a lot of gear with you. While there are aid stations, you are expected to help out in being self-sufficient.
You don't start the race unless you are carrying a bag that includes an ID, cell phone, whistle, bandages, survival blanket, food, one liter of water, three layers of clothing including a waterproof jacket, waterproof gloves, cap, long trousers, and more. Full list here.
Additionally, UTMB like Western States is vulnerable if down the road other races start offering big prize money. In 2018, UTMB offered prize money for the first time but it was tiny – just €2,000 for 1st – and race co-founders and directors Michel and Catherine Poletti have said they "do not support professionalisation of sport through money."
Is it possible to win the triple crown?
It would take a special athlete to be able to win the roughly 55-mile Comrades race on the roads and the 100+ mile UTMB race, which features more than 33,000 feet of hills in it. Many of the athletes don't even try, and for good reason — they know they wouldn't be good at it.
Canaday wrote in 2017 that success in the mountains is almost a different sport than marathoning:
"Often in mountain races we slow to power hikes and 20-min pace….going up and down mountains and techy trails that exceed 20-30% grade. It is like a different sport than elite, fast road marathoning."
And Comrades and marathoning have a lot in common. A lot of the Comrades athletes are former fairly elite marathoners who are "topping out" at the 89km Comrades distance according to Robbie Britton, a bronze medallist at the 24-hour Worlds in 2015 and a co-founder of FastRunning.com. Conversely, many of the stars of UTMB don't even run marathons on the road.
Take a look at this video. This is what makes someone like Killian Jornet amazing at UTMB.
That's amazing for a road runner to even contemplate doing. Would Kipchoge be able to stick with someone like that in a race with more than 33,000 feet of both uphills and downhills?
We'll probably never find out. One problem is that anyone fast enough to win a road race like Comrades may already be good enough and making enough money from running that they'd never contemplate moving up to an all-day race like UTMB.
And even if they did, there is no guarantee they'd excel at it according to Andy Milroy, one of the founders of the International Association of Ultrarunners and author of North American Ultrarunning: A History, who has been following the sport for 40+ years:
"Just looking at standard Ultras – 50 miles to 24 hours – different physiological processes are involved. The marathon involves glycogen burning and then fat burning (elite Japanese marathon runners run short ultras -50 km-50 miles -to improve their fat burning in the final stages of a marathon.) Shorter Ultras – 50 miles /100 k. Involve conservation of glycogen and more reliance on fat burning. Longer races (24 hours and beyond) involve careful eating and long polymer drinks to augment glycogen/fat burning.
"Thus different segments of the sport of Ultrarunning suit different runners and different physical capabilities and strengths."
Although the triple crown may be a moonshot, we would love to see someone pull it off. Until they do, the debate about whether it's even possible will continue to entertain, and that's one of the best parts of ultramarathoning.
LRC note: We know there are a ton of other important/cool ultras and we'll be back later this week some talk about them and some of our personal favorites.
---
More HOKA ONE ONE Ultramarathon Exploration: To read about the greatest ultramarathoners in history, go here: LRC And the Greatest Ultra Marathoner of All-Time Is…
Want to catch-up on our HOKA ONE ONE ultramarathon exploration? Our HOKA ultramarathon hub is here.
Ultramarathon talk on our messageboard: