By LetsRun.com (Sponsored by HOKA ONE ONE)
June 10, 2019
Editor's note: HOKA ONE ONE is sponsoring LetsRun.com's exploration of the ultramarathon over the month of May (and a little bit before and after), trying to determine the answer to the question: "What are the best ultramarathons in the world?" You can join the debate here. While this is sponsored content, HOKA had no say in what was written. 
As we've delved into the ultramarathon world during the past month-plus thanks to the sponsorship of HOKA ONE ONE, a simple question kept coming up: "Who are the greatest ultramarathoners in history?"
We thought we'd get some feedback, do a little bit of research and then name a single man and single woman as the greatest ultramarathoners in history.
In the end, we've decided that we can't do that. While there have been a lot of great ultramarathoners in history, it's impossible to name one man the G.O.A.T. — greatest of all time.
Article continues below player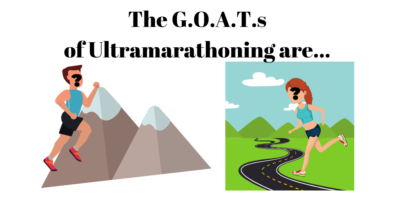 We say that because there isn't a single man who has mastered all aspects of the ultramarathon world — trail, road, mountain, and world record attempts. Some have excelled in one or two areas, but all have gaps in their resumes.
On the women's side, however, we do have a G.O.A.T. — American Ann Trason. Trason won Western States 14 times (1989-1998 and 2000-2003), Comrades twice (1996 and '97). Twice, she won Comrades and Western States within two weeks of each other (in both 1996 and '97) and she set 20 world records in her career. Her body of work outclasses everyone else in the sport and still holds up well nearly two decades later. She's the greatest women's ultramarathoner in history.
The Men
Let's turn to the men first. Excelling at all aspects of the ultramarathon world — trail, road, mountain and world record attempts — is a tall order. It might not even be possible. Being the best ever at a 24-hour event in the mountains may take a very different skill set than a six-hour event on the roads.
That realization helped us come up with our "triple crown of ultramarathons". The ultimate accomplishment in the sport would be for a single person to win Comrades, Western States, and UTMB. That would represent having conquered nearly everything — road, trail and mountain, as well as quarter day, half day and full day. The only thing missing would be a multi-day.
If you asked us to name the greatest men's distance runner of all time, it wouldn't be easy and there would be a lot of debate, but we'd probably say Kenenisa Bekele as there are no huge holes in his resume. He won big races on all three traditional surfaces — track, road and cross country — and he set legendary world records. If you lined up all of the world's best track distance runners in history on a start line in their prime for a race of an unknown distance (marathon distance and under) on an unknown surface (excluding mountains), it almost wouldn't matter what race ended up being chosen. Bekele would have a VERY good chance of winning it (assuming he was healthy).
In the ultramarathon world, there is much more variety in distance and surface, so there isn't a similar pick like Bekele on the men's side.
No man has won both UTMB and Comrades. No man has ever won Western States and Comrades.
Only one man, Kilian Jornet, has won both UTMB (2009, 2009 and 2011) and Western States (2011), but he would really struggle in a road ultra like Comrades. In fact, Jornet doesn't even run road ultras.
If you add world records into the mix, the only men with a Western States, Comrades, or UTMB win and a current world record/best are Oleg Kharitonov and Jim Walmsley. Kharitonov of Russia is the 100-mile WR holder (11:28:03) and he won Comrades in 2006. Walmsley won Western States last year and set the pending 50 mile world best a few weeks ago at the HOKA Project Carbon X event.
Yiannis Kouros is without a doubt the greatest 24+ hour ultramarathoner in history given that he's held the 24-hour, 48-hour, and six-day records for years. Many way want us to pick him as he has what we deemed the greatest record in the sport of ultrarunning, his 24-hour world record from 1997. but he never excelled on trails and would get absolutely smoked in most of the popular races of today. The sport may have shifted some of its emphasis since Kouros' time, but he would not excel in what is valued most today.
Ann Trason, the Female GOAT
Since Trason and Kouros were contemporaries, the sport has changed since she competed as well, but her body of work holds up very well in events that are popular today.
In addition to winning Western States 14 times and pulling off the Comrades-Western States double in 1996 and 1997,  Trason owned the WRs at virtually all of the major distances under 24 hours as she set the  50-mile (5:40:18 in 1991), 100K (7:00:47, 1995), 12-hour (91 miles, 1312 yards/147.65 km in 1991) and 100-mile (13:47:42, 1991) records.
Given her success on the trails and roads, her world records, and her pioneering role in the sport, Ann Trason is the G.O.A.T. of women's ultramarathoning.
Yes, the depth and quality of women's ultrarunning was not great when Trason was in her prime, but most of those marks would still be VERY competitive today. 
Her 50-mile time of 5:40:18 is just 1.94 seconds a mile off of Camille Herron's current WR of 5:38:41.
At 100k, her 7:00.47 is still #3 all-time in an event where only one woman has gone under 7:00 (Full disclosure: Admittedly that one mark of 6:33:11 was 26.65 seconds per mile faster, but it is believed to be massively wind-aided).
Her 12-hour mark of 147.65 km is just 4.67 seconds per mile off the current mark of 149.13 km.
Only her old 100-mile mark of 13:47:42 is totally uncompetitive with Herron's current mark of 12:42.40. Herron's world record is 39 seconds per mile faster (7:37.6 vs 8:16.6).
We can't hold it against Trason that she never won our "triple crown of ultrarunning" as UTMB didn't even start until 2003, when Trason was 43 years old. Plus, in the 16 years since UTMB's founding, no woman has won both UTMB and Comrades.
Like Trason, Britain's Ellie Greenwood won Western States (2011 and 2012) and Comrades (2014). She also won two 100km championships, but so did Trason. But Greenwood isn't Trason's equal as her road times aren't as impressive and her longevity in the sport pales in comparison.
American Nikki Kimball won Western States three times (2004, 2006, 2007) and UTMB in 2007, but she doesn't have the road success of Greenwood or Trason.
Trason has the greatest body of work in women's ultrarunning, was a pioneer, and her marks still hold up well. She's a fitting GOAT.
---
More HOKA ONE ONE ultra exploration: To read about the races that we view as the best in the sport, go here: The Greatest Ultramarathons In The World: Let Us Introduce You To The 'Triple Crown of Ultras' 
Want to catch-up on our HOKA ONE ONE ultramarathon exploration? Our HOKA ultramarathon hub is here.
Ultramarathon talk on our messageboard:
---
Advertisement
The 1:59:40 GOAT shirts are here