Sara Hall Wins New York Mini USA 10-K Title In Sprint Finish Over Stephanie Bruce
by Rich Sands, @sands
(c) 2019 Race Results Weekly, all rights reserved
NEW YORK (08-Jun) — On a morning with near-perfect weather conditions in Central Park, Sara Hall won a thrilling battle for the USATF Women's 10-K Championship, using a devastating kick to pull away from fellow Flagstaff, Arizona, resident Stephanie Bruce in the final 100 meters. The event was held as part of the 48th edition of the NYRR New York Mini 10-K, the longest-running women's-only road race in the world.
Five minutes before the open race began, a field of 28 American professionals set out for the national title under comfortable temperatures (68F/20C) with moderate humidity and a slight breeze. Emma Bates, winner of U.S. titles in the marathon and 25-K in the past sixth months, took the early lead as the pack raced up Central Park West for the first mile (5:20), with Jordan Hasay and Carrie Dimoff a step behind. As the race moved into the park a few minutes later, Bruce inserted herself just behind Bates, while Hall began to move up through the tightly-bunched group.
Article continues below player
Shortly past 2 miles (10:28), a pack of five began to pull away, including Bates, Bruce, Hall, Aliphine Tuliamuk and Sally Kipyego. Laura Thweatt soon reconnected to the leaders and those six women climbed and descended the steep north hill in the park together through 3 miles (15:34) and 5-K (16:11). In the fourth, uphill mile Bates finally gave up the lead and appeared to be dropping back, with Thweatt and Kipyego taking turns controlling the pace.
"It was an honest pace the whole way. I couldn't believe how fast we came through 5-K, which is mostly uphill," Hall told Race Results Weekly. "There was always someone else would get in the lead and start pushing any time it slowed down."
At the 4-mile mark (21:02) Bates had worked her way back into the mix, with Bruce and Thweatt now leading the group of six. Shortly past 8-K (26:02), the pack passed Sara's husband and coach, Ryan Hall, cheering on the side of the course.
"I could tell she was relaxed," the two-time Olympian said. "She smiled at me when she came past me. I was just telling her to collect herself on the downhill. When you're at that point in the race, everyone is screaming at you and you have to just relax, take a deep breath, collect yourself for the finish."
Moments later the 36-year-old Hall began a surge to the front, running side-by-side with Bruce, and Kipyego a stride back. With a little more than 400 meters to go, Kipyego lost contact as Bruce and Hall were powering uphill to the finish. At 6 miles (31:25) it was still tight, before Hall unleashed a powerful sprint over the final climb to the tape adjacent to Tavern on the Green (the same iconic finish line as the TCS New York City Marathon).
Hall opened up her entire five-second margin of victory in the final 100 meters, clocking 32:27 to Bruce's 32:32. Kipyego (32:35) held on for third as Bates (32:41) rallied past Thweatt (32:43) to finish fourth and fifth, respectively. The win was worth US $20,000 for Hall, part of a $75,000 purse for the national championship division.
"This one means a lot, because truly the best 10-K runners in the nation were here," said the durable Hall, who has now won seven national titles from one mile to the marathon. "Any time you get a field like that it's such an honor to be able to come out on top. American women's distance running is the best it's ever been right now, so I'm going to savor this."
Bruce, the defending U.S. champion in the 10-K road race, was pleased with her effort.
"I always say, if I can't pull off the win, at least we gave the crowd something really exciting all the way to end," she said as her two young sons, Riley and Hudson, playfully tugged on her and demanded to hold her finisher's medal. "I've been through this finish line so many times. I've run the marathon here. I'm a strength runner and I knew I could kick uphill or downhill, but Sara is quick and she just got the best of me. I wanted to make sure that whatever the results were it was as close as possible." (Bruce's next race will be the USATF Outdoor Championships in Des Moines, Iowa, where she will run the 10,000 meters in the hopes of earning a spot on Team USA for the IAAF World Championships in Doha, Qatar.)
This was the latest in a series of close races between the two veterans. "I knew it was going to be tough all the way to the end," said Hall, who only resumed running on March 1 after battling a series of injuries over the winter. "Thankfully Steph Bruce is someone I run with up in Flagstaff sometimes and it felt good to be running stride for stride out there, she feels like a teammate to me." She was disappointed in her 15th-place finish at the Boston Marathon in April, but has finally regained her groove. "I'm really excited to keep building from here," she said, with the Gold Coast Half Marathon in Australia in July next on her schedule. "I think having that long break will pay off later."
Belaynesh Fikadu, an Ethiopian who lives in the Bronx, was the first of nearly 9,000 finishers in the open race, clocking 34:36. Susannah Scaroni of Champaign, Illinois, won the women's wheelchair division by 1 minute and 39 seconds, setting a world 10-K best of 22:22 to win the event for the second year in a row and grab a US $2000 prize.
Athlete Video Interviews below results
Results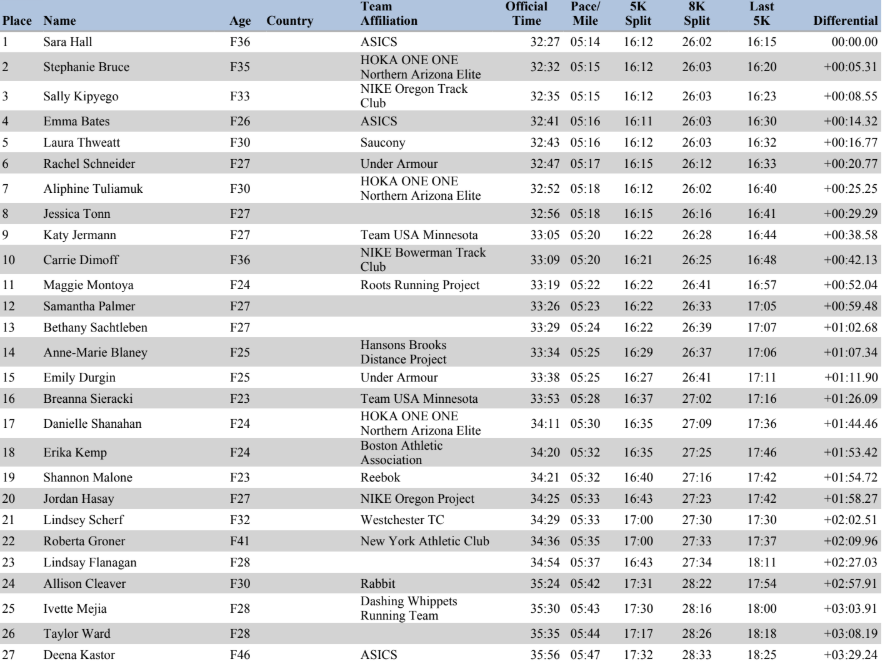 (Interview from LetsRun.com)
Sara Hall now has USATF titles at the mile, 5k, 10k, 20k, and marathon
Sara's win gave her national road titles at the mile, 5k, 10k, 20k, and marathon. She's only missing the half and 25k. "I want to win every distance national title," she said.
Today's win was extra sweet as she has struggled with the biggest injuries of her career in the last year, "It's been a tough year with my two longest injuries (sacral stress fracture and tendon injury) back to back."
Up next she wants to go sub-69:00 at the Gold Coast Half Marathon.
Stephanie Bruce came close to successfully defending her 10k title
Bruce got her first USATF title last year at the 10k champs at Peachtree. She almost repeated today but settled for second and $12,500.
Bruce was well beaten by training partner Aliphine Tuliamuk at the Bolder Boulder two weeks ago, but ran well today. Bruce said she put that run behind, realizes she doesn't race well at altitude, and knew she was fit.
Sally Kipyego is almost back!
Sally Kipyego has silver medals at 10,000 at the Olympics and Worlds but has struggled since giving birth in July 2017. This was her first solid performance since giving birth and Kipyego said she was very pleased, especially after dropping out in Boston. She knows she's getting close to being fully back to the level she was once at. Her goal is do a 10,000m time trial in July and then a fall marathon. Previously she wasn't going to do a fall marathon but now thinks she needs to get the Olympic standard out of the way.
Jordan Hasay knew this was going to be tough
This was Hasay's first race after her 2:25:20 3rd place in Boston and she knew coming in it would be a struggle.
"Unfortunately my legs just didn't have it. I've been feeling pretty awful in training but I didn't want to scratch."
Up next is a half before running Chicago with everything focused on trying to make the Olympic team in February.
Jordan's dad is a fan of LetsRun.com