2019 NCAA Women's Distance Preview: Dani Jones Goes for 5K Glory, A Repeat Bid For Jessica Hull & 3-Peat Bid For Allie Ostrander
By Jonathan Gault
June 4, 2019
Several women will be looking to add to their NCAA hardware collections this weekend when the NCAA Track and Field Championships takes place in Austin, TX . Counting the DMR, Oregon's Jessica Hull, Colorado's Dani Jones, and Boise State's Allie Ostrander have each already claimed three NCAA titles, but don't expect them to show any mercy this weekend as they seek to add to those totals. All three women enter as favorites in their main event, Hull in the 1500, Jones in the 5k, and Ostrander in the steeple (Ostrander is also doubling back in the 5k).
Perhaps all three women will deliver. But the NCAA meet is known for producing unlikely results, for new stars wresting the spotlight from old ones. Is this the time that women like Oklahoma State's Sinclaire Johnson, and New Mexico's Weini Kelati and Adva Cohen make their mark? The beauty is, no one truly knows. But I've done our best to figure it all out. Read on below for a full breakdown of every women's distance race at the 2019 NCAA meet, from the 800 through the 10k.
*Schedule/start lists/results *TV/streaming information
If you haven't already, make sure to enter the $200,019 LRC Running Warehouse prediction contest. Thanks to our friends at Running Warehouse, the top two entrants $100 giftcards and the top three will each earn a pair of the New Balance FuelCell Rebels. It's totally free to enter, and if you get a perfect ballot, we'll pay you $200,019. You really have no excuse not to enter as we've even put together a guide to help you make your picks. Enter below:
Article continues below player.
LRC $200,019 LRC Running Warehouse NCAA Outdoor Prediction Contest
Women's 800 (prelims Thursday 9:44 p.m. ET; final Saturday 7:44 p.m. ET): Indoor champ Danae Rivers of Penn State leads the field
The final lap of the NCAA indoor 800 final was an absolute classic. It featured a daring inside pass by Nia Akins of Penn, who looked set to become the first Ivy League woman in 29 years to win an NCAA 800 title.
But then, out of nowhere, came Penn State's Danae Rivers. Sixth place and boxed-in at the bell, fourth place coming off the final turn, Rivers hit the jets over the final 30 meters to earn the win by five-hundredths of a second.
Top Entrants
Jazmine Fray Texas A&M SR 2:02.27 #1 seed has finished 8th at last 2 NCAAs
Avi' Tal Wilson-Perteete UNLV SO 2:02.41 just missed final last year (9th)
Lauren Ellsworth BYU SO 2:02.49 1st individual NCAAs for #3 seed
Kristie Schoffield Boise State SO 2:02.65 didn't make final indoors or last year
Susan Ejore Oregon SR 2:02.66 Pac-12 runner-up
Martha Bissah Norfolk State JR 2:03.13 5th indoors, 6th last year
Sadi Henderson San Francisco SR 2:03.31 Never made final while at Boise
Susan Aneno Connecticut SR 2:03.41 6th indoors
Nia Akins Penn JR 2:03.44 Almost won indoors with inside pass (runner-up)
Danae Rivers Penn State JR 2:03.58 Came on late to win NCAA indoors
You can view that win as either a good sign — Rivers was so good that she could overcome poor tactics to win — or a bad one — Rivers' tactics were not good (she also needed a time qualifier just to make the final), and she could be punished for it next time.
We tend to lean toward the former. Talented runners can learn to race better. Bad racers can't learn to be talented. And it's a stretch to even call Rivers a "bad" racer. Were her tactics ideal at NCAA indoors? No. But the goal isn't to run tactically perfect, it's to win the race. That's exactly what Rivers did.
Outdoors, Rivers has continued winning: she claimed the Big 10 titles in both the 800 and 1500. That was a SUPER impressive double considering: 1) the races were within an hour of each other; and 2) she beat NCAA mile champ Julia Rizk in the 1500 (the 1500 was first). Rivers' SB of 2:03.58 ranks her just 10th in the country this year, but given her indoor title and what she did at Big 10s, she has to enter NCAAs as the favorite.
Akins has been in good form this spring as well, leading all qualifiers out of the East region and breaking open the DMR on the leadoff leg to lead Penn to their first Penn Relays Championship of America title. NCAA indoor record holder Jazmine Fray of Texas A&M has the fastest PR (2:00.69) and fastest time in 2019 but has a checkered history at NCAAs, finishing last in the last two NCAA finals. Can she turn it around in her final NCAA race?
Interestingly, the fastest collegian this year — by some margin — won't be at NCAAs. That would be Colorado's Sage Hurta, who ran 2:00.99 last week in Nashville but is redshirting the outdoor season. She would also be the NCAA leader at 1500 (4:09.37).
LRC prediction: Rivers' kick carried her to the NCAA title indoors, and it's easier to find space in the 800 outdoors than it is indoors. We like her FTW in Austin.
Women's 1500 (prelims Thursday 8:16 p.m. ET; final Saturday 6:41 p.m. ET): Can Jessica Hull become the first woman to repeat in 15 years?
The day before this year's NCAA indoor meet, we bumped into Oklahoma State coach Dave Smith. He told us to watch out for their DMR — he felt that their anchor, Sinclaire Johnson, could go up and win against anyone in the country. We were a little skeptical.
What about Jessica Hull? 
Smith pointed out that Johnson had outkicked Hull at the West regional last year, winning her heat in 4:11.57 to Hull's 4:13.22. But considering Johnson finished dead last in her prelim at NCAAs and Hull won the whole thing, we still backed Hull and Oregon to win the DMR. They did (OK State wound up 3rd). It wasn't Johnson's time yet.
Now it could be. This year at the West regional, Johnson again won her heat. But she did it in a big PR (dropping from 4:11.57 all the way down to 4:09.50, the best time in the NCAA this year), and she did it with a killer kick. She ran her last lap in 62.36, the only woman in either of the regionals to break 63. Johnson won her heat by almost four seconds — not necessary when the top five make it automatically, but impressive nonetheless. Recent history shows that if Johnson runs that type of race in Austin, it could be enough to win the NCAA title:
NCAA 1500 champions, 2011-18
| | | | | |
| --- | --- | --- | --- | --- |
| Year | Athlete | School | Time | Final lap |
| 2018 | Jessica Hull | Oregon | 4:08.75 | 64.54 |
| 2017 | Jaimie Phelan | Michigan | 4:13.78 | 61.62 |
| 2016 | Marta Freitas | Mississippi St. | 4:09.53 | 63.15 |
| 2015 | Rhianwedd Price | Mississippi St. | 4:09.56 | 63.22 |
| 2014 | Shelby Houlihan | Arizona St. | 4:18.10 | 61.75 |
| 2013 | Natalja Piliusina | Oklahoma St. | 4:13.25 | 63.03 |
| 2012 | Katie Flood | Washington | 4:13.79 | 62.27 |
| 2011 | Sheila Reid | Villanova | 4:14.57 | 62.93 |
So yes, Dave Smith, we believe in Sinclaire Johnson now.
Top Entrants
Sinclaire Johnson Oklahoma State JR 4:09.50 Didn't make final last yr
Jessica Hull Oregon JR 4:09.90 Defending champ won 3k and DMR indoors
Taryn Rawlings Portland SR 4:10.20 4th in mile indoors, 6th last year in 1500
Jessica Lawson Stanford SO 4:11.06 1st track NCAAs for Pac 12 runnerup
Alexis Fuller Boise State SR 4:11.18 9th indoors
Ella Donaghu Stanford SO 4:11.70 3rd at Pac-12s
Jessica Harris Notre Dame SR 4:12.64 Never placed higher than 8th at NCAAs
Jenny Celis Oklahoma State SR 4:12.92 Ony 6th at Big 12s
Carina Viljoen Arkansas JR 4:13.27 SEC runner-up was 5th indoors
The problem is, we also believe in Jessica Hull. Hull has won everything in sight since NCAAs last year, adding a pair of indoor titles in the 3k and DMR, and her run at regionals was also impressive (Hull ran 4:09.90, though her close was slower, 63.27). She hasn't lost a track race for an entire year, not since May 13, 2018, when she finished 6th in the 5k at Pac-12s doubling back from her 1500 win.
And while no one flashed the same kick at regionals as Johnson, there were some impressive times — the nine fastest women in the country this year all ran their SBs at regionals, including Portland's Taryn Rawlings (who ran a PR of 4:10.20 and was 6th at NCAAs last year) and Notre Dame's Jessica Harris (4:12.64 sb), who had a huge 4:28 anchor leg in the DMR at Penn.
Karisa Nelson of Samford and Julia Rizk of Ohio State are both NCAA mile champions. Neither of them can be counted out either.
LRC prediction: If anyone is going to beat Hull, Johnson is the best bet. But we don't think anyone is going to beat Hull.
Women's steeple (prelims Thursday 8:32 p.m. ET; final Saturday 6:54 p.m. ET): Allie O goes for three in a row and tries to stay undefeated for her life in the steeple
Jessica Hull may not have lost a track race for a year, but Allie Ostrander hasn't lost a steeplechase final — ever. She took up the event in March 2017, won her first race, and has kept on winning, claiming two NCAA titles in the process. She'll go for #3 in Austin this week.
Top Entrants
Allie Ostrander Boise State JR 9:40.05 #1 seed is looking for 3-peat
Erica Birk BYU JR 9:42.54 Mom was 2nd in DMR and 5th in 3k, 7th in XC
Adva Cohen New Mexico SO 9:44.41 Qualified in 5000 and steeple
Val Constien Colorado SR 9:44.51 Pac-12 champ was 5th last year
Charlotte Prouse New Mexico JR 9:47.43 Runner-up last year
Devin Clark Arkansas JR 9:48.35 SEC champ was 11th last yr
Rachel King South Dakota St. SR 9:50.15 Didn't make final last year
Brianna Ilarda Providence SR 9:50.42 Big East champ was 8th in 2017
Perhaps just as impressive as her two straight NCAA steeple titles is Ostrander's ability to double back. In each of the past two years, she's won the steeple only to double back later in the day and earn All-American honors in the 5k — she was 4th in 2017 and 8th last year. For the third straight year, she qualified for NCAAs in both events, and this time she did it in style: she had the fastest time at regionals in both the steeple (9:40) and the 5,000 (15:30, #3 nationally this year). Oh, and did we mention that she was also the NCAA leader in the 10k at 32:06?
Ostrander's versatility is unparalleled, but she's not the only woman pulling double duty this week. Charlotte Prouse and Adva Cohen are both trying the steeple/5k double as New Mexico chases a team trophy; Arkansas' Devin Clark is doing likewise. Auburn's Joyce Kimeli, like Ostrander, isn't on a team with title aspirations. She's just doing it…well, just because.
Ostrander is undoubtedly the favorite, but there are a few women who could challenge her. Prouse, last year's runner-up, is one of them, but the more likely UNM challenger is Cohen, whose PR of 9:29, which she ran to take 5th at last summer's European Championships, is nine seconds faster than Ostrander's. Cohen finished just .05 behind Ostrander when they raced this spring at Payton Jordan, so a victory in Austin would be far from a shock.
BYU's Erica Birk-Jarvis, who gave birth to son Jack in December 2017 and came back to finish 7th at NCAA XC and 5th in the 3k at NCAA indoors, is another contender. Colorado, alma mater of Jenny Simpson, Shalaya Kipp, and Emma Coburn, always seems to have a capable steepler around as well. This year it's Pac-12 champ Val Constien (9:44 pb).
LRC prediction: Ostrander and Cohen were as close as you can get at Payton Jordan; we expect another close race at NCAAs and imagine it will take a time in the 9:30s to win this race. We're tempted to go with Cohen as Ostrander is giving up 9 seconds on the PB front, but then we remembered Ostrander has never been beaten in a steeple in her life (ignoring one prelim, if you count that). So we'll give the slight edge to Ostrander, who has a proven record of success in this meet.
Women's 5,000 (final Saturday 8:25 p.m. ET): NCAA XC champ Dani Jones returns
Remember Colorado's Dani Jones? The 2017 NCAA 3000 champ who blew by New Mexico's Weini Kelati to win the NCAA XC title in November? Jones' kick is hard to forget, but we'll forgive you if you needed your memory jogged considering she went more than five months without racing after NCAA XC due to injury. She missed the entire indoor season and didn't debut outdoors until April 27. And though Jones's pb of 4:07.33 in the 1500 from last year would be the fastest in the field, she opted for the 5k instead, an event she won at Pac-12s (And while we're remembering Jones, let's not forget NCAA indoor 5k champ Alicia Monson of Wisconsin, who only raced two times this spring — a 33:02 at Stanford and a 16:09 9th place showing at Big 10s — and didn't run regionals even though she had a qualifier).
Top Entrants
Weini Kelati New Mexico SO 15:23.46 2nd indoors and at NCAA cross
Allie Ostrander Boise State JR 15:30.94 Steeple is first
Adva Cohen New Mexico SO 15:31.01 Steeple is first
Fiona O'Keeffe Stanford JR 15:31.45 2nd at Pac-12s
Jaci Smith Air Force SR 15:38.44 Only raced twice outdoors
Taylor Werner Arkansas SO 15:38.51 SEC champ was 2nd indoors in 3k
Dani Jones Colorado JR 15:46.93 Former 3k and XC champ
Opting for the 5k over the 1500 may have surprised some, given that Jones finished 5th in that event at USAs last year while redshirting, and ran the 1500 at NCAAs in her two previous appearances in 2016 and 2017. But given Jones has won NCAA titles in the 3k and XC, she should have the strength to win the 5k as well. We tend to believe that Mark Wetmore knows what he is doing.
That said, we'd be interested to know the logic behind why Jones won the 5k. Our best guess is that Jones' speed isn't all the way back, leaving the 5k as a better option than the 1500, where the truly big kickers like Hull and Johnson lie in wait.
If the 5k does come down to a kick, we like Jones to get it done. But the big question is whether Jones, who has only run the 5k three times in college and has a 15:46 pb from regionals, will be there with 200 meters to go. Just as at NCAA XC in Madison, her big rival figures to be Kelati, who has been crushing everyone this spring and loves to run from the front. Kelati has the #1 and #2 times in the NCAA this year, running 15:23 at Bryan Clay on April 18 and 15:23 again two weeks later at Payton Jordan. No one else in the NCAA field this year has broken 15:30; the next two closest by seed are Kelati's UNM teammate Adva Cohen (15:31, doubling back from steeple) and Arkansas' Taylor Werner (15:38).
At some point, we expect Kelati to break away from the pack. If Jones is strong enough to remain in striking distance, we probably get a repeat of NCAA XC and a Jones victory. If not, we like Kelati FTW. One final possibility: Kelati is so pooped from the 10,000 on Thursday night that she doesn't have anything left for the 5k. In that case, all hell could break loose.
LRC prediction: Jones may not be where she planned to be at this point of the year fitness-wise, but she still seems pretty fit — you have to be to win the Pac-12 title. We like her to earn NCAA title #4 on Saturday.
Women's 10,000 (final Thursday 10:38 p.m. ET): Someone's title drought will likely end
Several women in the 2019 NCAA 10,000 final have been NCAA bridesmaids in the past — or close to it. Notre Dame's Anna Rohrer was 3rd at NCAA XC in 2016 and in the indoor 5k in 2017; she's also finished 4th, 4th, and 6th in previous NCAA appearances. Weini Kelati has several near-misses in 2018-19 alone, taking 2nd at NCAA XC and the indoor 5k and 3rd in the indoor 3k.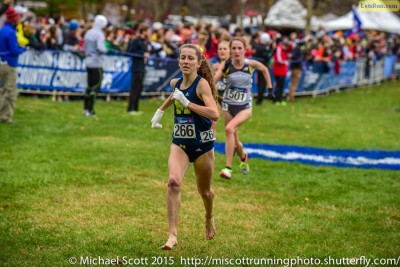 Top entrants
Paige Stoner Syracuse SR 32:07.36 3rd in steeple last year
Weini Kelati New Mexico SO 32:09.10 2nd at NCAA cross
Ednah Kurgat New Mexico SR 32:14.27 NCAA cross champ in past
Isobel Batt-Doyle Washington SR 32:20.84 Ran fast in Stanford and won Pac-12s
Taylor Werner Arkansas SO 32:26.38 Indoor runner-up in 3k
Margaret Allen Indiana SR 32:54.80 Big 10 champ
Anna Rohrer Notre Dame SR 33:07.90 FL champ's best NCAA finish is 3rd
Megan Hasz Minnesota SO 33:09.57 Big 10 runner-up
Erin Finn Michigan SR 33:21.56 Household name
And then there's Michigan's Erin Finn. Finn, a four-time NCAA runner-up, has endured an injury-plagued career in Ann Arbor and was granted a sixth year of eligibility as a result. Unfortunately, it seems as if she has been injured this year as well — Finn first race in 2019 wasn't until April 20. And even though she was only 7th in the 10k at Big 10s — a race she won in 2014, 2015, and 2018 — her 33:23 there was enough to get her into regionals, where she advanced to nationals. She won't be favored in Austin, but a win for Finn would be one of the best stories of the meet.
But here at LetsRun.com, we try to pick with our head and not our heart. There is one NCAA champion in the field — New Mexico's Ednah Kurgat won the XC title in 2017 — but she didn't even make it to NCAAs in the 5k so we don't completely trust her fitness. Syracuse's Paige Stoner (32:07) has the fastest time this year of any entrant and has been impressive this spring, but Kelati beat Stoner head-to-head at Payton Jordan by five seconds in the 5k.
LRC prediction: The top five women from last year's NCAA final are gone (Rohrer is the top returner), and the women's 10k has a habit of producing unpredictable results at NCAAs. But Kelati has been the best long-distance runner in the country this spring. We have to pick her.