by LetsRun.com
June 27, 2019
The new and improved LetsRun.com Better Running Shoe site has pricing information incorporated and lets you find some great running shoes at a great price.
The site has some of the best and detailed running shoe reviews on the planet. We have over 6,000 detailed reviews from people who run a lot, every day.
Find the best rated shoes in your size for under $100
Now it is very easy with just a click to find great deals on great running shoes that are actually in stock in your size. The site with three clicks finds the best rated shoes for you for under $100 available in your size. Think discount shoes that people actually like.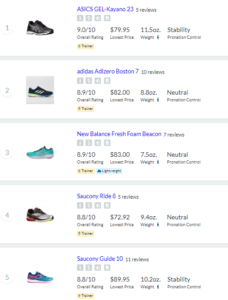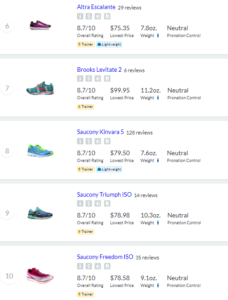 The example above is for men's size 10.5 (but click here for Running Shoes Under $100 in your size). For men's size 10.5, the Asics Gel Kayano, the adidas Adizero Boston, the Saucony Ride, the New Balance Fresh Foam Boston, the Saucony Triumph, the Brooks Levitate were all available for under $100.
Want to find something else? Click here to check out out our Better Running Shoe site.
Want to help? Please review the shoe your running in here.