"The Complete History of Cross-Country Running" Is a Fraudulent Piece of Plagiarism
By Jonathan Gault
May 24, 2019
In November 2017, I received an email from a writer named Andrew Hutchinson (not to be confused with Alex Hutchinson, the terrific journalist for Outside magazine and author of Endure). He had a book coming out in January 2018 called The Complete History of Cross-Country Running and was wondering if someone at LetsRun.com would be interested in writing a review. The book sounded great — the definitive history of the sport of cross country, from its origins in the 1800s to the present day in coffee-table format. I got back to him a few days later and let him know I'd get a review up when I got the chance. Little did I know what I had signed up for.
The first sign that something was off about this book was the quotes. There were quite a lot of them, yet the source of the quote was rarely identified, not even in a footnote or endnote. That's fine if you, the author, are the one who conducted the interview, but it's a no-no to use a quote from another article or book and insert it into your own book without attributing the source. And I had a pretty good idea that this was what Hutchinson was doing, because in some instances, the speaker was long dead. By itself, you could argue that this was plagiarism; at best, it was questionable ethics. But I continued reading.
Article continues below player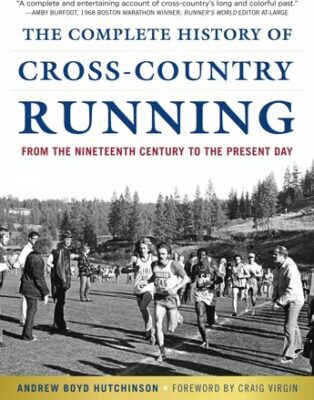 I continued until the evening of January 9, 2018. I had reached Chapter 15, which focused on the 1990s, and as I read about Sonia O'Sullivan's double victory at the 1998 World Cross Country Championships, I had a severe case of déjà vu. I had written about O'Sullivan's double for LetsRun a few years earlier, and it was clear that Hutchinson had read my story as many of the details sounded familiar. I felt a small sense of pride.
But as I kept reading, the details began to sound too familiar: specific phrases, quotes that I knew for a fact O'Sullivan had provided directly to me. My pride quickly turned to horror. These were my words. This was plagiarism.
I was not naïve enough to believe that only my words were good enough to have been stolen and began wondering exactly how much of the book had been plagiarized. I flipped to a section on the University of Colorado teams of the 1990s, and, as someone who has read Running with the Buffaloes half a dozen times, recognized the language. When it comes to plagiarism, it's one-strike-and-you're-out, and this was strike two.
I kept looking. The section on the 1992 World Cross Country Championships had been particularly well-written, so I flipped to the bibliography at the end, and found the original source, an article by the late Merrell Noden in Sports Illustrated. I pulled up the article online and compared the text to Hutchinson's book. A few words had been changed here or there, but it was obvious plagiarism. See for yourself.
Noden (Sports Illustrated, 1992)
Only once before in its 19 runnings had the world cross-country championship been held in the U.S. That was in 1984, when it was contested over makeshift hills of plywood and dirt at the Meadowlands in New Jersey. The city of Boston, aiming for something a bit more traditional, invested $500,000 in designing and landscaping a course worthy of the event. The 54 countries competing in Franklin Park found a challenging layout. The basic loop is 2,300 meters long, and once in each circuit it climbs over Bear Cage Hill, a wooded mass of rock rising 194 feet over the field below.
Hutchinson (The Complete History of Cross-Country Running, 2018)
Only once before in its 19 runnings had World Cross been held in the United States. That was in 1984, when it was contested over makeshift hills of plywood and dirt at the Meadowlands in New Jersey. The city of Boston, aiming for something a bit more traditional, invested $500,000 in designing and landscaping a course worthy of the event. The 54 countries competing in Franklin Park found a challenging layout. The basic loop was 2,300 meters long, and once in each circuit it climbed over Bear Cage Hill, a wooded mass of rock rising 194 feet over the field below.
I skimmed through the bibliography and found another article about Adams State University by Sam Hovland for NCAA.com that had been plagiarized. All of this had come from just one chapter. It was clear that plagiarism was a serious problem.
I fired off an email to Hutchinson asking him to explain himself. Plagiarism isn't something you can explain away, and I had him dead to rights. I expected an apology. What I received was a pile of bullshit:
Understandable concerns. I hope I can alleviate some of the trepidation. Much of the text was confirmed from the source (including Chris Lear's, the Goucher's and Sonia O'Sullivan's accounts) which were of course shared as part of the content featured in Lear's book, on FloTrack, and from Let's Run (among others), or from conversations. Likewise, the NCAA and Runner's World feature original content as well.
Where applicable, direct sources have been quoted at length and attributed to their speaker. For example, when we used Sonia's account, we assumed her verification of her quotes was enough to substantiate the content of the article (instead of attributing to Let's Run outright, because other outlets, including Sonia's, might have contributed to the final product).
When re-telling the authentic history of the sport, much of the content had to be found, then connected to the original person or team, and then approved. That being said, in some cases it's impossible to know what is truly one-of-a-kind, and what gets shared with the media in other places, too. So in Sonia's story I personally feel that if your own contributions, which were rightfully yours (or the company's) didn't get the proper credit when they were printed, then I apologize. But these examples aren't isolated infringement cases without verification, they're small oversights where the outlet should have been included in the discussion (or was, and allowed the content to be used). The fact that the true and in-disputable history appears like it does was often the only method of ensuring the story got told in the most authentic way possible.
This is not an excuse, of course. Even if Hutchinson did "verify" O'Sullivan's quotes with her — which he didn't — it still doesn't give Hutchinson license to rip off my work. So I pressed him on it. In response, I received more bullshit, as Hutchinson changed his story — he had meant to get my permission to use my work without attribution, but didn't do it.
I had to obtain proper permission from specific authors, like what should have happened from yourself in the Sonia O'Sullivan case, and was able to on numerous fronts, even writers like Amby Burfoot, Ken Moore, and Chris Lear, or their own publishers, like Runner's World or Sport's Illustrated. This is a process that happened the most legitimate and proper way possible, (my publisher wouldn't have allowed it to be the case otherwise), and all parties were glad to contribute to the cause of assembling an authentic history book.
We had to do it lawfully because there is so much content out there about the various stories within the sport, much of it well-circulated and known. Nobody had any real problem approving the final portions that appeared in "The Complete History," even sections that were nearly identical to what had been printed other places, because I often-times didn't want to personally adjust the presentation of the events to risk misrepresenting their authenticity (something I made clear to the writer's themselves).
I understand how you can view this as plagiarism under the circumstances, but the process was taken with the utmost care to preserve others' words when they were giving permission—and I should reiterate that Lear, Burfoot, Moore and others were fine with this as I had to communicate to them personally about it. (On another note, you should hear the stories about the photo permissions, similarly brutal).
…You have keenly (and rightly) provided the portions back to me that are yours, but I would never have known that unless there had been something incorrect that Sonia identified.
Again, this is ludicrous. I've never met a writer who is okay with writing something and then having someone else republish that work under their own name, with no attribution or payment. So again, I called Hutchinson out on his bullshit. I spoke with Chris Lear, author of Running with the Buffaloes. Had he ever heard of Andrew Hutchinson or given him permission to reprint his work under his own name? Of course not.
So Hutchinson changed his story again: he hadn't gone through Lear, but through Lear's publisher, Lyons Press, and Kara and Adam Goucher, who had "verified" the sections of the book that referenced them (which, again, is not a thing).
"The Gouchers were nothing but supportive about their time at Colorado, with Adam feeling 'pumped up about XC' again," Hutchinson wrote me.
So I did what an actual journalist does and followed up with the Gouchers. They had never spoken to Hutchinson either. He wasn't just plagiarizing now, but making up quotes as well.
***
Realizing that talking to Hutchinson would get me nowhere, I reached out to his agent, Julie Ganz, who works for Skyhorse Publishing, the company that published the book. On January 18, 2018, eight days after I contacted her about Hutchinson's plagiarism, Ganz told me Skyhorse had frozen all stock of the book and had ceased sales of the ebook.
Yet two weeks later, the book remained on sale online on Amazon and Barnes & Noble. Ganz's explanation, from an email on January 30:
Stock went out before we received your initial email, so if anyone has copies, that's why. We have since frozen any additional stock in our warehouse and are destroying that stock so as to avoid sending any more into the marketplace.
A month later, the book was still listed on Amazon. Even when Amazon ran out of new copies to sell, the book remained listed, with links to purchase used copies. There was no note or acknowledgment on Amazon — or indeed, anywhere else on the internet — that the book was full of plagiarism.
Still, by February 2018, it seemed as if the problem had mostly gone away. New copies of the book were no longer available for sale online, and both Skyhorse and Hutchinson told me they were working toward fixing the text of the book.
"We won't reprint a new version of the book until we have permission from all of the relevant parties," Ganz wrote me in an email on February 12.
Meanwhile, Hutchinson wrote that, "My editor and I (along with a host of others) have been dedicated in contacting various parties in further correcting the text, and they reiterated to me the importance of communicating to you that we are doing everything necessary to make sure the book is properly formatted and all works attributed."
As part of this process, Hutchinson asked that I grant him permission to excerpt my article on O'Sullivan — with attribution — in the new version of the book. After some hesitation, I agreed. I'd give him a chance to fix the book's problems.
Did I believe Hutchinson would fix those problems?
Not a chance in hell.
It is hard to understate just how much plagiarism the original copy of the book contained. When I originally contacted Hutchinson, I had found far more examples than the ones listed earlier in this article. I even made a game of it: I'd turn to his bibliography, find a source, and then try to find evidence of plagiarism of that source in the text. Usually, I did. The plagiarism was so widespread that eventually, I stopped looking for it. If I had to estimate, I'd guess that at least half of the book had been plagiarized.
That meant Hutchinson would have to gut the book, and rewriting a 292-page coffee-table book is something that takes a long time. If he was willing to cut corners the first time and never admit to wrongdoing even after being handed clear evidence, why should I have any faith he'd do things the right way the next time around?
***
For a few months, I mostly forgot about The Complete History of Cross-Country Running. Every so often, I'd check on Amazon to see if new copies of the book were available. And for months, they weren't. I assumed that the book would stay like that permanently. I didn't trust Hutchinson to fix the book's problems, and assumed that if he tried to submit a new copy for publication without correcting all the plagiarism, it would never see the market. After all, Skyhorse, having been informed of the scale of the problem the first time around, would be extra careful to check for plagiarism the second time and quickly halt publication once it was discovered. Right?
Then, a few months ago, I noticed that new copies of the book were back up for sale on Amazon. Curious, I asked Hutchinson if he could share a copy with me to verify that he'd corrected all of the plagiarism and properly attributed my excerpt. I received no response. Then I asked Ganz, who quickly mailed me a copy.
I turned to the 1990s chapter. My O'Sullivan article had been excerpted and attributed perfectly. So far, so good.
Then I checked the rest of the book, and it quickly became apparent that Hutchinson had done the bare minimum before submitting the book for republication. My section had been fixed, and, since Lear had chosen not to grant Hutchinson permission to use any of his work, the plagiarized portion of Running with the Buffaloes was gone. Some other corrections had been made. A section Hutchinson had stolen from former Sports Illustrated scribe Kenny Moore had been amended to give Moore credit.
But far more plagiarism remained. I started from the beginning and found some as early as page two, where Hutchinson lifted large portions of a Running Times article by Roger Robinson about cross country's origins at the Shrewsbury School in England. As I kept reading, it wasn't hard to find more evidence of plagiarism. Merrell Noden's article about 1992 World XC still hadn't been attributed; there was an article by Rachel Sturtz about Jordan Hasay in Runner's World, an article by Doug Binder about Bill Aris for DyeStat, an article by Bill Plaschke about Sarah Baxter in the Los Angeles Times. Heck, Hutchinson had even ripped off LetsRun and our recap of the 2007 Foot Locker finals. All of it reprinted, almost word-for-word, with zero attribution.
(You can view examples of that plagiarism and more, with the original text followed by Hutchinson's text, here. It is not exhaustive — I was not going to read the entire book again hunting for every bit of plagiarism — but easily sufficient proof of Hutchinson's misdeeds).
I reached out to Ganz again, letting her know the problem had not been fixed. I asked her to freeze the stock once again, destroy any remaining copies, and permanently halt publication of the book. I also put in a request for an interview with someone from Skyhorse. Ganz told me to direct any questions to Skyhorse president and publisher Tony Lyons.
I asked Lyons if he'd be able to do an interview or if he wished to make a statement. This is the email he sent me on May 7:
Jonathan, I think it's better to put it all in writing. These are serious accusations and I'll have to go through them with the author. Are you claiming that any of your own material is plagiarized? All the best, Tony
I told him that, no, none of my own material had been plagiarized this time. He then asked me to lay out the plagiarism in detail so that Hutchinson had an opportunity to defend himself. I sent him the link to the examples of the book's plagiarism.
After I didn't hear back for two weeks, I sent Lyons a list of questions for this story on Tuesday. As of Friday, I have still not heard back from him. I also emailed Hutchinson and made multiple attempts to call him for this story; he did not respond to any of them.
***
At this point, you might be wondering: why does this bother me so much? After all, Hutchinson fixed the section where he plagiarized my work. Why call him out on it now?
The answer: The Complete History of Cross-Country Running is a fraudulent work and it's a disgrace that this book is still being sold with a few minor corrections 16 months after the problems were first discovered. Several of the people involved in its publishing are well aware of these problems and don't seem interested in fixing them. Perhaps this article will remedy that.
The sad thing is, the idea for this book was a good one. As far as I know, there's no definitive book on the history of cross country, and there's a lot of history to cover. There's also plenty of good writing about the sport out there. Had Hutchinson pursued this project as an anthology, taking the time to secure the proper permissions from authors to republish their work and tell the history of the sport that way, this book could have been a roaring success. Instead, he threw all their words together, stamped his name on the front, and started selling copies. It's a scam and an insult to the time and effort of all of the writers that Hutchinson ripped off. If you ever come across this book, do me a favor: don't buy it.
---
Talk about this topic on our messageboard / fan forum. MB: Lawyers of LetsRun, anyone want to sue Skyhorse and Andrew Hutchinson for statutory damages?