Eliud Kipchoge Has Conquered the Marathon World. Now What?
Kipchoge's 2:01:39 world record in Berlin was the crowning achievement on the greatest marathon career of all time. What motivates him to keep going? And where does he go from here?
By Jonathan Gault
April 26, 2019
LONDON — What do you do when you've conquered the world? What do you do when you've put together a career beyond any marathoner's wildest dreams, when you've won the Olympics, broken the world record, become the greatest ever? What do you do if you're Eliud Kipchoge?
That has been the question ever since Kipchoge, the wizened Kenyan master, completed his marathon magnum opus in Berlin in September, running an unfathomable 2:01:39 to destroy Dennis Kimetto's world record by 78 seconds. The simple answer — and Kipchoge likes to keep things simple — is you return to London to defend your title and try to become the first man to win four London Marathons. In fact, Kipchoge made that decision before he had even run Berlin. London annual attracts the best fields, Kipchoge has a perfect record here (three starts, three wins), and, though money has never been Kipchoge's primary motivation, London does also boast the largest appearance fees in the sport. It wasn't hard to return in 2019.
But beyond London this Sunday, Kipchoge only has one race penciled into his schedule: next year's Olympics in Tokyo, where he will look to become just the third man to win two gold medals in the marathon. Kipchoge's legacy is secure — he could retire today and still go down as the greatest marathoner in history, by some margin — and running 2:01:39 in Berlin checked the biggest remaining box on his marathon resume. That means he has a lot of options. Let's take a look at all of them:
Article continues below player.
1) Run other events
It's easy to forget, considering just how thoroughly he's dominated the marathon, but Kipchoge was a terrific track runner once upon a time. He ran personal bests of 3:50, 12:46, and 26:49, earned a world title at 5,000 meters in 2003, and Olympic bronze and silver over the same distance in 2004 and 2008. Would he consider going back to the oval?
The question is barely out of my mouth before Patrick Sang, Kipchoge's longtime coach, cuts me off with a friendly smile.
"No, no. No. No, no, no. Marathon."
What about trying to win World XC? Or trying to break the half marathon world record?
"No," says Valentijn Trouw, Kipchoge's agent since 2006. "The way I see it, he will stay in the marathon."
Okay then.
2) Run different marathons
Since the start of 2015, when Kipchoge became the undisputed World #1, he's fallen into a pattern: London in the spring, Berlin in the fall (the two exceptions: he skipped 2016 Berlin to run the Olympics and skipped 2017 London for Breaking2). Kipchoge chose those races for a simple reason.
"Let's be honest, the last three to four years, the world record has always been in the mind," says Trouw. "So you look for fast courses and big races, and if you look for that combination — you want to go to the biggest races in the world and you want a fast course where, if everything comes together, a world record is possible as well — then London in the spring and Berlin in fall are quite good options.
"The fact he is the world record holder now, and if it is already this year or maybe in the little bit further future, it takes some pressure away and opens up to consider also the races he didn't do before."
Should Kipchoge stray from London and Berlin, he would likely consider one of the three World Marathon Majors he has not yet won.
"I think Boston, New York, Tokyo are three big races where he hasn't raced before, so absolutely are seriously in his mind, and it is to see in which time frame [they] fit in his program," Trouw says. "But those three marathons are absolutely in his mind to do before he finishes his career, whenever it is."
No man has ever won all six of the World Marathon Majors. Wilson Kipsang is closest with four victories (Tokyo, London, Berlin, New York); Kipchoge has three (London, Berlin, Chicago), four if you count the Olympics.
3) Keep running London and Berlin every year
This is also possible: London and Berlin treat him well (Kipchoge even has his own dedicated drinks guy in Berlin), and he's had a ton of success on those two courses. He could certainly keep showing up to these races and continue to win them (assuming his form does not dip), but it's the least interesting of all the options on the table.
4) Breaking2: Part II
Kipchoge isn't someone who likes to talk about specific goals. Ahead of London last year, rather than say he was going for the win, he preferred to say that his aim was to run "a beautiful race." Before Berlin, he would tell people his goal was not the world record, but "a personal best" (nevermind that the world record was just eight seconds faster than his pb at the time).
The major exception was Breaking2 in 2017, where the goal couldn't have been more obvious and Kipchoge was completely confident he could do it. Part of that was because of Nike — they slapped the goal right on the name of the project, for crying out loud — but part of it was because Kipchoge viewed his role in Breaking2 as something bigger than himself. Breaking two hours for the marathon distance wasn't a personal goal, but a goal for all of humanity.
"The world now is just 25 seconds away," he said after running 2:00:25 in Monza.
And in the two years since, Kipchoge has thought about those 25 seconds.
"I think if you look at his whole career, in his mind, he has achieved everything," Trouw says. "And if there's something small still missing, that he would like to see, that is something, those 25 seconds which he missed in Monza, of course, that goes sometimes through his mind."
I ask Kipchoge on Wednesday whether he'd consider trying another Breaking2; he says not right now, but only because he does not want to look beyond London on Sunday.
"I normally do one thing at a time and I [don't want] to make my mind divided," Kipchoge says.
Another Breaking2 would be expensive, requiring buy-in not just from Kipchoge but a bunch of higher-ups at Nike. But at this point, it's one of the few things that would meaningfully add to Kipchoge's legacy. He's already the GOAT, but by breaking 2:00 — even if wouldn't be IAAF-world-record-eligible — he could become the marathon's Roger Bannister, creating an achievement that transcends the sport.
If Breaking2: Part II is to happen, it needs to happen quickly. Kipchoge showed in Berlin that he's as fit as he's ever been, but the 34-year-old Kipchoge can't stay in world record shape indefinitely.
"He will not be the one asking every day, please can you do this or can you do that," Trouw says. "And at the moment, there are not any signs that Nike has anything like this in mind. But if they would have it in mind, then of course Eliud would at least consider it extremely seriously."
Kipchoge has few goals remaining, but he shares one with me: "I want to make the whole world a running world." Of all the things he could do with the rest of his career, breaking 2:00 would do the most to further that aim.
5) Retire
Eventually, this will happen. The consensus, in talking to Trouw and Sang, two of the people who know him best, is that the key indicator for Kipchoge is not his body, but his mind.
"Maybe it's different in sprints — I don't know so much about sprints — but I do believe in endurance sports, normally the decline is not so much because of the physical part, but more because of the mental part," Trouw says.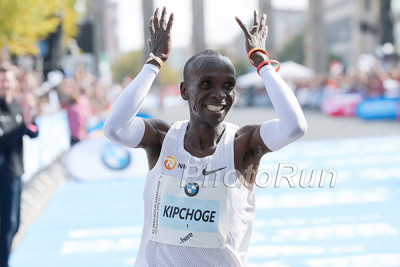 Physically, Kipchoge is as good as ever. 2:01:39 proved that. Mentally, he has shown no signs of decline. He still loves the single-minded joy of his training camp in Kaptagat, still loves the workouts, still loves showing up in a big city twice a year and showing the world the fruits of his labors. Kipchoge is motivated by a love of the sport and by inspiring people with his performances. And when you break the world record, you tend to inspire a lot of people.
"I love the sport more [now], because after I break the world record, I am happy to receive all the messages from all the whole world for the inspiration," Kipchoge says.
Sang views it a little differently: running made Kipchoge who he is, which means he owes a debt to the sport. All those people he'll be running in front of on Sunday, all of those people who reached out after Berlin to let him know how his world record made them feel? Those are the people who look up to Kipchoge, and those are the people he needs to pay back.
"And the only way to pay back is to continue performing at the best level," says Sang.
It's a virtuous cycle: Kipchoge produces incredible performance, inspiring hundreds of thousands of people. Those people let Kipchoge know they've been inspired (he has over 389,000 followers on Instagram), which in turn inspires Kipchoge to produce another incredible performance.
When will it end? Nobody seems to know, so enjoy it while it lasts. But whatever Kipchoge decides to do after London, one thing is certain: it will be worth watching.
***
Pre-race LetsRun.com interview with Eliud Kipchoge