Shelby Houlihan & Bowerman Track Club Dominate 2019 USATF Cross Country Championships
By LetsRun.com
February 2, 2019
Any doubts about Shelby Houlihan's ability to run cross country or the 10,000-meter distance were left in the same place as her competition at the 2019 USATF Cross Country Championships: crushed. Absolutely crushed.
Article continues below player.
Facing one of the most stacked fields of American distance runners ever assembled, from American 1500-meter record holder Shannon Rowbury to World Championships marathon bronze medalist Amy Cragg, Houlihan sprinted away from the field with ease with 690 meters to go, covering the 10k course at Apalachee Regional Park in Tallahassee in 32:46.8. Her margin of victory was 8.5 seconds over runner-up Molly Huddle, but in truth the performance was more impressive than that as the entire margin of victory came over the final 690. She covered her final kilometer, which included a not insignificant climb, in a blazing 3:02.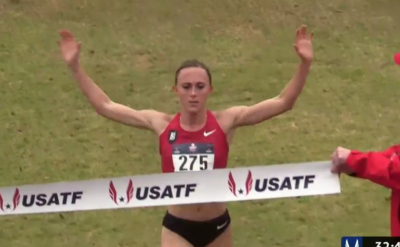 Once Houlihan made her move on the course's final uphill, the lead pack — at that point down to Houlihan, Huddle, Marielle Hall, and Aliphine Tuliamuk — had no response whatsoever. Houlihan, meanwhile, looked as if she had not even run the previous six miles, opening up her stride and powering down the home straight like a sprinter. Huddle, who has won 27 US titles, but none in cross country, had to settle for another near miss, taking second in 32:55.3; she has finished 2nd in her last four appearances at USA XC, dating back to 2010.
Houlihan would not commit to running next month's World Cross Country Championships in Denmark — she said she'd like to run, but that the ultimate decision resides with her coach, the man she called the "mastermind" of it all, Jerry Schumacher.
"He has given no green lights, no lights at all," Houlihan said on the USATF.TV broadcast. "So we really have no idea what's going to happen."
If Houlihan is to run at Worlds, she will have some company from the Bowerman Track Club. BTC took five of the top seven spots with Marielle Hall 3rd in 32:56.5, Amy Cragg 5th in 33:17.5, Courtney Frerichs 6th in 33:24.5, and Karissa Schweizer 7th in 33:28.2. With Huddle planning on declining her spot at Worlds, all five are in line to make the team to Aarhus. Assuming the BTC crew take their spots to Worlds, 2017 US champ Aliphine Tuliamuk (4th in 33:03.3) of HOKA NAZ Elite is in line to be the only non-Bowerman woman on the roster. Considering the credentials of that group — remember Tuliamuk was also 15th at World XC in 2017 — that is a group with serious medal potential at Worlds.
Quick Take: Houlihan is the real deal
Shelby Houlihan established herself as one of the best 1500m runners in the world last year with wins at Pre and Lausanne. She also broke the American record at 5,000m. With this race she showed she is an all-around distance runner. She's a class above everyone else in America at 1500m through 10k now and her added strength can only help her on the track. Houlihan's Twitter handle is @shelbo800 and she just crushed Molly Huddle over 10k cross country.
Houlihan was the guest on the LetsRun.com podcast this week. She talked about wanting to make America great at 5,000m again and you can listen or read about all of our comments here.
Results (Full results here)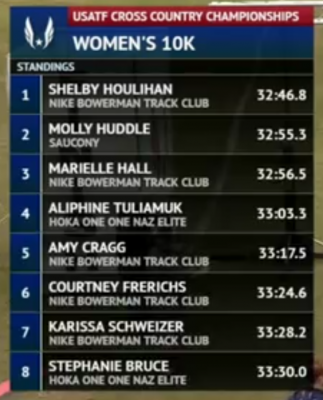 Screenshots showing how race went:
More: LetsRun.com Podcast with Shelby Houlihan Before US Cross