RRW: Feeling The Tug Of His Roots, Sam Parsons Poised To Represent Germany
By David Monti, @d9monti
(c) 2019 Race Results Weekly, all rights reserved
(31-Jan) — Last July Sam Parsons lined up for the top section of the 5000m at the KBC Nacht van de Atletiek in Heusden, Belgium.  He had finished eighth at the USATF Outdoor Track & Field Championships in the same discipline about a month before, and he was looking for a big performance.  He went hard from the gun, passed 3000m in around eight minutes flat, and was on pace for a sub-13:20 finish.
But soon his legs got heavy, he began to struggle, and knew he was in trouble.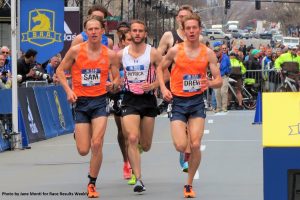 "I just blew up," Parsons told Race Results Weekly in a telephone interview last week, calling the race his "shitty 5-K in Belgium."
Article continues below player.
Parsons ended up 14th out of 15 competitors, clocking 13:47.96, his slowest 5000m of the year.  Parsons, 24, who trains with Tinman Elite in Boulder, Colo., under coach Tom Schwartz was crestfallen.  Looking for solace, he abruptly changed his summer plans.
"I canceled my European schedule and took a train to Germany," said Parsons, who has family in the town of Diez in the Rhein-Lahn district about five miles southwest of Limburg.  Upon arrival, he quickly felt a little boost, a sense of belonging.  "When I got there I was immediately was welcomed," he recalled.
That welcome was anything but random.  Parsons's mother, Christina, grew up in Germany and and he has dozens of family members there.  They set up a big dinner in his honor, and he really felt the love and embrace of his family.
"They cared about what I was doing, they cared about my future," said Parsons, who speaks German.  He continued: "We had a huge German dinner with the long table, and the whole neighborhood was there.  They considered me as one of their own."
Parsons was filled with warmth, and the sting of the bad race in Belgium began to subside.  But he didn't anticipate what would happen next at that dinner table.
"It was my uncle who looked at me and said, 'When are you going to race for Germany?  When are you going to race for us?'  I couldn't believe it.  Everyone at the table was looking at me and waiting for a response.  I didn't know what to say."
Right then, it hit him.  Parsons –who was born in Newark, Del., graduated from Tatnall High School in 2012, and ran for North Carolina State– would become a German citizen and switch his allegiance to Germany.
"I remember looking at my Mom one morning in Germany together and telling her that I want to run for Germany, and I want to run for you," Parsons wrote in a follow-up e-mail.  "She was overtaken by emotion. And it's a moment I will forever cherish for the rest of my life.  I had no idea that it would mean so much to her. As we sat together at the breakfast table she explained that watching me grow up and slowly become more and more 'Americanized' was hard on her. Despite speaking German with my Mom growing up, she always felt ashamed for not instilling enough German values and way of life into my sister, Molly, and me. For me to go and run for Germany meant everything to her. And because of that meant everything to me."
When he got home to the States, he completed the process of applying for a German passport. Getting that passport was assured because his mother, who had come to the United States as a young woman to further her education, was already a German citizen.  On September 6, of last year he obtained his German passport.  Suddenly, he felt different.
"I do every thing out of passion," Parsons explained, who described his mother as his "best friend."  "I do what my heart is telling me.  I never thought I would have the drive to run in a German singlet.  That all changed."
With guidance from European steeplechase champion Gesa Krause, and former Columbia University runner Natalie Tanner (who also has dual American/German citizenship), Parsons found a German club to join, LG Eintracht Frankfurt.  Parsons plans to represent that club next month at the Deutsche Hallen-Meisterschaften, the German Indoor Championships, in Leipzig with an eye towards qualifying for the European Indoor Championships in Glasgow in March at 3000m.  He would also like to run for Germany at the IAAF World Championships in Athletics in Doha in September in the 5000m.
Looking at his potential rivals for team berths, Parsons has a good chance of national squad selection.  Only one German, Richard Ringer, broke 13:30 for 5000m last year (13:22.48).  The #2 German was Floian Orth (13:34.03) followed by Amanal Petros (13:34.15).  So far this indoor season, the fastest German at 3000m is Aaron Bienenfeld at 8:14.21, who competes for the University of Cincinnati.  Parsons just ran 7:49.16 at the Doctor Sander Invitational in New York last Saturday.
Besides the leaders of his club, Parsons said he hasn't communicated with any of the German athletes he'll potentially be racing, and he has no idea what kind of reception he'll receive.  That doesn't bother him.
"I like to think I'm a fun-loving guy and I'm appreciative of my rivals and competitors," he said.  "I plan on going into Germany pissing people off by beating them.  I have no sense, I have zero sense of what they think of me."  He added: "They'll have to get used it."
Parsons emphasized that he will continue to train with Tinman Elite where his closest training mate is miler Drew Hunter.  His group knows about his plans and they look forward to continuing to train with him.
"They'are all supportive," Parsons said.  He added: "I know that they're with me through anything."