Shadrack Kipchirchir Gets First US XC Title as Scott Simmons-Coached Athletes Sweep Top 5 Places
By LetsRun.com
February 2, 2019
Shadrack Kipchirchir kicked away from training partner Emmanuel Bor to win his first USATF Cross Country title, as runners coached by Scott Simmons dominated the USATF XC Championships for the third straight year, sweeping the top 5 spots.
Article continues below player.
Garrett Heath, Scott Fauble, and Drew Hunter did their best to hang with the Simmons-coached athletes (with Heath lasting the longest), but by halfway the top 5 — Kipchirchir (Nike), Emmanuel Bor (US Army), Hillary Bor (US Army), Stanley Kebenei (Nike), and Leonard Korir (US Army) — were all training partners in Simmons' American Distance Project (ADP).
It was a four-way battle the final quarter after Kebenei dropped off first. The final 100m turned into a kick between Emmanuel Bor and Kipchirchir and Kipchirchir came out on top with Bor second, Korir 3rd, Hillary Bor 4th, and Kebenei 5th. Fauble was the first non-ADP athlete to finish in sixth, 28 seconds back of Kipchirchir.
Korir was the two-time defending champ, but was beaten by Hillary Bor last month at the Great Stirling XC race, and Kipchirchir has the best 10,000 PR. But in the end it was not Hillary Bor but his older brother Emmanuel contending for the win.
QT: Kipchirchir Gets First Major US Title
It was a nice win for Kipchirchir, who is most known for getting second at major US Championships. Kipchirchir has won a few US Championships on the roads, (10-mile twice and 5k) and is the third-fastest American ever at 10,000 (27:07), but he had been second at the last three US 10,000m championships on the track. Today he beat the best of the best.
QT #2: Nice Run for Emmanuel Bor
Hillary Bor is the better known of the Bor brothers. He is younger than Emmanuel and last month won the Great Stirling XC race in the UK. However, today it was Emmanuel stepping up and running best. Emmanuel joined ADP at the end of 2016 after only running 14:03 that year. In 2017, he ran 13:28, and last year 13:20. This race was another step in the right direction.
QT #3: Scott Simmons/ Kenyan-American Dominance of US Cross Continues
In 2017, Scott Simmons-coached athletes, all originally from the distance hotbed of Kenya, swept the top 4 places at US cross. In 2018, they took 3 of the top 5. Today they did one better than 2017, sweeping the top 5 spots. (Some of you don't like us pointing out they are all Kenyan-American, but the Kenyan-American athletes are raising the bar for the rest of the American runners and it's relevant that they all are originally from the same country).
Kipchirchir himself noted how the group makes everyone in it better, saying, "Those guys are really strong. In training everyone is really fit. I just gave it my all… I'm glad I took the win," he said.
Prior to World Cross in 2017, the American team talked a big game and even about challenging for the team gold, but ended up in fifth, just 6 points away from a medal. Can they up their game this year?
Top Results (Full results here)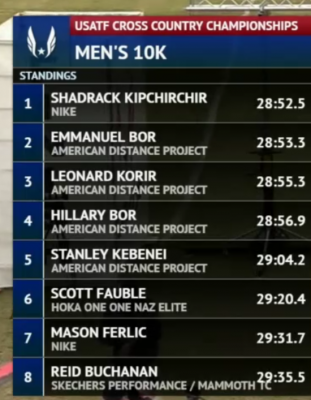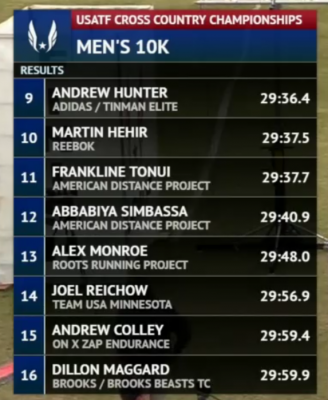 More: LRC Shelby Houlihan, Bowerman Women Put on Dominating Display at US Cross