Jakob Ingebrigtsen Takes Down WR Holder Samuel Tefera to Win Battle of Teenage Stars in Dusseldorf 1500
The double European champion Jakob Ingebrigtsen upset the newly minted WR holder Samuel Tefera, plus he took the scalp of his big brother, Filip Ingebrigtsen.
Join Our Supporters Club To Keep Reading
Sign up today to get a free 12-week training program and t-shirt.
By LetsRun.com
February 20, 2019
Today at least, 18 was greater than 19.
In a battle of teenage stars Samuel Tefera of Ethiopia and Jakob Ingebrigtsen of Norway at the PSD Bank Meeting in Dusseldorf, Germany, it was the 18-year-old Ingebrigtsen who defeated 19-year-old Tefera in the men's 1500, 3:36.02 to 3:36.34. Tefera got out hard and held the lead from the very start of the race until the final turn. But Ingebrigtsen, showing a composure beyond his years, coolly bided his time, steadily closing the gap on Tefera until breezing by him in the home straight to claim the victory. His time was a Norwegian indoor record and lowered his own world junior record of 3:36.21 set 10 days ago (Tefera does not qualify in the junior category as he turns 20 in October).
Article continues below player
While it would be accurate to describe the two teens Tefera and Ingebrigtsen as the future of the 1500 meters, it would be no less accurate to describe them as the event's present as well. Tefera is the reigning World Indoor champion and set the world indoor record of 3:31.04 just four days ago in Birmingham; Ingebrigtsen is the reigning European outdoor champion; his 3:31.18 outdoor season's best last year ranked fourth in the world.
Jakob's older brother Filip, the 2017 World Champs bronze medalist, finished third in 3:38.62.
Watch it for yourself.
Results
1 Jakob INGEBRIGTSEN NOR NOR 3:36.02
2 Samuel TEFERA ETH ETH 3:36.34
3 Filip INGEBRIGTSEN NOR NOR 3:38.62
4 Ismael DEBJANI BEL BEL 3:39.97
5 Sam PARSONS GER GER 3:41.97
6 Bethwell BIRGEN KEN KEN 3:43.36
7 Vincent KIBET KEN KEN 3:44.28
8 Jan FRIŠ CZE CZE 3:46.87
Adam CZERWINSKI POL POL DNF
Bram SOM NED NED DNF
Splits 56.14, 1:24.78, 1:54.44, 2:24.01, 2:53.45, 3:21.74.
The Race
Rabbit Bram Som took this one out hard, hitting 200 in 26.49, and Tefera was game to follow, settling in as the first racer behind the second rabbit, Adam Czerwinski. Jakob Ingebrigtsen was the fifth racer at 200, content to hug the rail in the early stages of the race.
By 600 meters, Tefera had a gap of about two meters to the second racer, Kenya's Vincent Kibet, and looked eager to extend that lead. But the pacemaker Som was slowing (lap 4 was 29.65, which is 3:42 pace), and by 800 (1:54.44), Tefera's lead over the chase pack of Kibet, the Ingebrigtsens, and Kenya's Bethwell Birgen had not grown at all.
Tefera followed behind Czerwinski, who dropped out at 1k (2:24.01), but just as Tefera was threatening to pull away, Jakob calmly moved past Kibet and his brother into second, preventing the Ethiopian from gaining any further ground. Now forced to lead the race, Tefera could not succeed in dropping the pace, splitting 29.44 from 1000 to 1200, and allowing Jakob to climb to within one meter at the bell.
With a lap to go, Tefera was bouncing along, arms driving forward and Ingebrigtsen was floating, his smooth, upright form showing no signs of fading. From the outside, both men looked to be in complete control, making it hard to tell who was truly dictating the race. This was going to be some finish.
With 100 meters to go, no man had given an inch and Tefera remained a meter in front. Finally Ingebrigtsen moved to close the gap on the final turn, edging himself into position to strike on Tefera's shoulder.
Coming off the final turn, the two men ran stride for stride for a couple of seconds before Ingebrigtsen pulled ahead 15 meters from the line, coasting through the finish line and thrusting a single digit — number one — into the air in celebration.
Quick Take: Jakob Ingebrigtsen raced like a savvy veteran
Two things struck us about Ingebrigtsen. The first was the smoothness of his form. Some guys, like Matthew Centrowitz, have a naturally smooth form that makes it difficult to tell if they're running 60-second pace or 50-second pace; the only way to properly judge their speed is to watch how many guys they're passing around them. Jakob Ingebrigtsen is one of those guys, and today was not the only example. Remember last year's European 1500 final? Ingebrigtsen's form changed so little in the home straight that it looked as if he could still run another 400 meters after crossing the finish line (maybe because he thought he did; it took him almost a minute to start celebrating after the race).
The second was how smart Ingebrigtsen ran. He was only fifth at the beginning of the race, but he always kept Tefera in his sights; when Tefera threatened to open up a gap at the 1k mark, Jakob quickly moved into second and made sure to stay within striking distance. On the last lap, Ingebrigtsen stayed patient over the first 100 meters before timing his move perfectly in the home straight. If Ingebrigtsen was at all intimidated by racing a guy who set the world record four days ago, he didn't show it.
Quick Take: Tefera was a little off his game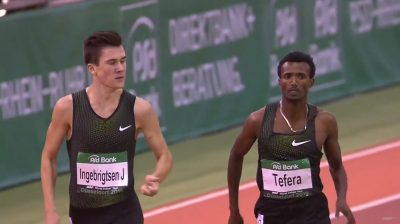 Not to take anything away from Ingebrigtsen, but the splits reveal that Tefera wasn't totally on top of his game today.
Early on, it was clear that Tefera was chomping to run fast but the rabbitting wasn't as strong as last week. But the fact is he didn't close very well.
Last week, in a MUCH faster race, we unofficially time Tefera in 1:24.1 for his last 600 (28.70, 28.10, 27.30) which included a 27.2-3 last 200. Contrast that today where we unofficially timed Jakob Ingebrigtsen in 1:25.9 (29.3, 28.6, 28.1) for his last 600 with a 28.1 final 200.
Maybe an even easier way to see how Tefera was off his game is this. Last week, while running 3:31, Tefera ran his last lap in 27 low. Today in a 3:36 race, he ran his last lap in 28 high.
Quick Take: Tefera's perfect indoor record is gone
This was Tefera's first-ever defeat indoors. He won all three of his races last year and was three-for-three this year until today.
Quick Take: Ingebrigtsen's post-race reaction lived up the moment
When Tefera set the WR last weekend, he didn't react or show any joy in the accomplishment. His lack of a reaction was disappointing and it killed the energy of the crowd (we talk about his lack of reaction in great length in our weekly podcast, which should be out on Thursday).
We're not saying every runner needs to act like Usain Bolt, but the reality is fans attend sporting events for entertainment and want to be entertained. Additionally, running is a difficult sport to follow as fan, so many fans need help by following the lead set by the athletes.
If a runner sets a WR but doesn't show any joy, most fans are going to hesitate getting too excited themselves. It's human nature. If you are at a movie and no one else is laughing out loud, you are unlikely to do so as well.
Thankfully, today Ingebrigtsen reacted with appropriate happiness after his win. He put his hand up after winning, then posed for a picture with his brother before slapping hands of eager fans as he did his victory lap.
---
Talk about this race on our world famous fan forum / messageboard. MB: Jakob Ingebrigsten takes down WR holder Samuel Tefera (and his big brother) in battle of teenage stars in Dusseldorf 1500