Where Are They Now? Catching Up With the Members of the 1998 University of Colorado XC Team 20 Years After "Running With The Buffaloes"
By Jonathan Gault
November 28, 2018
Few cross country seasons were more dramatic than the one endured by the University of Colorado men in 1998. Midway through the season, the Buffaloes had to deal with the tragic death of their #2 runner, Chris Severy, in a bicycle crash. Yet Colorado still managed to finish third at the NCAA championships, with fifth-year senior Adam Goucher defeating future stars such as Abdi Abdirahman and Bernard Lagat to win the individual title.
Author Chris Lear was with the Buffaloes for every step of that journey, and the book he wrote on their 1998 season, Running With The Buffaloes, became one of the most popular running books of all time, inspiring a generation of runners. One of them even went on to earn an Olympic silver medal.
"I loved the book," says Evan Jager, the American record holder in the steeplechase. "It was one of my favorite books at the time of reading it. I love the sport of running and anytime you can get a deeper look into people that you already know within the sport, it makes you feel a little bit more attached to those people and makes it a lot easier to become fans of those people. I read the book and instantly became a huge fan of a lot of the guys on the team, obviously Goucher being one of them. It was really cool for me when I ended up moving out to Portland and getting the chance to talk to Adam and meet him."
Jager doesn't remember exactly when he first read the book, but he remembers the way it made him feel.
"I was kind of just in awe of some of the things they were doing," Jager says. "I remember being really impressed with how hard they worked and some of the workouts they were doing…In the moment after reading it, it just made me want to work harder. I don't think I was doing as much [mileage] as they were at the time of reading it."
Article continues below player.
Jager is not alone; the book struck a chord with young runners across the United States (including yours truly). It wasn't hard to find other people who were passionate about baseball, or football, or basketball. But running? Good luck. Running With The Buffaloes was evidence that, yes, there were other guys who took the sport of running seriously. We were not alone.
"There's been this mythology throughout the years that oh, all distance runners are these big nerdy, uncoordinated dorks," Lear said in a Q&A with LetsRun earlier this week (read the whole Q&A here if you haven't already). "And that's just not the case…I think if there's one thing in an intangible way that really made me the happiest is that the book, on a very small level, to the right person, made running feel somewhat cool and not like you're this social outcast if you choose to pursue this."
Last Friday marked 20 years since the Buffaloes' run at the 1998 NCAA Cross Country Championships. To mark that anniversary, I tracked down the key members of the 1998 Colorado Buffaloes and asked them, in their own words, to share what they're doing now and what the book and that season means to them, 20 years on. Their responses are below.
Adam Goucher
1998 NCAA finish: 1st (1st man for Colorado)
Lives: Boulder, Colorado
Job: Owns Run The Edge, a company that sells fitness challenges that inspire people to run and lead an active lifestyle
I started running professionally right out of college and was successful. I made World Championship teams (1999, 2001), made the 2000 Olympics in the 5k. I struggled just like I did in college with injuries and stuff would slow me down. End of 2004, my wife Kara and I moved to Oregon, we were both Nike athletes at the time, and we were training out there with the Oregon Project. We were there for nine years and had more World Championship teams (2007), I set some PRs after I left [the state of] Colorado. That was kind of where my career ended, was in Oregon, when I was in Portland at the end of 2011, beginning of 2012.
| | |
| --- | --- |
| Overall | |
| Comfort | |
| Cushioning | |
| Durability | |
| Appearance | |
| Value | |
I had a knee injury toward the end of 2010, like a torn meniscus, so I had surgery and did that and then nearly a year later, it was almost exactly a year later, I had basically bone-on-bone and a hole in my cartilage. So there was really not much I could do with it at the time. And there was some experimental treatment but the recovery was pretty massive and Kara was prepping for the 2012 Olympic Marathon Trials and we had an 18-month-old child so it was not something I could have gotten into. That's kind of it for me. I had surgery at that point, they cleaned stuff up and I was kind of like, "All right, I'm done."
I can't run the way I would like to run [now] because of the knee. I can do about 20-25 miles a week right now and that's kind of where I'm at.
I was lucky enough to marry the love of my life, Kara, who most people know in the running world. We were married over nine years before we had our son Colt. When I look at some of the top accomplishments of my life, those are two of them right there. Having Kara and Colt, they're the most important things that I've ever had in my life. I'm blessed and I'm very lucky to have that.
I think we're really lucky because Kara and I, were able to travel the world together, compete overseas, compete all over the world. We got to experience a lot before we started a family and now we're parents and it's just awesome. Life's awesome.
I thought [the book] was a great idea. Chris, the previous year, him and I were out on a run out in Redwoods [State Park in California]. He was telling me about this idea he had to write a book and he was hoping he could get Mark to let him follow the team. I was like, that would be so awesome, to have someone there to document what our season was like. It was a lot of fun, having another friend there. He became very close with everyone on the team. It was pretty amazing, and to have that documentation, essentially, of my senior year in cross, it's so awesome to have that.
I look at it like, there was no social media. Communicating with people around country, around the world, that are competitors, that are people, that are fans, whatever, was much tougher then. I kind of look at it as that book was so well-written and it was such an amazing year. The stories within that book are just awesome. And I think what it did was, for myself especially, is it kept me relevant in a time where there wasn't social media, there wasn't really any way to push out the messages and people get to know you more via your social media and all that. To this day, I still have young high school kids come up and going, Wow, I read Running With The Buffaloes, I can't believe I'm meeting you. [Without] that book, I just don't think that would be the case. It's just amazing. It's really a lot of fun to be able to open up that book and just slip back into memories. Everything in there that I experienced with my teammates. It's pretty special for me and everyone else that was there.
(This section was lifted from a longer interview we conducted with Goucher last week. To read that interview in its entirety, which also touches on the Gouchers becoming whistleblowers against Alberto Salazar and the Nike Oregon Project and the stress that has caused them, come back on Thursday and click on the following link: LRC Q&A: Adam Goucher Talks Running With The Buffaloes, His Greatest Running Memories, & the Stress of Becoming a Whistleblower Against Alberto Salazar & NOP)
Mike Friedberg
1998 NCAA finish: 34th (2nd man for Colorado)
Lives: Boulder, Colorado
Job: Head of finance for beverage company Bhakti, Inc.
After graduating CU in 2000 I went with former [Colorado assistant] coach [Jason] Drake to Washington State University in 2001 as assistant cross country/distance coach. I was there three years, during which we produced two All-Americans in the distance events, which represent two of the four non-foreign All-Americans in the school's history, the third being Gerry Lindgren and the fourth a steeplechaser from the '80s whose name I forget.
After WSU, I coached at NAU from 2004 until 2005 under John Hayes, and we produced two national champions (Lopez Lomong and Johanna Nilsson). While in Flagstaff I also trained for a few months and in 2007 ran the B standard for the 2008 marathon trials, though unfortunately I ended up missing the trials with an inguinal hernia. While in Flagstaff I also met my future wife, Erika Edwards, who had been one of the top NAU women's distance runners in the early 2000s.
Erika and I left Flagstaff for Louisville, Kentucky, where we spent three years, during which I earned a masters degree from U of L, but did not do much training or racing.
We then relocated to Boulder where we currently live and have two daughters, ages two and four. I am now the head of finance for Bhakti, Inc, maker of Bhakti Chai which is one of the fastest-growing beverage brands in the country and is bottled in Boulder County in the heart of the natural foods industry.
In 2014 I trained with former Buff Zeke Tiernan to run the Leadville 100. While training went really well and I won one of my 50-mile test races, which was only the second time racing since qualifying for the marathon trials in 2007, unfortunately I got a nasty flu-like virus a couple of days before Leadville and wasn't able to finish. Since then, we had our two kids and spend most of our free time doing kid-stuff with them.
I feel really fortunate that many of the guys from my era at CU are still around Boulder, and get to see them pretty regularly. I am sure you are in touch with most of the Running With The Buffaloes characters but also around Boulder is Edwardo Torres, Clint Wells, Jason Robbie, and a few others.
Ron Roybal
1998 NCAA finish: 35th (3rd man for Colorado)
Lives: Boulder, Colorado
Job: Consultant and natural/organic ingredient broker
Being a part of the RWTB '98 team has meant the world to me. The experience of being a part of the CU team has given me lifelong friendships that I cherish and still get to experience daily. Running at that level has given me an ingrained source of inner strength and understanding of what I am made of as an individual. That also has come with a desire to recreate that level of achievement in other ways while wanting to see the same for others.
The year after the book was my senior year at CU. I managed to win the Big 12 CC conference title and Mountain Region title as an individual. I also qualified for the Olympic Trials in the 5k with a 13:42 time at Stanford. I had always had foot problems, even as early as middle school. In the winter of my senior year at CU, I sprained my foot, which ultimately ended my running career. In my pursuits of getting better, I turned to alternative and natural health. I found a natural product that helped with my foot pain and I ended up working for the company. I've stayed in the natural product industry ever since and now I own my own business as a consultant and natural/organic ingredient broker.
My dream has always been to bring my profession to the running world to benefit the running community, and especially young people. With the help of a childhood friend and support of my wife, I have partnered with an organic farmer in Lawrence, Kansas, to create plant-based nutritional products for runners. We want to use this platform to create scholarships and opportunities for young runners with financial challenges. Coincidentally, we are launching this December, which is 20 years after RWTB. Even more exciting is that the crops are grown on the same glacial soil where we competed at the national championships on Rim Rock Farm in '98. The fields are literally adjacent to Rim Rock Farm, where they are grown organically and are rainwater-fed only. You can learn more at www.runnerborn.com.
Finally, I currently live in Boulder, with my amazing wife Jenai and 11-year-old son Isaac.
Tom Reese
1998 NCAA finish: 60th (4th man for Colorado)
Lives: Boulder, Colorado
Job: Sales director for a tech company in Denver
Running Career Post-RWTB: 4th place NCAAs in steeple. 2x USATF qualifier. More knee surgeries (seven total between both knees) and one torn Achilles from basketball.
Interesting facts: Live directly next door to Ed Torres and am the godfather to his son. Also live in the same neighborhood, one block away from Alan Culpepper. As a group, we still hang out regularly in Boulder with Clint Wells, Adam/Kara Goucher, Jason Robbie, Mike Friedberg, Ron Roybal, Ed Torres, etc. Ed Torres, Clint Wells, and I are all close to getting our PGA Tour cards…..if we can each just drop a quick 15-20 strokes on our handicap  

The book: Means a lot to all of us. I still run into people multiple times a year who say "You're in the book!" We had a 20-year reunion to celebrate the life/death of Chris Severy in early October, and it was great to see so many people that we haven't seen in a long time (including the Severy family).
Fun side note: A bunch of us are on a group text that communicates daily. Typically it involves either talking shit about each other or topics that are way too inappropriate to mention publicly.
Adam Batliner
1998 NCAA finish: 63rd (5th man for Colorado)
Lives: Boston area
Job: Graphic designer
After graduating in 1999, I had decided I would make running my #1 priority for a few years to see where it led. My best performances were 7:58 3k indoors, 8:38 steeple and 13:49 5K, running for Saucony with a little shoe deal and travel money. The best I did was 5th [at] USAs [in the] indoor 3k, 11th in the steeple, and 13th in XC 4k (Man, I miss that race!).
At the same time, I was trying to start a career as an artist, oil painting. I managed to get myself in a few galleries and the two focuses of running and painting occupied my time until I decided to hang up the spikes in 2004. Over the next few years, I turned myself into a graphic designer and have been designing ever since. I do a lot of work with 3 Dots Design, a small retail design company in Boulder. Together we have worked with hundreds of clients in the running specialty and cycling specialty worlds. I'm happy to say that a couple years ago, Running Retailer Magazine ran an article about the top 10 best designs for retail running shoe walls and my projects took six out of the top 10.
In 2007, I moved east with my future wife. We now live in [the] Boston area with two little boys. I don't run much these days (injuries, blah, blah, blah), but I did manage a marathon in 2017. Marty Liquori once said, "I have 8 min legs but still have a 4 min mind," and that is true enough for me.
Lear's book has always been a source of nostalgia for me. It's literally a transcript of the good old days, and the farther away from that time in my life I get, the more I'm grateful that we had him tagging along on all those runs, to document everything, good and bad.
Jay Johnson
1998 NCAA finish: 139th (6th man for Colorado)
Lives: Arvada, Colorado
Job: Director of the Boulder Running Camps and Boulder Running Clinics. Also helps parents and high school athletes via DistanceRunningRecruiting.com and coachjayjohnson.com.
A few years ago I was at the US cross country championships in Boulder. I briefly spoke to [Nike Oregon Project assistant coach] Pete Julian, who I was roommates with during my senior year at CU (Brad Hudson and Shawn Found were the other two roommates). I asked Pete how he was doing and he said something to the effect [of], "I'm making a living [in] running, so life is good." I am fortunate to make a living a [in] running as well.
After I completed my eligibility in spring of 1999, I hiked the Colorado Trail with my then girlfriend, later wife and mother to my girls, Laura Sturges, former All-American at Georgetown. It was something I had always wanted to do, and obviously couldn't [do] during college. Our dog, Zola, was the leader. Adam Batliner joined us for 12 days and did about 140 miles — from Salida to Silverton — arguably the coolest part of the trail.
Fall of 1998 is simple — before Chris passed away, and after. Before that day, my focus was on getting fit for indoors and finishing my career on a positive note, grad school, teaching assistant responsibilities and spending time with Laura. After Chris passed, I simply wanted to make the varsity and run with those guys. I got lucky as I was barely fit enough to make the varsity. Laura and Chris Lear roomed together when he was writing the book. One night after a workout, Laura and I were making dinner and Lear comes in and starts reading from his notes. It was odd to hear him describe the workout through Mark [Wetmore] and JD's eyes, with Lear as the scribe.
The first time I read the book was for ego purposes. The second time I read the book I was reading it as a cookbook. I was a junior college coach at Pratt (KS) Community College and had deluded myself that I knew the recipe in the book because I had run in the system. Turns out that ATs weren't the right workouts for the athletes I coached at Pratt. And obviously I'm not Mark Wetmore. That said, if you drive 20 miles south of Pratt, Kansas, there is hilly, challenging road. We went there every Sunday.
This past July was the 16th year of the Boulder Running Camps. The first year of camp, there were three junior boys that were really good — Kiel Uhl and Jon Thomas from Iowa, and Chris Rombough from Minnesota. And there was a tiny sophomore who ran in their group, who had a handheld video game that he played all the time, named Ben Blankenship.
I think we had 53 campers that year, and my guess is 35 were boys. All but one or two of them had read the book. This summer we had a couple hundred campers over three sessions. I doubt 10 of them had read the book, and out of 37 staff, no more than a dozen have read the book. Campers in 2018 don't know Adam Goucher, but they know Jenny and Emma and Shelby, which to me means the sport is doing well when it comes to high school kids' knowledge and interest.
I had the chance to share two evenings with most of the guys on that team this October, in honor of Chris. It was really special. My favorite photo from the night is Jon Cooper and Jay Cleckler, the original "walk-on to All-American" blue-collar guys, Batliner, and Kenyon Neuman. I think of it as the three eras of CU I am blessed to have been a part of and to talk running with those guys was fantastic.
Oscar Ponce
1998 NCAA finish: 162nd (7th man for Colorado)
Of the seven guys that ran for Colorado at NCAAs in 1998, Ponce was the one man we were unable to contact. Ponce was the track coach at Abraham Lincoln High School in Denver when he was arrested in December 2011 for accusations of sexual assault on a child. Ponce skipped bond after his arrest and his current whereabouts are unknown, though it is rumored that he fled to Mexico.
Jason Robbie
1998 NCAA finish: Did not compete
Lives: Boulder, Colorado
Job: CEO of NuAge Experts, which offers custom salesforce development & integration services
I ran a few races post-Colorado, but never ran professionally. I have had different careers, moved and worked in NJ/NY, started a family, and then moved everyone back to Colorado. Since moving back I have been focused on family and growing a business I co-founded.
My wife is Cate Guiney, who ended up running at Boston College but went on a recruiting visit to Colorado in 1998 and is in the book. I didn't meet her until she came back to Colorado in 2002 and we got married in 2005.
The book meant a lot because it was 100% reflective of what we went through that season. Chris was living and breathing our lives that season and it really came through in the book. The book still gives me chills. It reminds me of what an awesome team we had and what amazing friends I am lucky to have. Even though we have all gone different ways since, we still have that common bond: running and teamwork. I was given the nickname "the Dude" by Tom Reese, that I'm still called today. I wear it like a badge of honor.
***
Jay Johnson also passed along some old photos of the late Chris Severy.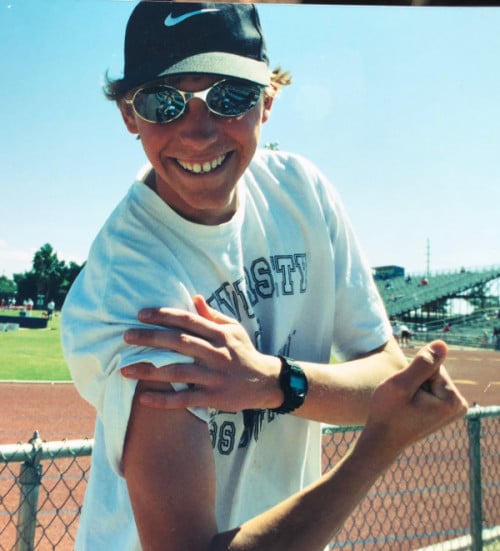 Talk about RWB on the messageboard: MB: Running with the Buffaloes 20 years later – We catch up with Adam Goucher, Chris Lear and the Buffs.
More: Previous: LRC Running With The Buffaloes At 20: Author Chris Lear Reflects On The Running Cult Classic In An In-Depth Interview
Coming Thursday: LRC Q&A: Adam Goucher Talks Running With The Buffaloes, His Greatest Running Memories, & the Stress of Becoming a Whistleblower Against Alberto Salazar & NOP)