Eliud Kipchoge's World Record by the Numbers, The Greatness of Gladys Cherono, Sifan Hassan's 1500m Days May be Over
by Robert Johnson
September 18, 2018
After a multi-week end-of-summer break, the Week That Was is back in time to provide some more thoughts on Eliud Kipchoge's amazing run in Berlin.
Past editions of the Week That Was can be found here. Questions, comments, or a tip? Please call us at 844-LETSRUN (538-7786), email us or post on our forum.
****
Eliud Kipchoge Follows The Script For Setting A Marathon World Record: Race in Berlin and Run A Negative Split
Eliud Kipchoge's 2:01:39 is a performance distance fans may be talking about for a long, long time. Unless Kipchoge himself betters the record, one would think his mark will stand for a long time as his 78-second destruction of the world record marked the biggest single drop in the men's marathon world record in 51 years. As time goes on, records are supposed to be harder and harder to break, but he destroyed the old mark.
After his 2:00:25 exhibition in the Breaking2 event last year in Monza, many pundits predicted Kipchoge was capable of going sub-2:02, but to actually see him do it, running without any pacers from 25k on, was a thing of beauty. Watching Kipchoge basically solo a 60:33 second half was the perfect antidote to the artificiality of the Breaking2 event.
Article continues below player.
Like most distance world records, Kipchoge's was achieved by running a negative split. Of the last 10 world records set in the marathon, seven of them were achieved with a negative split. And of the last 10 world records set in the marathon, eight have come in Berlin, including the last seven. So if you want to PR in the marathon, we have some simple advice for you: go for a negative split and run it in Berlin.
A Comparison of The First and 2nd Halves In The Last 10 Men's Marathon World Records
(All races were run in Berlin unless noted)
2:06:05 – Ronaldo Da Costa – 64:42/61:23 – 2ND HALF WAS 5.13% FASTER.
2:05:42 – Khalid Khannouchi – 63:05/62:37 – 2ND HALF WAS 0.74% FASTER. (Chicago)
2:05:38 – Khalid Khannouchi – 62:46/62:52 – 2ND HALF WAS 0.15% SLOWER. (London)
2:04:55 – Paul Tergat – 63:04/61:51 – 2ND HALF WAS 1.9% FASTER.
2:04:26 – Haile Gebrselassie – 62:29/61:57 – 2ND HALF WAS 0.85% FASTER.
2:03:59 – Haile Gebrselassie – 62:05/61:54 – 2ND HALF HALF WAS 0.30% FASTER.
2:03:38 – Patrick Makau – 61:44/62:04 – 2ND HALF WAS 0.54% SLOWER.
2:03:23 – Wilson Kipsang – 61:34/61:49 – 2ND HALF WAS 0.41% SLOWER.
2:02:57 – Dennis Kimetto – 61:45/61:12 – 2ND HALF WAS 0.89% FASTER.
2:01:39 – Eliud Kipchoge – 61:06/60:33 – 2ND HALF WAS 0.90% FASTER
****
The Inside Story on Eliud Kipchoge's Splits
Speaking of splits, I reached out to Sean Hartnett, aka "The Professor of the Marathon", and asked him if he once again recorded km by km splits in Berlin and if the race once again had a clock giving Kipchoge his projected time. Turns out Kipchoge was given much more info than that as he got 200m splits for the first 2k, his splits were recorded every 500 meters, and his projected time was also updated every 500 meters.
Here is how Hartnett responded via email.
In haste Robert – Have a class coming up – and it has been a busy past few days.
Yes Helmut (Winter) and I were in Berlin running pace display sytems. I was in the TV Van with Eliud, Helmut [was] with the lead women, we actually have other displays – some mounted on motorbikes for 2nd and 3rd pack.
For Eliud,  Helmut gave them 200m splits for first 2K, then my TV Van which was too big for the start area picked them up after 2K. From 2K-30 we also gave just projected pace at 500m – as you can see.  You can see the Displays on some of the video feed.
You can use the K data, I haven't fully cleaned up the 500m so it might still have rounding errors. I also cross checked the K data with Harold Mika. The only question is 40K – as the mat was 10-15m beyond the split line so my time is one second faster than Mika. Helmut thinks it may be maybe 2 or 3.  The picture with Eliud as Eliud said the professor was my watch and I quipped – good thing I was not strapped to his wrist.
Here are Hartnett's detailed splits for Kipchoge. They reveal that his slowest projected pace came at the 14km mark when the projected finishing time was 2:02:47. And except for during the first 5k, Kipchoge's projected time was never under the 2:01:39 he ran, showing what a beautiful negative split he ran.
****
Eliud Kipchoge By The Numbers

9 – marathons in a row that Eliud Kipchoge has won (his lone loss came in marathon #2, when Wilson Kipsang set the world record in Berlin in 2013). Of those 9 wins, 8 were achieved at a major and only one race was above 2:05:00 (the 2016 Olympics, which he won in 2:08:44).
3 – number of Americans that have ever run 60:33 for a half marathon on a record-eligible course (if the 2nd half of Berlin was a half marathon, it would be record-eligible), let alone run 60:33 after a 61:06 first half as a warmup. If you are talking about any course, six Americans have run faster than 60:33.
1 – number of other racers in Berlin that were within a mile of Eliud Kipchoge at the end of the race (assuming they ran evenly-paced over their final mile). If he ran even-paced, third placer Wilson Kipsang would have hit 25.21 miles at 2:01:58.
****
Eliud Kipchoge Really is the Usain Bolt of the Marathon
In our recap of Berlin, we wrote that comparing Kipchoge's 2:01:39 to another marathoner felt inadequate and thus we compared him to Usain Bolt. Here, we decided to go deeper than just a symbolic comparison with Bolt.
1.1% – amount that Eliud Kipchoge improved the marathon world record (1.07% to be precise).
1.2% – average of what Usain Bolt improved the 100 and 200m world records. Bolt improved by the 100 by 1.67% and the 200 by .68%, which averages out to be 1.2% (1.17%).
****
Talk About An Amazing Prediction – Here Are Two
After Eliud Kipchoge ran 2:00:25 in the Breaking2 event in Monza, Italy, last year, here is what sports scientist Ross Tucker estimated Kipchoge was capable of in Berlin on his blog, The Science of Sport:
"The end result is that comparing Monza to say, Berlin, is probably worth 1:20 to 1:30, and would suggest that Kipchoge's time is worth around 2:01:40. The rest would be made up of all the other tactics."
After Kipchoge ran 2:01:39 in Berin, Tucker has made a few interesting observations about Kipchoge's run on Twitter. If Kipchoge really is 1:18 better than any other marathoner in history, then one would think his record will stand for a long while. Tucker, however, points out that the New York Times had an article stating that Nike's Vaporfly 4% shoes may be worth roughly 1% in performance. Along those lines, there was a fascinating post made on the messageboard on Monday where a visitor provided a mathematical formula explaining how a 4% gain in efficiency would result in a .95% improvement in speed for a marathon, which equates to 1:10 for Kipchoge. If that's the case, then Kipchoge Sunday really wasn't leaps and bounds better than anyone else in history. He would be roughly the same as a previous world record holder on his very best day. He's just a hell of a lot more consistent, as shown by his nine straight marathon wins (10 if you count Breaking2).
MB: Was 2:01:39 really a big breakthrough? After Breaking2, Ross Tucker predicted a 2:01:40! 
The pursuit of the sub-2 marathon: Where to next? | The Science of Sport
###
Tucker wasn't the only one to come eerily close to perfect on a marathon-related prediction. Similarly, on the LetsRun.com messageboard, several threads have been predicting that Jordan Hasay would pull out of the 2018 BOA Chicago Marathon. Earlier this month, "I look like Dee Bob from the movie Rudy" started a thread entitled "When will Jordan Hasay announce that she is not running the Chicago Marathon?" and their post stated the following.
"So the next important question is when will the coaching god, Alberto Salazar, allow Jordan to tell the running world that she will not be competing in Chicago.
"My guess is three weeks prior to the race. What do you think?"
The poster was off by a day. On Monday — two weeks and six days before the race — Hasay officially pulled out of Chicago.
****
Fast Half Marathoning / Sifan Hassan's 1500 Career Comes To an End?
Eliud Kipchoge wasn't the only person last week that didn't need a lot of pacing help to run super fast and rack up a large margin of victory.
At the Rock 'n' Roll Philadelphia Half Marathon, Ethiopia's Shura Kitata soloed a 59:17, winning by a staggering 3:44 over Parker Stinson (63:01). In the process, the 22-year-old Kitata, who was the London Marathon runner-up this spring in 2:04:49, certainly showed he's got to be considered one of Geoffrey Kamworor's biggest threats when they toe the line in November at the 2018 TCS New York City Marathon.
Kitata's solo win was impressive, but most of the buzz at the 13.1 distance last week was about Copenhagen as there was talk that the men's and women's world records could fall. Neither did, but eight men broke 60:00, led by 21-year-old winner Daniel Kipchumba's 59:06. The Kenyan Kipchumba has now run two half marathons in his career and both have been 59:06 performances. That's some studly consistency. Also of note was the fact that 21-year-old Yomif Kejelcha, who ran 12:46 for 5,000 meters in Brussels on August 31, debuted with a studly 59:17. As a result, we'll be stunned if he doesn't make his 10,000 track debut in 2019.
In the women's race in Copenhagen, eight women broke 68:00, led by the Nike Oregon Project's Sifan Hassan, who surprised with a 65:15 European record win.
With that win, Hassan's 1500 career may have come to an end. Before the race, coach Alberto Salazar was already saying he thought Hassan should be a 5,000 and 10,000 runner and now we know why. Hassan is starting to remind us of a female version of Mo Farah. Like Farah, she is really fast at 1500 but often loses 1500 races as she's not a pure 1500 runner. Farah, who is tied for the 11th-fastest in history at 1500, proved to be virtually unbeatable at 5,000 and 10,000 on the track as his endurance was always great enough to keep him in it until the kick, which he nearly always won. The same could be true for Hassan.
Short of Almaz Ayana running a world record like she did in Rio, how is anyone in the world going to beat Hassan in the 10,000? She, like Farah, has amazing 1500 speed. She's the 17th-fastest woman in history over 1500, but with eight of the women ahead of her hailing from China, another from Romania, and another from Russia, it's safe to say Hassan is relatively a better 1500 runner than Farah was on the men's side.
Discounting dopers, Hassan certainly has to be one of the 10 fastest 1500 runners ever and now she's the 8th-fastest women ever at 13.1. That will make her really hard to beat at 10,000. Still, we're not saying Hassan can't be beaten. Hellen Obiri, who has great 1500 speed herself at 3:57.05, beat her in the 5000 in the DL final this year and the World Championship final last year where Hassan earned the bronze.
More: LRC What Range: Sifan Hassan Runs 1:05:15 European Record At Copenhagen Half, Kejelcha's Debut A Success With 59:17
****
The Underappreciated Greatness of Gladys Cherono
With Kipchoge getting the world record, you may not have noticed that there was a fantastic women's race in Berlin. For the first time in history, three women broke 2:19 in the same race. The winner was 35-year-old Gladys Cherono of Kenya, who got her third win in the German capital in 2:18:11 to become the fourth-fastest woman in history, breaking the 13-year-old course record by a minute in the process. 24-year-old Ethiopian Ruti Aga was second in 2:18:34, meaning she's been second in her last three marathons, all majors (2017 Berlin in 2:20:41, 2018 Tokyo in 2:21:19) with Tirunesh Dibaba third in 2:18:55.
The 35-year-old Cherono didn't run a marathon at all until 2015 but the 2014 world half marathon champ has quickly found her calling. With little fanfare, she is now one of just two women in world history to have broken 2:20:30 four times in their career, joining Paula Radcliffe with that honor. It may be hard to believe, but Mary Keitany has only broken 2:20:30 three times. The only other women with three career sub-2:20:30s are Catherine Ndereba and Tirunesh Dibaba.
Most Sub-2:20:30 Races Ever
4 – Paula Radcliffe (2:15:25, 2:17:18, 2:17:42, 2:18:56)
4 – Gladys Cherono (2:18:11, 2:19:25, 2:20:03, 2:20:23)
3 – Mary Keitany (2:17:01, 2:18:37, 2:19:19)
3 – Tirunesh Dibaba (2:17:56, 2:18:31, 2:18:55)
3 – Catherine Ndereba (2:18:47, 2:19:26, 2:19:55)
****
Go Figure
Last week, the Blackmores Sydney Marathon served as the Australian marathon champs. It doesn't look like too many Aussies cared about the title as the top Australian male, John Csongei, ran just 2:30:39 for 9th place overall while the top Australian woman, Kerri Hodge ran just 2:49:08 for 8th.
****
All Hail Uganda
The Ugandan men put up a perfect 1-2-3 performance at the WMRA World Mountain Running Champs last week. They also perfect-scored the junior men's race.
Uganda's Robert Chemonges And Kenya's Lucy Murigi Win World Mountain Running Championships In Andorra
****
Recommended Reads/Watches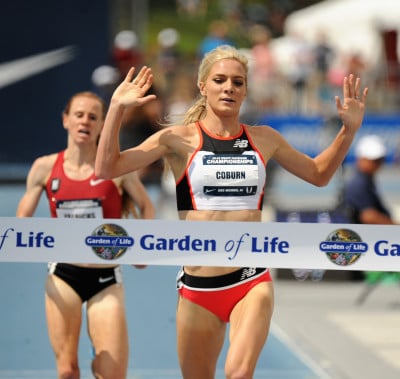 Pro Runners' Salaries: How Much Do Pro Runners Make? We Unveil One Of The Sport's Biggest Secrets
Emma Coburn Expresses Doubt That Beatrice Chepkoech's World Record Is Clean
Recommended Watch: Recent Video Interview With Zane Robertson Some footage and discussion about Robertson's training in Ethiopia as well as his and his brother Jake's initial move to Kenya when they were just teenagers.
To see our favorite reads from other weeks, go here.
****
Quotes Of The Day And Last Week's Home Pages
To see the actual quotes of the day from last week or last week's home page or any home page, go to our archive page.
Got a tip, question or comment? Please call us at 844-LETSRUN (538-7786), email us or post in our forum.