What a Meet: Monaco Diamond League Recap: Steeple World Record, Sub 8 for El Bakkali , Miller-Uibo Sub 49 400, Amos is Back
by LetsRun.com
July 20, 2018
Friday's Herculis Monaco Diamond League meet was simply unbelievable. The highlight was Beatrice Chepkoech's remarkable 8:44.32 world record in the women's steeplechase, but there were incredible performances across the board starting with the first Diamond League track event of the night where Shaunae Miller-Uibo ran 48.97 to get the first sub 49 400m in the world since 2009. Nijel Amos then ran 1:42.14 for 800 in a race that finally saw Ralph Doubell's nearly 50 year old Australian record in the 800 fall. The assault on the 2018 leaderboard was on.
In all there were world leaders in the women's steeple, women's 400, men's 200 (Noah Lyles 19.65), men's 800 (Nijel Amos 1:42.14), men's 1500 (Timothy Cheruiyot 3:28.41), and men's steeple (Soufiane El Bakkali 7:58.15) in what was the meet of the year so far on the Diamond League circuit.
The world record in the steeple gets its own recap here: Beatrice Chepkoech DESTROYS the steeplechase world record, Courtney Frerichs sets American record in Monaco women's steeplechase
We recap the rest of the meet below, starting with the women's 400 before going to the distance events.
Article continues below player.
Women's 400: Miller-Uibo joins sub-49 club, wins terrific duel with Naser
The battle between the two undefeated female sprinters of 2018 lived up to they hype and when it was all over, Olympic 400 champ Shaunae Miller-Uibo had become the 10th woman to break 49.00 as she won in 48.97. Bahrain's Salwa Eid Naser was close to the 49.00 barrier herself as she ran 49.08 to set an Asian record. US champ Shakima Wimbley, who came into the meet tied with Miller-Uibo for the world lead at 49.52, was third in 50.85.
Running blind in terms of her major rivals in lane 6, Miller-Uibo got out very fast for the first 150. The second 150 belonged to Naser, who was within striking distance of Miller-Uibo entering the final 100, but Miller-Uibo kept her narrow lead all the way home.
    1 Miller-Uibo , Shaunae            BAH      48.97          8
    2 Naser , Salwa Eid                BRN      49.08          7
    3 Wimbley , Shakima                USA      50.85          6
    4 Francis , Phyllis                USA      51.05          5
    5 Horvat , Anita                   SLO      51.22          4
    6 Grenot , Libania                 ITA      51.56          3
    7 Beard , Jessica                  USA      51.58          2
    8 Guei , Floria                    FRA      51.66          1
Quick Take: Miller Uibo is now the 5th woman to have broken 22 for 200 and 49 for 400.
Her 48.97 was the first sub-49 since September 4, 2009, when Sanya Richards-Ross did it in Brussels.
With that 48.97, @Hey_ItsShaunae becomes just the fifth woman in history with sub-22/49 200m & 400m PBs.

— Jon Mulkeen (@Statman_Jon) July 20, 2018
Men's 800: Nijel Amos blasts the world's fastest time in 6 years as 3 national records fall
When the rabbit goes out in 48.97 for the first lap of an 800 — as American Harun Abda did today — and the field goes with him there are two scenarios on the table. Scenario A: the best athletes hold on and produce some unbelievable times. Scenario B: everyone blows up and the result is a very ugly second lap.
Tonight in Monaco, we got Scenario A.
Nijel Amos, the 2012 Olympic silver medalist and third-fastest man in history, was on Abda's tail from the beginning and never faltered, powering away to win in 1:42.14 — the fastest time by anyone since that epic Olympic final in London six years ago.
While Amos was the unquestioned class of the field — he won by over a second — there were a slew of crazy times behind him. Canada's Brandon McBride used a strong final 100 to run 1:43.20 and break Gary Reed's national record, which was set at this meet 10 years ago. In third, Spain's Saul Ordonez (1:43.65), the World Indoor bronze medalist, broke Kevin Lopez's national record of 1:43.74, which was also set on this track in 2012.
But the oldest records of all fell to the man in seventh place, 20-year-old Joseph Deng of Australia. Deng, who was born in a Sudanese refugee camp in Kenya and moved to Australia at age 6, ran 1:44.21 to erase Ralph Doubell's 1:44.40 Australian record — a mark that had stood for almost 50 years since Doubell set it in the 1968 Olympic final in Mexico City (Alex Rowe tied it in 2014 in — where else? — Monaco).
And that wasn't even the oldest record Deng broke. 1:44.21 was also good enough to take down the 1:44.3h Oceania record of legendary Kiwi Peter Snell, which had stood since 1962.
One of the only men not to run fast on Friday was the lone American in the field, Drew Windle, who wound up last in 1:50.44.
The Race
Abda was slated to take the field through 400 here in 49.6 — a split that few athletes outside of David Rudisha would consider following. But Amos, who ran 1:41 as an 18-year-old, was game to try, and even when Abda came through faster — 48.97 — Amos was not deterred in the least as he was right behind in 49.2, a stride up on Kenyan Jonathan Kitilit and McBride, with the rest of the field strung out behind him. Amos continued to press down the back straight, hitting 600 in 1:15.43, and at that point he was beginning to separate from Kitilit who was three meters behind him.
By the final 100, Amos was pulling away and he stormed to a massive victory as McBride blew by Kitlit to finish second. Ordonez, 7th at 600 meters, closed in 27-flat for his final 200 to wind up third in 1:43.65.
    1 Amos , Nijel                     BOT    1:42.14           
    2 McBride , Brandon                CAN    1:43.20           
    3 Ordóñez , Saúl                   ESP    1:43.65           
    4 Tuwei , Cornelius                KEN    1:43.82           
    5 Kitilit , Jonathan               KEN    1:43.91           
    6 Bosse , Pierre-Ambroise          FRA    1:44.20           
    7 Deng , Joseph                    AUS    1:44.21           
    8 Lewandowski , Marcin             POL    1:44.32           
    9 Bol , Peter                      AUS    1:46.64           
   10 Kipketer , Alfred                KEN    1:48.68           
   11 Windle , Drew                    USA    1:50.44           
      Abda , Harun                     USA        DNF
Quick Take: What a run from Nijel Amos
2018 started roughly for Amos, as he made the Commonwealth final in April, but bombed and finished last as it later emerged he had been hampered by an injury. He had run okay in his first two races this summer — second at Pre in 1:45.51 behind Emmanuel Korir and second again in a meet in Hungary on July 2 in 1:44.18.
Amos showed definitively that he is back to his best form tonight as this was his fastest time since 2012. The problem is, just as in 2012, he may still not be the best 800 runner in the world. Korir was not in Monaco tonight, and based on how he's been running this year, it's very possible he's in 1:42 shape (or faster) at the moment.
While we would have loved to see what Korir could have done in the 800 tonight, he is running the 800 in London on Sunday — and Amos is entered as well (so is US champ Clayton Murphy). As for why Korir is running in London and not Monaco, London is a DL points event in the men's 800 and Monaco is not.
Quick Take: RIP Ralph Doubell's Australian record, 1968-2018
While the 1968 Mexico City Olympics produced a ton of incredible marks — the world record went down in the men's 100, 200, 400, and 800; Bob Beamon's 8.90-meter world record in the long jump stood for 23 years — we doubt that many would have expected Ralph Doubell's 1:44.40 winning time in the men's 800 to still be standing as the Australian record almost 50 years later.
Just as in 1968, 1:44.40 remains a world-class time, which explains why Doubell, now 73 years old, had such a long run as the record holder. But with the record under assault from both Deng and his training partner, Peter Bol (1:44.56 pb), it seemed inevitable that it would eventually fall. It did tonight, thanks to a stellar run from Deng, and at just 20 years old, Deng could well lower it further in the ensuing years. But for any record in athletics to last almost 50 years is impressive. Hats off to the great Ralph Doubell.
Women's 800: Caster Semenya solos another 1:54
Just as in Paris three weeks ago, Caster Semenya elected to try for a fast time without rabbits. And just as in Paris three weeks ago, Caster Semenya ran 1:54 tonight in Monaco. But unlike in Paris, where Semenya was happy to have run 1:54.25, a PR of almost a second, she will walk away slightly frustrated by tonight's result of 1:54.60 as it was slightly short of the sub-1:54 she had in mind coming in.
Make no mistake, 1:54.60 is still a wonderful performance — aside from Semenya, no one else has broken 1:55 for 10 years — but Semenya is so much better than the rest of the world in the 800 that she is at the point where she can only measure herself against the clock.
"It was just fantastic, only the last 100m little off for me," Semenya told meet organizers. "It was long month of racing for me now I need to rest. I feel that on my body. I like to run on my own without a pacemaker since first meters. I want to keep my running, today wanted to break 1:54 but maybe next time."
Semenya went out even harder tonight than she did in Paris. By 200 (an incredible 26.5), she had five meters on Francine Niyonsaba in second, and Semenya hit 400 in 55.76 (as opposed to 56.12 in Paris). At that point, she was clear of the field, and would only extend her lead around the first turn, but the fast early running caught up to her as the chasers — surprisingly led by Jamaica's Natoya Goule — began to close the gap on the back straight. Semenya's split from 400 to 600 (29.65) was .40 slower than in Paris, and the result was that she hit 600 in a near-identical split (1:25.37 in Paris, 1:25.41 in Monaco).
Though Semenya was never in danger of getting caught, she could not will her legs to go any faster and streaked away to win in 1:54.60 — lowering her own meet record set last year. Niyonsaba, who found herself in third with 100 to go behind Goule, once again found the strength to dig hard in the home straight and finished second in 1:55.96 as Goule had to settle for third in a humongous PR of 1:56.15 (previous best 1:57.69).
Once again, Semenya proved better than any paid rabbit could as there were a string of fast times behind her. American Ajee Wilson was fourth in 1:56.45 — her second-fastest time ever — Habitam Alemu set an Ethiopian record of 1:56.71 in fifth, Morocco's Rababe Arafi set a PR of 1:57.47 in sixth, and Raevyn Rogers clocked 1:57.69 for seventh (#9 on the all-time U.S. list).
    1 Semenya , Caster                 RSA    1:54.60          8
    2 Niyonsaba , Francine             BDI    1:55.96          7
    3 Goule , Natoya                   JAM    1:56.15          6
    4 Wilson , Ajee                    USA    1:56.45          5
    5 Alemu , Habitam                  ETH    1:56.71          4
    6 Arafi , Rababe                   MAR    1:57.47          3
    7 Rogers , Raevyn                  USA    1:57.69          2
    8 Lipsey , Charlene                USA    1:58.42          1
    9 Lamote , Renelle                 FRA    1:58.83           
   10 Tuei , Emily Cherotich           KEN    1:59.45           
   11 Wambui , Margaret Nyairera       KEN    1:59.70           
   12 Büchel , Selina                  SUI    2:00.75
Quick Take: Has Semenya reached her limit?
For years, observers have questioned whether we've seen what Caster Semenya is truly capable of. Semenya is able to bring the best out of everyone else in the field — just look at how much the women who race her have PR'd in recent years — but because Semenya is winning the race, the question has remained: how fast could she go if she had her own Semenya pushing her to her limit at the front of the race?
In Paris and now Monaco, we saw Semenya eschew the rabbits, go out hard and try to run as fast as possible, with 1:54 as the result both times. If Semenya had perfect pacing and someone to chase, she might be able to get under 1:54 (she probably went out a little too hard today), but the world record (1:53.28) is going to be a challenge as she's still got almost a second to go.
Semenya and David Rudisha in their primes have shown how much great 800 runners can benefit from having someone to chase. Unfortunately for Semenya, the only way she's going to have someone to chase is if she's racing men — and any world record she sets in a mixed-gender race would not count.
Quick Take: This was one of the deepest races in history
Five women broke 1:57 tonight, only the fifth time that has happened in history, and the first time since 2004. But considering the number of questionable Eastern European women in the other four races, this may well have been the first time in history where five clean women broke 1:57 (assuming, of course, that the top five tonight are clean).
This race also saw seven women under 1:58, which is just the fourth time that's happened, and the first since 1999.
Quick Take: Natoya Goule has had an incredible year
Goule, a three-time NCAA champion for LSU and Clemson, began 2018 with a 1:59.38 pb from 2016. After running 1:59.86 indoors in January, she's been on a rampage ever since, lowering her pb to 1:58.82 to take bronze at the Commonwealth Games, then getting down to 1:57.69 in Paris and now 1:56.15 in Monaco.
We'd have to do some research on this, but we can't imagine many women who were already sub-2:00 800 runners have PR'd by over a second twice in the same year. But that is what the 27-year-old Goule has done in a phenomenal 2018 season.
Many assumed that if the new hyperandrogenism policy is allowed to take effect and this is truly the final year of Semenya and Niyonsaba dominating the women's 800, Ajee Wilson would be the woman to beat in 2019. Goule's result today says "not so fast."
Men's 1500: Timothy Cheruiyot Gets His 5th Straight World-Leading Diamond League Win
Timothy Cheruiyot continued his dominance of the 2018 Diamond League season as he dipped under 3:29 for the first time, running a world-leading 3:28.41 for the win in Monaco to make it five Diamond League victories in 2018 to go along with a world-leading time in each of them.
This was the sixth time in the last seven years a world leader was run in the 1500 in Monaco and the times were fast behind Cheruiyot as everyone in the field except for two runners set a personal best or a season's best. Cheruiyot's main rival, world champion Elijah Manangoi, was second in 3:29.64, World Championship bronze medallist Filip Ingebrigtsen was third, just missing going sub-3:30 in a national record of 3:30.01, as his 17-year-old brother Jakob was 4th in 3:31.18. Olympic champion Matthew Centrowitz had his best run of the year in 7th in 3:31.77 (previous season's best 3:35.17) and former NCAA star Chris O'Hare PR'd by over a second in 3:32.11 but it only got him 9th place. Jakub Holusa only finished 10th, but he can't be too upset as he set a Czech national record of 3:32.49.
The rabbiting was good in this one, 55.31 at 400, 1:51.71 at 800, and the field showed it was willing to go with the rabbits. When Jackson Kivuva stepped off the track at 1100m, Cheruiyot led with Manangoi right in his slipstream with a small gap back to Aman Wote and Filip Ingebrigtsen. Cheruiyot powered around the track and with 100m to go, Manangoi and Filip Ingebrigtsen were single-file behind Cheruiyot as the top 3 were clear everyone else. Cheruiyot, as he has done all year, powered away the final 100m, and Manangoi was a clear second and Ingebrigtsen a clear third.
Behind the top three there was a gap to everyone else and 17-year-old Jakob Ingebrigtsen, who was only 8th with 100 to go, had the best close of all of them to nab 4th, just ahead of Ayanleh Souleiman at the line.
    1 Cheruiyot , Timothy              KEN    3:28.41          8
    2 Manangoi , Elijah Motonei        KEN    3:29.64          7
    3 Ingebrigtsen , Filip             NOR    3:30.01          6
    4 Ingebrigtsen , Jakob             NOR    3:31.18          5
    5 Souleiman , Ayanleh              DJI    3:31.19          4
    6 Kaazouzi , Brahim                MAR    3:31.62          3
    7 Centrowitz , Matthew             USA    3:31.77          2
    8 Wote , Aman                      ETH    3:31.90          1
    9 O'Hare , Chris                   GBR    3:32.11           
   10 Holuša , Jakub                   CZE    3:32.49           
   11 Simotwo , Charles Cheboi         KEN    3:32.77           
   12 Wightman , Jake                  GBR    3:33.96           
   13 Rotich , Ferguson Cheruiyot      KEN    3:35.26           
   14 Iguider , Abdelaati              MAR    3:38.08           
      Kivuva , Jackson Mumbwa          KEN        DNF           
      Som , Bram                       NED        DNF
QT: It doesn't get much better than a PB and fifth world-leading DL win for Cheruiyot
Each time Cheruiyot has raced outdoors this year, he has run better than he did in the previous race and better than anyone else in the world up to that point. It's hard to get any better than that, and now if Cheruiyot wants to improve, he'll have to keep PRing as he broke his previous 3:29.10 PR.
QT: A 17-year-old Norwegian just ran 3:31.18 and now is 3-0 vs Matthew Centrowitz in his life
There is no doubting Ingebrigtsen's age or talent. Simple an amazing run today.
And his brother Filip acknowledged it saying, "What a race, and what a small fraction missing to sub-3:30. I'm very satisfied, also because of Jakob running so well. I must return and break that European record of Mo Farah. Great boost before Berlin."
QT: Matthew Centrowitz runs fast and gets his best finish in Monaco ever- 7th
Since becoming Olympic champion, Centrowitz had not run faster than 3:33. Tonight he did much better, as this was the third fastest time of his life. Don't feel too bad about Centro only finishing 7th in today's race as the two times he ran faster in his life were also in Monaco — 3:30.40 in 2015 and 3:31.09 in 2014. In those races he finished in 10th and 9th respectively. Today was his highest finish at Monaco.
Men's Steeple: Soufiane El Bakkali of Morocco became the 12th member of the sub 8 club.  
Olympic and world champion Conseslus Kipruto still hasn't gone sub-8:00 in the steeple and neither has American Evan Jager, but Moroccan Soufiane El Bakkali has, as he ran 7:58.15, pulling away from Jager on the final lap to become the 12th member of the sub-8:00 club.
Jager settled for second and an 8:01.02 clocking as Kipruto was a distant third in 8:09.78.
Jager's former Bowerman Track Club teammate Andy Bayer rabbited this race and put the the field on sub-8 pace, hitting the kilometer in 2:37.26. Things slowed the next kilo to 5:20.34 but sub-8 was still a possibility. With 2 laps to go Jager led El Bakkali and they began to separate from Kipruto. At the bell, El Bakkali seized the lead and he'd pull away from Jager the final lap for the sub-8:00 clocking.
    1 Elbakkali , Soufiane             MAR    7:58.15          8
    2 Jager , Evan                     USA    8:01.02          7
    3 Kipruto , Conseslus              KEN    8:09.78          6
    4 Kigen , Benjamin                 KEN    8:09.98          5
    5 Bor , Hillary                    USA    8:14.21          4
    6 Kibiwott , Abraham               KEN    8:17.40          3
    7 Njiru , Kennedy                  KEN    8:18.04          2
    8 Ezzaydouny , Ibrahim             MAR    8:20.22          1
    9 Wale , Getnet                    ETH    8:22.68           
   10 Ben Zahra , Abdelkarim           MAR    8:23.41           
   11 Hughes , Matthew                 CAN    8:24.85           
   12 Kiprono , Emmanuel               KEN    8:28.39           
   13 Solomon , Napoleon               SWE    8:32.63           
   14 Kebenei , Stanley Kipkoech       USA    8:37.42           
      Bayer , Andrew                   USA        DNF           
      Bett , Nicholas Kiptonui         KEN        DNF
QT: Will Jager Ever Break 8? Should He Have Done a Race Before This One?
It's easy to second guess, but considering El Bakkali faded and ran 8:09 for 3rd in Rabat last week, the question is should Jager have run in Rabat as well or put all his eggs in the Monaco basket?
Ever since Jager ran 8:00.45 while falling in Paris in 2015, many assumed sub-8:00 was just around the corner, but it still hasn't happened. Jager hadn't raced in over a month and maybe like El Bakkali in Rabat, he wasn't quite ready.
That said, 8:01.02 is still the second-fastest time ever by an American. There's a reason no non-African-born runner has ever broken 8:00 — it's hard.
Men's 1000: Solomon Lekuta wins battle of world U20 champions
Though this race did not fall during the TV window, the fans in Monaco got a great appetizer for a big night of athletics as the men's 1000 featured a duel between the world U20 800m champ, Solomon Lekuta, and his Kenyan countryman, the world U20 1500m champ, George Manangoi.
In the end, it was Lekuta who held on for victory in 2:17.42 as Manangoi took second in 2:18.07.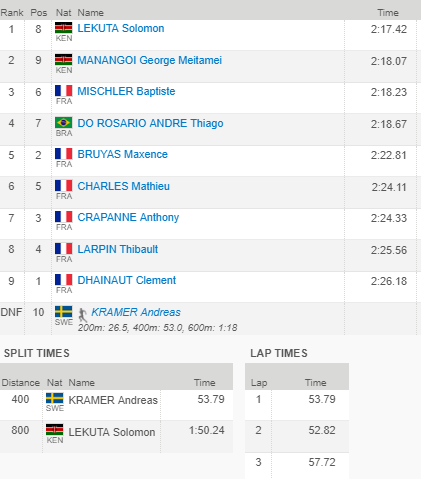 Women's 100: Marie-Josee Ta Lou keeps rolling
With reigning world champ Tori Bowie of the U.S. largely absent in 2018, the Ivory Coast's Marie-Josee Ta Lou has been untouchable over 100 meters and she improved her record to a perfect 7-for-7 over that distance this year with another sub-10.90 victory (her third of the year) in 10.89. She was the only woman under 10 seconds today as her compatriot Murielle Ahoure clocked 11.01 for second place.
    1 Ta Lou , Marie-Josée             CIV      10.89          8
    2 Ahouré , Murielle                CIV      11.01          7
    3 Thompson , Elaine                JAM      11.02          6
    4 Prandini , Jenna                 USA      11.09          5
    5 Schippers , Dafne                NED      11.12          4
    6 Kambundji , Mujinga              SUI      11.15          3
    7 Horn , Carina                    RSA      11.21          2
    8 Okagbare-Ighoteguonor , Blessing NGR      11.32          1
Men's 110 Hurdles: Sergey Shubenkov remains best in world
    1 Shubenkov , Sergey               ANA      13.07          8
    2 Ortega , Orlando                 ESP      13.18          7
    3 Martinot-Lagarde , Pascal        FRA      13.20          6
    4 Parchment , Hansle               JAM      13.21          5
    5 Allen , Devon                    USA      13.38          4
    6 Baji , Balázs                    HUN      13.38          3
    7 Merritt , Aries                  USA      13.49          2
    8 Mayer , Kevin                    FRA      13.82          1
Men's 200: Noah Lyles remains undefeated in the Diamond League        
Noah Lyles ran the best turn of his life and was rewarded with a 19.65 pb (previous pb of 19.69) and win in the men's 200. In a field that featured six men who have broken 20.00 this year, Lyles dominated as 2017 world champ Ramil Guliyev was the only other man under 20.00 (19.99).
According to Olympic Channel announcer Ato Boldon, Lyles, who isn't known for being a great turn runner, wanted to work on his turn so he opted to start in lane 6 instead of his customary lane 7 so that he would have Guilyev on his outside to focus on. Lyles did run a good turn as he had the lead when he hit the homestretch but he came up well short of the 19.4 time that he said he thought he was capable of earlier this week.
    1 Lyles , Noah                     USA      19.65          8
    2 Guliyev , Ramil                  TUR      19.99          7
    3 Quiñónez , Alex                  ECU      20.03          6
    4 Edward , Alonso                  PAN      20.15          5
    5 Richards , Jereem                TTO      20.16          4
    6 Brown , Aaron                    CAN      20.17          3
    7 Adams , Luxolo                   RSA      20.65          2
    8 Webb , Ameer                     USA      20.77          1
Quick Take: Check out Lyles' pre-race and post-race routines:
Pre-race, he did this.
Noah Lyles out here doing the 'Willy Wonka' at track meets pic.twitter.com/Nwezj14WcU

— Gordon Mack (@gordonmack) July 20, 2018
Post race he did this:
Have a day, @LylesNoah!

19.65 at @MeetingHerculis #MonacoDL pic.twitter.com/bmeprflUR1

— RunnerSpace (but wearing a ?) (@runnerspace) July 20, 2018
Women's 100 Hurdles: Queen Harrison wins
In this non-DL event, Queen Harrison came in with the best seasonal best (12.66) of anyone in the field and she left with a victory and new seasonal best of 12.64 as she was in control throughout.
    1 Harrison , Queen                 USA      12.64           
    2 Harper-Nelson , Dawn             USA      12.90           
    3 Thompson , Yanique               JAM      12.92           
    4 Berings , Eline                  BEL      12.94           
    5 Ndama , Soléne                   FRA      13.01           
    6 Carter , Kori                    USA      13.03           
    7 Schrott , Beate                  AUT      13.22           
    8 Williams , Shimayra Crystal      JAM      13.36
Field Events
Men's High Jump: Danil Lysenko wins with new 2.40 pb
World indoor champ Danil Lysenko, 21, became the 13th man to clear 2.40m (7′ 10½")  tonight which he cleared on his first attempt to tie Mutaz Essa Barshim for the world lead and set a new meeting record. Lysenko, who came in at 2.24, was a perfect 5 for 5 on the night and didn't attempt any more after 2.40m. The Russian record is 2.41m. If Lysenko, who is technically competing as a neutral athlete, had broken it, we're wondering if it would have counted as a national record.
    1 Lysenko , Danil                  ANA       2.40          8
    2 Wang , Yu                        CHN       2.30          7
    3 Ghazal , Majd Eddin              SYR       2.27          6
    4 Tobe , Naoto                     JPN       2.27          5
    5 Tamberi , Gianmarco              ITA       2.27          4
    5 Thomas , Donald                  BAH       2.27          4
    7 Mason , Michael                  CAN       2.27          2
    8 McBride , Bryan                  USA       2.24          1
    8 Sawe , Mathew                    KEN       2.24          1
   10 Robinson , Jeron                 USA       2.20
Men's triple jump: Christian Taylor makes it three straight DL wins
Taylor, who spent the first half of the year training as a 400 runner, is back to focusing on his main event full-time and has now won three straight DL events with wins in Eugene, Lausanne, and Monaco (his only defeat of 2018 came in the DL opener in Doha). A windy 17.86 in round two was good enough for the win as Portugal's Pedro Pablo Picardo took second with a best leap of 17.67 meters (also windy).
    1 Taylor , Christian               USA      17.86          8    +2.1
    2 Pichardo , Pedro Pablo           POR      17.67          7    +2.4
    3 Craddock , Omar                  USA      17.37          6    +0.5
    4 Benard , Chris                   USA      17.26          5    +2.0
    5 Scott , Donald                   USA      17.02          4    +2.4
    6 Pontvianne , Jean-Marc           FRA      16.71          3    +1.3
    7 Corréa , Harold                  FRA      16.46          2    +0.8
    8 Évora , Nelson                   POR      16.24          1    +1.9

Women's pole vault: Anzhelika Sidorova wins a historically deep competition
Tonight's winning mark of 4.85 meters by Russia's Anzhelika Sidorova was solid, but essentially in line with what it's taken to win on the DL circuit in 2018 — 4.84, 4.85, 4.81, and 4.82 won the previous four meets.
But the depth behind her was astonishing. As Jesse Squire pointed out, before tonight, the most women ever over 4.75m in the same competition was four, which was accomplished four times — all either World or Olympic finals. Tonight, eight women cleared 4.75, with four — Sidorova, Cuba's Yarisley Silva, Greece's Katerina Stefanidi, and the USA's Sandi Morris — over 4.80.
Perhaps the unluckiest woman of the night was France's Ninon Guillon-Romarin, who had the performance of her life and set a national record of 4.75 but had to settle for eighth place.
                                                             Pts
    1 Sidorova , Anzhelika             ANA       4.85          8
    2 Silva , Yarisley                 CUB       4.80          7
    2 Stefanidi , Katerina             GRE       4.80          7
    4 Morris , Sandi                   USA       4.80          5
    5 Nageotte , Katie                 USA       4.75          4
    5 Suhr , Jennifer                  USA       4.75          4
    7 McCartney , Eliza                NZL       4.75          2
    8 Guillon-Romarin , Ninon          FRA       4.75          1
    9 Bengtsson , Angelica             SWE       4.60           
   10 Zhuk , Iryna                     BLR       4.60           
      Bradshaw , Holly                 GBR         NM
Talk about the meet on our messageboard: