The Week That Was in Running  – June 25 – July 15, 2018
By LetsRun.com
July 17, 2018
After a two-week summer vacation, The Week That Was is back. Past editions of The Week That Was can be found here.
Questions, comments, or a tip? Please call us at 844-LETSRUN (538-7786), email us or post on our forum.
If you missed our coverage of the Paris, Lausanne, or Rabat Diamond Leagues, catch up now.
Paris IAAF Diamond League  *Lausanne IAAF Diamond League *Rabat IAAF Diamond League
Article continues below player
****
3 Thoughts About World Juniors
#1 Rhonex Kipruto is really good
13:23.86 – final 5000 meters split for Kenya's Rhonex Kipruto in the 10,000 meters final at World Juniors (after a 13:57.22 first half). To put that in perspective for you, please realize a total of five men in the 5000 at World Juniors had a PB for 5000 that fast at the start of the championships.
Actually, this may be better perspective for high schoolers: a 13:23.86 5000 is 8:37.48 2-mile pace for 3.1 miles — after a 13:57 5,000 warmup.
#2 The US struggles to win gold at World Juniors – sort of
The US led the medal table at World juniors with 18 medals (next most was Kenya with 12), but only one of those was individual gold. Officially. In reality, two of the biggest stars of World Juniors were Americans — two US-born-and-raised athletes.
On the men's side, LSU freshman Damion Thomas (3rd at NCAAs) was magnificent in the 110 hurdles. Thomas, the world junior record holder in the 110 hurdles at 12.99 (99 cm hurdles), won the gold in Tampere by .17 in 13.16 for Jamaica. In the women's action, the biggest story of the meet may have been the fact that Briana Williams, who is coached by Ato Boldon, completed the 100/2oo golden double for Jamaica, winning in 11.16 and 22.50 respectively, with 22.50 being a championship record.
We're not sure how much credit Jamaica should take for their success, however. Both Thomas and Williams were born, raised, and still live in Florida.
More: MB: Can someone tell me why the US born and raised Briana Williams competes for Jamaica? Might she switch to USA?
(Editor's note: If you are wondering when an athlete can compete and still switch their nationalities, we believe the cutoff is U18. An Irish paper said the following about Sonia O'Sullivan's daughter, "The teenager can represent both countries up to U18 level, but will have to make a choice once she moves above that age bracket.")
#3 Let's not anoint Briana Williams as the next great sprinter quite yet
Don't misunderstand us, Williams' 100 and 200 wins at age 16 were incredibly impressive. At 16 years, 113 days old, Williams is the youngest 100 champ ever.
However, a little research reveals that just as is the case with female distance stars, many teenage sprint stars struggle to surpass their teenage exploits.
For example, the previous youngest 100m winner was Great Britain's Jodie Williams, who claimed gold at 16 years, 296 days in 2010. Williams, now 24, is hardly a household name or global sprint icon and that's because her performances stagnated.
In 2010, at age 16, Jodie Williams ran 11.24 in the 100 and in 2011 she ran 11.18 (still her pb today). Her fastest 100 time in the last four years is 11.38. To be fair to Williams, she's more of a 200 specialist nowadays, but even there her pb of 22.46 dates to 2014. Her best this year is 22.75.
Briana Williams is just the fourth woman to complete the 100/200 double at World Juniors. The first woman to do it, Jamaican Veronica Campbell-Brown (2000), is very famous — a two-time Olympic 200 champ. However, the other two women to accomplish the feat — Bulgaria's Tezdzhan Naimova (2006) and Bahamian Anthonique Strachan (2012) — are women we imagine many of you have never heard of. Well that's not accurate; you may have heard of Naimova as she received a lifetime ban for doping in 2013. As for Strachan, she's currently still just 24, but she didn't even make the finals of the Commonwealth Games this year and sports seasonal bests of just 11.96 and 23.52 this year. As a junior, she ran 11.20 and 22.53.
More recently, there is the example of American Kaylin Whitney, who turned professional on her 17th birthday during her junior year of high school in 2015. In 2014, at 16, she ran 22.49 and won world junior 200 gold. At age 17 she ran 22.47. Now 20, her seasonal best is 22.93 and she went out in the semis of USAs. Even more recently, there is Candace Hill. In 2015, Candace Hill became the youngest sprinter in history to break 11.00 as she ran 10.98 at age 16. Later that year she won world youth gold in the 100 and 200 and then turned pro, signing a reported 10-year deal with Asics that December. Her pbs that year at age 16 were 10.98 and 22.43. This year her best times are 11.56 and 23.33.
Like Briana Williams, Khalifa St. Fort is another US-born Florida HSer who competes for another country (Trinidad & Tobago) and is coached by Ato Boldon. In March 2016, St. Fort went pro at age 18 with an 11.19 pb. In 2017 she ran 11.06, but this year has only managed 11.23.
Teenage phenoms on the men's side are often a matter of who has matured the fastest. On the women's side, it can be a matter of who hasn't fully matured quite yet. One thing they have in common — great success as a teen doesn't necessarily mean you'll be a world beater at age 23.
****
15,312 days later, India's 800 national record falls
This year, we've talked a few times about how Australia's national 800 record of 1:44.40 has belonged to Ralph Doubell since October 15, 1968 — nearly 50 years (tied by Alexander Rowe on July 18, 2014) — particularly when it was supposed to be under assault at the Paris Diamond League meeting (it survived). While Doubell's long-standing record didn't go down, another long-standing national 800 record did fall at the end of June.
At the Montreal Olympics in 1976, India's Sriram Singh ran a PR and national record of 1:45.86 in the very first round. In the final, he boldly ran for gold and took the field through 400 in 50.85. He ended up fading to 7th but got another national record of 1:45.77. He also got some praise from race winner Alberto Juantorena, who won the race in a world record of 1:43.50 and credited his WR to Singh. Singh's 1:45.77 stood as the Indian national record until June 27, 2018, when Jinson Johnson broke it with a 1:45.65 in Guwahati, India. Singh's record had a good run, however, at 15,312 days (in case you are wondering, as of Tuesday, Doubell's record is 18,172 days old).
Johnson, 27, is having a great year as he's lowered his 800 pb from 1:45.98 to 1:45.65 and his 1500 pb from 3:44.9 to 3:37.86 (he was 5th in the 1500 at the Commonwealth Games).
****
The 6:00/mile 100km barrier has been broken
5:56.53 – pace per mile averaged by Japan's Nao Kazami when he won the Lake Saroma 100 km Ultramarathon in a world record 6:09:14 on June 24. The old world record of 6:13:33, set by Japan's Takahiro Sunada in the same race 20 years ago, averaged out to be 6:00.70 per mile.
We guess we should note that the 6:00/mile barrier for 100k had already been broken on the track as Brit Don Ritchie ran 6:10:20 (5:57.60 pace) way back in 1978, but who wants to run 250 laps on the track?
More: Japan Running News: Kazami Breaks 100 km World Record at Lake Saroma
****
The Mexican 800-meter record falls in South Carolina
The first South Carolina TrackFest was held last Saturday in the town of Mount Pleasant — right near Charleston on the coast. And the first-year event delivered on a number of fronts.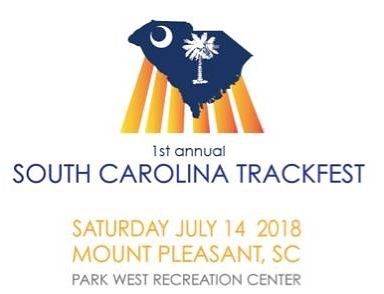 Meet director Dave Milner wrote us a few days before the meet saying "with the Tracktown Series not taking place this year, there appeared to be a gaping void in the post-U.S Champs domestic race calendar. Since the meet director is a glutton for punishment, he is attempting to help fill that void!" He also wrote that he "put this thing together about 3 weeks ago and it's a bit bare bones." Milner had no reason to apologize as we were VERY impressed by what he put together. And history was made in more than one way at the under-the-lights meet.
In the first-ever pro track meet in the area, the fans got to see the first sub-4:00 mile ever run in the Lowcountry area (coastal South Carolina) as adidas' Cristian Soratos won in an outdoor pb of 3:56.21 and the Mexican 800 national record was broken by Jesus Lopez, who ran 1:45.04 to lower his own national record of 1:45.51. Lopez, just 20, has shown a great progression in times in recent years. In 2013, he ran 1:54.40 at age 15. In 2014 he ran 1:50.33 at 16. In 2015, he ran a national junior record of 1:48.13 and then lowered that record to 1:46.57 in 2016. In 2017, he ran a senior national record of 1:45.51 at age 19 and now it's down to 1:45.04.
ORGULLO MEXICANO ??????

Rumbo a Juegos Centroamericanos de @Bquilla2018 el atleta tricolor Jesus Tonatiu López conquista los 800m en el South Carolina TrackFest #SCTrackFest ?@record_mexico pic.twitter.com/h74PMLZrBl

— Jocelin Flores (@Jocelinflores) July 15, 2018
More: 2018 South Carolina TrackFest Results
****
UK Athletics and London deserve an A for effort for the Athletics World Cup
"It is frustrating when people look for the weak points rather than the fabulous points but that is the nature of the world. We would be rightly criticized if we didn't try to innovate. Will everything be spot on? No. But will the public notice? Absolutely not. They will see a fabulously well-put-on event."
-UK Athletics chief executive Niels de Vos talking to The Guardian before the first Athletics World Cup, which was held last Saturday and Sunday in London.
We agree that de Vos and UK Athletics deserve a lot of praise for trying something new, for coming up with $2 million in prize money, and for getting approximately 50,000 fans to show up to London Stadium (30,000 on Saturday, 20,000 on Sunday). Think about that for a minute. When is the last time USATF came up with $2 million in prize money for a track meet? The answer is never. The 2016 US Olympic Track and Field Trials had roughly $1.28 million in prize money ($32,000 in prize money per event).
When is the last time 50,000 people showed up for two days of track action at a non-relay meet in the US? We're assuming it was the 1996 Olympics as the four-day attendance record for a US championship is just 47,738 (Sacramento in 1995).
And London is going to host two more days of elite track and field action this weekend as the London DL is this weekend. That's crazy. We know a lot of cities are laying claim to being big on running — Eugene is "TrackTown USA," Atlanta declared itself "Running City USA" on July 2 — but we're willing to hand London the title of "TrackTown World" as their support of athletics is unreal.
The Atlanta Track Club has declared Atlanta "Running City USA."

So if you're counting, we now have "TrackTown USA," "Track Central USA," "Track Capital of the World," "Cross Country Town USA," and "Running City USA."

— Jonathan Gault (@jgault13) July 2, 2018
London is so good at supporting track and field that UK Athletics somehow spent a reported $250,000 for a platinum trophy for the event. We certainly wouldn't have bothered, but we are so impressed by their money-raising skills that we're not going to rip it for being utterly extravagant.
That being said, we think the event will struggle to find long-term success. Yes, a decent number of fans showed up this year, but a lot of that may have been a novelty thing. The problem is the team victory really doesn't mean anything — other than more money for the winners. No matter how you slice it, track and field is largely an individual sport. The only teams are the people you train with day-in and day-out — that's why teams work at the collegiate and high school level.
While dividing the athletes up by country is better than making up the teams or drafting them like the now-defunct TrackTown Summer Series did in the US, the problem is certain countries are way better than others — get back to us when the US ever loses a meet like this. Plus it's hard to entice star athletes from the weaker countries to show up as prize money is handed out per country, not per athlete. If you are a great athlete on a bad country and are barely going to make any money, why would you show up?
(FYI there is no requirement that they countries had to distribute the money equally to athletes. That is what the UK did, but countries if they wanted could give more prize money to athletes who did really well and won an event.
Update: We reached out to USATF and they confirmed they distributed the money equally to US athletes:
Jill Geer of USATF wrote: "$12k for each athlete in individual event, $7500 for each relay team member. If somebody competed in more than one event, they were compensated accordingly."
LRC note: Considering if an athlete wins a DL event they win $10,000 that's a really good payday for most US athletes, especially a field eventer who is not a star.
It appears that meet organizers seem to understand that holding the meet in same location year after year would be a losing proposition — the meet could only work if it rotates and plays to the patriotism of fans to show up — but it's being reported by Ben Bloom it might be in China in 2020? Are they crazy? Do they really think athletes are going to show up in China in an Olympic year? And China barely fielded a team — they failed to enter an athlete in 15 of the 34 events in London.
We have a better idea if they want to focus on competition between nations. It's quite simple. Have global outdoor championships every year. Period. End of story. Having one year out of every four be an "off year" where there is no global outdoor championships makes no sense. Either have global outdoor championships every two years (2016, 2018, 2020, etc.) with world indoors on the odds year (2017, 2019, etc.) or every year. But three out of four is bizarre.
PS. We don't want to hear that it's too expensive to host Worlds every year. The prize money at Worlds is just over $7 million so they are already 2/7th of the way there.
If the IAAF wants to be crazy, we've also come up with a crazy idea. If they claim hosting Worlds every year is too expensive, the IAAF could feature only half of the events at a given Worlds. So you run the 100 one year, the 200 the next. Same thing with 800 and 1500 and 5k and 10k. It would make every event even more dramatic and make sure no stars avoided each other by focusing on the singular event they were best at. Plus it would make the Olympics even more special as the Olympics would hold every event.
We're not sure if we love this idea to only offer half the events, but it would greatly reduce the cost and time as there would be way less prize money and athletes to support. And you could pump up the "off events" — the ones not being held at Worlds — at what we'd call Super Diamond League finals. Maybe make those events the only ones held at the Diamond League final that year so you could double the prize money — $100,000 for first. So the Diamond League finals kind of become a mini one-day Worlds for the off events.
It would make the DL finals must-watch events. Usain Bolt won the 200 at Worlds, but is he still the best in the 100? Find out in Zurich. Bolt — who skipped the DL final in the final four years of his career — just might have shown up if there was a $100,000 first prize.
More: Ben Bloom: Athletics World Cup makes up for lack of big names with no shortage of excitement – but changes are needed
****
History repeats itself on the roads in the US
Check out the men's results of three of the more prominent US road races over the last few weeks. Tanzania's Gabriel Geay, 21, certainly seems to own 22-year-old Teshome Mekonen of Ethiopia.
June 24 – B.A.A. 10K presented by Brigham and Women's Hospital
1. Gabriel Geay, 21, Tanzania                 28:24 PB $10,000
2. Teshome Mekonen, 22, Ethiopia              28:29      5,000
July 8 – Utica Boilermaker 15K presented by Excellus BlueCross BlueShield 
1. Gabriel Geay, 21, TAN           43:40 PB  $7000
2. Teshome Mekonen, 22, ETH        43:50      4000
July 14 – Ballad Health & Niswonger Children's Hospital Crazy 8's 8K
1. Gabriel Geay, 21, TAN                   22:43 PB $5000
2. Teshome Mekonen, 22, ETH                22:50     2500
****
Three stats from the last three weeks that impressed us
#1 Japan is nearly 4x better than the US at the marathon
93 – number of Japanese men that have broken 2:10 in the marathon.
18 – number of American men that have broken 2:10 in the marathon.
Defending @GCMarathon champ Takuya Noguchi needed to run 2:10:12 to qualify for Japan's 2020 Olympic marathon trials. He ran 2:10:15. https://t.co/Bi6MsLaEbt pic.twitter.com/GFgOJS0AJz

— Japan Running News (@JRNHeadlines) July 1, 2018
#2 – Michael Norman is a special talent
6 – number of sprinters who have broken 20 for 200 (wind-legal) and 44 for 400 now that Michael Norman has done it thanks to the 19.84 he ran in Paris. Many of you may non-sprint aficionados may be surprised it's that low but it's important to realize that a sub-44 400 is extremely rare. While two people did it at the NCAA level this year, only 18 men have ever broken 44 for 400. Of course, six is also the spot where Norman sits on the all-time world 400m list thanks to his 43.61 at NCAAs.
Here are the six men who have broken 44 and 20.
| | | | | |
| --- | --- | --- | --- | --- |
| Athlete | Country | 200 pb | 400 pb | Joined club |
| Michael Johnson | USA | 19.32 | 43.18 | 1992 |
| LaShawn Merritt | USA | 19.74 | 43.65 | 2007 |
| Isaac Makwala | Botswana | 19.77 | 43.72 | 2015 |
| Wayde van Niekerk | South Africa | 19.84 | 43.03 | 2015 |
| Steven Gardiner | The Bahamas | 19.75 | 43.87 | 2018 |
| Michael Norman | USA | 19.84 | 43.61 | 2018 |
Akeem Bloomfield, the NCAA runner-up at 400 indoors and out this year for Auburn who went pro and promptly won the 400 at the Rabat Diamond League may soon be #7. While Bloomfield (43.94 400 pb) didn't run a 200 all year while at Auburn, he recently ran in Lucerne and clocked 20.00.
#3 Bernard Lagat is still fast as hell
43 – age of Bernard Lagat, who won the AJC Peachtree Road Race (which doubled as the USATF 10k road champs) in a field that included 2018 US 10,000-meter champ Lopez Lomong. We know the 20-year-olds on this site have no idea what it's like to get old, but trust us, when you are 44 like the co-founders of this site, it will blow you away to learn that a 43-year-old can run 28:45 for 10k on the roads.
Lagat wasn't the only 40+ man to put up a good mark over the last three weeks. 44-year-old Kenyan Kenneth Mungara, the world masters record holder in the marathon at 2:08:38, won the Gold Coast Airport Marathon in 2:09:49.
More: Kenya's Ruth Chebitok Wins Women's Race In Course Record Of 2:24:49 as 44-Year-Old Kenneth Mungara Wins Third Men's Title In 2:09:49 Chebitok was the first Kenyan women's winner at Gold Coast ever (40th edition). Boston Marathon champ Yuki Kawauchi was just 9th in 2:14:51. *IAAF
*Australia's Jessica Trengrove Picks Up $40,000 Bonus For Running Under 2:28:00 For 2nd (2:26:29)
*RRW Stephanie Bruce, 34, Wins Her 1st National Title, 43-Year-Old Bernard Lagat Wins His 1st Road National Title At 2018 AJC Peachtree Road Race *Top 20 Results
*MB: Official 2018 Peachtree Discussion Thread – 2018 USATF 10k Road Champs
****
Email of the Week
In our last edition of The Week That Was, we talked about Dafne Schippers' false start at the Dutch Championships and provided a link to a YouTube video for you to decide for yourself. A reader saw the article and wrote in with a great YouTube hack. Here it is:
With regard to Dafne Schippers start videos, there's a trick you can use when watching YouTube videos that makes the false start very obvious.  If you pause the video right before the start of the race and use the . key it will advance a single frame at a time.  You can also use the , key to rewind a single frame at a time.  When you do this it is trivial to see that Dafne starts before the field and deserved the DQ.
The tip came from George Strain, a 49-year-old partner at a consulting firm in Atlanta. George writes that "he's never been better than towards the front of the pack, but is a lifelong fan of the sport and longtime follower of letsrun.com."
****
Two tweets from the last three weeks that we liked
Just catching up on last night's #Diamondleague from Paris. Some super fast times, but how about a 1:54:26 800m for #Semenya, with 56.12s first lap, then 29.25s and 28.89s. Someone just offer a million dollars, a 54.8s 1st lap, and get her to a sub 1:53, because it's doable.

— Ross Tucker (@Scienceofsport) July 1, 2018
Splits from the final 100m of the top eight finishers in the women's 1500m tonight in Lausanne:

14.34 @shelbo800
15.58 @lauramuiruns
15.49 @SifanHassan
15.87 Tsegay
15.55 Arafi
16.44 @caster800m
15.86 @LauraWeightman
15.88 @EilishMccolgan

— Jon Mulkeen (@Statman_Jon) July 5, 2018
****
Four quotes from last three weeks (that weren't quote of the day)
#1 Sometimes not accomplishing your goal is a good thing as it keeps you in the sport
"I had envisioned making the 10K Final in Eugene, getting my first All-American and riding off into the sunset with a beer gut and single-digit handicap, but that was not to be and I was very spiteful of that. I felt cheated and had no interest whatsoever in training hard anymore."
–Tyler Mueller, a USATF 10,000 qualifier, talking to Citius about the disappointing end of his NCAA career at Lehigh. Upon graduation, Mueller quit the sport and also quit again a few years later but now has found his groove thanks to Tom "Tinman" Schwartz. Mueller says he knew of Tinman due to his LRC messageboard fame, but really became a fan when he realized how well his friend Morgan Pearson was running under his guidance. "I was fascinated by how fast Morgan was running, even though his training only seemed to consist of fartleks, hill sprints, and some unimpressive tempo runs."
Mueller's italicized quote reminds us of LetsRun.com co-founder Weldon Johnson. Had he broken 30:00 in college and made NCAAs (two of his biggest goals), he may not have continued to run post-collegiately and then LetsRun.com wouldn't exist.
More: A Tinman, Repaired: What We Can Learn From Tyler Mueller
#2 What do Kenyan athletes and opera singers have in common?
"I have found that for Kenyan athletes, me, my body, and my performance are all quite distinctive, in the same sense that an opera singer sees his/her voice as a distinctive instrument rather than an extension of self. Though contained within, it is not one and the same as that which constitutes ME."
–Toni Reavis blogging about how Kenyan athletes will often describe their body in a way that views it almost as separate from themselves. Reavis writes that "Kenyan athletes will often say, 'my body did not (or did) respond' in explaining their experience. To some, this comes across as oddly detached. What do you mean, 'my body didn't respond?' Why not just say 'I didn't perform?'"
More: Tonireavis.com: Mind Over Matter
#3 There is no need to get nervous for races says Sonia O'Sullivan's daughter
"I just think, 'it's just running in circles with random people'. I don't get nervous. Before races I'm just hanging around laughing with people and they're like, 'you need to concentrate'."
–Sophie O'Sullivan, talking to the Irish Independent before the European U18 champs where she won the silver for Ireland (Sophie was raised in Australia but we read in numerous places that U18 competition doesn't bind her to Ireland. She doesn't have to choose between Australia/Ireland until she gets to U20 competition). In the same article, O'Sullivan says her training is low-key and focused on having fun. "It's three main days and the other days are just kind of… hanging around," said Sophie with a laugh.
More: 'It's just running in circles with random people' – Mum knows best for rising star Sophie O'Sullivan
#4 Gwen Jorgensen doesn't grade herself on a curve
"I need to be confronted with the world standard on a daily basis. Yes, I am comparing myself with Mary Keitany."
–Gwen Jorgensen talking to Deadspin's Sarah Barker.
More: Sarah Barker Takes A Lengthy Look At How Gwen Jorgensen Went From Swimming To Running To Accountant To Triathlon To Running
****
Recommended Reads
To see our favorite reads from other weeks, go here.
***
Quotes Of The Day And Last Week's Home Pages
To see the actual quotes of the day from last week or last week's home page or any home page, go to our archive page.
---
---
Advertisement
The 1:59:40 GOAT shirts are here