Déjà Vu: Reebok Starts A Pro Track Team – Let's Hope They Stick To It This Time
by Robert Johnson
July 23, 2018
(Let me start by with a disclaimer: by no means is this article meant to be a criticism of Chris Fox. He's one of my favorite people in track and field. He gave my brother Weldon Johnson advice as an up and comer; Fox joked that he knew it was time to retire when a guy he'd never heard of — Weldon — beat him in a road race. And Fox was great fun to hang out with at meets when I was at Cornell and he was at Syracuse. The fact that he took a team that hadn't been top 10 at NCAAs since the '50s to a national title in just over a decade is a near miracle. Read more about their amazing rise in this LRC feature: The Rise of Syracuse: How a Cross Country Powerhouse Was Built From Scratch in 10 Years)
Article continues below player.
So Reebok is starting a pro track and field team?
I've been hearing that rumor for close to six months and it's finally come to fruition. My thoughts? It proves to me that many big companies can't make up their mind. And many execs just like change for change's sake.
Reebok already had a professional track team. It was called the Reebok Enclave. It was based in Washington, D.C. in the 1990s. When I got out of college, my college roommate joined the team and many of the guys on the team lived in the same house as my brother. Frank Gagliano (now of the Hoka NJ*NY team, then of Georgetown) and Matt Centrowitz (Matthew's father) were the coaches, it featured 1:44/3:31 man Steve Holman as its star, and was billed in the NY Times as the home of the next generation of US milers. Then the team was disbanded and Gagliano went out West to work with the Nike Farm Team.
Reebok not only gave up on its Enclave team, it gave up on running. In 2009, they axed a ton of running employees and basically got out of running and then in 2013, they officially got out totally as athletes like Nick Willis, who had always been sponsored by Reebok, were forced to switch over to adidas, which owns Reebok.
Now five years later, they are back in running and starting a pro team, based less than 120 miles from their old team in the 1990s? Brilliant. Please make up your mind. The idea was a good one back in the day, I just hope this time they stick with it.
As for Fox, I'm happy for him. I heard the salary is huge and the lifestyle likely will be less consuming than what he faced as a college coach.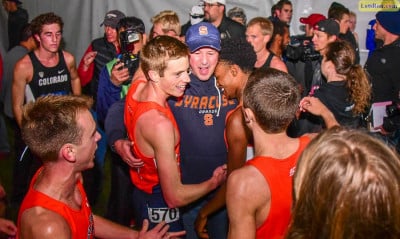 When people ask me if I have any interest in getting back in the college coaching game, I always tell them, "I absolutely loved coaching but it's about the worst lifestyle I could imagine as a new parent. You are literally working 35-40 weekends out of the year. The best gig as a dad (and Fox has an elementary-school-aged child at home) would be a pro coach as the lifestyle is so much better. You don't get in trouble if you blow off an easy day as you can trust them to run 10 miles on their own. There certainly isn't a meet nearly every weekend, and you don't even have to go to every meet."
That being said, I imagine Fox will miss keeping score. There is no team score when you are a pro coach. Within the last year, I was talking to a pro coach who used to be in the college game and asked him how he liked being a pro coach. He did admit that he really missed having a cross country team. The fall is a boring time for a non-marathon-focused pro coach.
One other thing about the pro game. Instead of recruiting against 50 other teams for talent, there are only 4-5 teams of note that you are competing against. That doesn't mean it's easy to get that talent, however, as there are a limited number of people with the talent to be an Olympian.
Will Fox's new team be successful? It depends on what type of talent the execs give him to work with. We learned a long time ago – whether with the Fila Discovery USA team or the first iteration of the Nike Oregon Project when Alberto Salazar was working with the likes of Mike Donnelly and Chad Johnson and not Galen Rupp – that a coach no longer can be a miracle worker like Arthur Lydiard was in the 1960s.
If Fox gets big-time talent, then yes, he will be successful as he did a magnificent job with what he had to work with at Syracuse. But a coach is like a jockey or trainer in horse racing – they can only do magical things with magical talents. When Fox got to Syracuse in 2005, the men hadn't been to NCAAs in 31 years and hadn't been top 10 since 1957. That NCAA streak soon changed but few nationwide noticed as they were normally finishing 14th or 15th. In 2013, they finished in the top 10 for the first time since 1959. Then they got a big-time talent in Justyn Knight and the rest is history – 5th and 1st.
But if you don't have big-time talent, then it's hard to get massive results. Even though the Syracuse men have been top 15 in the country in cross country for each of the last nine years and the women have been top 25 in seven of those years, you don't necessarily do that with massive individual track talents — and it's our understanding that the whole point of the Reebok team is to produce Olympians. During Fox's 13 years at Syracuse, guess how many Syracuse runners scored on the track in a mid-d or distance event at the NCAA outdoor championships combined for both genders?
Just six. And before this year, it was just four.
Syracuse's Men's Mid-d and Distance Outdoor Scorers From 2006-2018
Kyle Heath (6th in steeple in 2008, 8th in 2009)
Justyn Knight (6th in 5000 in 2015, 3rd in 2017, 2nd in 2018)
Aidan Tooker (4th in steeple in 2018)
Syracuse's Women's Mid-d and Distance Outdoor Scorers From 2006-2018
Laura Penney  (8th in 5000 in 2013)
Sarah Pagano (7th in the 10,000 in 2014 and 2015)
Paige Stoner (3rd in steeple in 2018)
So Reebok, I'm glad you changed your mind and are back in the running game. You started out as one of the first makers of spikes in 1895 and almost 100 years later you had a great idea to restart the club system in the US. However, you ended up getting out of both. Let's hope this time your commitment is long-lasting and let's hope you get Mr. Fox some talent to work with.
PS. And one more thing, you have to change the name of team. I just learned that you are going to call a team based in Charlottesville, Virginia, the Reebok Boston Track Club? No. That's ridiculous.