WTW: NCAA Upsets, Katelyn Tuohy vs Mary Cain, Battle of Sexes in Connecticut, LRC Singlet Gets First National Title
By LetsRun.com
June 13, 2018
What an incredible weekend to be a track fan. There was so much going on, it was impossible to catch it all.
If you missed our extensive coverage of the 2018 NCAA Outdoor Championships, the 2018 Bislett Games, or the 2018 Stockholm DL, catch up now as we don't reinvent the wheel here.
Past editions of The Week That Was can be found here. Questions, comments, or a tip? Please call us at 844-LETSRUN (538-7786), email us or post on our forum.
****
Tons of Upsets at NCAAs, Which Means Some Huge Favorites Lost
The NCAA meet was full of upsets. In the mid-d and distance events, only three of the 10 favorites won (men's steeple, women's steeple, women's 5000). Let's take a look at some of the upsets and hand out some awards
Article continues below player.
Biggest Underdogs of the Week: Sean McGorty & Sharon Lokedi
In our Running Warehouse prediction contest, a grand total of zero people picked McGorty or Lokedi to win the men's 5,000 and women's 10,000 (neither was listed as a pick but bother could have been picked with the rest of the field as "other"). Other big underdog winners included Isaiah Haris (2.9%) in the 800 and Michigan senior Ben Flanagan  in the 10,000, where 1.3% of the people in our contest did pick "other."
Don't Count Your Chickens Before They Hatch: Michael Saruni (96%) and Josh Kerr (96.9%)
Saruni and Kerr were the two biggest favorites to not win an individual NCAA title last week. USC's Kendall Ellis (94.9%) led the way in the sprints.
Bounce-Backs of the Week: Karissa Schweizer & Kendall Ellis
Both Schweizer and Ellis were upset in their first finals of the meet, but both women came back to end their collegiate careers as champions. Schweizer, who attempted the tough 10k/5k double, was third in the 10k on Thursday night but bounced back to win the 10k on Saturday. Schweizer was already an all-time great as she entered the meet with five NCAA titles, but her win in the 5k cemented her as a legend. One of the marks of a true champion is the ability to get back on your feet after being knocked down, and Schweizer did by coming back to win the 5k.
Ellis, as we mentioned above, was a heavy favorite in the 400, and though she ran well — 50.19 in poor conditions — she was beaten by a superior performance by Georgia freshman Lynna Irby. Considering the cool, rainy weather and wet track, Irby's 49.80 may be the most impressive 400 run in collegiate history as only Courtney Okolo (49.71 in 2016) has gone faster. Yet Ellis came back later in the day to deliver a magnificent 50.05 anchor leg in the 4×400, carrying USC to the victory and its first team title since 2001.
| | |
| --- | --- |
| Overall | |
| Comfort | |
| Cushioning | |
| Durability | |
| Appearance | |
| Value | |
***
The upsets weren't limited to the distance action.
In the women's 200, only 0.2% of the fans picked "Other," which covered surprise winner Anglerne Annelus of USC. The sophomore was only third at her conference meet, but beat indoor collegiate record holder Gabrielle Thomas of Harvard as well as Irby, who was doubling back from her meet record in the 400. Irby's 400 win was itself a surprise as she was picked to win by just 2.2% of the public, while Cameron Burrell's win in the men's 100 also wasn't predicted (4.3%).
The upsets kept coming in the team races. Only 4.8% of the participants in our contest called Georgia's win in the men's team battle (they were the 2nd choice, however). In the women's team race, USC was also the 2nd choice but only picked by 9.2%.
More: The inside story on Sean McGorty's comeback from Achilles surgery to an NCAA title in less than a year
More: Final 2018 NCAA Predictions
****
Stat of the Week I
8th – place that the Georgia women finished at the SEC meet. They went into NCAAs as the big favorite for the team title (82.6% of the LRC nation picked them to win), but in the end, Georgia came up one point short to USC — which, by the way, did win its conference meet.
How is that possible? Well Georgia has a few heavy hitters on their team that are very good but they aren't very deep. At SECs, eight women scored for Georgia as they totaled 61 points. Had they doubled Irby and entered NCAA runner-up Louisa Grauvogel in the heptathlon (she only ran the 100 hurdles, where she finished 8th), the Bulldogs would have been at least 6th and maybe as high as 3rd. At NCAAs, six women produced their 52 points.
In hindsight, in the final two individual events of the day, Georgia came very close to sealing the title before the 4×400. In the 200, Irby ran 22.92 to finish 3rd. But she was just .06 behind 2nd place, and had she finished second, that would have won the meet for Georgia (assuming nothing different happened in the 5,000). In the 5,000, sophomore Jessica Drop finished 7th in 15:46.39 — just .08 out of 6th, which would have resulted in Georgia tying USC for the title.
Of course in the 5,000, Stanford senior Vanessa Fraser had the lead coming off the final turn and ended up fourth. Had she finished 2nd (exactly one second faster), Stanford would have won the team title.
What about the Georgia men, who won the NCAA title? They were 5th at SECs.
All else being equal, we prefer that the national champion also win its conference meet as it gives the sport more legitimacy — although wild-card teams have been known to win the World Series and Super Bowl.
****
Stat of the Week II
2004 – last year that a Stanford women's mid-d or distance runner won an outdoor NCAA title (Alicia Craig, now Alicia Vargo, won the last of her back-to-back 10,000 titles that year). We only know this stat as after Karissa Schweizer's loss in the 10,000, one of us changed their prediction contest pick to Stanford's Vanessa Fraser and looked it up so they could use it in our 5,000 recap.
****
Stat of the Week III
15 – number of consecutive track miles that 2012 Olympic silver medallist Leo Manzano had run over 4 minutes until last week, when Manzano ran 3:57.35 to finish second at the Adrian Martinez Classic in Concord, MA, on Thursday. On the track, Manzano hadn't broken 4:00 in the mile since July 25, 2015, though he did break 4:00 once in a road mile (2016 5th Avenue) and ran the equivalent of sub-4:00 in the 1500 four times.
Manzano was well aware of the streak as he has pinned the following tweet to his Twitter account.
3:57.3 in the Mile and 2nd today at the @HokaOneOne Adrian Martinez Track Classic!! It feels so good to finally be under sub4 in the mile!! Thank you all for always supporting me!! @HOKAONEONE @Cercacor @nmdoh @austinmarathon @AustinCap10k @csfmag
Photo Credit: Justin Briton pic.twitter.com/kl86cAmCUM

— Leo Manzano (@Leomanzano) June 8, 2018
For a full meet recap, check out the recap that a couple of LetsRun HS visitors wrote: LRC 2018 Adrian Martinez Recap: Ce'Aira Brown Goes Sub-2 Again, Marta Freitas 4:25 Mile, And After 15 Tries Leo Manzano Goes Sub-4.
And speaking of Manzano it's time to change the LetsRun.com passwords. We feel naming our passwords after Manzano cursed him. Discuss: The LetsRun curse has been lifted- Leo Manzano has broken sub 4. What athlete should we name the LRC passwords after now??
****
The Common Sense Rule — If You Can Father A Child, You Shouldn't Be Competing In Women's Sports 
In Connecticut high school sports, individuals are allowed to compete as whatever gender they identify as, regardless of whether or not they've had hormone treatment. Two trans girls, who aren't receiving hormone treatment (including one who competed in the boys' division during indoor track), 6/22 correction:, one of the girls has started hormone therapy, the other girl who competed as a boy indoors, we believe has not started hormone therapy, competed in the girls' division at the Connecticut state high school track and field meet on June 4, and the results were totally predictable:
MB: Biological boys go 1-2 at girls state finals in Connecticut… awkward finish (video)
Terry Miller of Bulkeley wins the 100m girls dash i. 11.72 (meet record). Andraya Yearwood of Cromwell 2nd, RHAM's Bridget Lalonde 3rd #cttrack pic.twitter.com/4GmLRyicDI

— GameTimeCT (@GameTimeCT) June 4, 2018
The Caster Semenya situation is complex, but what is happening at the high school level in the United States — at least in Connecticut — is not. It's pure insanity.
Here's a start on a solution: If you can biologically father children, shouldn't it be clear you shouldn't be competing in the girls' division at high school track meets?
****
Quotes of the Week (that weren't quote of the day)
#1 Have NYers already forgotten Mary Cain?
"She might be the best high school runner ever already."
–Jim Mitchell, a Bronxville High School coach (where Mary Cain ran) talking about NY phenom Katelyn Tuohy, 16, in an excellent NY Times feature on Tuohy and the tough task teen distance prodigies face in maintaining their success into adulthood.
Tuohy, who won the NXN title in the fall, is having an incredible year. At the NY state met last week, the sophomore ran 9:09.71 for 3000 to set a US age-16 record and then came back the next day and won the 1500 in a meet record of 4:14.75.
Tuohy is amazing, but let's get real. At this point in time, her HS accomplishments are inferior to what Mary Cain accomplished. According to an astute messageboard poster, here is how their HS track PRs compare.
Mary Cain's HS PRs: 1:59, 4:04, 8:58, 9:38(i), 15:45
Katelyn Tuohy's HS PRs: 2:09, 4:14, 9:05, 9:51(c), 15:37(i)
Remember, when Cain graduated high school in 2014, she had won two U.S. indoor titles, and finished 9th at the World Championships outdoors. This year, Tuohy ran the high school mile at the Millrose Games and finished 4th. As a senior in high school, Cain ran the Wanamaker Mile against the pros — and won it. Tuohy might be a better cross country runner than Cain, but in an absolute sense, Cain clearly had the better career (though Tuohy still has two years remaining).
MB: Historians, who is the greatest female HS distance runner in US history? Could it already be Katelyn Tuohy?
.@lohudsports New York State Track & Field Championships

National-caliber distance runner Katelyn Tuohy, a sophomore at North Rockland, taking the 1,500. @Nysphsaa #Rochester #ROC @lohudinsider @lohud pic.twitter.com/jw5ESoHMwv

— James A. Johnson (@jjDandC) June 9, 2018
More: NY Times: America's Next Great Running Hope, and One of the Cruelest Twists in Youth Sports
*MB: NYTimes article on TUOHY and other FEMALE H.S. PHENOMS
*LoHud.com Katelyn Tuohy breaks NYS meet record, "Her performance this weekend was one of the best that I've ever seen from a high school track athlete. She just knew this was the big time. This was the time to go and lay it all out and run as fast as she could," said her coach.
#2 From Surgery To NCAA Title In Less Than A Year
"I remember when they took him back for surgery, I was walking around and felt sick to my stomach. I was so nervous. I thought, Man, I don't know if this guy will ever run at a high level again."
-Stanford coach Chris Miltenberg, talking to GoStanford.com's David Kiefer about the thoughts he had a year ago when Sean McGorty went to have Achilles surgery a few days after NCAAs. Miltenberg has a special bond with McGorty as he was part of his first group of recruits to The Farm and the guy Miltenberg knew he wanted to build his team around.
More: GoStanford.com: McGorty wins NCAA 5,000m
#3 We Give Her An A For Being Honest
"I still totally hate running."
–Hitomi Niiya, the 2013 World Championship 5th placer in the women's 10,000 for Japan, talking to sponichi.co.jp after coming out of retirement and running her first race in nearly five years. To be fair, her full quote, according to Brett Larner, was "I still totally hate running, but unfortunately it seems like this is where I belong. I hope I can produce results."
As for results, Niiya ran 9:20.74 for 3,000 and said afterwards, "That's a really half-assed time, huh."
Niiya, 30, sounds like an amazing interview as she also voiced her displeasure about being given bib #30. "That pissed me off" were here thoughts on the bib matching her age.
More: Hitomi Niiya Runs First Race in Almost Five Years: "I Still Totally Hate Running
#4 Yes, Robert Johnson Doesn't Know Gwen Jorgensen But He Does Know Mathematics
"To follow triathlon gold with marathon gold would be one of the great feats in Olympic history. Let's just say there are non-believers. Robert Johnson, co-founder of letsrun.com, wrote in April that Jorgensen had 'zero chance' to win the marathon in Tokyo.
"I don't know Robert Johnson, but I'm betting he doesn't know Gwen Jorgensen. I do, and I would never say she has 'zero chance' to do anything. Everything about her says champion, from her work ethic to her determination to her mental toughness."
-Gary D'Amato writing last week in the Milwaukee Journal Sentinel. For the record, LetsRun.com co-founder Robert Johnson, a former HS math teacher and Dallas citywide math champ, would like to state that he does understand that Jorgensen's odds of winning the Olympics aren't actually zero. Everyone in the world has some chance. But rounding to the nearest percentage point, they are zero. He'd go further. If you multiply her odds by five and round to the nearest percentage point, he still believes they are zero — meaning her odds are greater than 1,000 to 1.
More: D'Amato: Can Gwen Jorgensen pull off one of the greatest feats in Olympic history? Don't bet against her
#5 Misleading Headline of The Week

-That was a headline on the European Athletics website last week. Are we the only ones who think the headline for Armand Duplantis was incorrect ?
We know he competes for Sweden, where his mom is from and where he's spent a lot of summers, but he was born, raised, and still lives in the U.S. Shouldn't Sweden be considered his "vacation soil" or maybe his "ancestral home," not his "home soil"?
****
Pitch of the Week
Last week, Chicago Marathon winner Galen Rupp threw out the first pitch at a Chicago Cubs game. Rupp, who brought his glove with him to Chicago, did a pretty good job of it, although it would certainly have been called a ball as it was high and outside. Still, better to be high and outside than to pull a Carl Lewis (although to be fair, please watch the full Lewis clip — no one remembers he threw a beauty on his second try). For fun, we tracked down the first pitches of Des Linden and Meb Keflezighi in recent years so you can compare all three below.
Whose pitch did you like the most? Tell us in this messageboard thread:MB: Galen Rupp threw out first pitch of Cubs game last week. Update: Here is the video 
****
Did You Miss These Events?
There was so much going on last week, we barely had room for any homepage coverage of the Brooks PR Invitational in the US or the Comrades ultramarathon in South Africa.
At the Brooks PR Invitational for US high schoolers, the top 3 in the 800, mile, and 2 mile were as follows.
Boys
Girls
800m:
1. Brandon Miller, 10, John Burroughs, 1:51.85
2. Sean Dolan, 11, Hopewell Valley, 1:51.91
3. Wyatt Peck, 12, Star Valley, 1:52.04
800m:
1. Cathilyn McIntosh, 12, Del Oro, 2:06.50
2. Brooke Manson, 12, Eastlake, 2:07.16
3. Morgan Foster, 11, Chandler, 2:08.38
Mile:
1. Dustin Horter, 12, Lakota East, 4:04.68
2. Nick Foster, 11, Ann Arbor Pioneer, 4:05.50
3. Clayton Mendez, 12, Whitney Young, 4:05.57
Mile:
1. Mariah Castillo, 12, Saugus, 4:41.40 PB
2. Annie Hill, 12, Glacier, 4:46.87
3. Bryn Morley, 12, Bigfork, 4:47.31 PB
2 Mile:
1. James Mwaura, 12, Lincoln, 8:48.76 PB
2. Cole Sprout, 10, Valor Christian, 8:49.46 PB
3. Ryan Raff, 12, Lehi, 8:51.66 PB
2 Mile
1. Taryn O'Neill, 12, George Elliot, 9:54.40 PB (Canadian)
2. Camila Noe, 12, Bozeman, 9:54.95 PB
3. Katelynne Hart, 10, Glenbard West, 9:56.40 PB
MB: 10th Grader Cole Sprout runs 8:49 2mile
MB: Official Brooks PR thread (5 girls under 10:00 2M)
Comrades: 2018 Comrades: Bongmusa Mthembu repeated, Ann Ashworth pulled off upset in women's race Ashworth, a 2:48 marathoner, was a surprise winner in the women's race but the men's race went according to form as Bongmusa Mthembu became the first guy to repeat since Stephen Muzhingi in 2010-11.
****
The LetsRun.com Singlet Returns To The 10,000 Like A Fish To Water
Last week, the LetsRun.com singlet returned to 10,000 for the first time in a very long time and the singlet took to its favorite event much like a fish does to water. Victory. Ben Rainero de Haan won the Netherlands national title last week in 28:44.84 (if we are being factual, he didn't win the race as he was third overall) at the Gouden Spike meet in the Netherlands, picking up a European 10,000 qualifier in the process.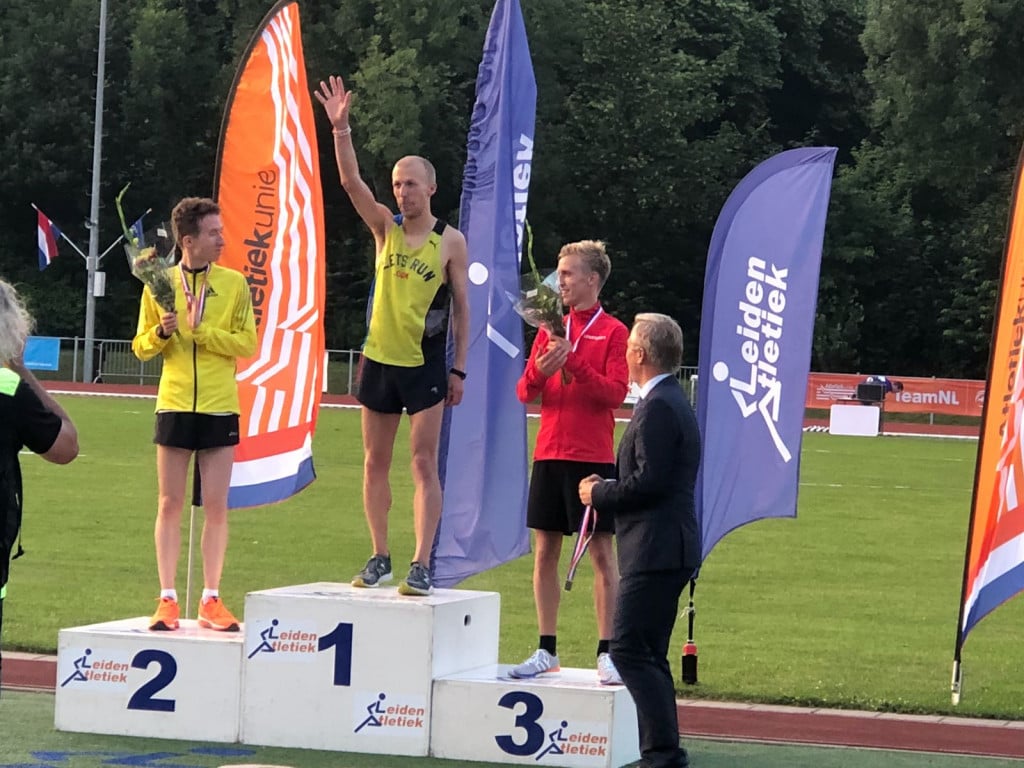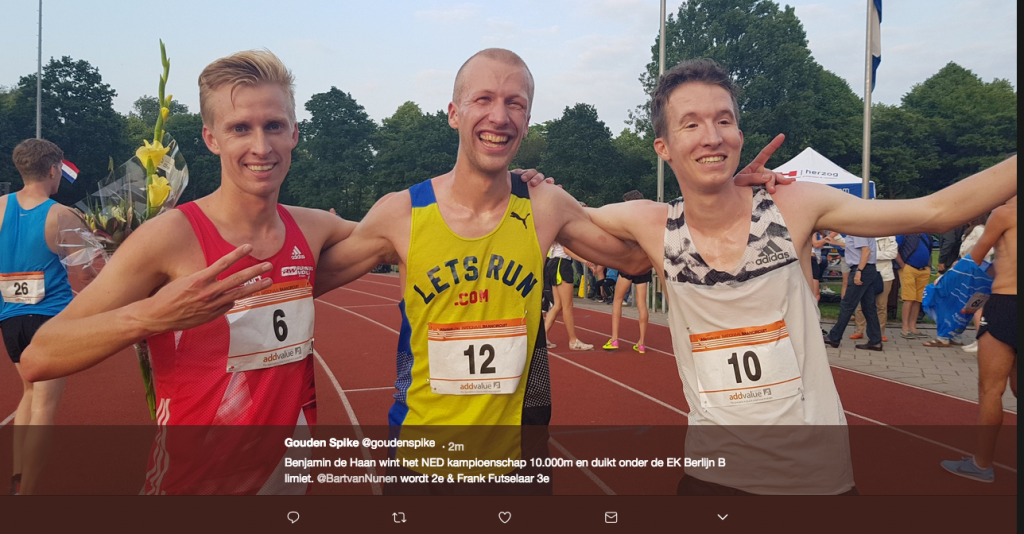 More: Goudenspoike.nl
****
Recommended Reads
To see our favorite reads from other weeks, go here.
***
Quotes Of The Day And Last Week's Home Pages
To see the actual quotes of the day from last week or last week's home page or any home page, go to our archive page.
---