Rupp vs Farah in Chicago, Tuohy 'Sort of' Breaks HS Record, Taylor 2:24, Semenya Fights, and Race Marketing 101
The Week That Was in Running  – June 11 – 17, 2018
By LetsRun.com
June 20, 2018
Past editions of The Week That Was can be found here.
Questions, comments, or a tip? Please call us at 844-LETSRUN (538-7786), email us or post on our forum.
If you missed our mid-week coverage of the Ostrava meet, catch up now: LRC 2018 Ostrava Golden Spike Recap: Echevarria Soars To 8.66 World Leader In LJ, Gatlin Tunes Up For USAs With Win In 100, Barega Wins Again.
****
2018 Chicago Marathon Will Feature Galen Rupp vs. Mo Farah and Rabbits
We are thrilled that the 2018 Bank of America Chicago Marathon will feature Mo Farah vs. Galen Rupp. In addition to being two of the top distance runners on the planet, the two used to be training partners and good friends. Are they good friends anymore? Does Farah want to prove he can be great without Alberto Salazar's help? Is Salazar upset that Farah has distanced himself from him? These type of questions make the matchup all the more interesting.
Article continues below player.
And there was one other big development that came out about Chicago last week. The race will reintroduce pacemakers for the first time since 2014. In 2015, Chicago dropped pacers. Race director Carey Pinkowski summed up the reasoning really well when he told Toni Reavis, "The thing with this is we try to set up a world record every year but we never get close. It (pacing) is like a prop. So get rid of the prop. It's a race. So if they go out at six minute pace, so what?"
We had no problem with Pinkowski's decision as we agree pacers are props and they often are used poorly. We've long complained that we don't get why every single Diamond League distance race — even the steeplechase — has pacers (and often the pacers do a terrible job). We've never been opposed to pacers but don't think pacers should be the default option.
We'd like to see New York or Boston — races that are famous for not having pacers — bring in pacers every now and then. Maybe once every four years or every other year. If you did it every other year, it could kind of be like the Comrades ultra in South Africa. The most famous champions would be those who win in consecutive years (in Comrades, the race runs uphill one year, downhill the next) as they show true versatility.
That being said, the fact that the fastest winning time in Chicago for the three years that there were no pacers was just 2:09:20 was extremely disappointing even if the weather was warm in 2015. Perhaps they should have said we'll pay an extra $100,000 to the winner if the time is under 2:06.
But our main view on pacing is that if you have a legitimate reason to have pacers and you think they will make the race more interesting, then by all means use them. And in Chicago this year, they clearly have that reason. We just wish they'd admit it. Just say, "Hey, Galen Rupp wants to run fast and we think he can get the American record (2:05:38). Mo Farah also wants the European record (2:05:48), so we are bringing them back." Just be honest. Instead we got a little bit of mumbo jumbo: "Pinkowski and event organizers said they decided to transition back to pacers 'to leverage the speed of the course, to work towards setting up ideal conditions for the top tier elite athletes confirmed so far, and to respond to feedback received from runners.'"
And now that Chicago has pacers, it needs to hype this baby up. Don't wait until a day before the race to tell us the goal of the pacers. Announce it now. Just say, "Assuming the weather is good, were going to set this up as American and European record attempts for Galen and Mo." That will get people excited.
One other thing about pacers: world record attempts should not be the norm. Almost every year, London is much less interesting than it could be because the rabbits go out too fast. While an occasional record attempt for a stud like Kipchoge is fine (if paced correctly), most years, the rabbits should be there to assist the runners, not turn the race into an all-out time trial for the very best guy.
Here's our idea. Most years, we'd just want rabbits to set a solid pace. Unless you are going for a record of some sort (and they should be in Chicago this year), they don't necessarily have to go for 18 or 20 miles. Just get the race going and then let the competition take over. What if in the last three years, the rabbits just took things out for halfway or 15 miles at 2:06:00 pace and stepped off? You'd get the best of both worlds: a race and a respectable finish time. We think it would be much more interesting to see five or six guys battling it out for glory in 2:05 race than to see one guy hold on to a suicidal pace and run 2:03, another 2:05, and not much else.
But kudos to Pinkowski for getting Farah and Rupp in 2018 and for trying different things. So many other race directors just do the same thing every year.
Update: Now it's come out that Boston champ Yuki Kawauchi and his countryman Suguru Osako (2:07:19 pb) are in the race as well and Osako is aiming for the Japanese record of 2:06:11.  This is fantastic. Announce it as national record attempts for three countries and tell us what the pace will be.
If they want to break those records (the fastest of which is the American record at 2:05:38), the rabbits in Chicago should come through halfway no faster than 62:45 (2:05:30). Do not try to bank time. If anything, 63:00 for the first half with a slight pickup through mile 18 would be much preferable to anything under 62:30.
More: It's Official:Rupp Vs. Farah In 2018 Bank Of America Chicago Marathon With Pacers! We'll find out how friendly the ex-training partners are on the streets of Chicago.
From The Archives: 5/28  Galen Rupp and Mo Farah: It's more than you think!
*5/28 Okay so Mo actually does join Galen in Chicago, who wins?
*BREAKING: NOP's Suguru Osako (2:07:19 PR) Entered in Chicago Marathon — Aiming for Japanese Record of 2:06:11 – 
****
Rapid-Fire Odds and Ends
###
Katelyn Tuohy breaks the US high school mile record (sort of)
One of the biggest stars at last week's New Balance Nationals was sophomore Katelyn Tuohy, who ran a new U.S. outdoor high school national record in the mile of 4:33.87, breaking Polly Plumer's 4:35.24 mark that had stood since 1982. As we pointed out on the messageboard after the race, Tuohy is not the fastest high school 1500/miler in U.S. history. Two high schoolers have run faster indoors for the full mile and four more have run faster outdoors in the 1500 equivalent.
Combined 1500/1600/mile list (expressed as miles with help from Track & Field News):
4:24.19+ Mary Cain 2013
4:26.82+ Alexa Efraimson 2014
4:26.99+ Kate Murphy 2016
4:28.61+ Christina Aragon 2016
4:31.03+ Elise Cranny 2014
4:32.83+ Katie Rainsberger 2016
4:33.87    Katelyn Tuohy 2018
Tuohy, 16, could have run at USATF Jrs and tried to go to Worlds but her parents are trying to keep things low key and the pressure off so she won't be at World Juniors this year.
More: Katelyn Tuohy Runs 4:33.87 High School Mile Record
*MB: Tuohy 4:33!! New high school outdoor mile record
*Video Interview *Race Video
###
Her dreams became reality (but….)
Kellyn Taylor of Hoka One One NAZ Elite had the performance of the weekend from a U.S. perspective as she won the 2018 Grandma's Marathon in a course record of 2:24:28 to move to #7 all-time in the US. Some weren't happy that we pointed out that the 2018 Grandma's Marahton was wind-aided. We don't get it. In track events that are run in a straight line — and Grandma's is basically run in a straight line — wind-gauge readings are required to be listed. We're just being factual.
Since we already angered a few people, we will double down. One other thing we didn't mention about Grandma's: it's a net downhill. It finishes 38 meters (124.7 feet) below its start, which would be worth 22.4 seconds according to John Kellogg's formula of 1.8 seconds for every 10 feet in elevation loss.
HISTORY HAPPENS!!! Kellyn Taylor sets the course record in the women's marathon!!!!@GrandmasMara #gmas18 pic.twitter.com/TVHiOkCbdS

— Dan Williamson (@Dan_Williamson) June 16, 2018
While Taylor's 4+ minute PB and top 10 all-time U.S. clocking sucked up most of the press in Minnesota, we were impressed by the 2:14:27 showing by 24-year-old American Nicolas Montanez. U.S. distance running has come a long way from 2000 when only one American could hit the 2:15:00 qualifying time for the Olympics. We imagine many of you had never heard of Montanez. That's ok. A 10-time state champ in HS, his track pbs are just 14:09 and 29:43. He did get 9th in the NCAA cross country meet for BYU in 2016.
MB: Kellyn Taylor wins 2018 Grandma's Marathon in 2:24:28 – moves to #7 all-time on US list
###
Nice range
23-year-old Stewart McSweyn of Australia, who ran the 5,000 and 10,000 at the Commonwealth Games (he has PBs of 13:19.96 and 28:05.37) now has a 1500 pb of 3:34.82 as he won the 1500 at the Internationales Soundtrack-Meeting in Tübingen, Germany, last week, knocking 4.31 seconds off of his previous pb of 3:39.13.
###
Semenya announces she'll challenge the IAAF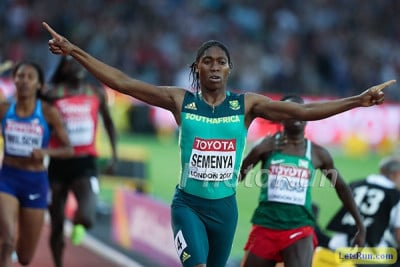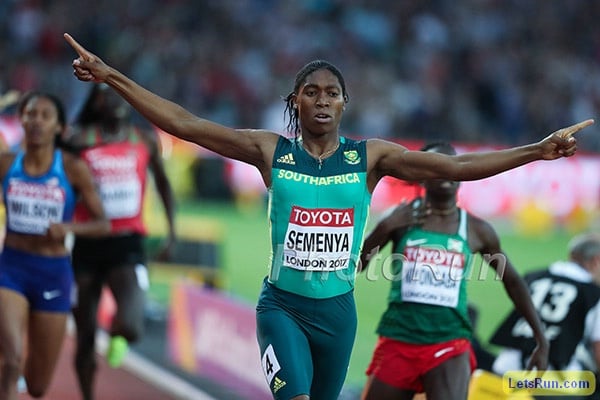 We are not surprised at all that Caster Semenya is challenging the new rules on hyperandrogenism. Why wouldn't she? If the rules come into force, her days as an international force will instantly end. We feel like anyone whose job was going to be eliminated without a legal fight would put up that legal fight if they could afford it and Semenya can clearly afford it as we imagine there are scores of lawyers who would take the case for free given its high profile.
One other thing about Semenya. She said, "I just want to run naturally, the way I was born. It is not fair that I am told I must change. It is not fair that people question who I am. I am Mokgadi Caster Semenya. I am a woman and I am fast." We 100% agree with her. She can run the way she was born — just not as a professional in the women's category.
In 2018, when Connecticut is allowing by a state law for Terry Miller to compete in indoor track as a boy and outdoor track as a woman (where she won state titles),  whether someone has external male sexual organs is not relevant to some whether you compete as a man or a woman. So if you aren't going to use chromosomes or sexual organs to define who can compete in the special category, then hormone levels seem like a fair solution.
Semenya was born with XY chromosomes, internal testicles, and no uterus. It doesn't seem unreasonable to make Caster take hormones if she wants to compete in the women's professional division. Some might argue she shouldn't be allowed to compete at all. And some think she should be able to compete as is.
MB:  Breaking: Caster Semenya WILL challenge IAAF's new rules on hyperandrogenism
###
Slow 10,000s in Canada
The Canadian 10,000 champs were held in a mixed-gender race last week at the Speed River Inferno Meeting in Guelph. The winning times…
30:19.19 for the men (Sergio Raez Villanueva) and 33:06.53 for the women (Rachel Cliff).
###
If we had a copy of a verified birth certificate, we'd be blown away by this
The Kenyan trials for world juniors were held last week. One thing caught our eye.
Edward Zakayo — the bronze medallist at the Commonwealth Games in the 5,000 — dominated the 5,000, where he ran 13:19.74, improving his 13:24.08 pb. And his listed age is 16 (November 25, 2001 DOB). A 13:19 at altitude at age 16? We want to see the birth certificate.
###
Ajee Wilson 2.0?
Speaking of 16-year-olds, the winner of the girls' 800 at NBN was 16-year-old Athing Mu in 2:04.41. Mu, who hails from Trenton, NJ, also won the New Balance indoor meet (2:06:59). She won indoors as a 15-year-old as she just turned 16 on June 8. Mu's 2:04.41 is a sophomore state record for New Jersey as she beat Ajee Wilson's 2:04.94 from 2010.
****
Stats of the Week – Houston's 4×100 was the most dominanat in half a century, Aleia Hobbs was more dominant than any other female sprinter at NCAAs, and Maggie Ewen is unreal
Having had a week to digest things, there were a few stats we wanted to point out about the 2018 NCAA Outdoor Track and Field Championships.
It struck us last week as we were working on our USA prediction contest that LSU's Aleia Hobbs' victory in 100 at NCAAs was massive. She ran 11.01 and won by .23 in a 100. If you are wondering if that's the biggest margin of victory in NCAA history in the women's 100, the answer is no. It is the fourth-largest margin of victory but is the largest margin of victory in 26 years.
Women's 100 Victories at NCAAs Greater Than .20 Of A Second
Dawn Sowell (LSU) won by .34 in 1989
Gail Devers (UCLA) won by .28 in 1988
Chryste Gaines (Stanford) won by .24 in 1992
Aleia Hobbs (LSU) won by .23 in 2018
Sevatheda Fynes (Michigan St) won by .22 in 1997
Debbie Ferguson (Georgia) won by .21 in 1998
If you are impressed by that stat, then you'll also be pleased to know that Track & Field News is reporting that the Houston men's .58-second margin of victory in the men's 4×100 was the largest in the F.A.T. era. Yes that's right. You have to go all the way back 50 years when USC won by 0.7 of a second hand-timed.
The last thing we wanted to make sure everyone appreciated was this: while Arizona State's Maggie Ewen got some press for winning two NCAA titles in Eugene, we doubt many distance fans realize she actually led the NCAA in three different throwing events. In addition to leading the NCAA in the shot and discus, both of which she won at NCAAs, she also led the NCAA in the hammer, the event in which she won the first of her four career NCAA titles last year at NCAAs (she also set the collegiate record at 74.53 earlier this year). However, Ewen surprisingly failed to make NCAAs in the hammer after fouling three times at regionals.
****
Messageboard Post of The Week: "What the heck is USATF doing with all the money they are getting from Nike?"
Ken Stone had some great reporting for the Times of San Diego. He produced a Mt. SAC memo that says that USATF head Max Siegel had promised the 2021 USATF Outdoor Champs to Mt. SAC even though the bidding hasn't even begun (USATF has denied this is the case). He also provided documents that show what Mt. SAC promised USATF to win the 2020 US Olympic Trials in the first place. To get the Trials, Mt. SAC had to put up $3 million in cash to USATF ($500,000 fee + $1.25 million prize money + $1.25 million athlete support) and all the costs of putting on the event (personnel, insurance, per diem for USTAF officials, cars for USATF, etc).
That fact led to our Messageboard Posts of the Week from "Look More Closely":
Wait! Am I reading this right? USATF does not pay for any of the athlete prize money or athlete support at a major event like the Olympic trials? The host pays it?
What the heck is USATF doing with all the money they are getting from Nike?
For the record, Nike pays USATF more than $20 million per year.
More: Times of San Diego: USATF Denies Promising Mt. Sac The 2021 World Track and Field Trials
MB: Wow: USATF CEO Max Siegel has promised Mt. Sac 2021 USATF Champs + USATF-Mt. Sac Olympic Trials Contract Released
****
Boldest Marketing Plan of the Week
So many people claim that running needs better marketing. We found some great marketing last week for the Michelob Ultra Scottsdale Fahrenheit Festival Beat the Heat Race. We are amazed in this day and age of frivolous lawsuits that there is a race that brags about being the hottest race on earth and challenges visitors to its website with the following:
Are we too hot for you? Scottsdale Beat The Heat is the Ultimate Challenge.
Join us on Saturday, June 16th, at WestWorld in Scottsdale, Arizona to take the challenge and Beat the Heat in an 10.22k/5k Race and Walk.
The Summer Solstice is June 21st. The hottest day ever recorded in the Phoenix Metropolitan area was June 26th, 1990 at 122 degrees.
Who is brave enough? Fit enough? Ready enough to join us on an amazing course through Scottsdale's greatest sights? For the hottest race on earth.
Can you take the heat?
The race even has prize money. Allie Kieffer (34:27) and Jim Walmsley (31:31) both picked up $1990 for winning the 10.22 km race.
For the record, the race starts and ends in air-conditioning. And the high in Scottsdale on race day was just an unseasonably cool 80 degrees.
More: Race Website
****
Quotes of the Week (that weren't quote of the day)
#1 The Hayward Curse
"Some call it Hayward Field magic; I call it the Hayward Field curse."
-Georgia head coach Petros Kyprianou talking to dawgnation.com after his women's team came one point shy of winning the 2018 NCAA outdoor title. Last year, Georgia finished second by 1.8 points as the meet came down to the 4×400 both times.
More: A look at what makes Georgia's Petros Kyprianou so special – Ambition, Organization and A Lot of Knowledge
#2 Robert Gary thinks very highly of Allie Buchalski
"She's got a lot to work on, but I know she's willing to work on it. Olympic dreams, she has the temperament and the genetic gifts to do it. You can't just be the genetic freak. You've also got to have the mindset to be able to stand on the line at a race of that consequence and execute. Allie has shown the ability to do that time and time again."
–Robert Gary, Furman coach and two-time Olympian, talking to the Greenville News about Furman grad Allie Buchalski after she signed a pro contract with the Brooks Beasts last week. Buchalski had quite the career at Furman as in addition to finishing second in the 5,000 at NCAAs two weeks ago, she was twice a top-10 performer at NCAAs in XC.
Buchalski wasn't the only person the Beasts signed last week, as they also got NCAA 1500 record holder Josh Kerr.
More: Furman runner Allie Buchalski chases Olympic dream with pro contract
*MB: Woaaa. The Brooks Beasts just signed Josh Kerr 
#3 Greg Rutherford was great (and a little lucky)
"In any other era, Greg Rutherford probably wouldn't have been an Olympic champion. His winning mark of 8.31m in London would not have won gold in any other Games since Tokyo 1964, or set a world lead in any of the past 40 years. Had rivals Dwight Phillips and Irving Saladino been fit then it might not have been enough in 2012, either.
"But Rutherford possessed a determination which transformed him from a talented long jumper into a multiple champion. He summoned extra reserves of speed and power when the pressure was most intense, from the humid Beijing air of the Bird's Nest where he clinched his world title to that spine-tingling hour on Super Saturday at London 2012. Even in another era, you suspect he would have found a way to compete."
–Lawrence Ostlere writing in The Independent after it was announced last week that Rutherford, who won the long jump at London 2012, will be retiring from track and field at the end of the year.
#4 Rutherford's second act?
"I know some people will dismiss the idea but I can't understand the negativity. After all, other athletes have switched sports. Look at Marquise Goodwin, who was a London 2012 finalist in the long jump and is now an NFL wide receiver. I do a lot of bike workouts at the moment and it doesn't hurt my body. So why not give it a go? The people I've spoken to at British Cycling have not said, 'no chance'. They've said 'try'. So I am going to do some lab testing."
-Rutherford, 31, speaking to The Guardian about potentially pursuing a career in cycling once he retires from track & field this summer.
Who do you think will have a better 'second act' – Greg Rutherford as a pro cyclicst or Gwen Jorgensen as a runner? Give us your thoughts on our messageboard: MB: Who will have a better 'second act'? Will Greg Rutherford be a better cyclist or Gwen Jorgensen a better runner?
****
Recommended Reads
Our favorite reads from last week included:
Me and My Dad (An Essay By Trevor Dunbar) Dunbar recalls having the time of his life when he attended the 2004 Trials as a 7th grader with his Dad and his Dad's friends. He got to meet Alberto Salazar who quipped, ""There's no such thing as too many miles, kid."
*MB: Al Sal advice to 7th grader Trevor Dunbar: "There's no such thing as too many miles, kid." –
Michigan State signee Abdi Ahmed arrived in the US 4 years ago, speaking no English and with no parents He went out to track practice and the team was amazed he could hang on a 7-miler with guys running 40-50 mpw weeks. He ran 9:09 as a junior. "I felt I could have more opportunities in my life if I ran harder. Because it is such a hard challenge, running would make the other hard articles in my life easier."
Tribute: Greg Rutherford ends a glorious career as he competed, squeezing every last drop from his crumbling body
A look at what makes Georgia Petros Kyprianou so special – Ambition, Organization and A Lot of Knowledge Kyprianou, a former decathlon star, has a masters degree in exercise science and biomechanics and is a certified trainer and a competitive weightlifter.
The original 'Men of Oregon' take a lap along memory lane 11 men who ran for Bill Bowerman got together over NCAAs and reminisced about Bowerman. "I think he was one of the greatest leaders I've ever seen," said Gordon Dahlquist. "He only wanted to be known as a teacher."
NY Times: America's Next Great Running Hope, and One of the Cruelest Twists in Youth Sports A good read on high school sophomore phenom Katelyn Tuohy and also on the tendency for young women distance stars to burn out.*MB: NYTimes article on TUOHY and other FEMALE H.S. PHENOMS
*MB: Historians, who is the greatest female HS distance runner in US history? Could it already be Katelyn Tuohy?
LA Times: Inside the USC women's track team's relay miracle at the NCAA championship A great read.
*MB: USC Star of the NCAA Women's 4 x 400 relay, Kendall Ellis to Turn Pro Not a surprise considering she's run 49.99 and was a senior.
To see our favorite reads from other weeks, go here.
***
Quotes Of The Day And Last Week's Home Pages
To see the actual quotes of the day from last week or last week's home page or any home page, go to our archive page.
---