Noah Lyles Takes Another Step Toward Superstar Status, Wins First U.S. Outdoor Title in 100 with World-Leading 9.88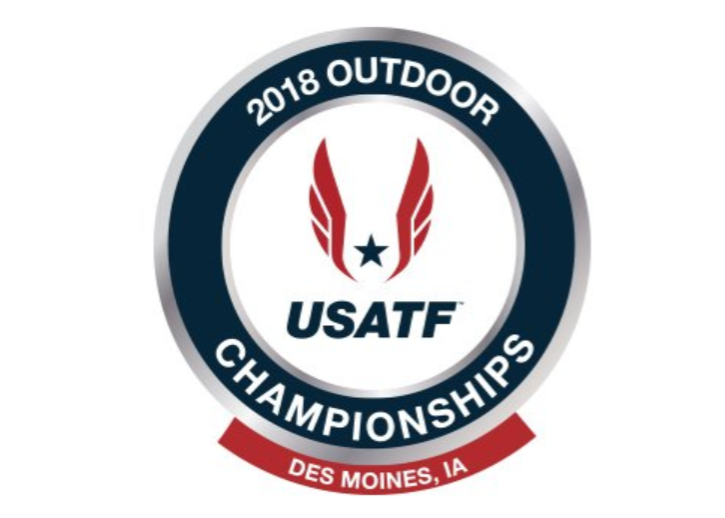 June 21, 2018 to June 24, 2018
By Jonathan Gault
June 22, 2018
DES MOINES, Iowa — Does it count as a changing of the guard if the old guard doesn't show up?
The best 100-meter race of 2018 took place in the final of tonight's USATF Outdoor Championships. Noah Lyles, the 20-year-old budding superstar, ran down Ronnie Baker, who was previously undefeated in the 100 this year, in a thriller to earn his first national title, 9.88 to 9.90. In the process, he ran a personal best, a world leader (his second in the span of 100 minutes, having tied Mike Rodgers' 9.89 in the semis), and became the youngest man to win the U.S. 100-meter title since Sam Graddy in 1984.
Article continues below player
Lyles had been knocking on the door of an outdoor national title ever since his season-opening 19.90 200m as a 19-year-old in May 2017. But even though the previous generation was invited to Lyles' coming-out party, they declined to RSVP. Of the seven men in tonight's final, none of them had ever made a U.S. team in the 100 meters.
Justin Gatlin, the 36-year-old reigning world champion? "No real incentive" to show up, his manager Renaldo Nehemiah told Reuters.
Mike Rodgers, 33, who clocked a world-leading 9.89 in yesterday's first round? MIA, and a DNS in today's semis.
Tyson Gay, 35, who ruled over the 100 before (and after) Gatlin? He was in Des Moines, but chose to watch Lyles' coronation from the stands.
That's not to say any of them necessarily could have stopped Lyles tonight. Baker entered the meet as the world's hottest 100-meter runner thanks to Diamond League wins in Eugene and Rome, ran a personal best, and that was still only good enough for second.
Baker, the third-fastest man in history over 60 meters, got his typically fast start tonight. Despite trailing for the vast majority of the race, Lyles did not panic. He never panics.
"I've been doing it for so long, it's almost a natural thing for me to feel like I'm coming from behind," Lyles said. "I just know ain't got nothing to worry about, stay calm, just hit positions. Coach said just go all-out. I already know my body is doing what it needs to do."
For 9.88 seconds, the world got to see the patience and ludicrous top gear that makes Lyles a great sprinter. (Well maybe not the world. Drake Stadium was about one-third full for a race that aired on the Olympic Channel on a Friday night with the world's biggest sporting event taking place eight time zones away).
For the next five minutes, they saw the charisma and infectious joy that could make him a superstar.
First, a bow. Then, a dance, popularized by the ubiquitous video game Fortnite, a fist-pumping, leg-kicking one known as The Shoot (Lyles even managed to get NBC reporter Lewis Johnson to join in on the home straight). And finally, a hug with mom, Keisha Caine, who came to the front row to meet her son. It's been hard for the sparse crowd to summon much energy this week for a meet with no Olympic/World spots on the line and marquee names scratching left and right. But for a moment, if you ignored the deserted stands on the back stretch, it felt like track & field was popular. And it was because of the 20-year-old maestro conducting the fans from the track.
Now for the record, Lyles does plan these celebrations out. He plans his dances and "themes" for each meet weeks in advance (this week's theme: The Incredibles, complete with bright red "i" socks). He's savvy enough to know how to play to the crowd.
But he's young enough — and genuine enough — to still be dazzled by what he's accomplishing. Informed by a reporter after the race that he is now the world leader in both the 100 and 200 meters at 20 years old, Lyles cracks a smile and tilts his head back.
"I hadn't registered that yet," Lyles says with a giggle.
Then it begins to register.
"Now that you just said that, I just realized it."
Giggle.
"So that's actually PRETT-AY cool!"
He's almost yelling now.
Then Lyles looks off to the side. A new wave of realization hits him, as if some rich benefactor has opened the doors to a Mercedes dealership and told him, Hey kid, take your pick.
"That's…like…OH MY GAWD!"
Yes, right now it's good to be Noah Lyles.
2018 USATF men's 100m final results
Wind: 1.1 m/s
1. Noah Lyles, 9.88
2. Ronnie Baker, 9.90
3. Kendal Williams, 10.00
4. Isiah Young, 10.00
5. Cameron Burrell, 10.04
6. Jeff Demps, 10.13
7. Bryce Robinson, 10.55
Post-race interview with Lyles
Earlier this Week: Icon in the Making: Why Noah Lyles Could Be the Next Face of Track & Field
Talk about tonight's action on our world famous fan forum / messageboard:
MB: NOAH MF LYLES: 9.88
MB: USA Championships: Ronnie Baker runs 9.90 for 2nd OMG
MB: Official 2018 USATF Outdoor Championship Day 2 Discussion Thread