New Blood at USAs, Attendance at Nationals Worldwide, Another Look at Kellyn Taylor's 2:24:28, Dafne Schippers False Start
The Week That Was in Running  – June 18 – 24, 2018
By LetsRun.com
June 27, 2018
Past editions of The Week That Was can be found here.
Questions, comments, or a tip? Please call us at 844-LETSRUN (538-7786), email us or post on our forum.
If you missed our USA coverage, catch up now: 2018 USATF Outdoor Championship Coverage.
****
Stats of the Week
#1 There was some new blood winning at 2018 USATF Outdoors
42.1% – percent of the winners at the 2018 USATF Outdoor Championships that had never won a US outdoor title before (16 of 38).
Article continues below player.
The 2018 US champs certainly saw some fresh faces arrive on top like Noah Lyles but at the same time there were also plenty of veterans like Molly Huddle and Evan Jager who remained on top (both Jager and Huddle won their 7th outdoor titles). And there were even comeback stories like Lopez Lomong, who won his first US title in eight years and at a distance that was 8500 meters longer than his first two US titles.
Below is the number of US outdoor titles that all of the winners at USAs have won during their career.
Women
8 – Maria Michta-Coffey (20k race walk in '10, '11, '12, '13, '14, '16, '17, '18)
7 – Molly Huddle (5k in '11, '14, '16, 10k in '15, '16, '17, '18), Emma Coburn (steeple in 11, 12, 14, 15, 16, 17, 18)
3 – Ajee' Wilson ('14, '17, '18), Shelby Houlihan (1500 and 5k in '18, 5k in '17), Keturah Orji (TJ in '16, '17, '18)
2 – Jenna Prandini (200 in '15, '18), Keni Harrison (100h in '17, '18), Shamier Little (400h in '15, '18), Vashti Cunningham (HJ in '17, '18), Sandi Morris (PV in '17, '18)
1 – Aleia Hobbs (100 in '18), Shakima Wimbley (400 in '18), Sha'Keela Saunders (LJ in '18), Valarie Allman (discus in 18), Deanna Price (hammer in '18), Maggie Ewen (shot in '18), Erica Bougard (heptathlon in '18).
Men
7 – Evan Jager (steeple in '12, '13, '14, '15, '16, '17, '18)
5 – Matthew Centrowitz (1500 in '11, '13, '15, '16, '18), Sam Kendricks (PV in '14, '15, '16, '17, '18)
3 – Lopez Lomong (1500 in '09, '10, 10k in '18), Devon Allen (110h in '14, '16, '18), Jeff Henderson (LJ in '14, '16, '18)
2 – Ameer Webb (200 in '17, '18), Clayton Murphy (800 in '16, '18), Paul Chelimo (5k in '17, '18), Rudy Winkler (hammer in '16, '18)
1 – Noah Lyles (100 in '18), Kahmari Montgomery (400 in '18), Kenny Selmon (400h in '18), Nick Christie (20k race walk in '18), Jeron Robinson (HJ in '18), Donald Scott (TJ in '18), Darrell Hill (shot in '18), Reggie Jagers (discus in '18), Zach Ziemek (decathlon in '18)
In terms of the mid-d and distance races, unlike NCAAs where underdogs won six of the 10 races, the favorites delivered at USAs as the favorite in the LetsRun.com prediction contest won seven of the 10 mid-d and distance races. Lomong's 10,000 win was the biggest upset — just .3% of LRCers picked Lomong (96.2% picked Shadrack Kipchirchir) followed by Shelby Houlihan's 1500 win (37.3% picked her, 61.7% picked Jenny Simpson), and believe it or not, Matthew Centrowitz's 1500 win was also an upset to LetsRun nation as he was picked to win by only 43.4% of the visitors (46.9% picked Robby Andrews).
There were 3 big favorite in the distance races –Evan Jager (99.7% of you picked Evan to win), Emma Coburn (99.1%), and Ajee Wilson (99.1%) and all 3 came out on top.
More: LRC Who were the favorites and underdogs at 2018 USA Outdoors?
#2 Some of the sprint times at USAs were historically slow
1982 – the last time the winning time in the men's 110 hurdles was slower than the 13.47 time put up by Devon Allen at USAs this year (Willie Gault won that year in 13.54).
The fact that Allen was running into a 1.8 m/s headwind after a long rain delay didn't help him or any of the sprinters/hurdlers racing at the end of Sunday in Des Moines. The men's and women's 200 were the other sprint events held after the rain delay and the times were also historically slow. Ameer Webb's men's 200 winning time of 20.47 (1.9 headwind) was the slowest since Shawn Crawford won USAs in 2001 with a 20.54 while Jenna Prandini's women's winning time of 22.62 (1.0 headwind, after rain delay) was the slowest since 2002 when LSU's Stephanie Durst won in 23.14.
Curtis Thompson's winning throw of 249'3″ (75.99) in the men's javelin, which was held on Saturday, was the lowest winning mark since the javelin was modified in 1986. The last time the winning mark at USAs was shorter was in 1962.
#3 Emmanuel Korir is a big, big talent
44.21 – new 400 pb for 800 star Emmanuel Korir. The 2017 NCAA indoor and outdoor champ and 2017 world leader ran that to win the Kenyan Champs in Nairobi last week, improving on his 44.53 pb also achieved at altitude last year in El Paso.
#4 Timothy Cheruiyot is utterly dominant right now
2.02 seconds – massive margin of victory at the Kenyan Athletics Champs in the men's 1500 for Timothy Cheruiyot, who ran a 3:34.82 at nearly 6,000 feet of altitude. Very impressive. Cheruiyot is clearly the world's best 1500-meter man right now, but his path was made easier at the Kenyan champs as Elijah Manangoi skipped the final after his sister passed away.
More: RIP! World champion Manangoi bereaved
****
Email Of The Week
Last week in our Week That Was, we had a section where we pointed out that Kellyn Taylor's 2:24:28 course record at Grandma's Marathon, while a great breakthrough, was an aided performance thanks to a slightly favorable win and an elevation drop. We received a nice email from her coach, Ben Rosario, of the HOKA NAZ Elite team. Here it is.
Dear LetsRun,
I just read your take on Kellyn Taylor's performance at the Grandma's Marathon. While you point out that Duluth had great conditions for fast running that day (which I can vouch for as I was there) I think it's fair to say you insinuated that her result was somehow less impressive than it seems. I would argue it was the exact opposite. Does the course have a net downhill? Yes. You point out that it finishes 124.7 feet below where it starts which you say accounts for 22 seconds. But did you know that drop is all in the first half? And did you know that Kellyn ran that first half in 

1:12:30

 while she ran the second half, which is net even, in 

1:11:58

? And did you know that second half of the course includes the course's biggest uphill (Lemon Drop Hill at mile 22) which she ran in 

5:32

? And did you know the last mile of the course has five 90 degree turns and she also ran that in the low 5:30s (don't have the exact split but just doing the math). 
You also mention the wind which was without a doubt, helpful. But, let's stick with the facts. Did you know that if you look at the Weather History for both Two Harbors, MN (where the race starts) and Duluth (where it finishes) the highest reading at any point during the race was 9.1mph? It was between 4.6mph and 9.1mph the whole way, mostly from the east (tailwind) but slightly from the south at times (cross/headwind). That's an awesome day for sure, but it's not crazy. Boston 2011 averaged a 15mph tailwind for example, with gusts up to 26mph. And when you look at Boston 2011 there were amazing times across the board, as you'd expect. At Grandma's? The men's winner, Elisha Barno, ran 2:10:06 (it was his 4th straight win and he's gone 2:10:36, 2:11:26 and 2:12:06 before this one). The course record on the men's side is 2:09:06 by the way. The men's half marathon winner went 1:02:50 (course record is 1:01:22) and the women's half winner went 1:09:55 (course record is 1:09:46). 
So…did Kellyn crush it on a nice day? Hell yeah she did. That's what you're supposed to do on a nice day! And Grandma's has had lots of nice days in its 42-year history but she just ran more than two minutes faster than any woman ever has on a day where no other course records were broken. She ran her second half, the harder half, faster than her first. She had no pacers. She ran in the lead the entire way, and opened up a one-minute lead by 16 miles that would grow to six minutes at the finish. Let that sink in- she ran 

2:24:28

 essentially by herself. So while you're insinuating it wasn't as good as it seemed I am insinuating it was better.
But I still love you guys!
Sincerely,
Ben Rosario
Head Coach- HOKA NAZ Elite
Rosario's email makes a lot of good points. Our reply is that we weren't trying to say Taylor didn't run amazing; she most certainly did. We just think it's probably worth something north of 2:25 on a loop course. When we wrote Ben back to make sure we had permission to publish the email, he added in a few more good points.
PS. And two more nuggets I forgot- The leaders ran 5:58 for their 13th mile and then Kellyn decided to take off and just run on her own. So that cost her basically 30 seconds. Also- the best apples to apples from that race v a flat loop course is probably Elisha Barno who ran 2:09:32 (his PR) on a nice day in Houston in January of this year and 2:10:06 at Grandma's. Again- not denying it was a freaking awesome day. Just saying if you really analyze it, Kellyn's performance was spectacular. 
In the end, we decided to reach out to LetsRun.com coaching guru, wind expert, elevation expert and the inspiration for the website – John Kellogg. Mr. Kellogg famously was right on the money with his predictions for the men's wining times at the 2011 Boston Marthon (2:03:02) and 2018 Boston Marathon (2:15:58). Kellogg said he thought the wind was really the only thing worth noting and thought at most it would be worth 2 seconds a mile but since it may have been a cross wind at times, only 1 second a mile. He said the 130 foot elevation drop which might be worth 20+ seconds if there were no uphills would largely be negated by small hills in the course (but he's never run it so isn't sure). In the end, he said a complete guess would be that Taylor benefited somewhere in the neighborhood of 30-45 seconds.
More: From the Archives: 2011: Official John Kellogg Is a Genius Thread – He Predicted The 2:03 on Boston
*2018: John Kellogg is proven to be a genius yet again. He called it – 2:14-15 if the men ran hard from the gun 
****
Video of the Week – Bye bye, Hayward Field
The debate over the fate of the East Grandstand at Hayward Field didn't last long as it was demolished last week.
More: Crews Demolish Hayward Field's East Grandstand Th*Video
*MB: THE EAST GRANDSTANDS ARE GONE.
****
Thanks for nothing…Dafne Schippers gets booted out of national champs in her hometown
With it being a non-World Championship year, we applaud all of the athletes who are running in their countries' nationals this year. One of the biggest star athletes to show up at their nationals last week was start Dutch sprinter Dafne Schippers. With the Dutch champs being held in her hometown of Utrecht, she decided to she wanted to run to give the hometown fans something to cheer about.
The result?
A DQ for a false start.
And check this out. She protested the false start and asked to run the race under protest but the officials said no. Look, we get it. If Worlds spots were on the line, you might not want someone who was DQd in a race, but that clearly wasn't the case so she should have been allowed to run as an exhibition.
Schippers was not pleased, as according to NOS.nl (and Google Translate) she said, "This is a big joke!"
"I'm actually not even disappointed, but more amazed, I'm sure I did not have a false start, I think the blocks are not properly adjusted," said Schippers. "In the men's race there were also two false starts."
Decide for yourself. We don't want to bias you and let you know what lane she's in. But take a look at the following clips and tell us if you see a false start.
Slow-motion replay:
We think we actually do see a false start. Schippers in lane 3 seems to get out before everyone else.
Schippers wasn't the only star to be DQ'd last weekend as one of the heats at the Jamaican champs took four tries to get a legal result. Yohan Blake was initially flagged for a false start, but was granted a reprieve. Then he false-started again and was DQ'd. The third time around, another runner, Oshane Bailey, was DQ'd for a false start, after which Kemar Bailey-Cole walked off the track in protest. Blake, who was allowed to run under protest, finally won the heat in the fourth attempt, but his DQ was upheld, so he did not get to run in the final.
*MB: You be the judge: Do you see a false start in this video? 
More: Schippers 'surprised' after disqualification at 100 meters on NK

*****
Poor attendance at track & field meets is not just an American problem
With national championships being held around the globe last week, the crowds…weren't great.
Take a look at the crowds at the US champs:

And the Japanese champs:
And how about the Jamaican champs?

Ok, we'll admit those are sort of worst-angle scenarios, but we're just trying to make the point that anyone who blames the lack of popularity of track and field in their hometown on the ineptitude of the local governing body or on a lack of marketing isn't being honest with themselves.
Now does that mean we think USATF head Max Siegel deserves to be paid over $1 million a year for basically paying someone else more than $20 million to negotiate a 20-year deal with Nike? No. Does it mean that we don't think track and field can be marketed better? Of course not. But when the results of a track meet don't mean much and when it takes days to complete, you aren't going to get large crowds.
In the interest of fairness, here are the fullest sections of those same meets.
USA:

Japan: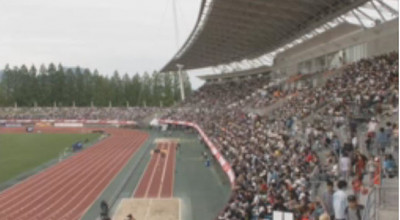 Jamaica: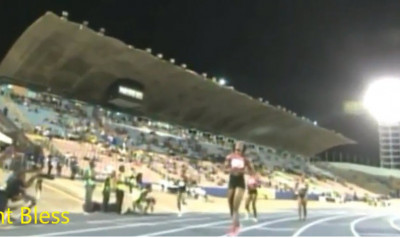 ****
Quotes of the Week (That weren't quote of the day)
#1 Can someone please let Haron Lagat — who has lived in the US for 16 years — run for the USA?
"The people with the committees deciding this if they need two years that means they don't know what they're doing. I changed for a better life, I changed for the greatest nation of all. I don't feel we should be put in the same bus for the Bahrainian who goes there for a weekend and comes back with a passport."
–Haron Lagat expressing his frustration that the IAAF won't let him run for Team USA even though he's lived in America for the last 16 years.
More: Video interview of Lagat
#2 An all-time great license plate
"359IN55"
-prized personalized license plate that Laszlo Tabori had, according to an obituary of him published last week in Ireland. Tabori was the third human to break 4:00 in the mile thanks to the 3:59.0 he ran in May 1955, but never achieved Olympic glory. His preparations for the 1956 Games were disrupted by the violent Soviet repression of the uprisings of 1956 and he missed out on the 1960 US Olympics as his US citizenship hadn't come through yet.
More: Obituary: Laszlo Tabori – Record-breaking Hungarian athlete who defected after Soviet invasion
#3 A reminder that the lifestyle lived by pro runners is definitely 'abnormal'
"I honestly didn't know when I was going to come back. I had many conversations with my coach and parents, and they were in full support of me stepping away.
"I got to do things that normal people wouldn't think twice about doing. Runners just have a different mindset. The life we live is definitely abnormal. It was fun to be carefree. It was important to step away, and it took awhile for the hunger to come back."
–Laura Roesler talking to Chris Murphy of the Jamestown Sun about how she nearly quit the sport and didn't run for three months after bombing out in the 1st round of the 2016 US Olympic Trials just four months after finishing 4th at World Indoors. During her mini-retirement, Roesler "did things she'd never do while training like water skiing, tubing, playing pickleball with her parents and going on 10-mile bike rides."
More: Fargo South standout Roesler is back after nearly walking away from professional running 
#4 This seems like a great reason for an Olympic champ to retire: "I'm personally ready to have some babies"
"I've always known from the time I was a child I wanted to be an Olympic champion, a wife, and a mom. I never wanted track to run my life so much that at some age I realize there's a world around me. I've had a great career. Me and my husband talk about it, and I'm personally ready to have some babies."
-2008 Olympic 100 hurdle champ Dawn Harper-Nelson talking to Citius Mag about why she's calling it a career.
More: Olympic champ Dawn Harper-Nelson talks before her last race at a US Champs
****
Emily Cherotich Runs Fast Again
She's back.
32-year-old Emily Cherotich of Kenya, who had never broken 2:00 until she ran a huge pb of 1:58.25 in February, is back. After that 1:58, she was only 7th at the Commonwealth Games. However, last week at the Kenyan Champs she won by more than a second in 1:59.52.
****
Recommended Reads
To see our favorite reads from other weeks, go here.
***
Quotes Of The Day And Last Week's Home Pages
To see the actual quotes of the day from last week or last week's home page or any home page, go to our archive page.
---