Men's Steeplechase Prelims: Isaac Updike Runs A Big PB As Evan Jager Begins His Quest For 7 In A Row
by LetsRun.com
June 22, 2018
DES MOINES, Iowa — There was very little drama in the men's steeplechase prelims, which kicked of the track action this afternoon at day 2 of the 2018 USATF Outdoor Championships, as 9 of the top 10 seeds based on seasonal best times all advanced to Sunday's final with former NCAA DII champ David Goodman, the #8 seed, the lone casualty.
Heavy, heavy favorite Evan Jager, who is seeking his 7th straight steeple title, won the second heat. The biggest news of the day came in the first heat which was won by former NAIA champ and 2016 Olympic Trials finalist Isaac Updike in a nice pb of 8:25.82, knocking more than 5 seconds off his previous best of 8:31.42 which dated to 2016.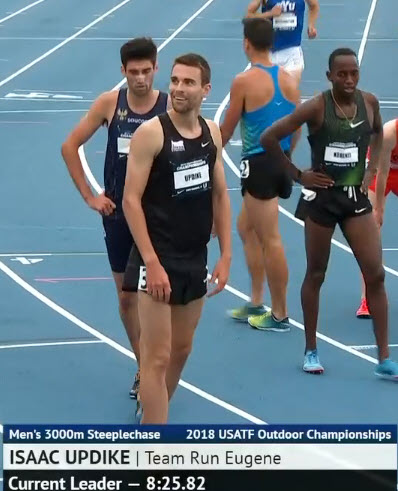 The 10 Fastest Entered US Steeplers/Result
1. Evan Jager NIKE / Bowerman Track Club 8:11.71 – Won heat #2 (8:31.79)
2. Hillary Bor U.S. Army 8:21.51 – Runner-up heat #2 (Q, 8:32.37)
3. Andrew Bayer NIKE 8:26.66 – Runner-up heat #1 (Q, 8:28.42)
4. Dylan Blankenbaker adidas 8:31.43 -4th in heat #2 (Q, 8:33.29)
5. MJ Erb Saucony / Freedom Track Club 8:32.78 – 4th in heat #1 (Q, 8:28.62 sb)
6. Travis Mahoney Hoka One One / HOKA NJNYTC 8:33.09 – 5th heat #1 (Q, 8:28.74 sb)
7. Brandon Doughty ZAP Fitness Reebok 8:33.43 – time qualifier, heat #1 (8th, 8:33.28 sb)
8. David Goodman Boulder Track Club 8:33.58 – eliminated. Last in heat #2 (8:57.64)
9. Jordan Mann Ocean St. Athletic Club/New Balance -8:34.04 – 5th heat #2 (Q, 8:33.31)
10. Isaac Updike Team Run Eugene 8:34.09- Winner of heat #1, fastest time of day (8:25.82 pb)
Full Results can be found here.
Evan Jager isn't opposed to running another event at USAs, but he wants to win as many steeple titles in a row as possible
You might imagine it's hard for Jager, who has won six straight U.S. titles, to summon the motivation to win another one, especially with no World/Olympic team to make. But Jager has never lost the steeple at USAs since taking up the event in 2012, and that's a streak he wants to maintain for as long as possible. He is well aware that Henry Marsh won seven straight U.S. titles in the '80s and Jager would match that accomplishment with a win on Sunday.
"It almost adds more pressure each year because I know everyone's looking at me and I'm sure everyone would love to end the streak if they could," Jager said.
We also asked if Jager ever considered running another event at USAs, and he said he would like to double up, but the men's steeple final is often on Sunday and he does not want to detract from his primary event. So are you listening, USATF? If you put the men's steeple final on Saturday next year, we might get a chance to see Jager in the 5k on Sunday (remember, Jager made the 5k team as a 20-year-old in 2009).
Meet Isaac Updike, the Alaska native & NAIA walk-on who PR'd by six seconds to win heat 1
Article continues below player.
Most athletes don't celebrate a heat win at USAs, but Updike did, and who can blame him? Though this won't be his first U.S. final (he was 12th in 2016), it could be his last chance to win a race at USAs and he did it in style, pulling away to run a six-second pb of 8:25.
Updike, 26, has taken a non-traditional path to reach this point. He ran cross country as a high schooler in Alaska, but not track and wound up walking on at NAIA school Eastern Oregon.
"Track isn't a huge thing in Alaska," Updike said. "I mean, how many Alaskans do you know? You know Trevor Dunbar, and then Allie [Ostrander]."
Updike's coach in college had a policy that every distance runner try the steeple. Those who fell in the first race would not have to try it again, but Updike never did and stuck with it. After college, he moved to Eugene to train for Team Run Eugene under 2008 Olympian Ian Dobson and support himself through a job at Dick's Sporting Goods. But that arrangement won't last long; Dobson is retiring from coaching, while Updike quit his job in order to race this summer in Europe (he leaves for Brussels on Monday).
Updike said his goal for Sunday's final is just to "race" but a good showing could result in a contract by the time he returns from Europe.
| | |
| --- | --- |
| Overall | |
| Comfort | |
| Cushioning | |
| Durability | |
| Appearance | |
| Value | |
This is how @IsaacUpdike celebrated a 5+ second PB and win at #USATFoutdoors. https://t.co/69nM6tRUyh pic.twitter.com/C0ylai4lwA

— LetsRun.com (@letsrundotcom) June 22, 2018
Hillary Bor admits it will be hard to beat Jager, but there are 15 guys in the final on Sunday
Bor finished 7th at the Olympics two years ago, but even he admitted that it will be a monumental challenge to beat Jager (who beat him by 18 seconds in Rio) in the final, saying Jager is in a "different class."
That said, Jager is not the only guy he'll be concerned with on Sunday as there are other fast guys in the field — including his training partner Stanley Kebenei, who was 5th at Worlds last year.
"Yes, it's gonna be hard to beat Jager, but I'm not gonna be focused on Jager…there are still 13 [other] people competing," Bor said.
Full Results can be found here.
---
Talk about today's action on our fan forum / messageboard. MB: Official 2018 USATF Outdoor Championship Day 2 Discussion Thread.